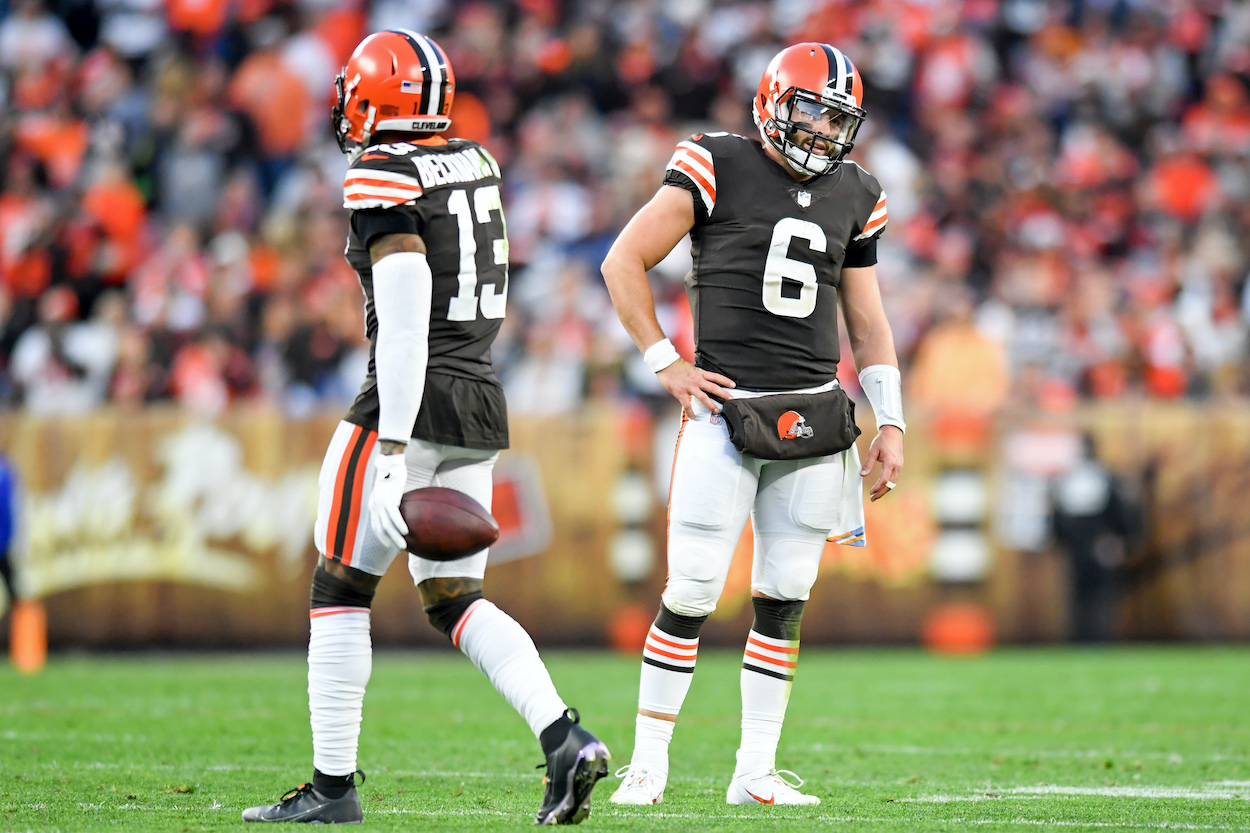 Baker Mayfield's Camp Fires Back at Odell Beckham Jr. via NFL Network Reporter: 'If Only 1 Side is Posting Things to Social Media, Let's Remember There Could Be Another Side'
The Odell Beckham vs. Cleveland Browns feud seems to finally be settled with the negotiation of his release. However, it wasn't before QB Baker Mayfield took some shots at OBJ on his way out.
The soon-to-be-former Cleveland Browns wide receiver Odell Beckham Jr. waged a scorched-earth campaign in an effort to get out of Ohio last week. While the play may have worked, it also offended some people in the process, most notably Browns quarterback Baker Mayfield.
The fourth-year signal-caller didn't take things lying down. After it was implied that Mayfield wasn't a good enough QB to hit Beckham when he was open, the former Oklahoma Sooners' camp fired back at the WR through a scathing report by NFL Network reporter Aditi Kinkhabwala. 
A few hours later, Beckham was out in Cleveland. 
The Odell Beckham Jr. drama started with a video shared by Odell Beckham Sr. 
With just 17 catches on 34 targets for 232 yards and zero touchdowns through six games in 2021, it was no secret that Odell Beckham Jr. wasn't having a good time in Cleveland. 
On the field, the final straw seems to have come in Week 8. Beckham had one catch on one target for six yards. Off the field, that last straw came when Beckham's father, Odell Beckham Sr., posted an 11-minute video of Cleveland Browns quarterback Baker Mayfield missing his wide-open son. 
The video, set to R.E.M's Everybody Hurts on a loop, set off a national debate as to whether the reason the former superstar wideout was no longer productive was his own doing or the failing of his QB. 
It was embarrassing to the organization and their franchise passer. The Beckham Jr. situation was obviously no longer tenable. Most NFL observers expected the Browns to ship the pass-catcher out at the trade deadline. 
However, Nov. 2 came and went, and Beckham Jr. was still a Brown. 
The team "excused" him from practice the next few days as they decided what to do with the obviously unhappy player. In the meantime, Browns players and even Mayfield were publically neutral or even supportive of OBJ. However, an aggressive shot from the QB's camp eventually came in the form of a report from NFL Network reporter Aditi Kinkhabwala. 
Baker Mayfield response came via NFL Network reporter Aditi Kinkhabwala
On Nov. 4, Aditi Kinkhabwala delivered a scathing report that she billed as coming from "multiple people" in the Browns building. The reporter never named any sources. However, her information clearly came from a pro-Baker Mayfield point of view. 
Kinkhabwala started by saying that "it's not that hard. If Odell Beckham Jr. really wants to be here, he would pick up the phone and call his quarterback."
She also says her sources suggest that if Beckham were serious about staying in Cleveland, he would have asked his father to take the video down and tell NBA superstar LeBron James to "back off and let him fight his own fight," after James tweeted a message of support for the disgruntled player. 
Kinkhabwala wrapped up her report with additional specific rebukes of Beckham:
I can assure you of this. If there's any sense of whether there is a Team Baker or a Team Odell here, there's just not. There's not one person that I have talked to that even doubts the ability of Baker Mayfield to lead this team. This can actually be a strong circle the wagons, galvanizing moment for this team. And I'll leave you with one other thing. The Browns run a rhythm and timing offense. That means that Baker Mayfield throws to a specific spot at a specific time. Just because you see a receiver who maybe looks open on the field, that may not be the spot he's supposed to be in, at the time he's supposed to be there. There are always two sides to one story, and if only one side is posting things to social media, let's remember there could be another side. 

Aditi Kinkhabwala on Baker Mayfield and Odell Beckham Jr.
We'll never know if these damning messages came directly from Mayfield or just from a member of "Team Baker." Either way, there's no questioning it was the shot across the bow that a pro-Mayfield person or people wanted to deliver. 
Beckham will no longer be a Cleveland Brown as of next week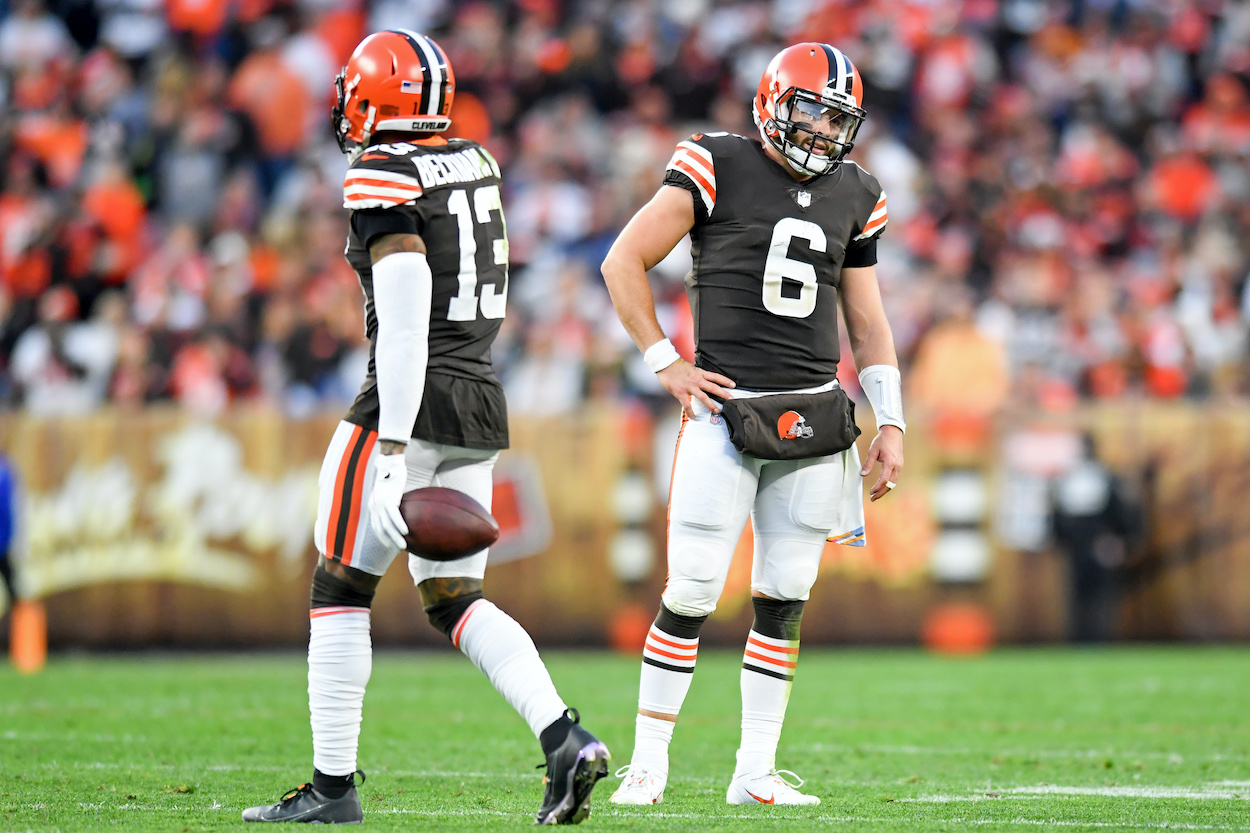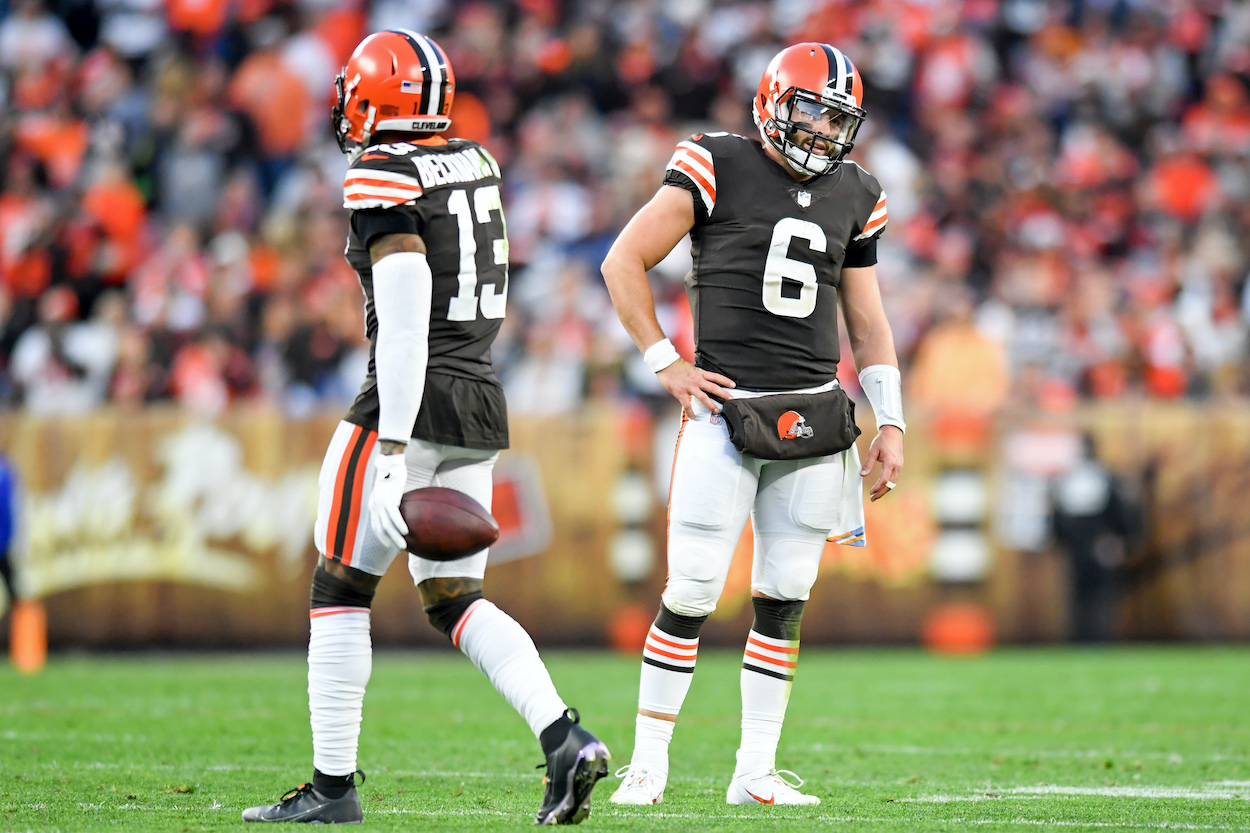 Less than 24-hours after the report aired on Thursday afternoon, news emerged that the Browns would place Odell Beckham Jr. on waivers. This would start the process of releasing him from the team. 
The WR and the team negotiated a deal that gets Beckham Jr. out of Cleveland while saving the team money. According to a series of tweets by NFL Network's Ian Rapoport on Saturday, the deal specifies that the Browns will out Beckham Jr. on waivers Monday. 
If a team claims the pass-catcher, that team will be responsible for paying the remainder of his 2021 salary, which is $7.25 million. Normally, if no team claimed a player on waivers, the releasing team would pay that salary. 
If Beckham Jr. clears waivers, which he likely will at that salary figure, the two parties agreed on paying just $4.25 million. This saves the Browns $3 million and allows Beckham to play football again this season. 
This is as win-win a situation as Beckham Jr. and the Browns could get from this mess, and you have to assume Baker Mayfield is happy about the result as well. 
Stay tuned to see where Beckham Jr. winds up next and if that team will face the Mayfield and the Browns in 2021. 
All stats courtesy of Pro Football Reference