Josh Allen News: The Entire NFL Community Underestimates the Buffalo Bills QB
As of mid-July, Buffalo Bills superstar quarterback Jos Allen is the odds-on favorite to win the 2022 NFL MVP Award (+700). The Bills also have the best odds to win the Super Bowl at +650. Despite the rosy outlook from Las Vegas and NFL fans, the pro football world of league executives, coaches, scouts, and players, isn't as high on Allen. That group recently voted the former Wyoming signal-caller just the third-best QB in the NFL.
Josh Allen voted third-best NFL QB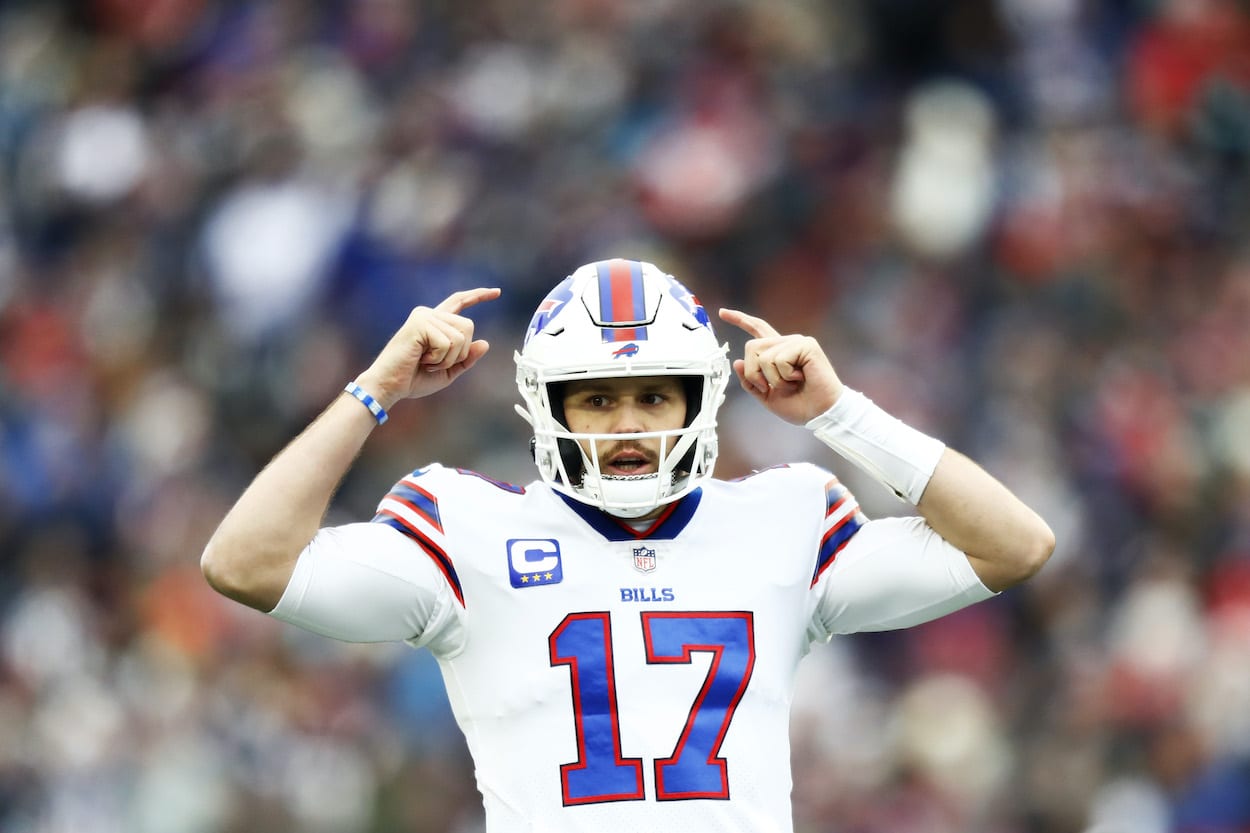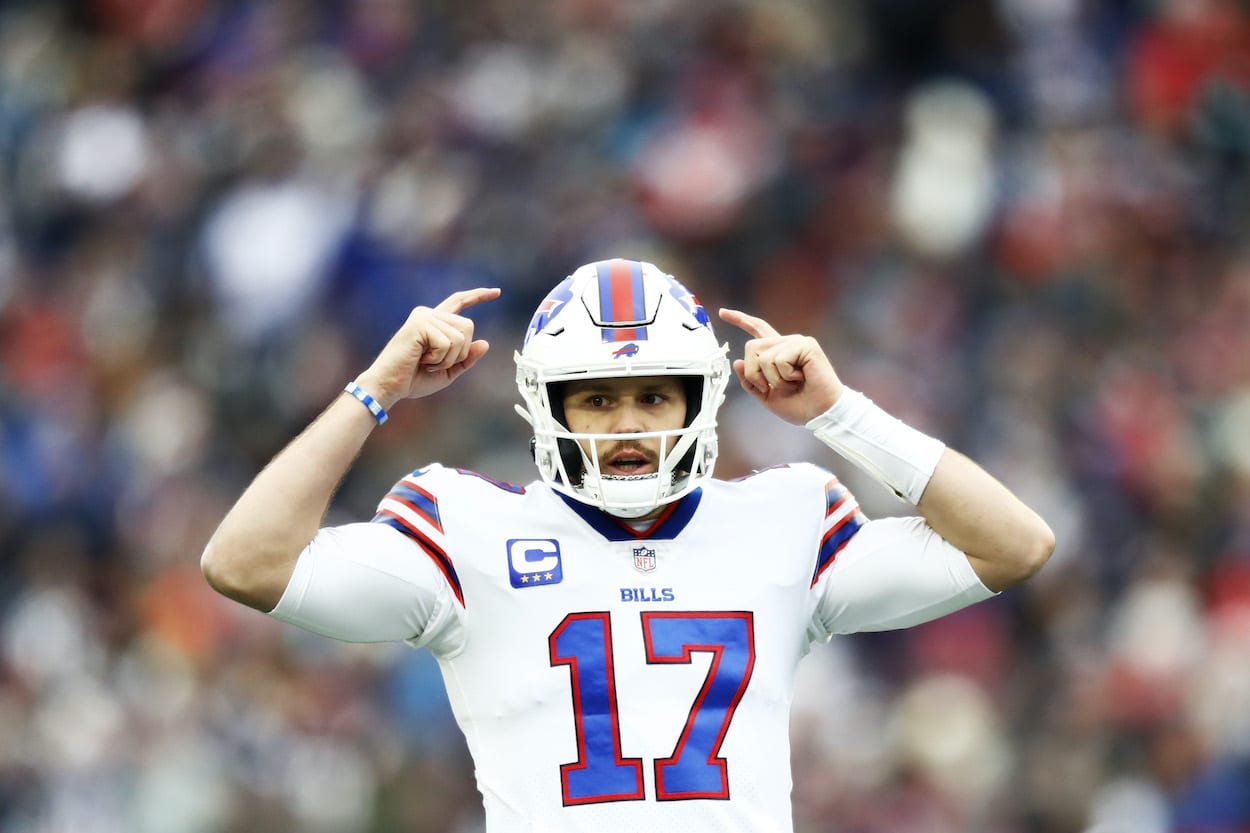 As the most likely MVP on the most likely Super Bowl winner, it stands to reason that Josh Allen will be the best quarterback in the NFL in 2022.
The eye test backs that up as well. The 6-foot-5, 240-pound signal-caller is among the best passers in the league, and his running ability adds an offensive dynamic that few NFL QBs bring.
If not for a complete meltdown in 13 seconds from the Buffalo Bills defense in the AFC Divisional Round, Allen and company would have made their second-consecutive AFC Championship game, and who knows what after that.
Despite all this, in a poll of NFL executives, coaches, scouts, and players, Allen is ranked third among quarterbacks. Ahead of him is the Green Bay Packers back-to-back MVP and Aaron Rodgers, and the Kansas City Chiefs star Patrick Mahomes.
Yes, both Rodgers and Mahomes have more past success — and NFL people obviously put a premium on that — but ranking anyone ahead of the 26-year-old Allen doesn't make sense.
Josh Allen vs. Patrick Mahomes vs. Aaron Rodgers
Looking at the stats from 2021, all of these QBs — Josh Allen, Patrick Mahomes, and Aaron Rodgers — all had incredible seasons. Here's how they matched up the last two seasons:
| | | | | | | | | | | |
| --- | --- | --- | --- | --- | --- | --- | --- | --- | --- | --- |
| QB | GMS | Record | CMP | CMP% | Yards | TD | INT | Rush | Rush Yds | Rush TD |
| Josh Allen | 33 | 24-9 | 805 | 66.2% | 8,951 | 73 | 25 | 224 | 1,184 | 14 |
| Aaron Rodgers | 32 | 26-6 | 738 | 69.8% | 8,414 | 85 | 9 | 71 | 250 | 6 |
| Patrick Mahomes | 32 | 26-6 | 826 | 66.3% | 9,079 | 75 | 19 | 128 | 689 | 4 |
Allen stacks up well with both these Super Bowl-winning QBs the last two seasons. And projecting into 2022, Allen has several advantages.
In addition to being the youngest signal-caller in this group, Allen also has his two best pass-catchers back for 2022. Stefon Diggs caught 103 balls for 1,225 yards and 10 touchdowns. He also has Gabriel Davis returning. The second-year wideout came on huge at the end of the season, including an eight-catch, 201-yard, four-touchdown performance against the Kansas Coty Chiefs in the final game of the season.
Rodgers and Mahomes both lost their leading wide receivers from last season. Rodgers lost Davante Adams and his 123 catches, 1,553 yards, and 11 TDs. Mahomes lost Tyreek Hill and his 111 catches, 1,239 yards, and nine TDs.
The 2022 NFL season will be the season of Josh Allen, no matter what the NFL universe thinks.
The rest of the top 10 NFL QBs
The rest of the top 10 NFL quarterbacks list heading into 2022 is fascinating and tells us a lot about where the league is heading into a new season.
The whole list looks like this:
Aaron Rodgers
Patrick Mahomes
Josh Allen
Tom Brady
Joe Burrow
Matthew Stafford
Justin Herbert
Russell Wilson
Deshaun Watson
Dak Prescott
There are four QBs on this list 33 or over and one in his mid-40s. That's a good sign, though, as it means there are six signal-callers in their 20s, and five of them are 26 or younger. And that's without young (25 and under), promising signal-callers like Lamar Jackson, Trevor Lawrence, Zach Wilson, and Justin Fields making the list.
The overall takeaway here is that the NFL is in good hands for the 2020s, and the QB talent in the league right now might be better than ever.
All stats courtesy of Pro Football Reference
RELATED: 2022 Buffalo Bills Schedule: Full Dates, Times, and TV Info