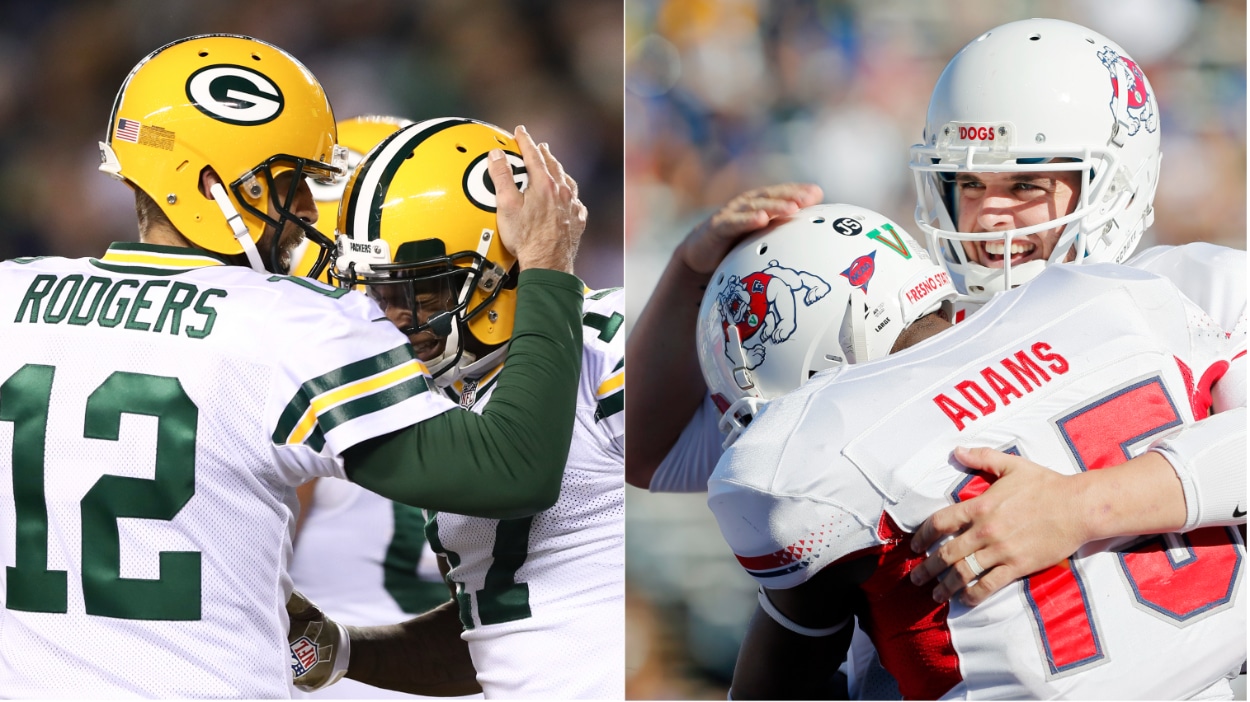 Aaron Rodgers Gets Dissed by Davante Adams With Derek Carr Comparison
Davante Adams made some interesting comments about Green Bay Packers quarterback Aaron Rodgers vs. Las Vegas Raiders QB Derk Carr.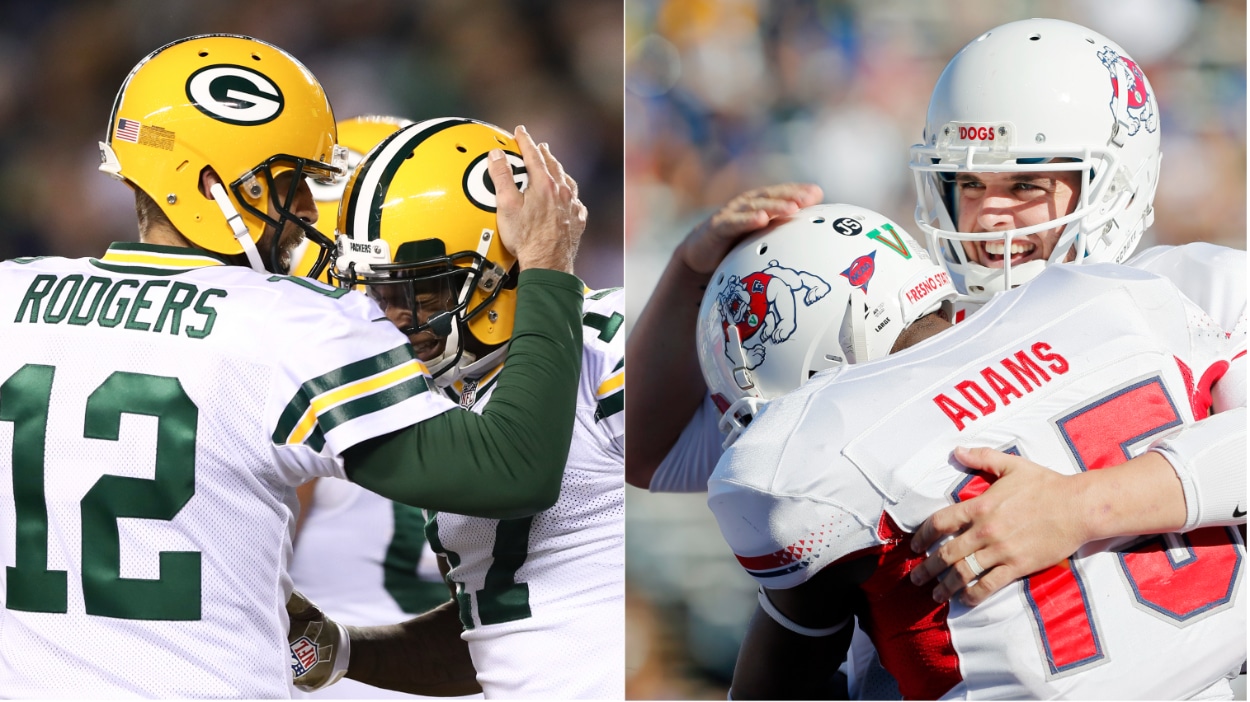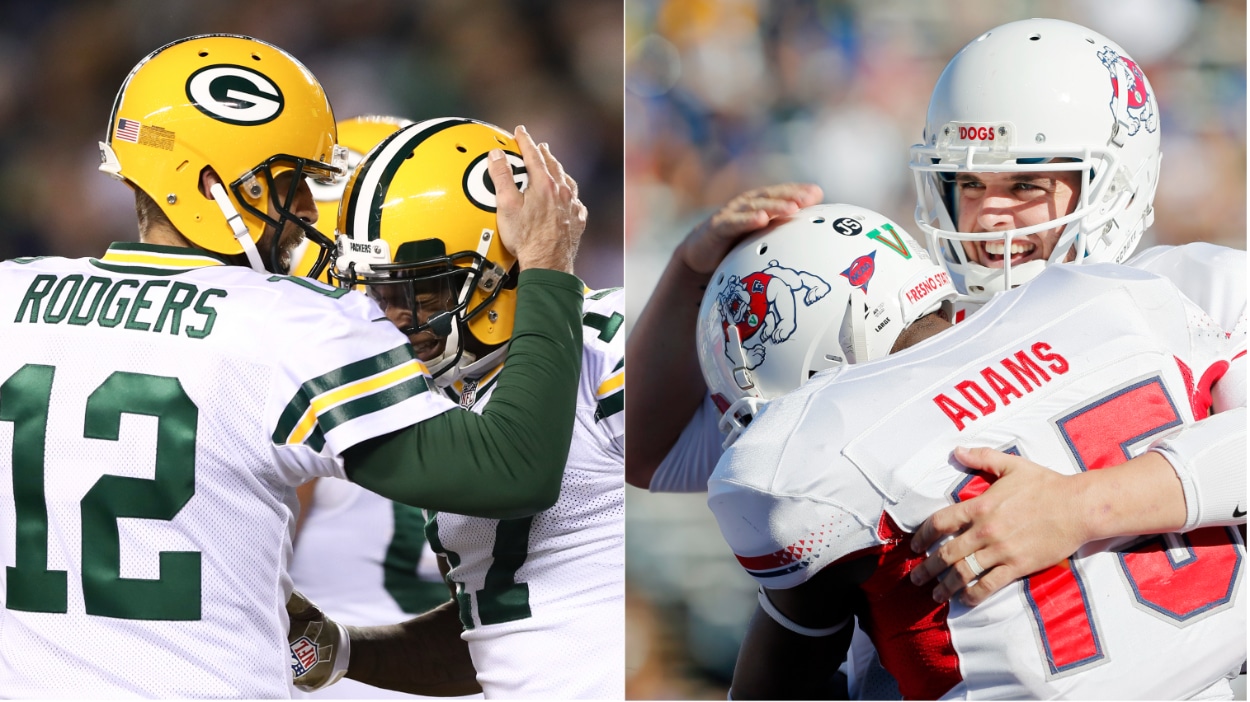 Davante Adams forcing a trade from the Green Bay Packers to the Las Vegas Raiders is one of the most significant developments in the 2022 NFL offseason. Now, the wide receiver is opening up about why he made the move and talking about how his new quarterback, Derek Carr, measures up to his old QB, Aaron Rodgers.
Davante Adams says Aaron Rodgers' looming retirement helped make his decision
After eight seasons with Aaron Rodgers and the Green Bay Packers, All-Pro wide receiver Davante Adams forced a trade to the Las Vegas Raiders this offseason. In Vegas, Adams reunites with his Fresno State battery-mate, Derek Carr.
The trade rocked the NFL world on St. Patrick's Day, and now Adams is explaining why he decided to make the move.
At 29, Adams likely still has as many as four or five years left as a top pass-catcher in the game. This reality didn't jive with Rodgers' annual public retirement musings. The WR recently told reporters (h/t NFL.com):
Because where I am in my career … I got aspirations of doing really, really big things and being remembered, and it just wasn't really a point in my career that I was willing to sacrifice Aaron not being there after a year or two.

Davante Adams on Aaron Rodgers retirement
By moving to the Raiders, Adams will join 31-year-old Carr, who will almost assuredly be in the league longer than the 39-year-old Rodgers. The Raiders also solidified Carr's status with the team this year, giving him a $120 million extension, through 2024.
Rodgers' looming retirement wasn't the only reason Adams decided to leave the Packers, though.
He also cited being closer to his family and hometown (Palo Alto, California) and wanting to raise his kids in a place like Las Vegas.
Lastly, Adams gave one more reason he was open to a move. And that reason is a bit disrespectful of his former QB.
Adams claims Derek Carr and Aaron Rodgers have similar talent levels
The final reason Davante Adams gave for wanting to go from the Green Bay Packers to the Las Vegas Raiders is that he believes the talent level between Aaron Rodgers and Derek Carr isn't all that different. Adams told reporters:
As far as talent and ability, it's really similar, if I'm keeping it real. They throw the ball a lot different. Derek's gonna fire it in there, and you gonna know that thing's coming quick. Aaron's got the ability to tighten that core up and flick that ball to you. … Having two guys like that with really strong arms, and understand the game, the mental part of it, is another similarity that they have. They both obsess over it, and they know everything that's going on out there.

Davante Adams on Aaron Rodgers vs. Derek Carr
While the hard work and mental aspects of the game might be similar, it's hard to believe that Rodgers and Carr have similar talent levels.
Rodgers is a 10-time Pro Bowler, a four-time All-Pro, a four-time NFL MVP, and a Super Bowl champion. He boasts a 139-66-1 record as a starter and has thrown for 55,360 yards with 449 touchdowns and 93 interceptions in his 17-season career.
By comparison, Carr has three Pro Bowl appearances and a 57-70 record as a starter. In his eight-year career, he's thrown for 31,700 yards with 193 touchdowns and 85 interceptions. He's also only played in one postseason game.
While you can attribute some of the record disparity to team aspects, the numbers speak for themselves. Rodgers is a sure-fire Hall of Famer and one of the best 10 QBs in NFL history. Carr is a borderline top 10 QB this coming season.  
Adams is in for a rude awakening in 2022, and not just because of the QB talent difference.
Why winning with the Las Vegas Raiders will be much harder than with the Green Bay Packers
Even with the less talented Derek Carr throwing to him in 2022, Davante Adams will likely still be a top-three WR with the Las Vegas Raiders. However, leaving the Green Bay Packers (and the NFC North) for the AFC West will make it much harder to win it all this coming season.
The Packers are still the class of the NFC North in 2022. The Minnesota Vikings have a new head coach, the Detroit Lions made some nice defensive draft picks, and the Chicago Bears do have a promising young QB in Justin Fields (although they didn't help him much this offseason. Still, Aaron Rodgers and his squad should win the division again.
The AFC West is a different story.
The Kansas City Chiefs with Patrick Mahomes, Denver Broncos with Russell Wilson, and Los Angeles Chargers with Justin Herbert all have top signal-callers. The division is rife with premier pass-rushers as well, like Frank Clark, Bradley Chubb, and now Khalil Mack.
The Raiders' division is now one of the most talent-laden in the history of the NFL. For Adams and Carr to win the division (or even make the playoffs from it), it will require a Rodgers-like MVP effort from Carr.
It sounds like Adams thinks that's possible. Unfortunately for the WR, most NFL watchers probably don't agree.
All stats courtesy of Pro Football Reference
Like Sportscasting on Facebook. Follow us on Twitter @sportscasting19 and subscribe to our YouTube channel.