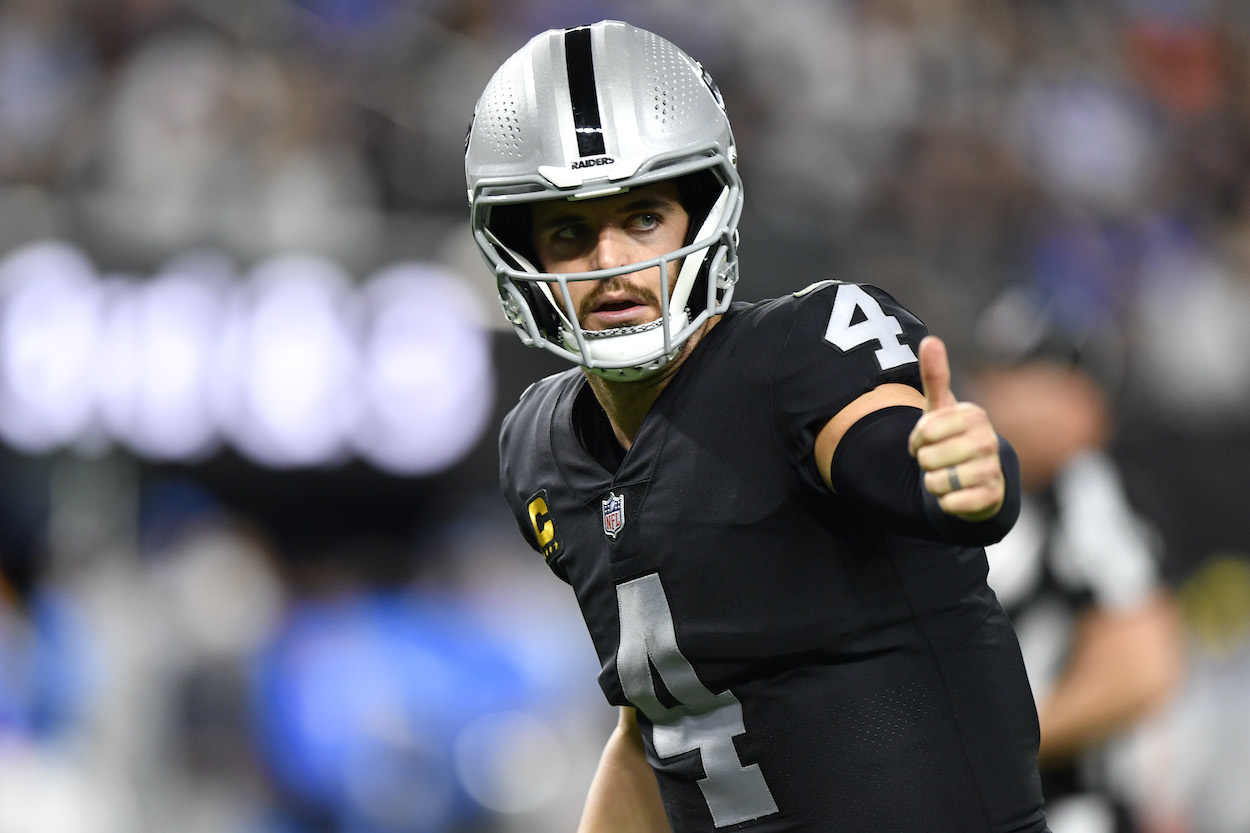 Derek Carr Contract: The Las Vegas Raiders QB's Massive $120M Deal Isn't What It Seems
The Derek Carr contract extension seems like a big commitment between the Las Vegas Raiders and their QB, but the deal's not what it seems.
After the Davante Adams trade and the Chandler Jones signing, and the Josh McDaniels hire, there's no doubt that the Las Vegas Raiders are all-in on the 2022 NFL season. The franchise even gave out a massive $120 million, three-year Derek Carr contract extension for the quarterback to pilot the ship going forward.
Or did they?
Derek Carr is a solid NFL quarterback
The Raiders drafted Derek Carr No. 36 overall out of Fresno State in the 2014 NFL Draft. Second-round QBs don't have a great track record of working out, but Carr is one of the few who have.
Car is a good QB. He has three Pro Bowl appearances in his career and has put up impressive stats. In eight NFL seasons, Carr has thrown for 31,700 yards, 193 touchdowns, and 85 interceptions. His yards and touchdowns are 10th and 12th among active QBs.
And that's about where Carr lives so far in his NFL career. If you offered Carr for free to all the teams in the NFL, 12 would take him in a heartbeat. Another 12 would say no thanks, and the rest would have to think about it.
By my (admittedly unscientific) calculations, Carr is no better than the 13th best signal-caller in the league headed into 2022. That number could drop as well if young QBs like Trevor Lawrence or Zach Wilson make a jump in Year 2.
Now, it seems like the Las Vegas Raiders have committed three years and $120 million to a Derek Carr contract extension for him to lead the team into the future. However, this isn't exactly the case.
The Raiders QB's contract isn't what it appears
It won't surprise savvy NFL fans that the reported details of the Derek Carr contract extension aren't exactly as advertised.
NFL insider Albert Breer from NBC Sports and the MMQB reported the real details of the pact a few days after the deal came to light. The extension includes a $7.5 million signing bonus and a $17.3 million 2022 base salary. That is fully guaranteed for a total of $24.87 million.
The second year and beyond aren't guaranteed until three days after the 2022 season's Super Bowl, on February 15, 2023. At that point, if Carr is still on the Raiders roster, his $32.9 million 2023 salary, along with $7.5 million of his $41.9 million 2024 salary, will lock-in.
However, if the Raiders let Carr go in the days after Super Bowl 57, the dead cap hit will only be $5 million.
So, in short, the gaudy Derek Carr contract extension is much more of a one-year, prove-it deal than it seems at first glance.
Can Carr win a Super Bowl?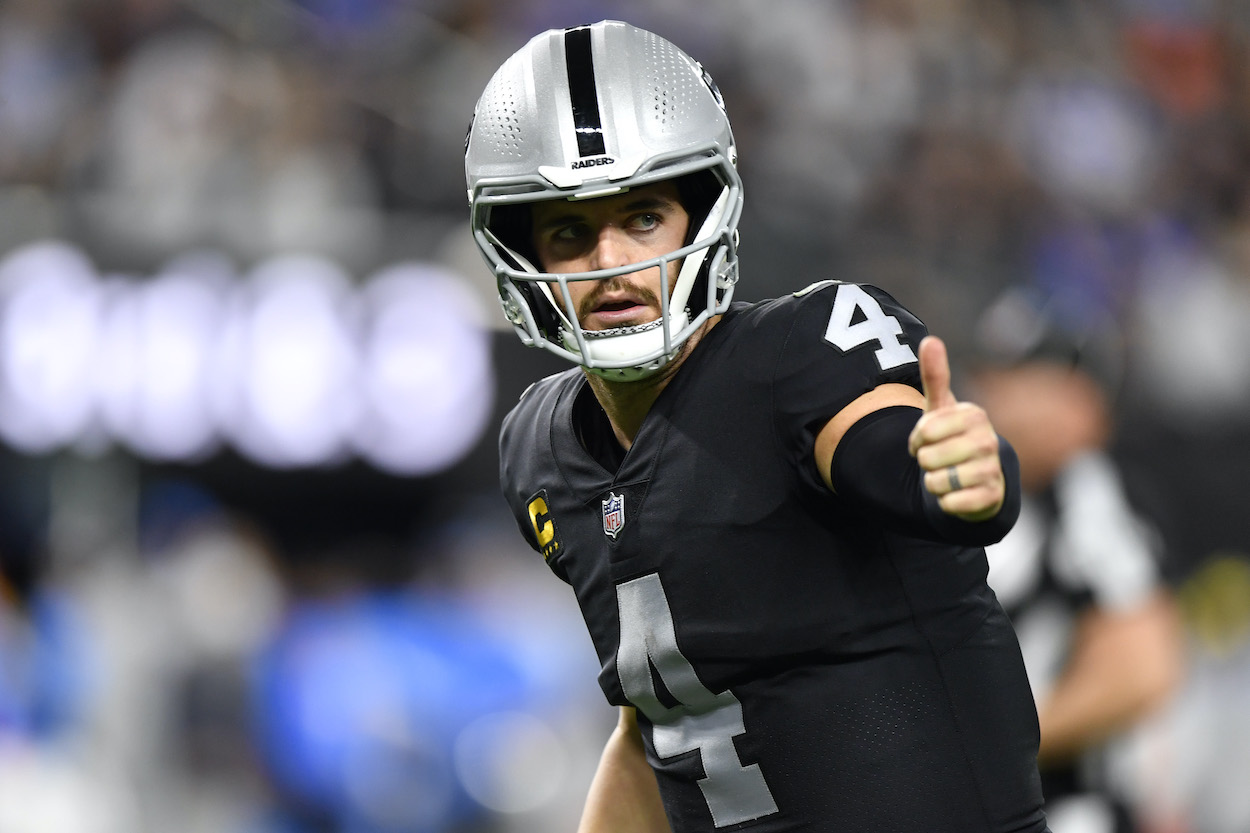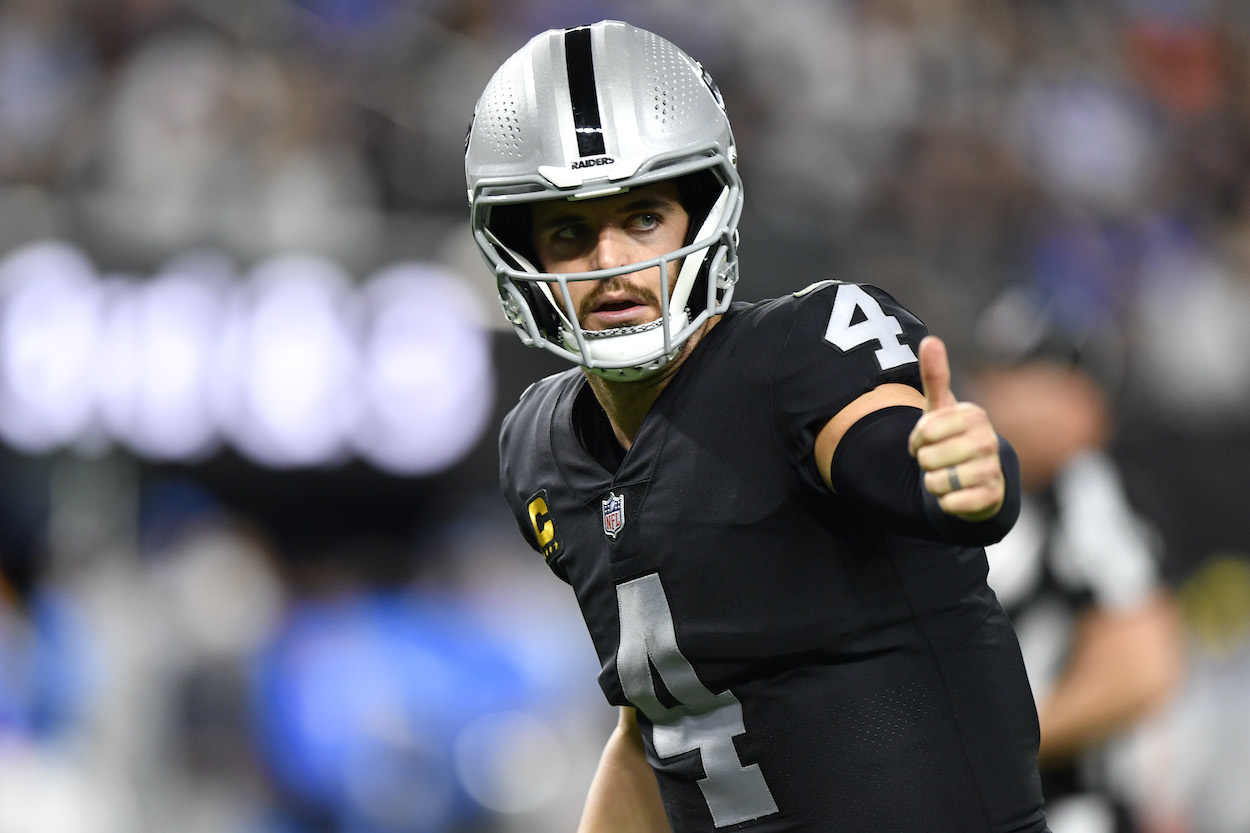 The Derek Carr contract extension notwithstanding, the QB's long-term fate is tied to how well the Las Vegas Raiders do as a team. The organization is asking a QB with one playoff game on his resume to win a Lombardi Trophy, or come damn close in 2022.
Middle-of-the-pack passers have won Super Bowls before. 
Names like Joe Flacco, Brad Johnson, and Trent Dilfer are in the record books as starting and winning the Big Game. Nick Foles accomplished the feat just a few years ago, in 2018.
Even Eli Manning is probably closer to Carr than Tom Brady or his brother. And he won it twice! 
The key is to have a great team around a competent QB who can keep calm, not crack under pressure, and make a big play or two when the situation calls for it. 
The 2022 and beyond Las Vegas Raiders now have the first part taken care of. Now they need to see if Carr is capable of those second parts. 
If he is, he'll cash $120 million in checks over the next three seasons and maybe more. If not, he could be gone before March 2023. 
All stats courtesy of Pro Football Reference and contract figures courtesy of Spotrac