NFL Insider Albert Breer Believes the Manning Family's Next Move is Buying an NFL Team: 'Peyton Manning Never Took Less on Contracts, Eli Manning Never Took Less on Contracts'
Peyton Manning, Eli Manning, and the rest of the Manning family have long had their eyes on NFL ownership and the First Family of Football's opportunity could be coming soon.
The members of the Manning family are many things. They are great football players, hilarious product endorsers, and good businesspeople. They are all also very wealthy. Combining the overwhelming wealth of the entire Manning clan (not just Peyton Manning and Eli Manning) with the family's love of football, it makes sense that a familial goal is to one day own an NFL team, as MMQB NFL insider Albert Breer recently revealed.
NFL Insider Albert Breer thinks the Manning Family will someday own an NFL Team
Now that Peyton Manning is retired, there is plenty of speculation as to what his next move will be.
His first order of business was to join brother Eli Manning on the Monday night Manning Cast and revolutionize sports broadcasting. What's next? It could be coaching or running a team's front office or even becoming NFL Commissioner.
However, the path that seems to make the most sense is team ownership.
Peyton himself has hinted at the desire to be the main person in charge of a franchise. And now, NFL insider Albert Breer from the MMQB recently said on the Dan Patrick Show that franchise ownership has long been a goal of not just Peyton but the entire Manning family.
Breer told Dan Patrick that a "side benefit" of Peyton going to play for the Denver Broncos to end his career was that he got to see Hall of Fame QB John Elway run a team in a de facto ownership role as Broncos owner Pat Bowlen took a step back as he got older and his health deteriorated.   
The insider also noted that a Manning family-led ownership group is something he's heard about for a long time now:  
I've also heard the Manning Family's always sort of had an eye on ownership. And that was part of the reason why, over the years, Peyton Manning never took less on contracts, Eli Manning never took less on contracts. They always did a lot of endorsements. I'd always heard that idea, that the Manning family was building capital to maybe someday be able to buy a team. I don't know if they have the capital to be able to buy a team outright. But to be a part of an ownership group? That would make some sense.

Albert Breer on the Mannig family's desire to own an NFL team
The last two NFL teams that sold, the Buffalo Bills (2014) and Carolina Panthers (2018), went for $1.4 billion and $2.3 billion, respectively.
Does the Manning family have that kind of scratch?
Eli and Peyton Manning made more than half-a-billion dollars just for playing football 
It's no secret that Eli and Peyton Manning have a lot of money. Peyton played in the NFL from 1998-2015, and younger brother Eli took snaps in the pros from 2004-19.
The Manning brothers played in an era of exploding salaries in the NFL and North American pro sports in general. These pro leagues gave out bigger and bigger contracts each year. Because of this constant growth trajectory, Eli's career earnings ($252,280,004) are actually higher than Peyton's ($248,732,000). This is despite the fact that the latter played longer and was the better quarterback.
However, the Manning family isn't living off Peyton and Eli's nest eggs.
Father Archie played QB in the NFL for 13 seasons (1971-84). And, while salaries back then weren't nearly what they were at the turn of the century, Archie was still able to build a nice net worth for himself. According to CelebrityNetWorth.com, the Manning patriarch is worth around $10 million today.
Eldest brother Cooper never made the NFL thanks to a spinal stenosis diagnosis while playing WR at Ole Miss. That didn't stop him from making a lot of money through business ventures and media appearances. He currently has a net worth estimated at $15 million.
When you take Archie and Cooper's $25 million and add it to the estimated net worths of Peyton ($250M) and Eli ($150M), you're looking at a family sitting on around $425 million.
While that's not enough to buy an NFL team anytime soon, it's a fantastic start toward putting an ownership group together to buy the next NFL team that comes on the market. And, as luck would have it, the next team just happens to be one of Peyton's former franchises.
Could the Manning's buy the Denver Broncos?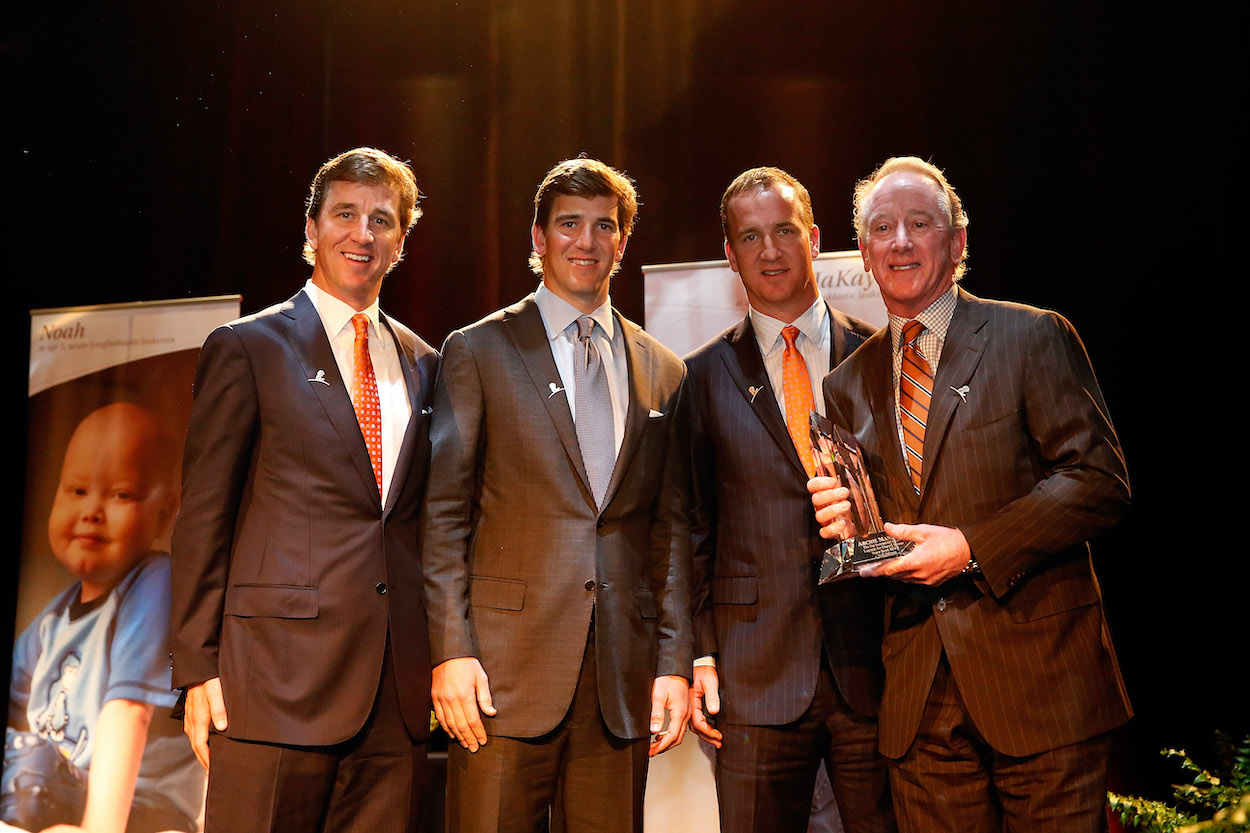 Canadian-American lawyer Pat Bowlen bought the Denver Broncos in 1984 and owned the team until he died in 2019. Ownership passed on to his estate after that. The estate hasn't made any official announcements, but all signs point to the team being for sale for $3-$4 billion this offseason.
If it is, CBS Sports reports that "there is a strong sense coming out of [December]'s NFL meetings that the transaction could be fast-tracked to be completed by the spring, with a formal vote not out of the question by the March league meetings."
Albert Breer also noted that, for several reasons, Peyton Manning getting involved in a bid for the Broncos makes sense:
If you were putting together an ownership group in Denver … that'd be a pretty powerful guy to have on your side, wouldn't it? And I know Peyton really loves there. That's the other thing. Part of the reason why I think he has been a little slow to take a job as a football executive — because those opportunities have been available to him — is because he lives a very comfortable life in Denver now. So, there are a lot of things there that sort of lineup where it would make sense if Peyton Manning was part of a group that would bid on the Broncos.

Albert Breer on Peyton Manning buying the Denver Broncos
While Peyton makes complete sense as the new Denver Broncos owner, the other Manning's are iffier. Eli currently works on the business side of his only NFL team, the New York Giants. He would have to give that up if he joined Peyton's Broncos bid.
Archie and Cooper also live far from Colorado, in New Orleans, Louisiana. Cooper's son Arch is (unsurprisingly) a top high school quarterback prospect and is on the verge of making a major decision as to where he will play in 2023 and beyond.
The Manning family certainly has a lot to consider before bidding on the Denver Broncos. But don't be surprised if the First Family of Football joins forces and becomes the NFL's newest owners in 2022.
Contract figures courtesy of Spotrac