Peyton Manning Schooled a Young Pat McAfee, Teaching Him a Valuable Lesson on Focusing on the Season at Hand: 'You Idiot, Do Not Ask Me That Question Right Now'
Peyton Manning and Pat McAfee now have a lot in common. They both excelled during their NFL careers, they played in a Super Bowl together with the Indianapolis Colts, and they have become two of the best and most interesting figures in all of sports media in 2022.
In 2009, though, McAfee was an unknown rookie out of West Virginia. Manning was a 12-year vet well on his way to becoming one of the best quarterbacks in league history. That's when Manning gave McAfee some hilarious yet important advice that he still remembers today.
NFL fans may forget Pat McAfee was an All-Pro punter and kickoff specialist 
Today, most football fans know Pat McAfee as the sports talk host who chats with Aaron Rodgers once a week and just signed a $120 million deal with FanDuel.
However, he was an All-Pro punter for the Indianapolis Colts before that.
McAfee started his college career as a placekicker for the West Virginia Mountaineers. As the school's kicker, he made 210 of 212 extra points and 58 of 79 field goals in his four years. After taking over as the team's punter as well in his junior and senior seasons, he became (and still is) the Big East's all-time leader in yards per punt (43.7).
In 2009, the Indianapolis Colts selected him in the seventh round (No. 222 overall) to punt, kick off, and hold for (soon-to-be) Hall of Fame kicker Adam Vinatieri.
McAfee played the next eight seasons with the Colts. The Pennsylvania native became one of the best and most exciting (yes, exciting) punters in the NFL. He made two Pro Bowls (2014, 2016) and was a first-team All-Pro in 2014. He is 11th all-time in yards per punt (46.4) and has punts of 88, 85, and 76 yards on his resume.
The punter and kickoff specialist also put together an incredible highlight reel — one you would never expect from a punter. McAfee recovered his own onside kick, threw on fake punts, and made several linebacker-level hits on return men. The punter punctuated his big hits by strutting with his arms at his side and celebrated punts inside the 10-yard line with a smooth pantomimed golf swing.
Already one of the most interesting kickers in NFL history, McAfee walked away from the game at 29. He was on the verge of a multimillion-dollar new deal but turned it down to become a Barstool Sports contributor.
The now-sports talk host recently shared a valuable lesson Peyton Manning taught him
Pat McAfee has come a long way from his Barstool Sports days. He now hosts his own show and recently signed a $120 million deal with his primary sponsor, FanDuel, to keep the Pat McAfee Show going for at least three and possibly four more years.
McAfee talks of his playing days often on the show.
He speaks weekly to his old coach, Chuck Pagano, and his old teammate, Darius Butler. The former player also shares stories of learning from the incredible veterans on those Indianapolis Colts teams like Robert Mathis and, of course, Peyton Manning.
Last Tuesday, during Aaron Rodgers' weekly visit, McAfee asked the QB if he knew what he would do this offseason.
This question prompted McAfee's reminiscence of the time he asked Manning about the offseason during a playoff run. The retired kicker still remembers the blunt and memorable lesson the Hall of Famer gave him:
I remember my rookie year, we were on a run, and it was maybe Week 15, Week 16. And at lunch, I accidentally asked Peyton — just accidentally said, 'Hey, when do you start preparing for like the offseason? When should I start thinking about the off —,' and Peyton said, 'When the f****** offseason starts.' Like, 'Hey, do not be thinking about the offseason right now' is what he was telling me, and it was awesome. He didn't say it in that exact fashion, but it was basically like, 'You idiot. Do not ask me that question right now. We are in the middle of a run right now. Let's just focus on football.'

Pat McAfee on advice from Peyton Manning
It was incredible advice and exactly the type you'd expect from a player nicknamed "The Sheriff."
With this advice and other stories McAfee has told — like the famous "Red 18" tale — it is obvious Manning was a significant influence on his career and life.
Now, though, the former teammates are true peers in the sports media world.
Both McAfee and Manning have become fascinating media personalities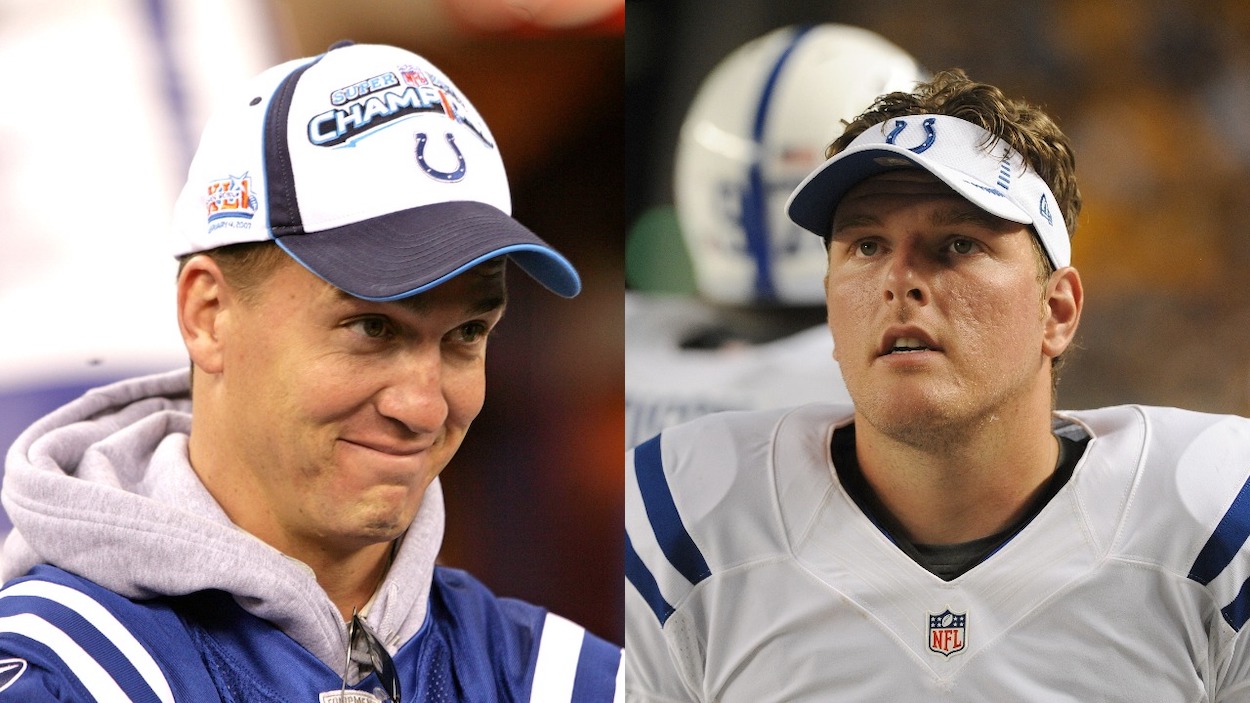 In 2022, no list of the most captivating sports media personalities is complete without Pat McAfee and Peyton Manning.
McAfee created his own Morning Zoo-style sports talk show with a bunch of his longtime buddies ("The Boys") and co-host and former NFL linebacker A.J. Hawk. Yes, McAfee and company let the f-bombs fly on the show, but the whole crew has a much more "modern bro" vibe than the raunchier, more controversial Barstool Sports world McAfee came from.
His fast-talking, scattershot, unafraid interview style gets his guests to open up more than almost any other current athlete interviewer out there. And, the fact that the never-dull Aaron Rodgers chooses to sit with the crew every Tuesday to pontificate on whatever (or whomever) is on his mind that week makes the show a must-listen for NFL fans.
On the other hand, Peyton Manning has revolutionized the way football is broadcast this season.
Along with brother Eli Manning on ESPN's alternate Monday Night Football broadcast, known as the Manning Cast, Peyton has broken the decades-old formula of how sports fans watch games live.
The Manning Cast is part deep football nerd analysis, part late-night talk show, and part sibling standup comedy. It also feels akin to what it would be like to sit on a couch with Peyton and Eli and watch football while they FaceTime'd their famous friends.
More than anything, it is an incredibly innovative NFL broadcast. It is already being imitated in other sports and may well change the way we watch live sports on TV.
You can listen to the Pat McAfee Show from noon-3 p.m. EST on SIRIUS XM Channel 82 or watch it simulcast live on YouTube. The Manning Cast is shown on ESPN2 during select Monday Night Football games. Check local listings for details. 
All stats courtesy of Pro Football Reference and Sports Reference