Aaron Rodgers and Pat McAfee Have a Love-Fest Over the Host's $120 Million Deal: 'It Gets Ya a Little Misty'
There have been great duos in sports like Jordan and Pippen or Montana and Rice. There've been great duos in entertainment like Lennon and McCartney or Farley and Spade. Now, a duo brings together sports and entertainment to provide the most engaging hour in all of sports media every Tuesday: Aaron Rodgers and Pat McAfee.
While Rodgers is the one who usually breaks news each week, this week was notable because it was the first time the Green Bay Packers QB and the former Indianapolis Colts punter have talked since McAfee signed his $120 million deal with FanDuel. The signal-caller couldn't have been happier for his punter buddy.  
Pat McAfee just signed a massive deal with FanDuel
After teasing big news for weeks, Pat McAfee, host of the Pat McAfee Show, finally made his big announcement on Thursday, December 9.
At noon EST, in a pre-produced video, McAfee announced that he had signed a massive deal with FanDuel, a major online sportsbook. The contract will keep the show going for at least three more years.
The former NFL punter went through the entire history of the show since he walked away from his Pro Bowl NFL career at the age of 29, "1,771 days ago."
He talked about the reasons for his retirement, the pundits who loudly shouted that it was a bad decision (tough look, Michael Wilbon), his time with Barstool Sports, and he and his friends/staff growing the show as an independent entity.
McAfee continued by discussing the negotiations over this new deal for what he called "a hilarious amount of money."
Finally, he announced his three-year (with an option for a fourth) deal with FanDuel to be the show's main sponsor. McAfee didn't reveal the dollar amount of the deal. However, it's widely reported that it is for $30 million a year for a total of $120 million.
After announcing the partnership, McAfee went on to tell his audience he gave each of "the boys" who work on and co-host the show $250,000 bonuses. He also made his parents "millionaires" with the money.
Then, he announced that he is donating over $6 million to charities. He spread the money around in his Pittsburgh-area hometown, his college home of Morgantown, West Virginia, and his now-local Indianapolis area.
It was an emotional announcement for McAfee. And many fans who've listened for a long time surely felt the same. That includes Aaron Rodgers.
Aaron Rodgers offered the talk show host his heartfelt congratulations
One of the big reasons the Pat McAfee Show has become so successful is the advent of Aaron Rodgers Tuesdays.
The rise of the show has coincided with the rise of Rodgers becoming the most interesting, polarizing, controversial, and mercurial athlete in the NFL. Every Tuesday, he comes to McAfee's show to tout his ideas, crush his enemies, ponder life's mysteries, and talk some football.
This Tuesday was his first appearance since the big announcement. Rodgers shard some heartfelt congratulations with his pal and the team:
Congrats to you and the boys, man. I haven't talked to you since the news broke. Couldn't be more happy for you guys. Couldn't happen to better people, harder workers in the business, and I watched that — and I was texting with you last week — but I watched that video that you put together and, it's, umm — it gets ya a little misty watching that, man. I know you did as well. Talking about your folks and all the people that helped you. That was really special, man. Good for you. Good for the boys. And good to see you guys will be well taken care of for at least the next three years.

Aaron Rodgers to the 'Pat McAfee Show' crew
It was a lovely tribute from the reigning NFL MVP. He seems to have a genuine affinity for McAfee, his co-host and Rodgers' former teammate A.J. Hawk, and the rest of "the boys" who make up the world of the Pat McAfee Show.
After Rodgers said his piece, McAfee gave a big "thank you" back to the QB, who's been no small part of the show's success.
Rodgers and McAfee together are the most captivating combo in sports media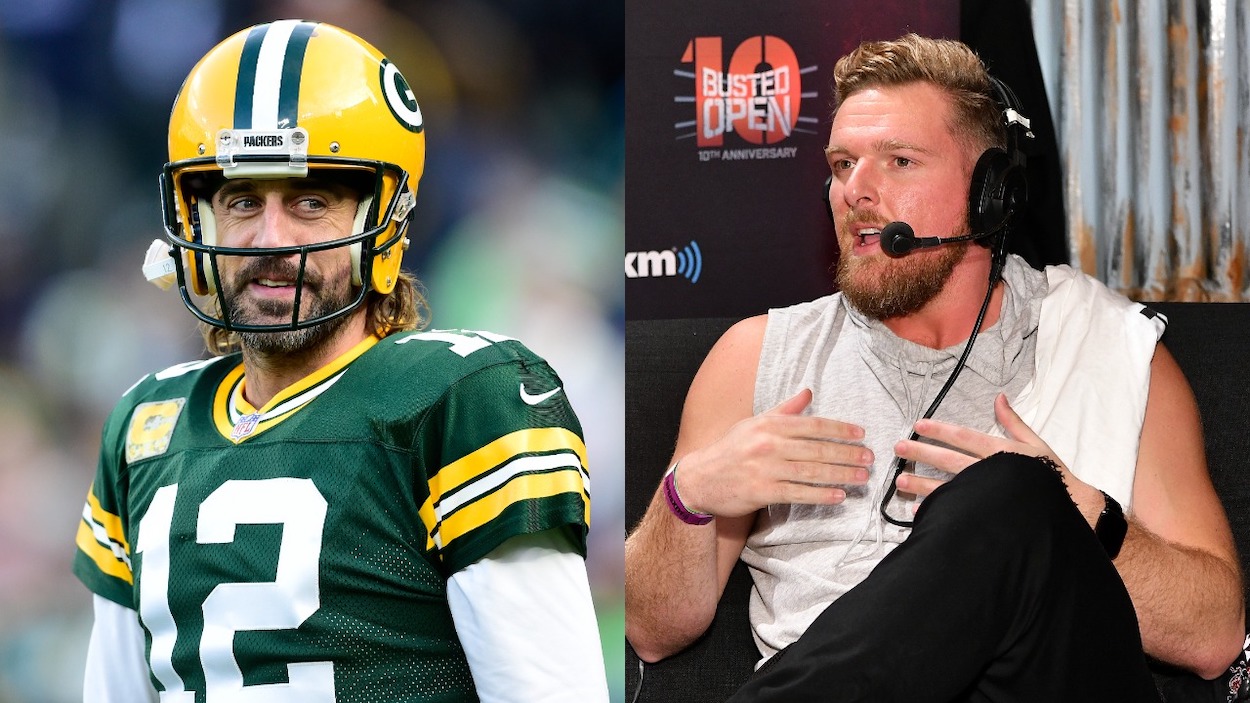 Aaron Rodgers has been at the center of controversy for almost his entire career.
It started when the Green Bay drafted the Cal Bears QB No. 24 overall in the 2005 NFL Draft while they still had QB Brett Favre, who had (it turns out) six years left in his career. The tables turned 15 years later when the Packers pulled almost the exact same move again, drafting Utah State QB Jordan Love right before Rodgers (it turns out) was about to win his third NFL MVP Award.
The 2020 offseason was especially tumultuous as Rodgers got engaged to a Hollywood star, vied for the Jeopardy hosting gig, and threatened retirement. When he came back to the team, he also came back to McAfee's show and discussed it all.
Listeners never truly know what they're going to get during the Aaron Rodgers Tuesday appearances, which is why the segment is so enthralling.
You might get a football-heavy chat where Rodgers dives into his most recent game or weighs in on the hot topics in the NFL. You could also get the more esoteric Rodgers who goes off on a tangent about UFOs or reflects on life lessons on his birthday.
The most captivating Rodgers/McAfee interviews happen when the QB chastizes someone, or some group, who he perceives have wronged him.
This could be other NFL players, the media, or the "Woke Mob."
No matter what or whomever Rodgers is pontificating about on the Pat McAfee Show, it's obviously been rewarding for both McAfee and his audience.
Like Sportscasting on Facebook. Follow us on Twitter @sportscasting19