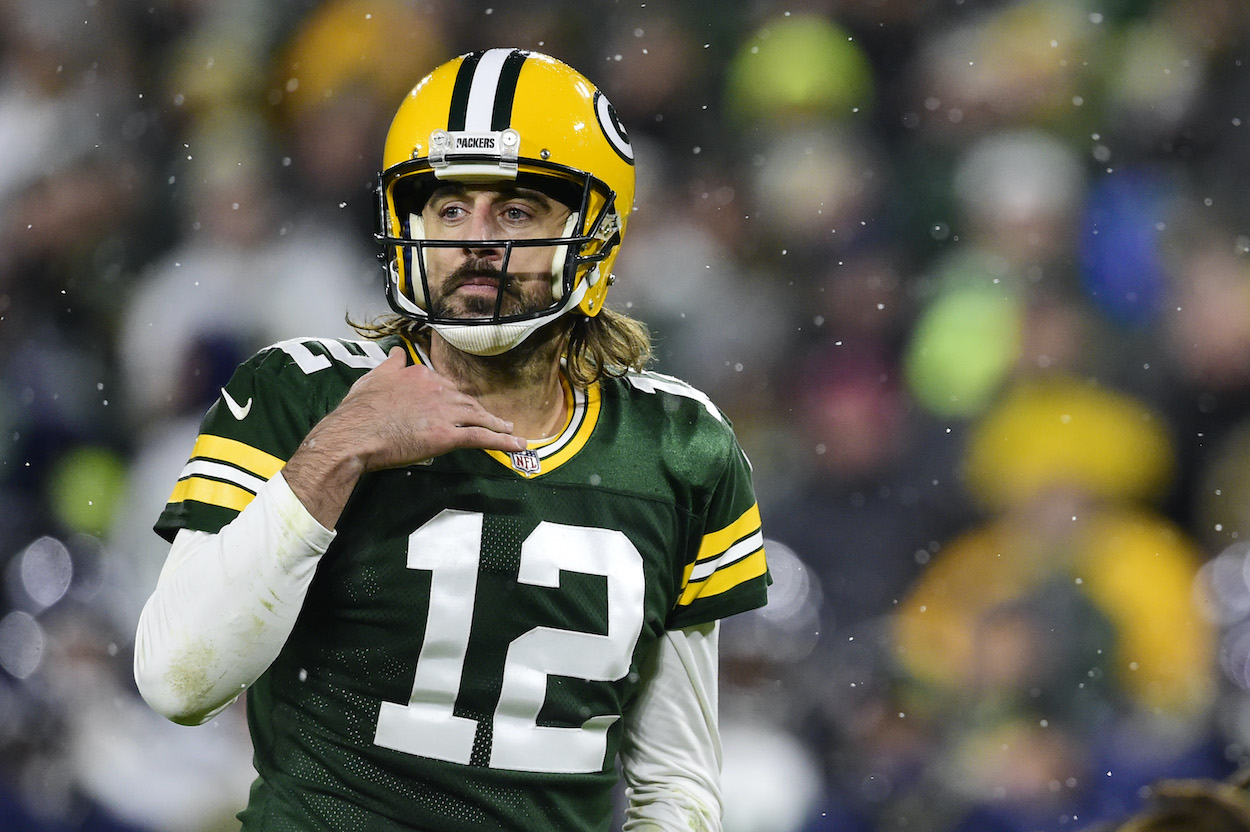 Aaron Rodgers Sent a Warning to Any NFL Defensive Player Who Wants to Imitate His Belt Celebration: 'There Hasn't Been a lot of Positive Things That Come From Guys Doing It Over the Years'
A Seattle Seahawks defender dared mock the iconic Aaron Rodgers belt celebration on Sunday and, as the QB shared afterward, that is never a smart idea.
Former Green Bay Packers and current New York Jets quarterback Aaron Rodgers is known for his belt celebration. When he scores a touchdown, he mimics wrapping a WWE-style Championship Belt around his waist in a tradition that goes back to his Super Bowl win in 2010.
He didn't get to do it in a sloppy November 2021 win over the Seattle Seahawks, as running back AJ Dillon scored twice. However, a Seahawks defensive back did it after an interception, and that was a fatal mistake.
Seattle Seahawks safety Jamal Adams celebrated an interception with Aaron Rodgers' iconic belt celebration
After missing three-plus games with a finger injury, Russell Wilson returned for the Seattle Seahawks in Week 10 of the 2021 NFL season, as did Green Bay Packers signal-caller Aaron Rodgers, who took Week 9 off after his COVID-19 fiasco.
Both quarterbacks — and their respective offenses — looked a little rusty out of the gate. Rodgers and the Packers did finally manage a field goal midway through the second quarter, though, to take a 3-0 lead.
That's the way the game went into the break: as the lowest-scoring first half of the 2021 season, according to Jim Nantz.
After a Wilson interception in the end zone to start the second half, Rodgers threw one of his own in the opposite end zone to Seahawks safety Jamal Adams. The highly-paid defensive back celebrated his first interception of the year wildly, imitating Rodger's famed belt celebration and even doing a Lambeau Leap.
The exuberant celebration was premature, though. Rodgers led two touchdown drives in the fourth quarter, and the Green Bay D picked off Wilson again. The final score, despite Adams' pick, was 17-0 Packers.
Rodgers sends a warning about his belt celebration 
Jamal Adams was the highest-paid safety in the league (by yearly cash) at $21 million in 2021. He rewarded the Seahawks for that hefty contract with zero sacks, zero forced fumbles or fumble recoveries, and two interceptions while playing in 12 games.
On the flip side, he got embarrassed during a Sunday Night Football game and proclaimed he's "the best in the nation!" before having the game-clinching INT bounce off his facemask. And then he tempted fate and paid the price by mocking the Aaron Rodgers championship belt celebration.
Rodgers discussed the issue on his weekly visit to The Pat McAfee Show. Co-host Ty Schmit asked the Packers QB about the incident. Rodgers responded:
I didn't see him do it, but there hasn't been a lot of positive things that come from guys doing it over the years. … That was a gift. I told him later in the game. An absolute early Christmas present. On that one, a bad decision, and, obviously, I didn't throw it anywhere near where I wanted to throw it. … I respect Jamal. He's a hell of a player. But that wasn't necessarily the most difficult one. I kind of threw it right to him.

Aaron Rodgers on Jamal Adams' belt celebration
Mocking Rodgers' belt celebration certainly has not worked out well for players in the past. Most famously, Detroit Lions linebacker Stephen Tulloch did it back in 2014 (which he denies, per ESPN) while jumping up in the air and tore his ACL upon landing.
In 2021, The Athletic's Matt Schneidman tweeted that the Chicago Bears' Robert Quinn and the Arizona Cardinals' Chandler Jones both did it against the Packers, and both lost the game.
All stats courtesy of Pro Football Reference