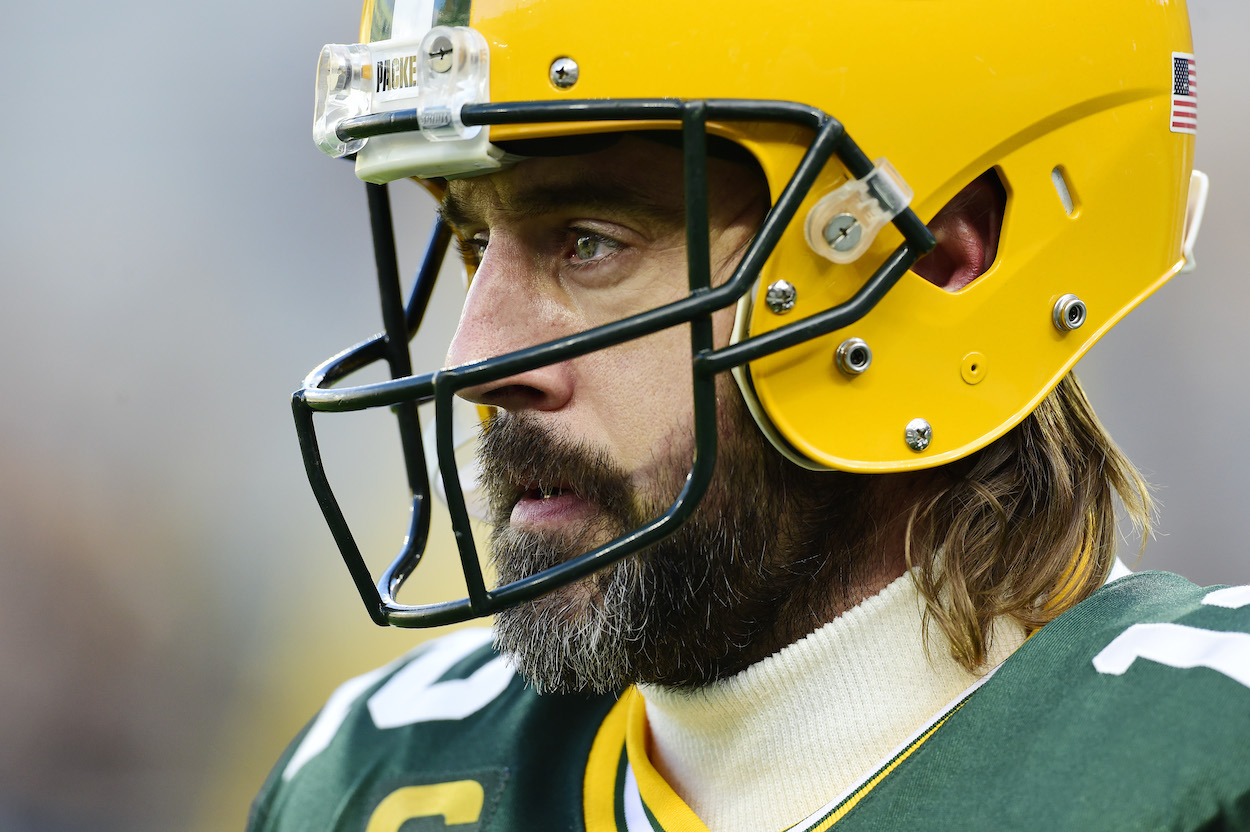 Aaron Rodgers' Birthday Speech Is Exactly as Convoluted and Cryptic as You'd Expect: 'I'm Thankful for All Those People Who Are My People'
Aaron Rodgers' 38th birthday was on Dec. 2, and in honor of the occasion, the Packers QB gave an interesting speech on his weekly 'Pat McAfee Show' appearance.
Aaron Rodgers celebrated his 38th birthday on Dec. 2, 2021, which may be a relief for the Green Bay Packers quarterback after the wild ride of his 37th year. The future Hall of Famer has become the most interesting (or infuriating to some) player in the NFL over the last 12 months.
His musings on life, football, science, media, enemies, or whatever pops into his mind have fascinated, angered, confused, and amused in the last 365 days. Unsurprisingly, his 38th birthday speech this week was no different.
Green Bay Packers QB Aaron Rodgers' birthday was Dec. 2, 2021, and comes after a wild year
A lot has happened in the world of Aaron Rodgers since his last birthday on Dec. 2, 2020.
He won the last five games of the 2020 regular season, made the playoffs, and won a game. Then, he narrowly missed out on his second Super Bowl trip, losing in the NFC Championship Game to the eventual champs: the Tampa Bay Buccaneers.
He then won the NFL MVP, thanking his theretofore unknown "fiancé," who turned out to be Hollywood star Shailene Woodley. Rodgers also leaked that he wanted out of Green Bay hours before the 2021 NFL Draft, went vacationing with Woodley and her movie star pals, finally returned to Wisconsin on the eve of the season, and thoroughly crushed Packers general manager Brian Gutekunst in the process.
Oh, and he also grew a beard and long hair (possibly for a Halloween costume), lied about his vaccination status, contracted COVID-19, and fractured his toe, all while playing at an MVP level and helping his Packers become arguably the best team in the NFL right now.
That was all in a single calendar year, and it has to make you at least a little curious about how he could possibly follow all that up.
Aaron Rodgers' birthday speech on the 'Pat McAfee Show' was exatly what you'd expect
Another big part of Rodgers' whirlwind 37th year involved joining NFL-punter-turned-talk-show-host Pat McAfee and his crew every Tuesday for a raucous, free-flowing conversation about whatever is on the reigning MVP's mind … and giving Book Club recommendations.
On the Aaron Rodgers birthday episode of the Pat McAfee Show, the host and his crew got the QB a birthday cake and asked him, "Would you like to give us a speech of anything you have learned here in your last 38 trips around the sun, pal?"
Rodgers' birthday speech was perfectly on-brand for the international man of mystery/football hippie shaman persona he's created during the last year:  
It was a really interesting year for me. A lot of great growth. I think, in general, I definitely learned over the last year who my people are and who my people aren't. And I'm thankful to all those people who are my people and have been so encouraging and supportive throughout the year, especially throughout the football season. … Life is all about relationships and cultivating the ones that bring you that life and that positivity and that joy. And I'm just thankful for those people who continue to show up for me and encourage me and hold me accountable and breathe life and happiness and joy into my daily walk around this planet.

Aaron Rodgers' birthday speech
Rodgers even managed to drop the name of a famous actor during his speech, although not one you would expect, like his fiancé's or that of travel companion and Top Gun: Maverick star Miles Teller.
Instead, he wished a Happy Birthday to fellow Sagittarius Brian Baumgartner, who played Kevin Malone on The Office.
It was the perfect Aaron Rodgers birthday speech to cap his outlandish year.
How much longer will the star signal-caller play football?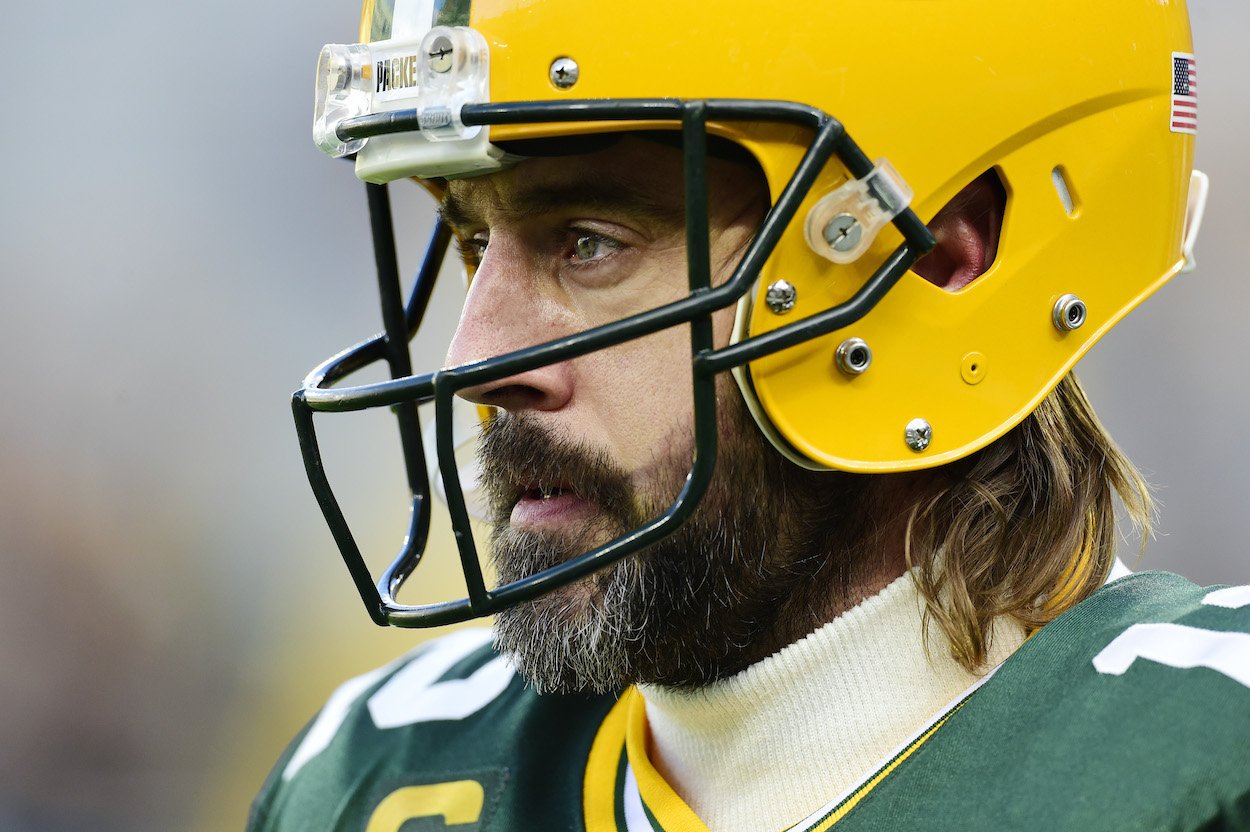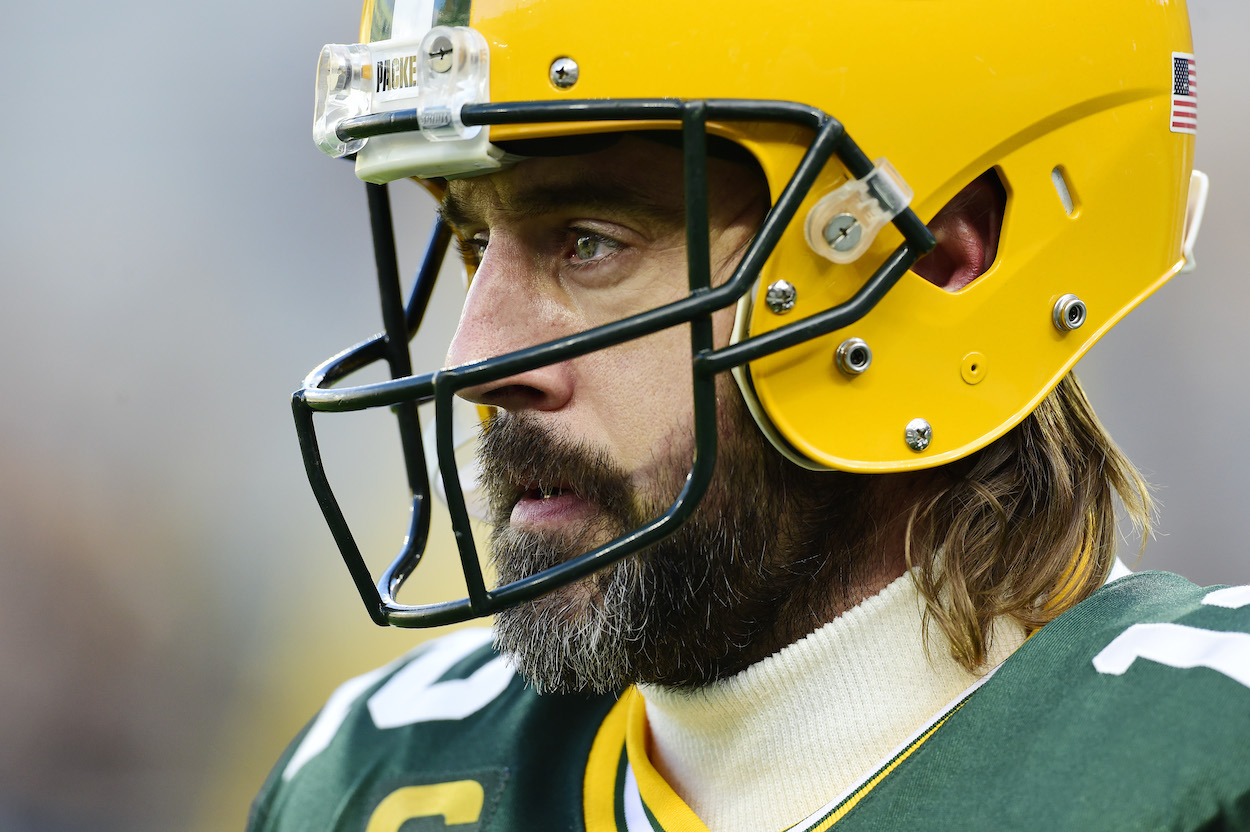 In the past, an NFL QB's 38th birthday celebration would likely pair with a retirement party — or maybe even a Hall of Fame induction.
These days, with Tom Brady almost halfway to his 45th birthday, NFL fans have no idea what is possible for a top signal-caller in his late 30s or 40s.
Rodgers is under contract with the Green Bay Packers for 2022, suggesting he will play until at least age 39.
However, his cap hit for next season is $46.1 million, while his dead cap number is only $26.8 million. Green Bay could cut him or trade him to a new team (where he would likely sign an extension) for less than if it were to keep him.
If the Packers want to keep him, they would have to restructure his deal (also likely extending his contract) to minimize that sky-high cap hit.
In either scenario, Rodgers should get a relatively long-term deal this offseason that could hint as to what age he sees himself playing until.
That said, Rodgers is nothing if not an iconoclast.
Could he push for a short-term or one-year deal to give himself maximum flexibility going forward, ala an NBA star-style contract? If that happens, NFL fans will get the "will he, or won't he?" debate every season along with the "where will he play?" one.
And keeping fans guessing is also very on-brand for No. 12.
All stats courtesy of Pro Football Reference and contract figures courtesy of Spotrac