Aaron Rodgers Reveals He Once Had Major Beef With a Vikings Defender: 'I Felt Like He Might Have Given Me the Middle Finger'
The Minnesota Vikings, especially recently, have one of the best records in the NFL against Aaron Rodgers and his Green Bay Packers. This was fully on display in Minnesota's Week 11 upset over Green Bay. Rodgers recently attributed some of this might to several longtime Vikings defenders who know him well. He also revealed that he once had a serious issue with one of these Vikings stalwarts, Minnesota linebacker Anthony Barr.
The Minnesota Vikings defense includes several longtime Green Bay Packers rivals  
As NFC North rivals, the Minnesota Vikings and Green Bay Packers play each other at least twice a season, every season.
During his 17-year career (14 as a starter), Rodgers has faced the Vikings 26 times and has a 15-10-1 record against his noisy neighbors to the west. While that record is good, the QB's 57.6% winning percentage against Minnesota is solidly below his 67.0% career mark as a starter.
In recent years, it's been even tougher sledding for Rodgers against the Vikes. Since Mike Zimmer took over as head coach in 2014, his team is 8-6-1 against Rodgers' squad.  
Part of the reason Rodgers struggles more against the Vikings than most other clubs is that the usually-tough defense includes several long-term Vikings who know Rodgers well and have surely studied him diligently over the years.
These players are linebackers Anthony Barr (eight years with the Vikings) and Eric Kendricks (seven years), safety Harrison Smith (10 years), and defensive end Everson Griffen (11 total seasons in Minnesota with one season on the Dallas Cowboys and Detroit Lions in 2020).
These players know Rodgers very well, and he is equally familiar with them. Rodgers says that this group has faced off for so long, they all now respect each other greatly, but that wasn't always the case with the QB and one of these defenders.
Aaron Rodgers and Anthony Barr once had beef over a misunderstanding
On his regular Tuesday appearance on the Pat McAfee Show, Aaron Rodgers discussed his relationship with one of the Vikings players who he's played against for a long time now.
Rodgers told a story about chatting with Anthony Barr during a replay review, and Pat McAfee asked the former Cal Bear if he got along with "AB." The Packers' legendary signal-caller then shared that while he and Barr get along well now, that wasn't always the case:
Look, we had — in 2017, we had a misunderstanding for sure. I felt like he might have given me the middle finger as I was walking off with a broken collar bone. In '18, we talked about it and kind of patched things up or whatever. Let bygones be bygones. He's a Pac-12 guy, and we've kind of passed that threshold. We've played against each other so many times that there's like an ingrained respect that goes in.

Aaron Rodgers on Anthony Barr
After revealing his long-ago beef with Barr and their squashing of it, Rodgers told McAfee what the two were chatting about during Sunday's game. He said their Pac-12-centric conversation was about how his Cal Bears "romped" Stanford in "The Big Game," 41-11, and how Barr's UCLA "beat their crosstown rivals," USC, 62-33.
One interesting note from Rodgers' story: While the QB said that he and Barr made up and are now on good terms, he never mentioned whether he misunderstood Barr's gesture in 2017 or if he just moved past the fact that the former Bruin flipped him the bird as he was leaving the field injured.  
Rodgers will see Barr and company at least one more time in the 2021 season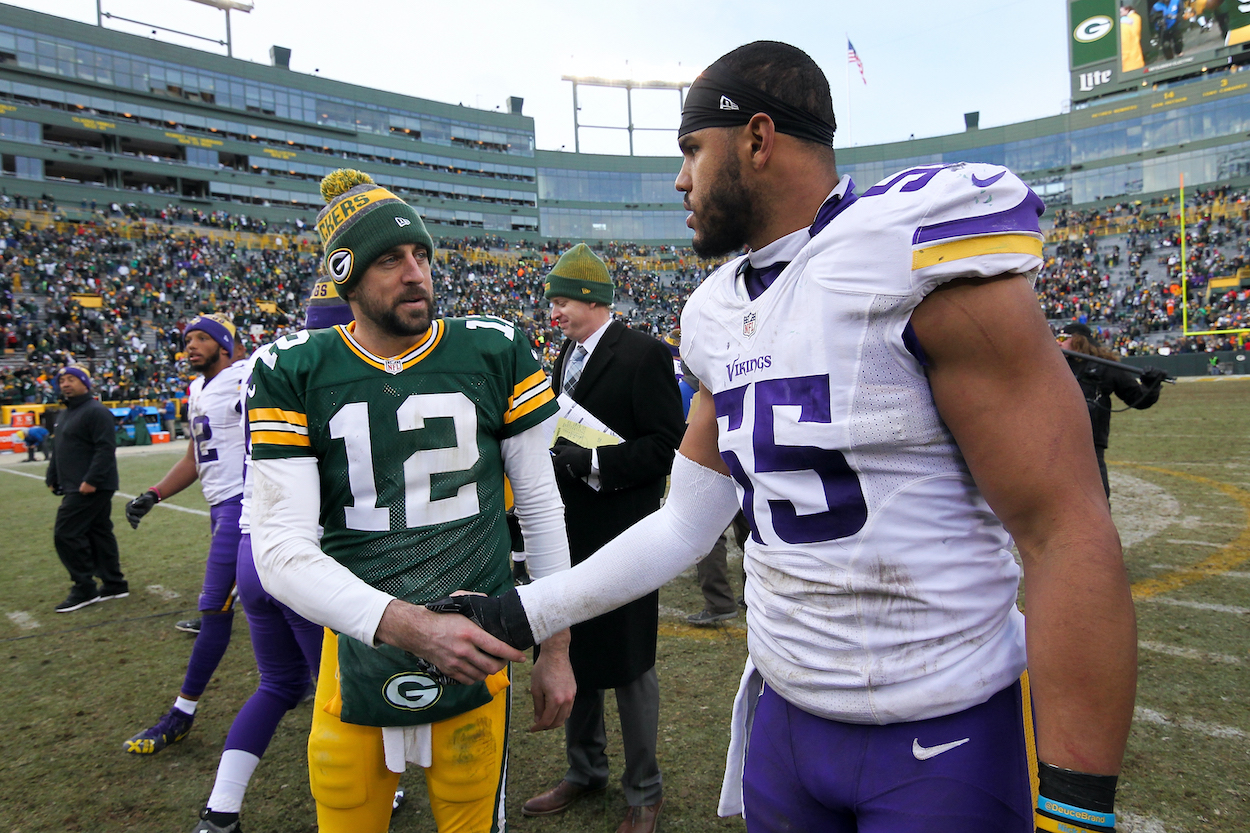 After the Minnesota Vikings got the best of the Green Bay Packers 34-31 in a Week 11 thriller, the two teams now head their separate ways for the rest of the 2021 calendar year.
However, they will see each other again soon as they butt heads one more time in the penultimate game of the regular season on Jan. 2, 2022, in Green Bay.
While Aaron Rodgers will surely be looking to get revenge on Anthony Barr, Eric Kendricks, Harrison Smith, and Everson Griffen, a lot more could be at stake in that meeting.
The Packers are currently 8-3 and in the No. 2 slot in the NFC. While they should have a playoff berth wrapped up by Week 16, they will likely still be vying for that No. 1 spot and home-field advantage throughout the playoffs.
On the Vikings side, the Week 11 win over the Packers propelled them into the No. 6 spot in the NFC, but the No. 7 New Orleans Saints and the first-team-out San Francisco 49ers have the exact same 5-5 record. Behind that group are the Philadelphia Eagles and Carolina Panthers at 5-6.
Week 16 will undoubtedly have major playoff implications for the Packers, the Vikings, and the NFC as a whole. The chess match between Rodgers and his longtime NFC North rival defenders should be fascinating to watch.  
All stats courtesy of Pro Football Reference