Justin Jefferson Trash-Talked Green Bay's DBs Before Putting on a Show in Minnesota: 'I Got a Little Something for 'Em'
Minnesota Vikings wide receiver Justin Jefferson had a massive game in a huge win against the rival Green Bay Packers on Sunday. Before the game, the second-year superstar seemed to have an inkling that he was in for a big performance, and he put the Green Bay defense on notice. Now, the entire NFL should be aware that a Jefferson-led Vikings offense is for real.
Minnesota Vikings WR Justin Jefferson dominated on Sunday
In a year dominated by Odell Beckham Jr.'s drama, Cooper Kupp's all-around brilliance, and Ja'Marr Chase's rookie breakout, it's easy to forget about the incredible things Minnesota Vikings wideout Justin Jefferson is doing in his sophomore season.
In Week 9 against the Baltimore Ravens, Jefferson had just three catches for 69 yards. Even so, those yards gave him 2,000 receiving yards in 24 career games, making him the second-fastest player to that mark in NFL history, behind only Beckham.
Outside of that feat, Jefferson has had an up and down 2021 campaign. Prior to Week 10, he only crested the 100-yard mark twice.
That started to change in Week 10 when the former LSU Tiger caught nine balls for 143 yards. On a possibly related note: the Vikings beat the Los Angeles Chargers in that game, 27-20.
Week 11 brought more of the same. By the end of the first quarter in the NFC North rivalry game against the Green Bay Packers, Jefferson had an astonishing 104 receiving yards. He finished the game with 169 yards on eight catches and added two touchdowns.
Again, on a possibly related note: the Vikings beat the Packers, 34-31.
According to NFL Research, this performance was his 11th career 100+ receiving yard game, tying him with Randy Moss and JuJu Smith-Schuster for second-most in the first two seasons of an NFL career. He's now (again) only behind Beckham, who had 15 in two years. Jefferson still has seven more games to try and beat or equal Beckham's record.
Jefferson had a prophetic message for the Packers defense before the game on Sunday
The takeaways from the facts and stats above are simple. There is no denying Justin Jefferson is on pace to be a historically great WR. And, when the Vikings get Jefferson the ball, the team tends to win.
It seems like the Vikings are finally figuring this out, and Jefferson hinted at that fact before the game on Sunday.
In an interview pre-game with the NFL Network's Tom Pelissero, the reporter asked the receiver, "You went off last week in LA. What do you have in store for these Packers DBs today?" To which Jefferson knowingly responded:
"I've got a little somethin' for 'em. We got some plays mixed up, and we got some shots to throw, so we're gonna be seeing if I gritty today."

Justin Jefferson's message to the Green Bay Packers
Those "plays mixed up" for the vaunted Packers defense included a quick five-yard pass on the first drive and a huge 43-yard catch-and-run 3rd-down play to keep a field goals drive alive. On the next series, it was a 56-yard bomb where replays ruled Jefferson was down on the 1-yard line.
After his great game in the first quarter, Jefferson added two sweet TDs as well.
The first score was on a shallow cross from the 9-yard line, and, on the second, Jefferson beat Packers CB Eric Stokes one-on-one for a 23-yard go-ahead score.
With Jefferson's big game, the Vikings pulled off the upset, got themselves in the NFC playoff picture, and even narrowed the NFC North gap to two games.
The Vikings second-year wideout is the key to the team making a playoff run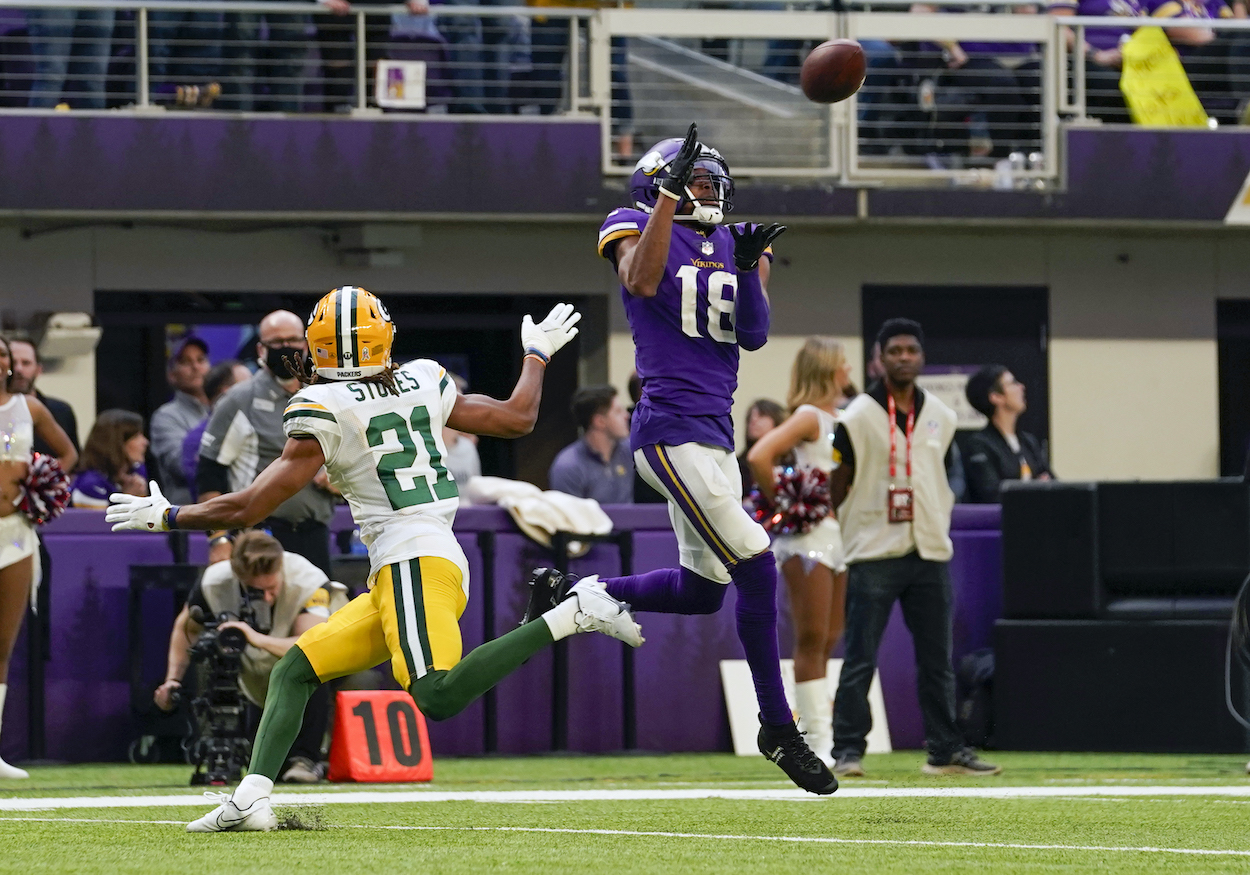 The Minnesota Vikings have won all four games where Justin Jefferson has gone over 100 yards and five of the six he's had 80 yards or more. In the team's five losses, he's averaging just 62 yards per game.
Adam Thielen is a reliable talent, Dalvin Cook is a great (yet too oft-injured) running back, and Kirk Cousins is an above-average and underappreciated starting QB.
Jefferson is special, though.
He is the type of game-changing receiver that makes quarterbacks and entire offenses look good and win games. As much as head coach Mike Zimmer would love to pile up W's with a defense-first, three yards, and a cloud of dust strategy, it seems like he's finally starting to realize Jefferson is the real answer.
With the Viking second-season sensation playing at such a high level and the remaining schedule being what it is, the Vikings have a decent chance to hold on to their playoff spot.
In the team's last seven games, they play the Detroit Lions once, and the Chicago Bears twice. That should get them to eight wins. If they can split and either win this week vs. the San Francisco 49ers or in Week 14 against the Pittsburgh Steelers, that could get them in the postseason at 9-8 in a top-heavy NFC.
If it turns out they need 10 wins, and they do follow the plan laid out above, they will have to either beat the LA Rams Week 16 or the Packers again in Week 17 to get the job done.
A lot of this simply depends on how much they feed Justin Jefferson in the next seven weeks.
All stats courtesy of Pro Football Reference