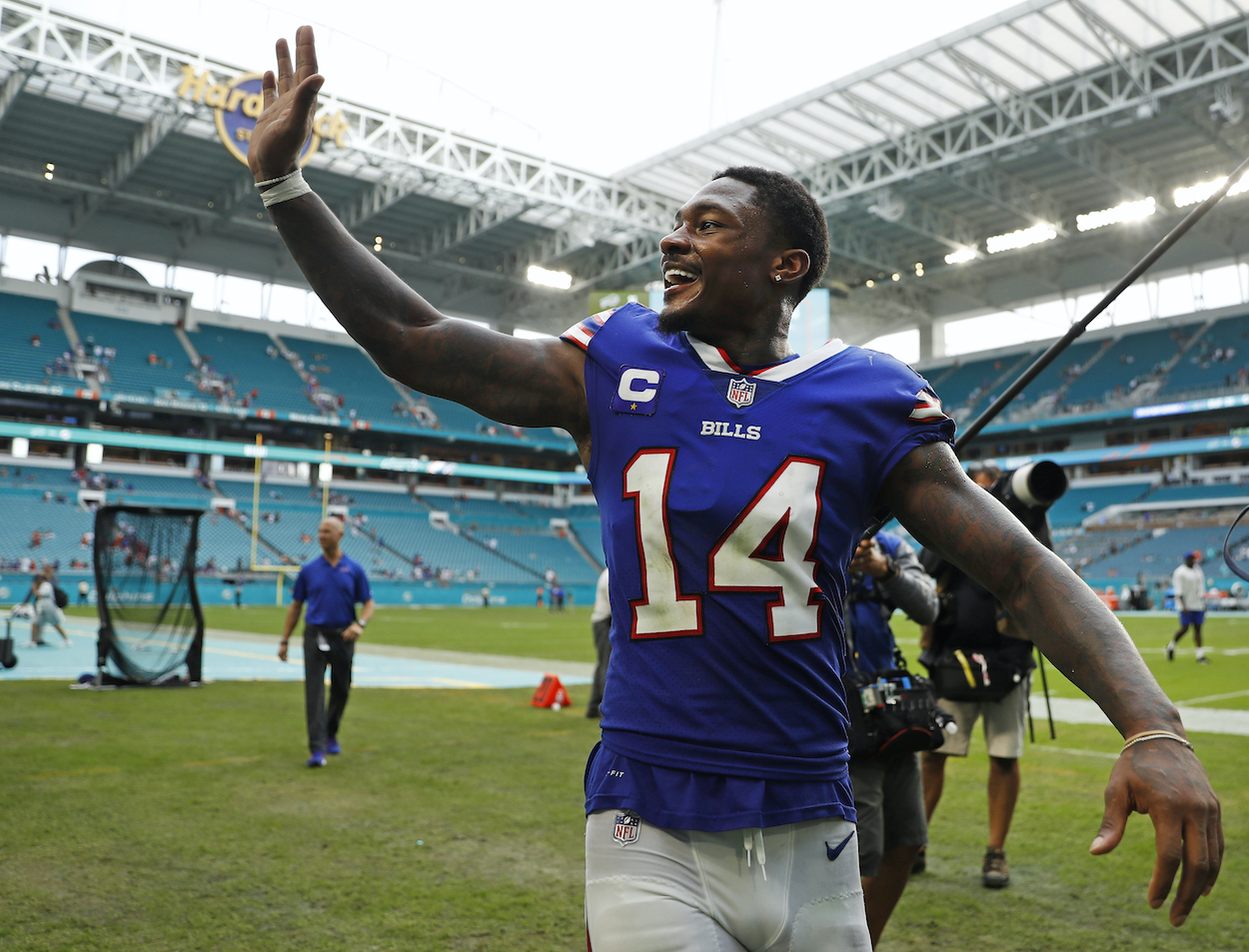 Stefon Diggs' New Attitude With the Buffalo Bills Has to Infuriate Minnesota Vikings Fans: 'When It's My Time to Shine, I'm Gonna Shine'
Bills wide receiver Stefon Diggs' attitude has done a 180 since his final days in Minneapolis. His new team-first vibes have to thoroughly frustrate Minnesota Vikings fans.
Wider receiver Stefon Diggs soured on the Minnesota Vikings franchise in 2019, and the team traded him to the Buffalo Bills. After pouting and tweeting through a contentious last season in Minneapolis, Diggs is a new man in Buffalo and one of the best wide receivers in the league. His new team-first attitude, which is fully on display in 2021, has to rub at least some Vikings fans the wrong way.
Stefon Diggs left the Minnesota Vikings on bad terms 
Stefon Diggs was not a highly-rated NFL prospect. The 6-foot, 191-pound receiver was a fifth-round pick out of Maryland by the Minnesota Vikings. From that inauspicious start, though, he worked his way to become a top pass-catcher in the NFL.
In his five seasons in Minnesota, Diggs caught 365 balls for 4,623 yards and scored 30 touchdowns.
He even scored the most memorable touchdown in Vikings history on January 14, 2018. Down 24-23 to the New Orleans Saints with 10 seconds left in the Divisional Round of the 2017 playoffs, Diggs caught a pass from quarterback Case Keenum and, when the Saints safety whiffed on the tackle, raced 30-plus yards into the end zone as time expired. The play is now known as the "Minneapolis Miracle."
The end of Diggs' time in the Twin Cities was anything but miraculous, though.
After averaging 10 targets per game in 2018, he got 23 total through the first five games of 2019. The team's commitment to Dalvin Cook and the running game combined with QB Kirk Cousins' connection with WR Adam Thielen made Diggs the odd man out. 
The talented wideout didn't handle it well. He took to social media to post cryptic messages about the team and even skipped meetings and practices after an early-season loss to the Chicago Bears. The team fined him $200k for that transgression, per ESPN. 
Diggs still ended the season with a then-career-high 1,130 receiving yards. But the damage was seemingly done from both sides' perspectives. 
Leading into the 2020 NFL Draft, the Vikings traded Diggs (and a seventh-round pick in 2020) to the Buffalo Bills for first-, fifth-, and sixth-round picks in 2020 and a fourth-round pick in 2021, per NFL.com. 
Diggs says it's all about the team with the Buffalo Bills
The Vikings took LSU wide receiver Justin Jefferson with the pick they got from the Bills. Jefferson caught 88 balls for 1,400 yards and seven touchdowns. He made the Pro Bowl as a rookie, but the team only managed a 7-9 record.  
Meanwhile, Stefon Diggs shined in Buffalo. He developed a special relationship with QB Josh Allen, and the duo helped lead the franchise to a 13-3 record, the organization's first AFC East crown since 1995, and the AFC Championship game.
In 2021, after a Week 1 hiccup against the Pittsburgh Steelers, the Bills are off to another great start. However, teams are taking away Diggs. Defenses have limited the star to just 191 yards in three games.
Vikings fans might be expecting a classic Diggs blowup to come. The receiver says he couldn't be happier, though, and he's proud of his teammates' success while he is less involved in the offense:
Being in my position, I'm a grinder, so, you know, everything isn't going to be perfect. Everything isn't going to happen the way you want it to happen, and having success as an offense is way more important than individual success. And I really mean that. … when it's my time to shine, I'm gonna shine, but I'm in no rush.

Stefon Diggs on his role in the Bills offense
Diggs also said he knows teams are game planning to stop him. Even so, he's proud of teammates like Gabriel Davis, Emmanuel Sanders, Cole Beasley, and Dawson Knox for getting the job done when defenses key on him.
This is a complete 180 from his attitude in Minnesota, and Vikings fans have to be pulling out their hair listening to Diggs' new calm, cool, and team-first attitude.
At 1-2, his old team sure could use a playmaker like Diggs these days, too.
The star wideout is thriving in Buffalo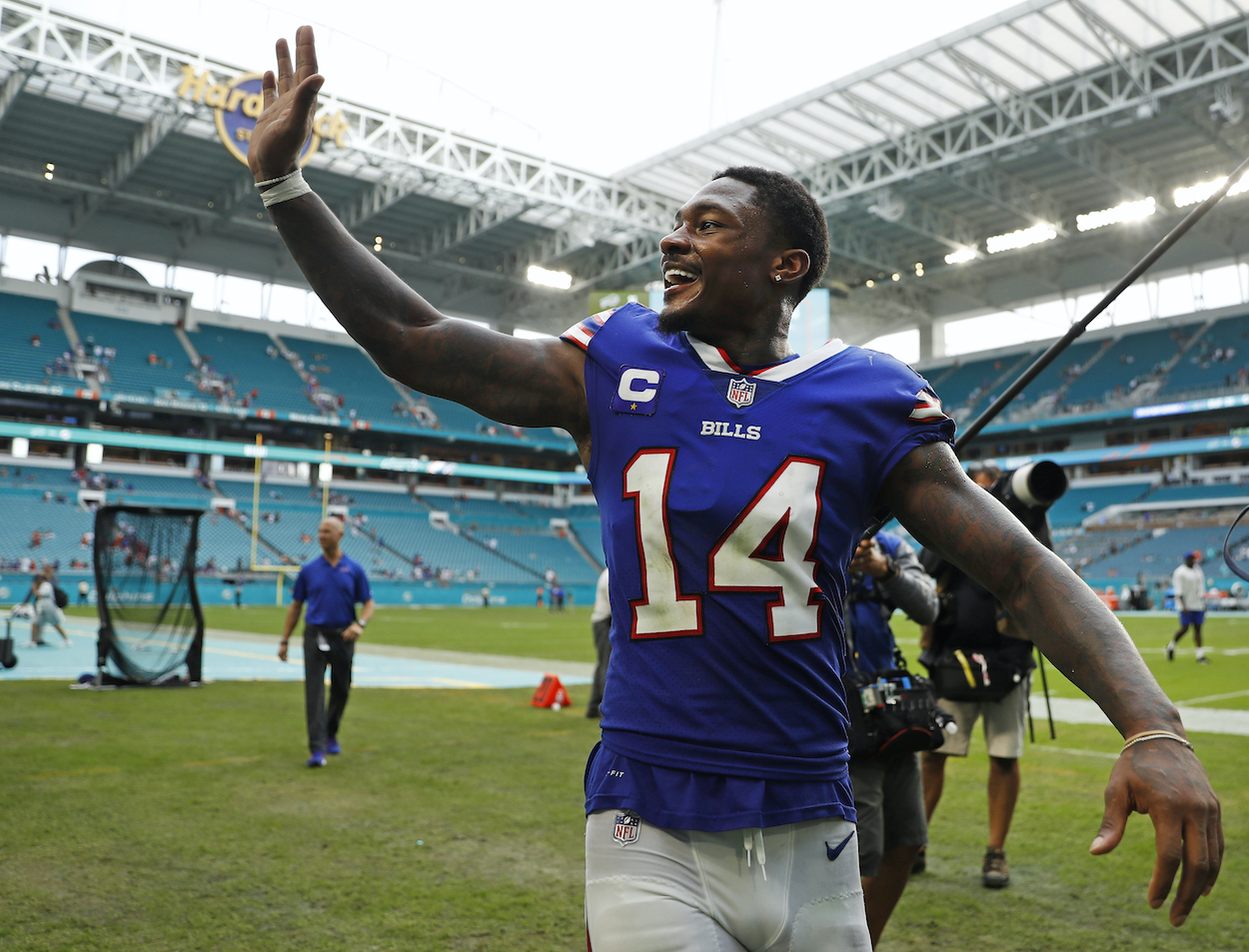 A lot has changed for Diggs with his move to Buffalo. First, he put up the best season of his career after the trade. In 2020, Diggs led the NFL in receptions (127) and yards (1,535) while scoring eight touchdowns.
He also built a bond with his emerging superstar QB that he never seemed to have with Cousins in Minneapolis. All reports said the two players became very close and, as the Buffalo Bills' success grew throughout the season, the two gave several gushing post-game interviews about how much they love playing together.
The passer and catcher are so close these days, they even appeared on the cover of SI Kids together with the title, "The BFF Issue."
A new home curing a talented pass-catcher of their "Diva Wide Receiver Syndrome" is nothing new in the NFL. It happened when Randy Moss left Oakland for the New England Patriots, when Keyshawn Johnson left Tampa Bay for the Dallas Cowboys, and when Terrell Owens left — OK, it never happened with Owens, but you get the point.
Stefon Diggs is a new man in Buffalo. That is music to the Bills Mafia's ears, but it has to sting back in Vikings Land.
As much as Diggs will always be remembered warmly in chilly Minnesota for the Minneapolis Miracle, his conversion to team-first choir boy in equally frigid Buffalo is something that will always stick in Vikings' fans' craw.
All stats courtesy of Pro Football Reference