Josh Allen Just Did the Only Thing He Could Ever Do to Infuriate Bills Mafia
Since Jim Kelly retired after the 1996 NFL season, the Buffalo Bills have trotted out a long list of unimpressive and unproductive quarterbacks. Many less-than-legendary names grace that list, such as Alex Van Pelt, Rob Johnson, Trent Edwards, J.P. Losman, and Nathan Peterman. Even decent QBs like Doug Flutie and Drew Bledsoe couldn't bring the Bills back to the heights of the K-Gun era. Then Josh Allen showed up.
With the No. 7 overall pick in the 2018 NFL Draft, the Bills finally took a quarterback their fan base could believe in. For three years, the QB could do no wrong in the eyes of Bills Mafia. That is until Allen did the unthinkable and sullied the good name of Buffalo's most world-famous export: the chicken wing.
Bills Mafia loves Josh Allen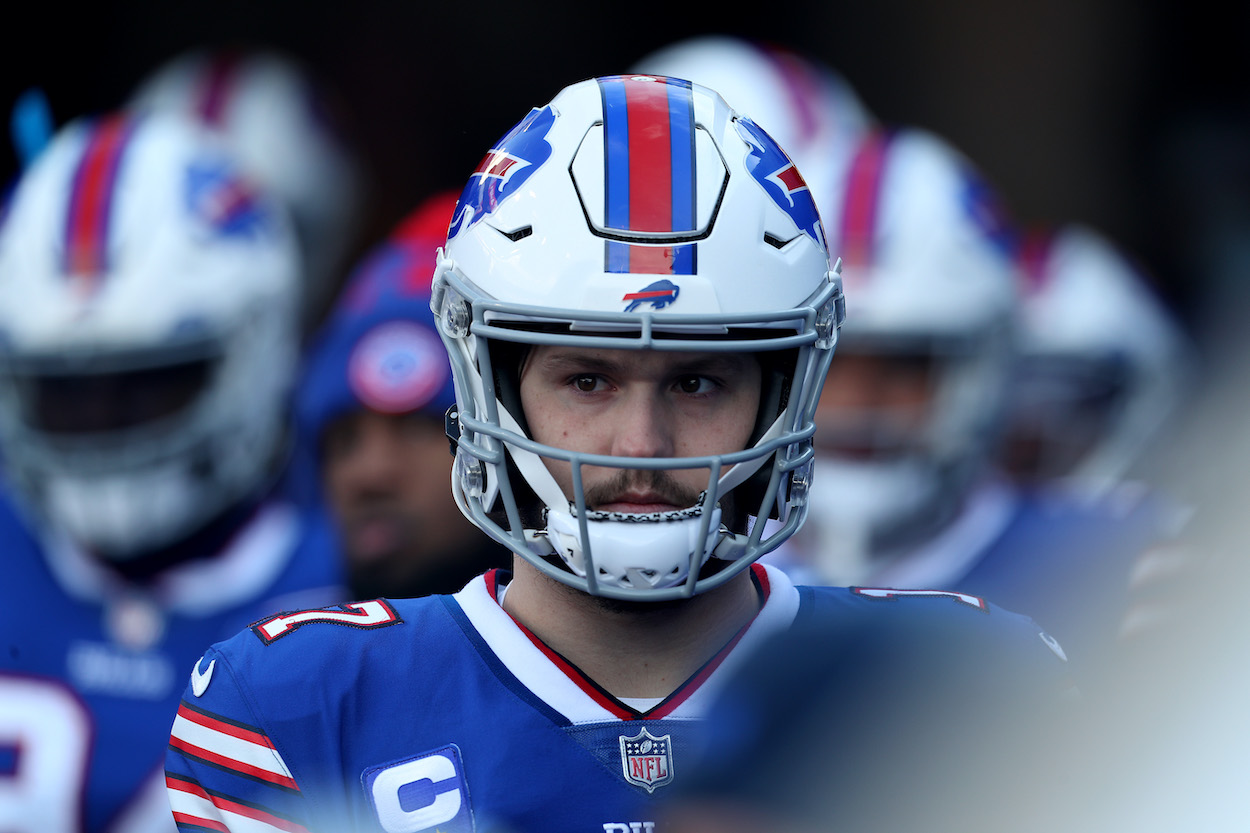 As a top draft pick, Allen has lived up to expectations. After two years of steady progress, the former Wyoming Cowboy burst onto the national stage in 2020, taking the long-suffering Bills Mafia fans with him.
He led the team to a 13-3 record and a trip to the AFC Championship game. The 6-foot-5 signal-caller threw for 4,544 yards and 37 touchdowns with just 10 interceptions. He also improved his accuracy immensely, going from a 58.8% completion rate in 2019 to 69.2% in 2020.
Off the field, Allen was everything that Western New Yorkers love. He was personable, humble, and fun. He seems like a guy who every Bills fan would happily grab a beer and split an order of wings with.
Allen fell in love with the Bills Mafia as well. When his grandmother, Patricia Allen, died in November 2020, Bills fans en masse started making donations in $17 increments (for Allen's jersey number) to the John R. Oishei Children's Hospital in Buffalo. By the end of the year, the new Patricia Allen Fund had raised over $1 million.
Allen and the Bills are a perfect match. To make their commitment to each other official, the QB signed a record-breaking six-year, $258 million contract in August 2021 to keep the passer in Western New York for the foreseeable future.
The California native is so popular in his adopted hometown that there is nothing he could ever do to enrage his loyal Bills Mafia brethren.
Well, almost nothing.
Allen made a Buffalo faux pas by endorsing Buffalo Wild Wings
As much as Allen is a beloved figure in Buffalo, there is one thing more iconic than even him in the city: The Buffalo chicken wing.
According to local legend, the Buffalo wing was created in 1964 when Anchor Bar owner Teressa Bellissimo deep-fried some chicken wings and tossed them in a spicy sauce for her son and his friends, per Chowhound.
People from Buffalo are very protective of their famous food. They all have their own strong opinions on who makes the best wings in town. What all Buffalonians can agree on, though, is who doesn't make the best wings: Any chain restaurant. Particularly offensive to Western New Yorkers is Buffalo Wild Wings, a wing chain started in Ohio that co-opts the city's name.
When Josh Allen put up a sponsored post for the chain on his Instagram, the QB finally found the one thing he could do to turn Bills Mafia against him. Social media reaction to the signal-caller offense was swift and vicious.
Commenters exclaimed, "Josh, no!!!!" and even "Trade him," according to News 10. Fans couldn't believe their new favorite son would support what one commenter called "The most UnBuffalo wing place."
With just days to go before the 2021 NFL season, the Bills Mafia have turned on their star QB.
Bills Mafia still loves their quarterback
In the sea of chicken wing snobbery under Allen's post, there were supporters as well. Comments like, "Buffalo loves you, Josh," could also be found.
The truth is (most) of the vitriol was all in good fun. Bills Mafia members are still foaming at the mouth to get back in Highmark Stadium and cheer wildly when Allen takes the field. He is once again an MVP candidate, and the Bills are among the handful of favorites to go to the Super Bowl.
With the core coaching staff and roster back from last year, as well as a few new editions like pass-rushing rookies Gregory Rousseau and Carlos "Boogie" Basham, the Bills should be able to have another great season in 2021, making all the chicken wing drama of the offseason fade away to become a distant memory.
In the end, Bills Mafia still loves Allen and will continue to support him unconditionally. There truly is nothing he can do to actually enrage Bills fans.
Well…
Unless he ever endorses New England clam chowder.
All stats courtesy of Pro Football Reference
RELATED: Josh Allen Makes the Biggest Jump in Pete Prisco's CBS Sports Top 100 NFL Players in 2021