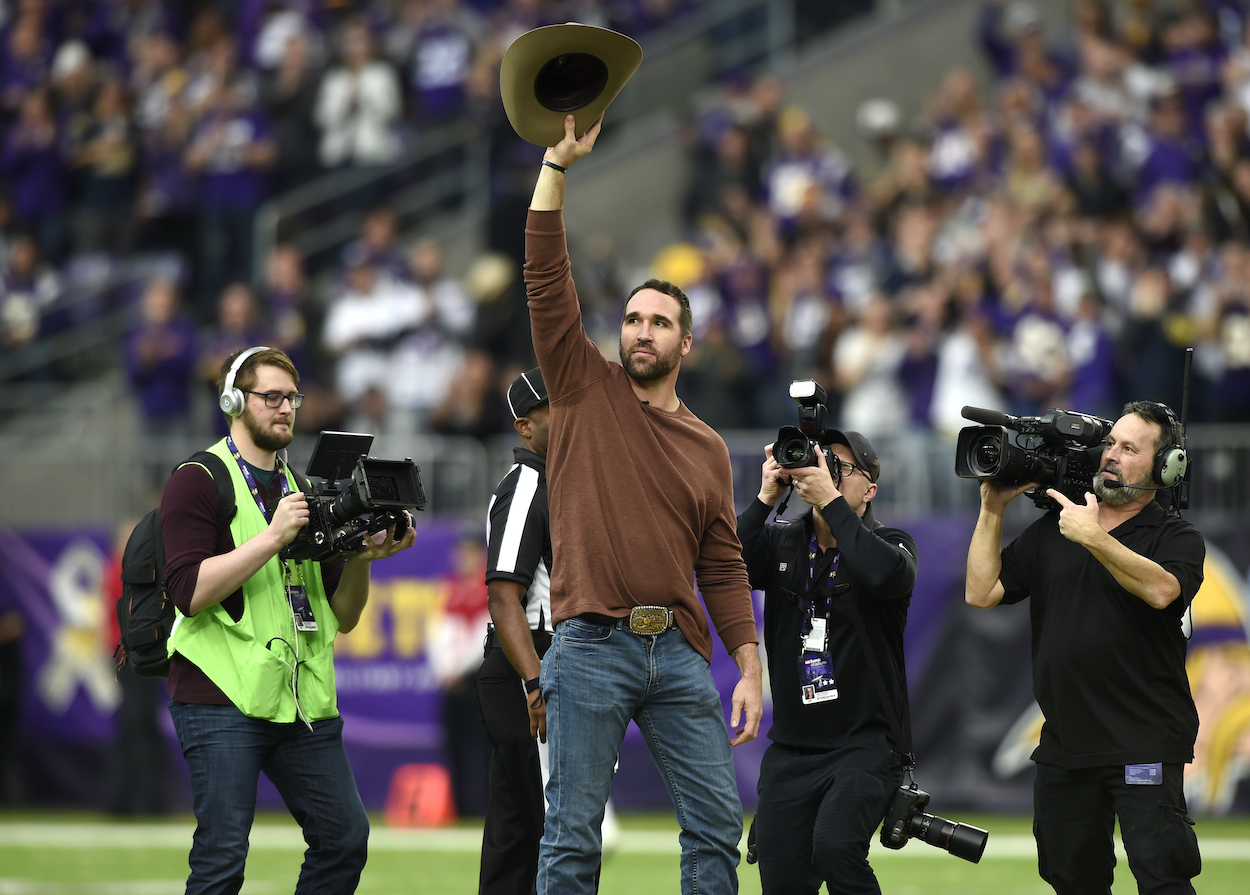 Pro Football Hall of Fame Nominee Jared Allen Doesn't Like NFL Football Anymore: 'I'd Just Like to See Some More Old-School Guys'
Jared Allen isn't a huge fan of the NFL anymore, even though he is a nominee for the Pro Football Hall of Fame in the Class of 2022. He still loves the game, but is disenchanted with the sport at the pro level.
Minnesota Vikings great Jared Allen struck fear in the hearts of NFL quarterbacks for over a decade was one of the greatest sack specialists in football history. Now retired, the 6-foot-6, 270-pound pass-rusher is entering his second year of eligibility for the Pro Football Hall of Fame. While he still loves the game of football and all it gave to him, he doesn't watch many NFL games these days for various reasons, including the fact that there aren't many guys he considers "old school" anymore.
Jared Allen is a Pro Football Hall of Fame nominee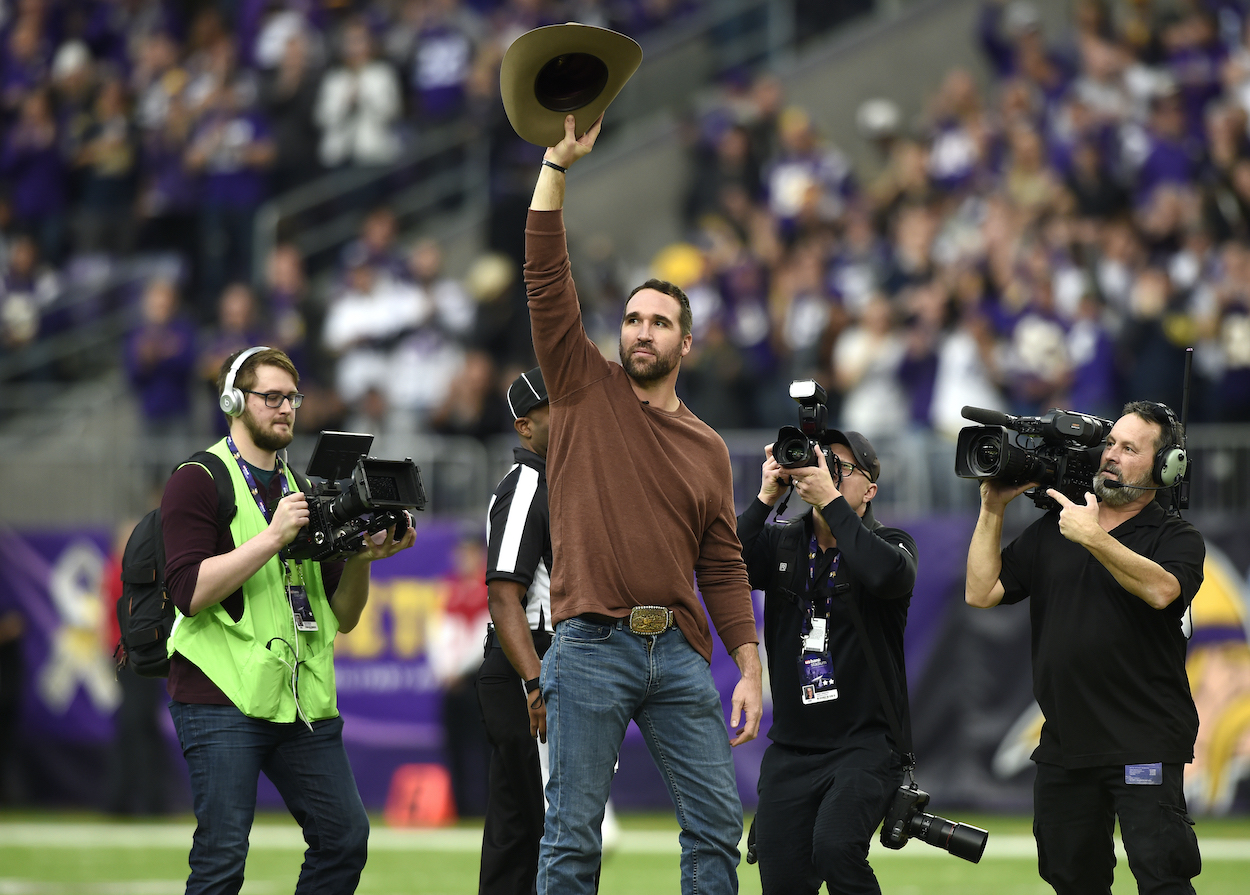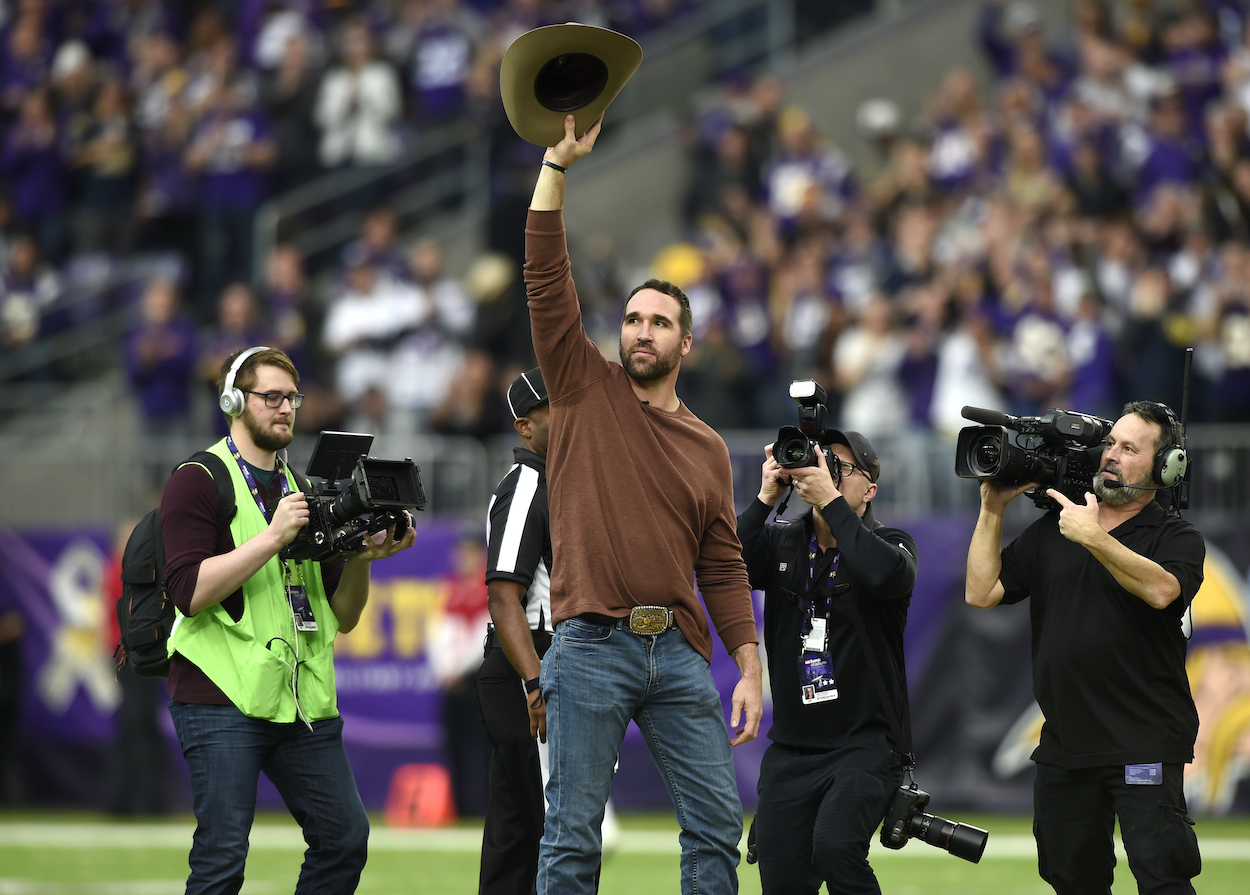 Defensive end Jared Allen ended his NFL career in 2015, making him eligible for the Pro Football Hall of Fame in 2021. The sack artist, who the Kansas City Chiefs drafted in the fourth round out of Idaho State in 2004, didn't make it on his first ballot but is a finalist once again for 2022.
Allen played for four teams — the Chiefs, Minnesota Vikings, Chicago Bears, and Carolina Panthers — during his 12-year career. Best known as a Chief and a Viking, Allen was a five-time Pro Bowl player and a four-time All-Pro. The pass rusher put up double-digit sack totals in eight different seasons, leading the NFL in sacks during the 2007 (15.5) and 2011 (22.0) seasons.
The California native finished his career with 136.0 sacks, 171 tackles for a loss, 19 fumble recoveries, four safeties, and six interceptions. The enduring images from Allen's storied career, especially with Minnesota, are his mullet haircut, handlebar mustache, and calf-roping sack dance.
Allen did reach a Super Bowl in his final season with the Panthers, but he only played in 7 playoff games in 12 seasons. However, his individual brilliance and the fact that he was the most feared pass rusher in the league for a six-year period should get him in the Hall of Fame.
He is currently 12th on the official NFL all-time sack leaders list. Every eligible player ahead of him is already in Canton, Ohio.
Jared Allen says that he still loves the game of football but not the professional variety
Jared Allen joined the Pat McAfee Show 2.0 this week to chat with the gang. During the appearance, he chatted about his retirement and his relationship to football now that he's retired.
The avid outdoorsman told fellow retired NFL'ers McAfee and co-host A.J. Hawk that, while he will always love the game of football, the NFL has lost some of its luster for him now that he no longer plays.
"I really don't watch [the NFL] these days, Allen said. "It's a different game than when we played."
McAfee jumped in and asked Allen if he "hates" football now, and if not making the Hall of Fame this offseason contributed to that. Allen responded:
No, Hall of Fame's great. I love football. Football's phenomenal, like high school football, college football. I just think, to be honest, pro football's gotten so far out of like — no, I shouldn't say that — at its core, it's great, right? But anytime you put too much money into it, you gotta deal with crap, you gotta deal with politics, you gotta deal with all the stuff. At the core, it's still amazing. I'd just like to see some more old-school guys.

Jared Allen on the NFL
Allen continued by saying that there are some "old school" guys he still loves to watch and some young players who play that way. He also said, after last season's Super Bowl win, he's become a massive fan of Tom Brady.
Who's in the Pro Football Hall of Fame Class of 2022?
If Jared Allen does get into the Pro Football Hall of Fame in 2022, he could be part of a special class.
The institution announced its list of 2022 finalists on September 22, and there are a lot of fabulous players on the list.
The first-time nominee list is packed with talent and loft stats. The group includes the best kick returner of all time, Devin Hester, and a trio of multi-Pro Bowl wide receivers in Steve Smith, Andre Johnson, and Anquan Boldin.
On the defensive side of the ball, there is defensive back Antonio Cromartie and defensive linemen Vince Wilfork and Robert Mathis. One of the two players ahead of Allen on the all-time sack list not in the Hall is on the list as well in Demarcus Ware (138.5 sacks).
Additionally, there are still several deserving players waiting to get in along with Allen. This group includes tackle Tony Boselli, running back Hershel Walker, wide receiver Reggie Wayne, defensive lineman Richard Seymour, linebacker Zach Thomas, and special teams ace Steve Tasker, just to name a few.
The NFL will announce the Class of 2022 at the end of the 2021 season, and the group will be inducted in August of 2022.  
All stats courtesy of Pro Football Reference