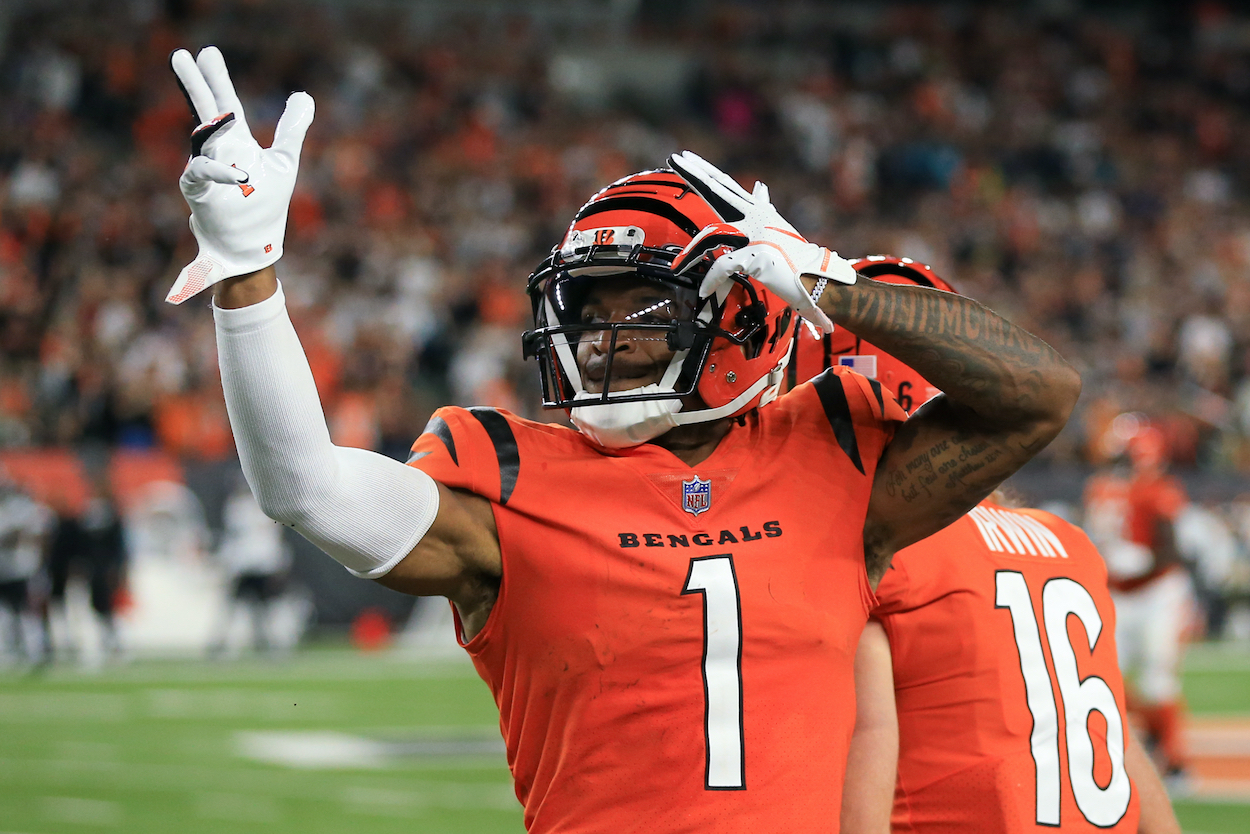 Ja'Marr Chase is the Person Least Surprised by Ja'Marr Chase's Success in the NFL: 'I Been Knowing What I Can Do From Jump'
Cincinnati Bengals rookie wideout Ja'Marr Chase might be shocking the NFL with his talent, but he's not surprised by his success at all.
Draft experts questioned why the Cincinnati Bengals would draft LSU wideout Ja'Marr Chase over an offensive tackle. Medical experts questioned if Joe Burrow could regain his initial promise after a devastating knee injury. And Bengals fans just always question their team. Period.
However, the 2021 Bengals are proving all their doubters wrong, racing out to a 5-2 start. Much of this shocking start is due to the historic rookie season that Chase is putting together. Don't tell him it's surprising, though. He's known how good he can be all along.
Ja'Marr Chase is having a phenomenal start to his NFL career
Cincinnati Bengals rookie sensation Ja'Marr Chase opted out of LSU's 2020 season due to COVID-19. That fact makes it easy to forget exactly what he did with the Bayou Bengals in 2019.
On his way to a National Championship, Chase caught 84 balls for 1,780 yards and a staggering 20 touchdowns.
That made him LSU's leading receiver ahead of his teammate Justin Jefferson — that's right — the same Justin Jefferson who set the NFL on fire last season for the Minnesota Vikings on his way to making the Pro Bowl as a rookie. And, he caught all those passes from Joe Burrow — that's right — the same Joe Burrow who endorsed Cincinnati picking Chase No. 5 overall and is now his pro QB as well.
The overwhelming talent and special relationship with his QB have helped Chase get off to a historic start in the league. Through seven games, Chase's stat line looks like this: 35 catches, 754 yards, six touchdowns, and a league-leading 21.5 yards per reception.
He was the youngest receiver ever to score four-plus touchdowns in his first three games (besting Randy Moss), he tied the all-time record (Charlie Brown, WFT, 1982) for five consecutive games with a touchdown catch to start a career, and his 754 yards is the most ever for a rookie through seven games.
Chase is currently on pace for 1,831 receiving yards which, if he can do it, would put him fifth on the all-time single-season list behind only Antonio Brown (1,834 in 2015), Jerry Rice (1,848 in 1995), Julio Jones (1,871 in 2015), and Calvin Johnson (1,964 in 2012).
All this is to say, Ja'Marr Chase is for real.
And he knows it, too.
Chase told former Bengals great Boomer Esiason that he's always believed in himself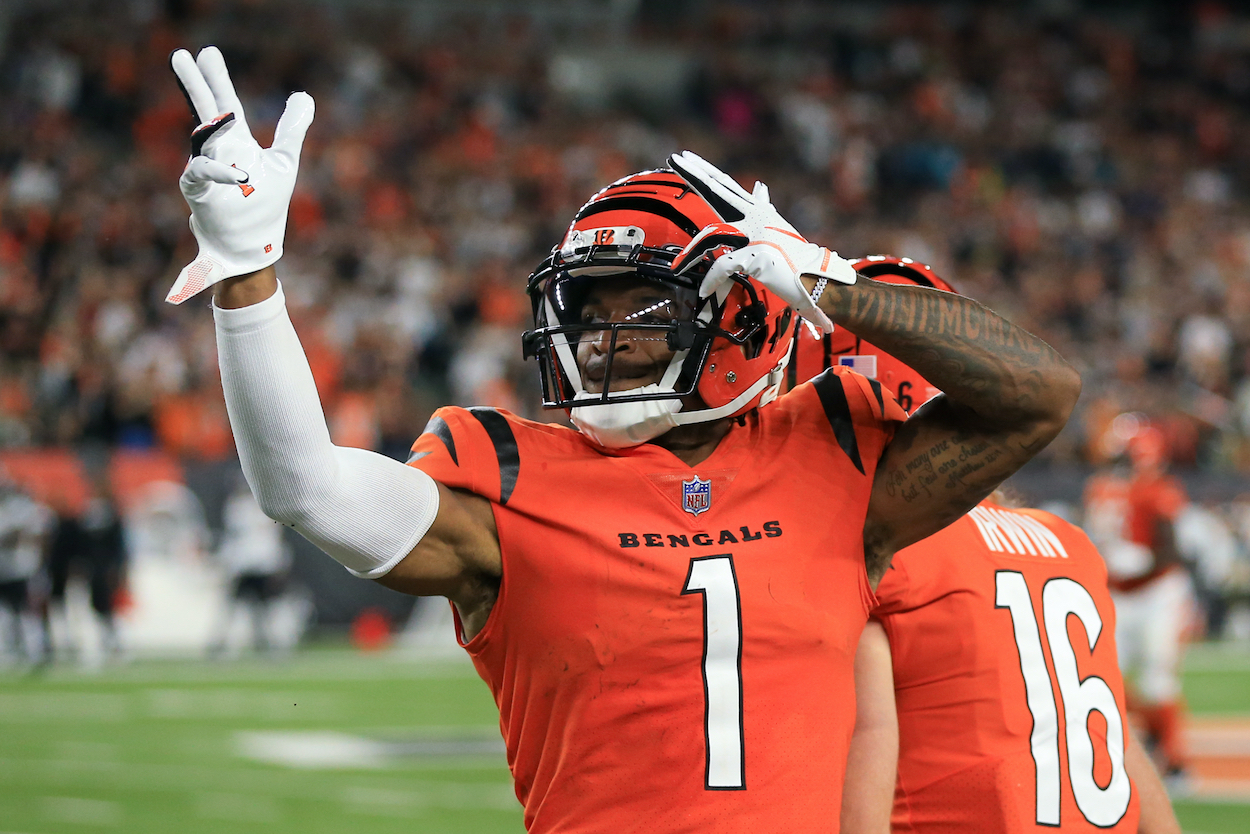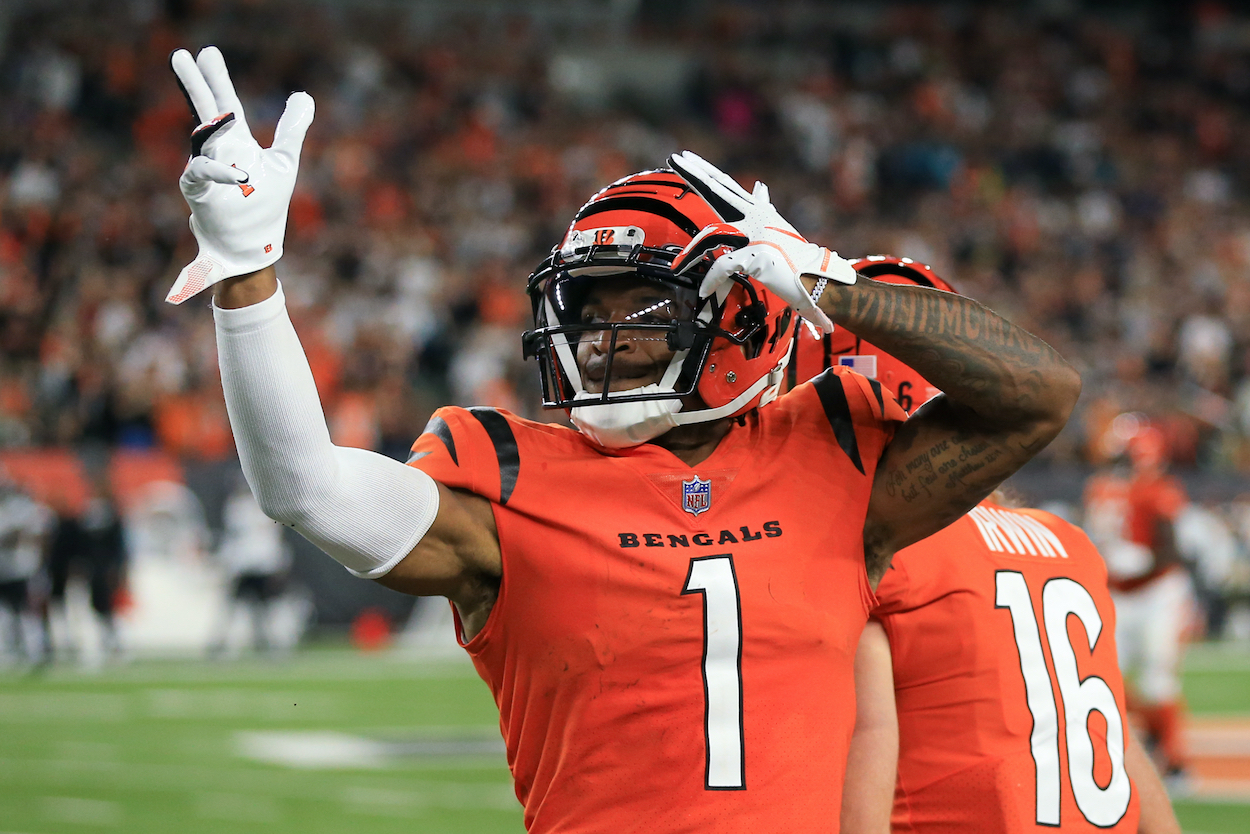 Ja'Marr Chase's red hot start earned him a virtual sit-down with NFL Today co-host and former Cincinnati Bengals MVP quarterback Boomer Esiason prior to the team's 41-17 Week 7 win over the Baltimore Ravens.
The former QB asked Chase about the expectations for the Bengals after the team's hot start to the season. Esiason qualified the question at the end, saying, "now that you've figured out that you can actually do this at this level."
Chase's answer reflected the fact that thinking he could succeed at the NFL level was never in doubt to him:
Honestly, I been knowing what I can do from jump. It was just putting my mindset to it and having confidence in myself. But, when I have good friends on my side telling me to pick myself up, and I have a great quarterback that I've known for like three, four years now, it's just having positive energy around you that makes you feel better about yourself.

Ja'Marr Chase to Boomer Esiason on CBS
While Chase surely believes in his abilities, it's still hard to fathom he knew he'd be able to put up these kinds of numbers so early in his career, especially with a drop-filled preseason that had him looking closer to a bust candidate than a Rookie of the Year one.
What is certain is that Chase's emergence is a major factor in the Bengals getting off to their best start since 2015.
The Bengals are back in the AFC playoff mix 
The Cincinnati Bengals have historically been one of the worst franchises in the NFL. The organization's 44.8% winning percentage ranks 26th among active franchises. The team hasn't won a playoff game in 30 years and hasn't been to the Super Bowl since Boomer Esiason's MVP season in 1988.
The former QB asked Chase if he could feel the Queen City's "genuine excitement" over the team now that it is winning again.  
Chase confirmed that there is a distinct buzz over the 5-2 team at the moment and noted that he and his teammates need to keep the energy up to maintain the excitement level. That should be relatively easy to do in Week 8 as the Bengals travel to play the lowly New York Jets with backup QB Mike White starting.
The team then has a divisional matchup against the Cleveland Browns, but there is a good chance that their rivals will still be without their QB, Baker Mayfield, as well.
The Bengals schedule does get tougher after the Week 10 bye, however. The last eight games include matchups against the Las Vegas Raiders, Kansas City Chiefs, and another Ravens game. If the team can win the two before the bye and at least three of those last eight, they should be back in the playoffs for sure.
A playoff berth would surely be great news for Ja'Marr Chase. Although, he's probably known the team could do that from jump.
All stats courtesy of Pro Football Reference