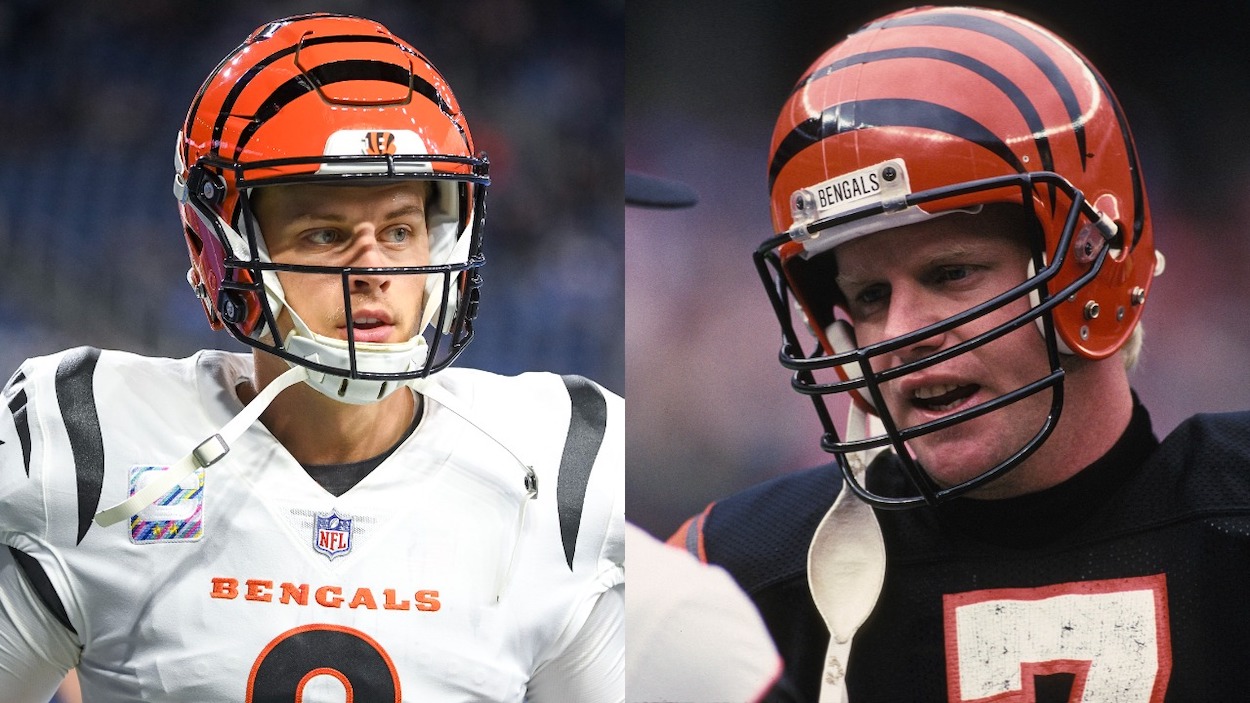 Boomer Esiason Predicts Joe Burrow Will Be the Best QB in 5 Years Before Bengals' Shocking Win: 'He Cares and That's the Most Important Ingredient'
Boomer Esiason says Cincinnati Bengals QB Joe Burrow will be the best in the NFL in five years but can he match Boomer's MVP 1988 season in 2021?
On this week's CBS pregame show, Boomer Esiason said that Joe Burrow would be the best quarterback in the NFL in five years. This might sound overly optimistic. But, Esiason knows a thing or two about Cincinnati Bengals QBs, being arguably the best one in franchise history.
No one will know if Esiason is right until 2026. For now, though, what we do know is that Burrow is doing things in 2021 that hope-starved fans in Cincinnati haven't seen since 1988.
Joe Burrow is finally giving Cincinnati Bengals fans hope
On April 23, 2020, NFL Commissioner Roger Goodell stepped up to the virtual "podium" in his basement and announced, "the Cincinnati Bengals select, Joe Burrow, quarterback, LSU."
The following seven months were pure bliss for Bengals fans. The new QB gave the franchise true hope for the first time in decades. He also put up tangible numbers to back this hope up. The rookie threw for 2,688 yards with a 65.3% completion rate, 13 touchdowns, and just five interceptions.
Then, one day shy of exactly seven months after the organization drafted Burrow, the unthinkable happened. Burrow suffered a devastating knee injury, tearing his left ACL and MCL and partial tearing his PCL and meniscus.
The 6-foot-4 signal-caller made an impressive recovery in the offseason and was ready for Week 1 of 2021. That was great news for Bengals fans and horrible news for the rest of the NFL.
Through seven games, Burrow's second season is even better than his first. He's completing passes at a 68.9% rate and has thrown for 1,596 yards with 17 TDs and eight INTs. He's also leading the league in yards per completion at 13.4.
Most importantly, while Burrow's Bengals only managed a 2-7-1 record through the 10 games the QB started last season, they are 5-2 and tied atop the AFC North this year.
The performance by Burrow, coupled with the emergence of rookie wide receiver (and Burrow's college teammate) Ja'Marr Chase and the excellent play of the Cincy defense, is giving Bengals fans hope that the team can reach the playoffs for the first time since 2015.
If that happens, the hope levels will turn up to 11 in the Queen City. Then, fans can start to dream that the franchise could make the Super Bowl for the first time since 1988.
Boomer Esiason thinks his fellow Bengals QB will be the NFL's best in five years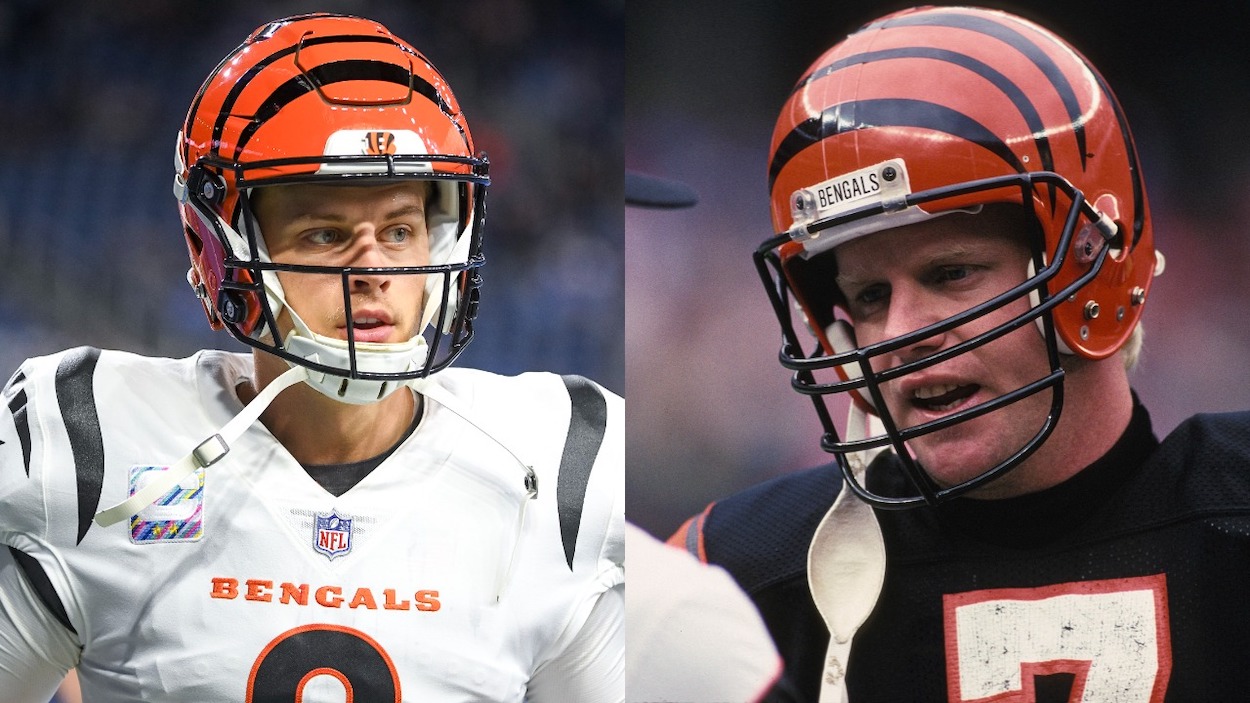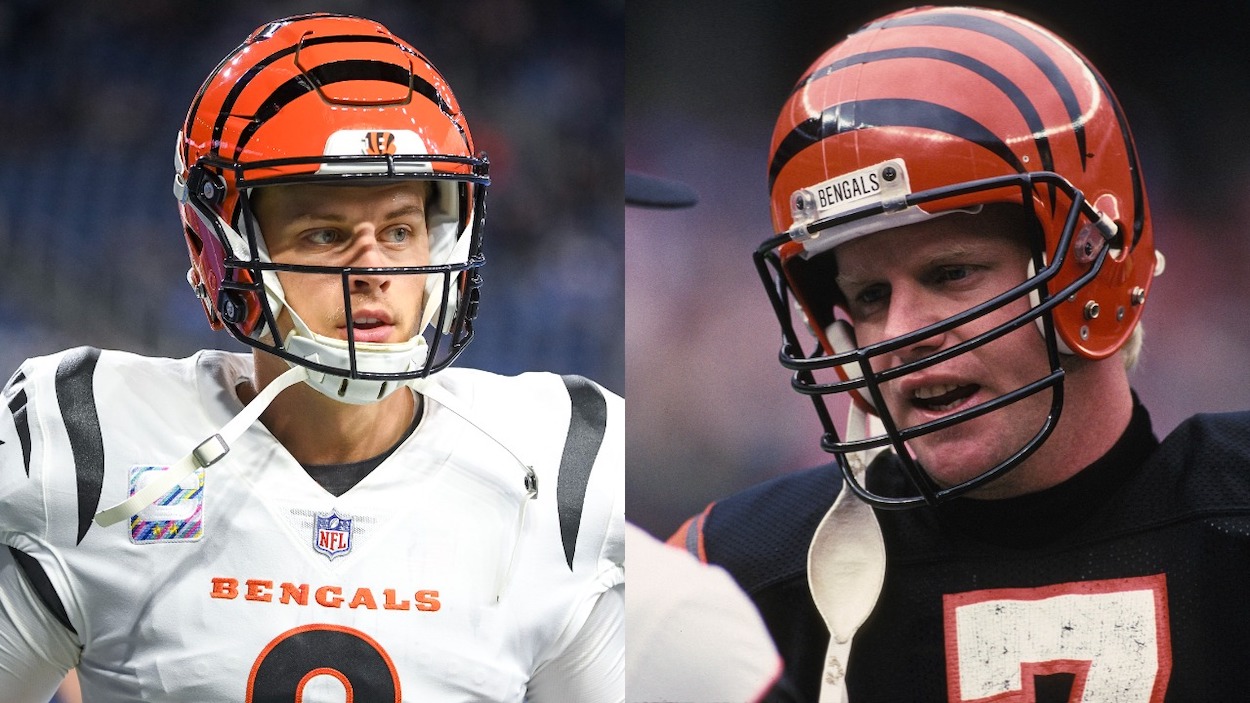 A little over a month shy of his 24th birthday, it's inarguable that Burrow is one of the best young quarterbacks in the NFL.
However, 2021 is a golden age of young signal-callers in the league. As legends like Tom Brady and Aaron Rodgers wind their careers down, a new breed of QB is coming to take their place. The current list of starting QBs age 26 and younger is impressive. It includes Patrick Mahomes (26), Baker Mayfield (26), Josh Allen (25), Lamar Jackson (24), Burrow (24), Kyler Murray (24), Justin Herbert (23), and promising rookies Mac Jones (23), Trevor Lawrence (22), Zach Wilson (22), and Justin Fields (22).
All this baby-faced talent prompted NFL Today host James Brown on CBS to ask the show's resident QBs, Phil Simms and Boomer Esiason, who the best NFL passer will be in five years.
Simms took Mahomes with a nod to Jackson as well. Esiason answered with the QB who plays for the same organization he did for a decade:
I am going to go with Joe Burrow of the Cincinnati Bengals. The reason I say that — because he had to come through a horrific knee injury. He spent the time making sure he was ready for this year. Also spent time with his private quarterback coach, Jordan Palmer, working on his arm strength in the offseason. You know what that tells me? That tells me he cares, and that's the most important ingredient.

Boomer Esiason on Joe Burrow
While it has no bearing on the future of any of these emerging QBs, Week 7 anecdotally strengthened Esiason's point.  
Mahomes struggled as the Tennessee Titans stopped him from leading at least one TD drive for the first time in his career during a 27-3 Titans victory. Meanwhile, in Baltimore, Burrow shockingly beat down Jackson's Ravens 41-17 in a head-to-head matchup, throwing for 416 yards and three touchdowns.
Could Burrow replicate Esiason's 1988 season? 
Through the first seven games of the 1988 season, then-Bengals QB Norman "Boomer" Esiason had 17 touchdowns, just like Burrow does through Week 7 in 2021.
They also have the same number of interceptions (eight), and Burrow has thrown for just 15 more yards than Esiason did at the same point in '88. Boomer's Bengals were 6-1 to Burrow's 5-2.
By season's end, Esiason threw for 3,572 yards with 28 touchdowns and 15 picks. That performance led the team to a 12-4 record. It also earned the then-27-year-old QB a Pro Bowl appearance, All-Pro nod, and the NFL MVP Award.
After making the playoffs, then beating the (then-AFC) Seattle Seahawks and the up-and-coming Buffalo Bills to make the Super Bowl, Esiason and his Bengals fell to the "Team of the '80s" in Joe Montana and the San Francisco 49ers.
In addition to the Burrow and Esiason comparisons, the '88 and '21 teams had several other player comps. Both have a strong, dynamic running back (Ickey Woods/Joe Mixon), a talented young receiver (Eddie Brown/Ja'Marr Chase), and a stout defense without many household names.  
It may be early for the '88/'21 comparisons, but with what Burrow and the Bengals are doing already this season, it isn't too early for one thing: hope.
All stats courtesy of Pro Football Reference