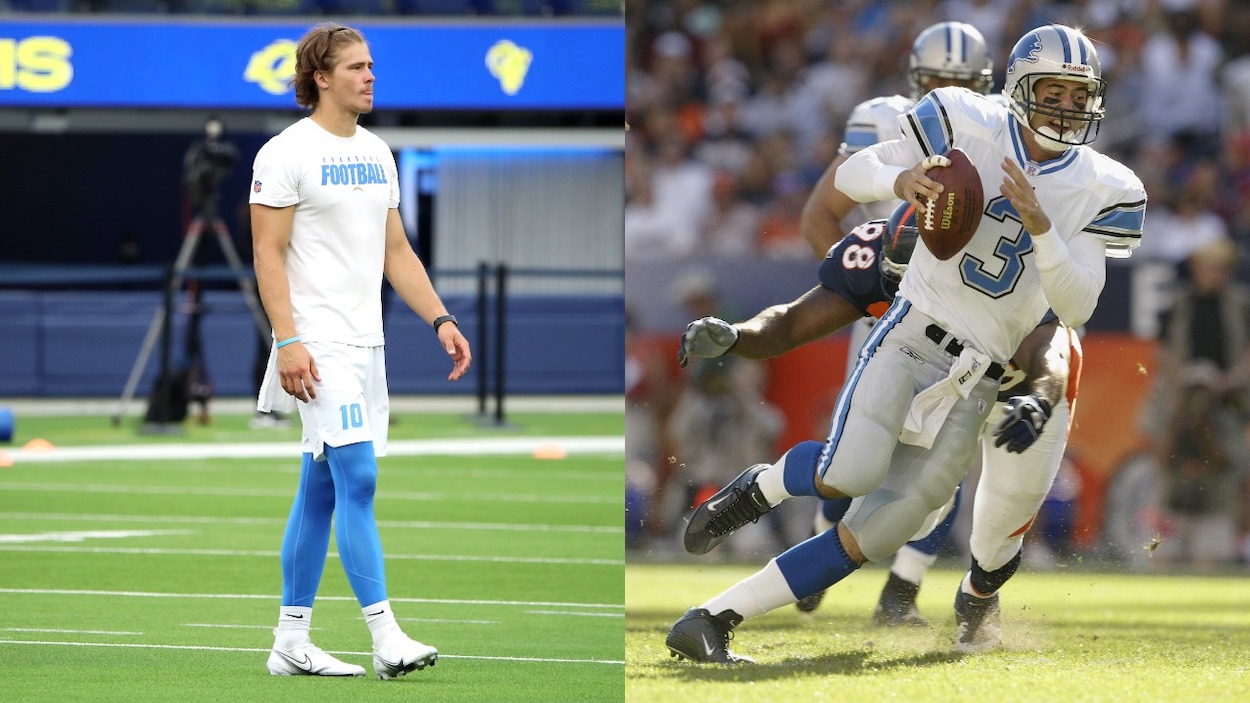 Justin Herbert Had a Poster of a Major NFL Bust Hanging on His Wall as a Kid: 'I Still Have That in My Room'
LA Chargers QB Justin Herbert had a curious football idol on his wall growing up, but fans shouldn't worry that he's anything like the bust.
Most young NFL quarterbacks these days probably had posters of Peyton Manning, Tom Brady, or Drew Brees on their walls. Not Los Angeles Chargers QB Justin Herbert, though. LA's young star grew up in Eugene, Oregon, idolizing the University of Oregon football team. That's why he hung a picture of his favorite Ducks signal-caller on his wall. Even though the passer became a notorious NFL bust, the poster is still in Herbert's childhood bedroom to this day.
Justin Herbert shared which QB's poster he had on his wall as a kid
LA Chargers second-year superstar Justin Herbert stopped by the Dan Patrick Show recently to chat with the host. The pair covered a wide range of topics related to Herbert's past as well as his current life in the NFL.
Patrick asked Herbert, "Whose posters did you have on your wall growing up?" The star QB responded:
I had a Joey Harrington one. From Oregon. I still have that in my room. … Back home in Eugene. … It was a picture of him scoring on a quarterback throwback in, I think, an early Bowl Game in maybe 2002 vs. Texas.

Justin Herbert on the 'Dan Patrick Show'
This choice of poster shouldn't be surprising. Herbert grew up in Eugene, Oregon, in the shadow of the Ducks' Autzen Stadium. He told Patrick that he wanted to be the quarterback of Oregon "as soon as I knew what football was."
While it makes sense that Herbert idolized Harrington as a kid, having the former No. 3 overall pick as a hero might be worrisome to some LA Chargers fans. The former Duck is one of the bigger first-round QB busts of the last 20 years.
Joey Harrington was an NFL draft bust 
The 2002 NFL Draft turned out not to be a good year for quarterbacks, although three went in the first round. Houston's David Carr went No. 1 overall, the Detroit Lions took Joey Harrington at No. 3, and Tulane's Patrick Ramsey went No. 30.
Harrington, a Portland, Oregon native, started three seasons in Eugene. He was a 55.2% passer and threw for 6,911 yards with 59 touchdowns and 23 interceptions. In his last season in college, he finished fourth in the Heisman voting, behind eventual winner Eric Crouch.
The Detroit Lions picked Harrington third, and he went on to start all 16 games his rookie season, going 5-11. That record got head coach Marty Mornhinweg fired and replaced by Steve Mariucci. In two-plus seasons in the Motor City, Coach "Mooch" went 15-28 with the Lions, mostly with Harrington under center.
After the failure in Detroit, Harrington started 21 more NFL games in the next two seasons, going 8-13 combined with the Atlanta Falcons and Miami Dolphins.
The former Oregon star was out of the league by 30, having thrown for 14,693 yards with a career 56.1% completion rate, 79 TDs, and 85 INTs.
These days Harrington lives back in Portland, Oregon, where he teaches his home-schooled children and runs Harrington Family Foundation, according to the Detroit Free Press.
Herbert is far from a bust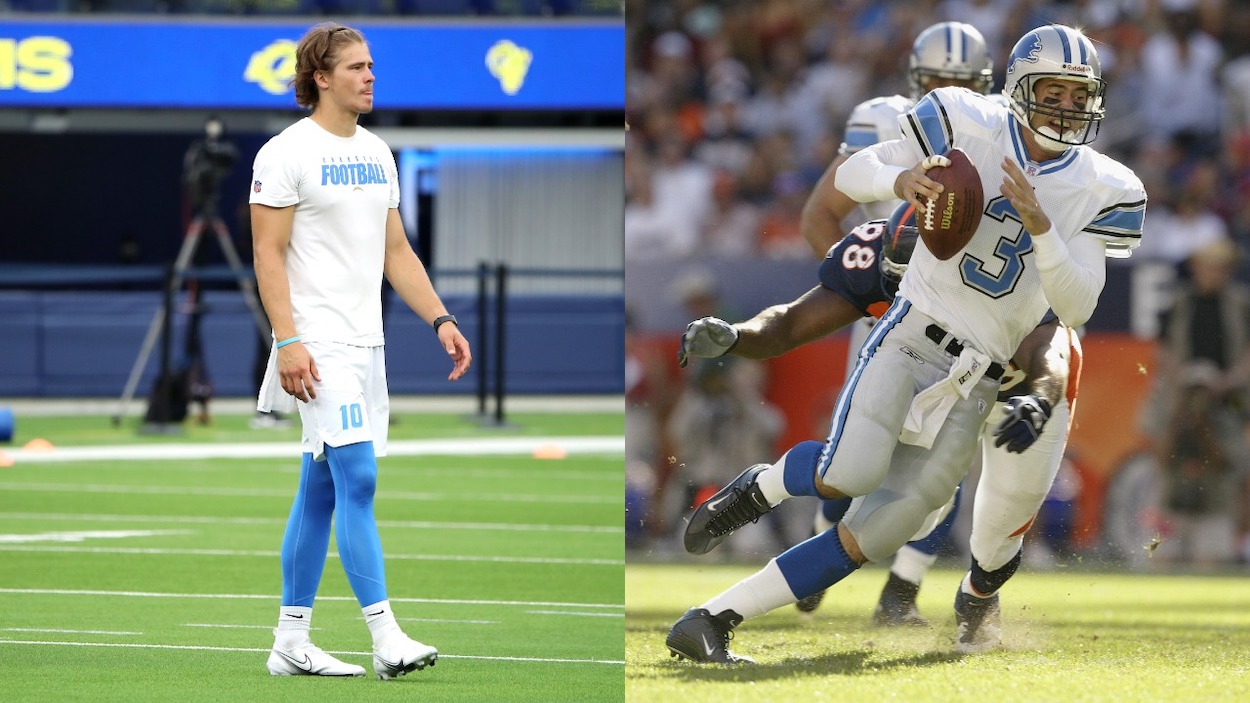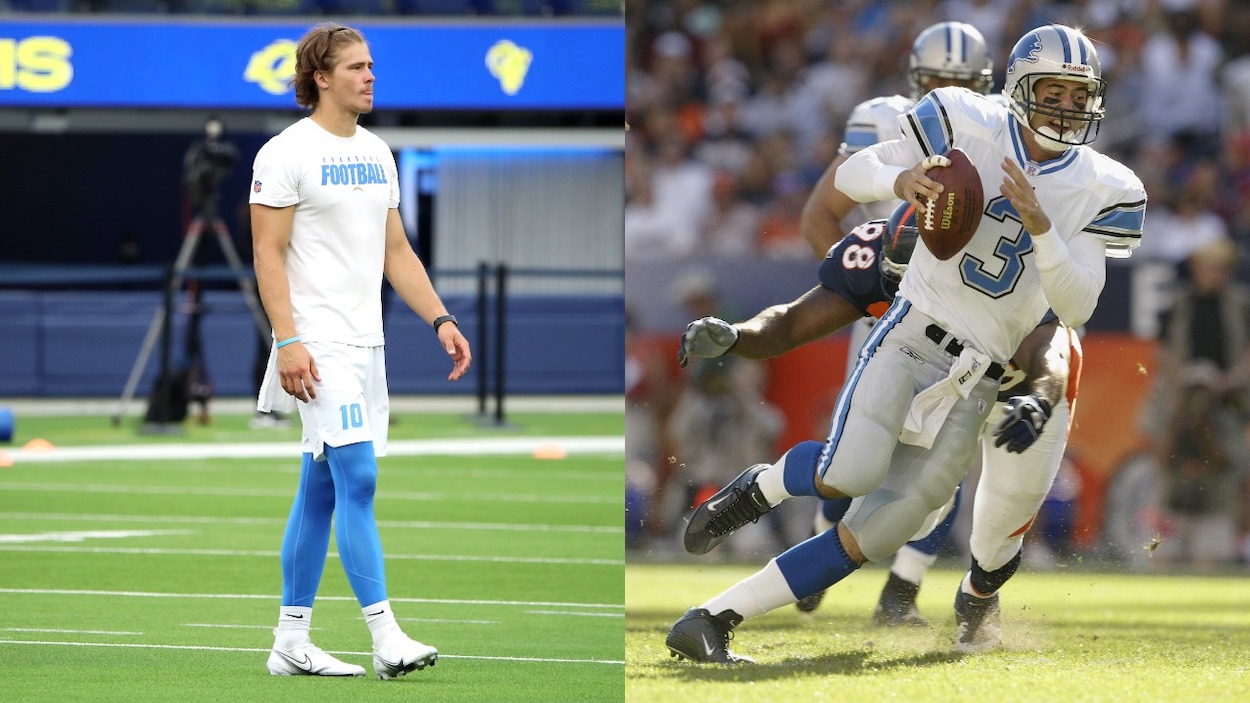 While his love of Joey Harrington might make LA Chargers fans nervous, they shouldn't be worried about Justin Herbert following in his idol's footsteps.
Ever since Herbert was pressed into duty when the Chargers training staff accidentally punctured Tyrod Taylor's lung before Week 2 of the 2020 season, the No. 6 overall pick has been a revelation.
In 2020, after throwing for 311 yards and almost pulling a shocking upset in his surprise start against the Kansas City Chiefs, Herbert went on to pass for 4,336 yards with 31 touchdowns and 10 picks.
For his first-year efforts, the AP gave him the 2020 Offensive Rookie of the Year Award.
This season has started off equally well in the statistic department for Herbert and even better from a team perspective. So far, he's thrown for 1,771 yards with 14 TDs and four INTs. More importantly, after finishing 7-9 in 2020, the Chargers are off to an AFC West-leading 4-2 start.
Herbert and the Bolts are on a bye in Week 7 but pick up their 2021 campaign in Week 8 against the New England Patriots.
All stats courtesy of Pro Football Reference