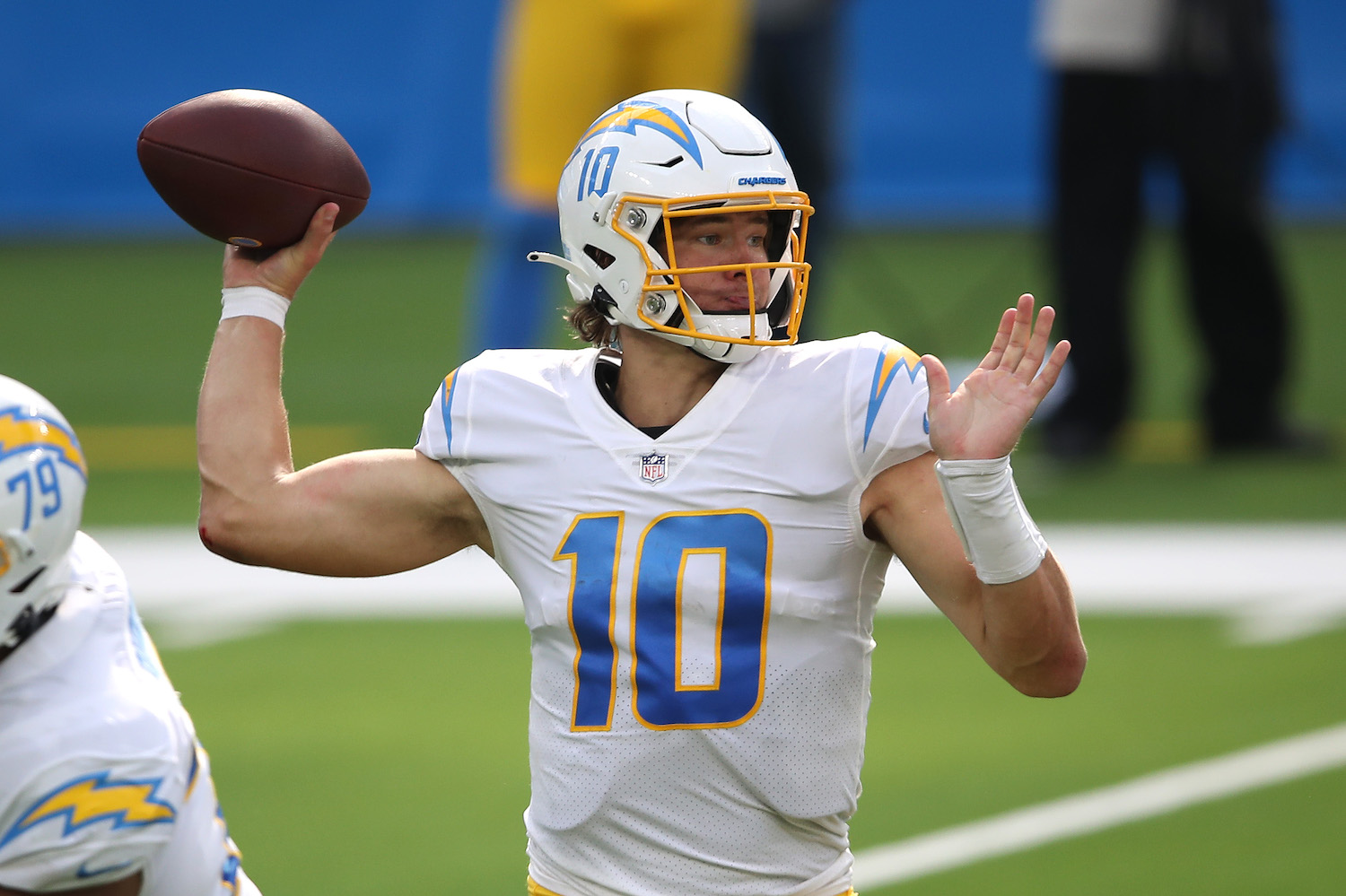 Justin Herbert Just Delivered Devastating Blow to Tyrod Taylor's Career in LA
Justin Herbert was a backup to Tyrod Taylor in Week 1. After Taylor suffered a freak medical mishap, Herbert took over the starting job and now it's his job moving forward.
While the NFL is entertainment for millions of fans, it's still a business. And just like any business, tough decisions have to be made. In the NFL, those decisions often include choosing one player over another, no matter the circumstances. In Los Angeles, Chargers coach Anthony Lynn has just made a tough business decision and named Justin Herbert the starting quarterback over Tyrod Taylor after the veteran quarterback suffered a freak medical mishap.
Justin Herbert taken in first round of 2020 NFL draft
At the University of Oregon, Justin Herbert put on a show his final two seasons. In 2018, Herbert finished the season with 3,151 yards, 29 touchdowns, and eight interceptions as the Ducks finished with a 9-4 record. 
Herbert put up even more impressive numbers his senior season throwing for 3,471 yards with 32 touchdowns and five interceptions as Oregon finished the season with a 12-2 record and a thrilling 28-27 Rose Bowl victory over the Wisconsin Badgers. 
With his impressive resume, the LA Chargers selected Justin Herbert with the No. 6 selection in the 2020 NFL Draft. 
Tyrod Taylor suffers punctured lung in medical mishap 
Justin Herbert came into the 2020 NFL season expecting to compete for the starting position with veteran quarterback Tyrod Taylor. After an abbreviated offseason, head coach Anthony Lynn named Taylor the starter. 
After leading the Chargers to a season-opening 16-13 victory over the Cincinnati Bengals, Taylor was prepping to play in Week 2 against the defending Super Bowl Champion Kansas City Chiefs, when he suffered a serious medical mishap. Before the game a team doctor was administering a pain-killing injection to one of Taylor's cracked ribs when he accidentally punctured his lung.
Taylor experienced difficulty breathing and ended up in the hospital later that night. Justin Herbert started in his place and looked impressive, but the Chargers fell 23-20 in overtime. Days after the incident, Lynn said "if Tyrod is 100%, he's our quarterback." 
Justin Herbert named starter going forward 
Since Justin Herbert's debut against the Chiefs, where he finished completing 22-of-33 for 311 yards with a touchdown and an interception, Taylor has remained on the sidelines, and the rookie has made two more starts. 
Despite losing both contests, Herbert has been effective throwing for a combined 620 yards (310 average), including four touchdowns and a pair of interceptions. Through it all, Lynn has insisted Taylor was his guy when he returned. Apparently, Lynn had a change of heart this week as he's named Herbert his starting quarterback going forward. 
For Taylor, he's been here before. He started the first three games for Cleveland in 2018 before getting injured, and sat behind Baker Mayfield the rest of the season. It's an unfortunate set of circumstances and not of his own doing. But Taylor has learned, it's a business. And sometimes, you're on the wrong end of the business decisions. 
All stats courtesy of Pro Football Reference.