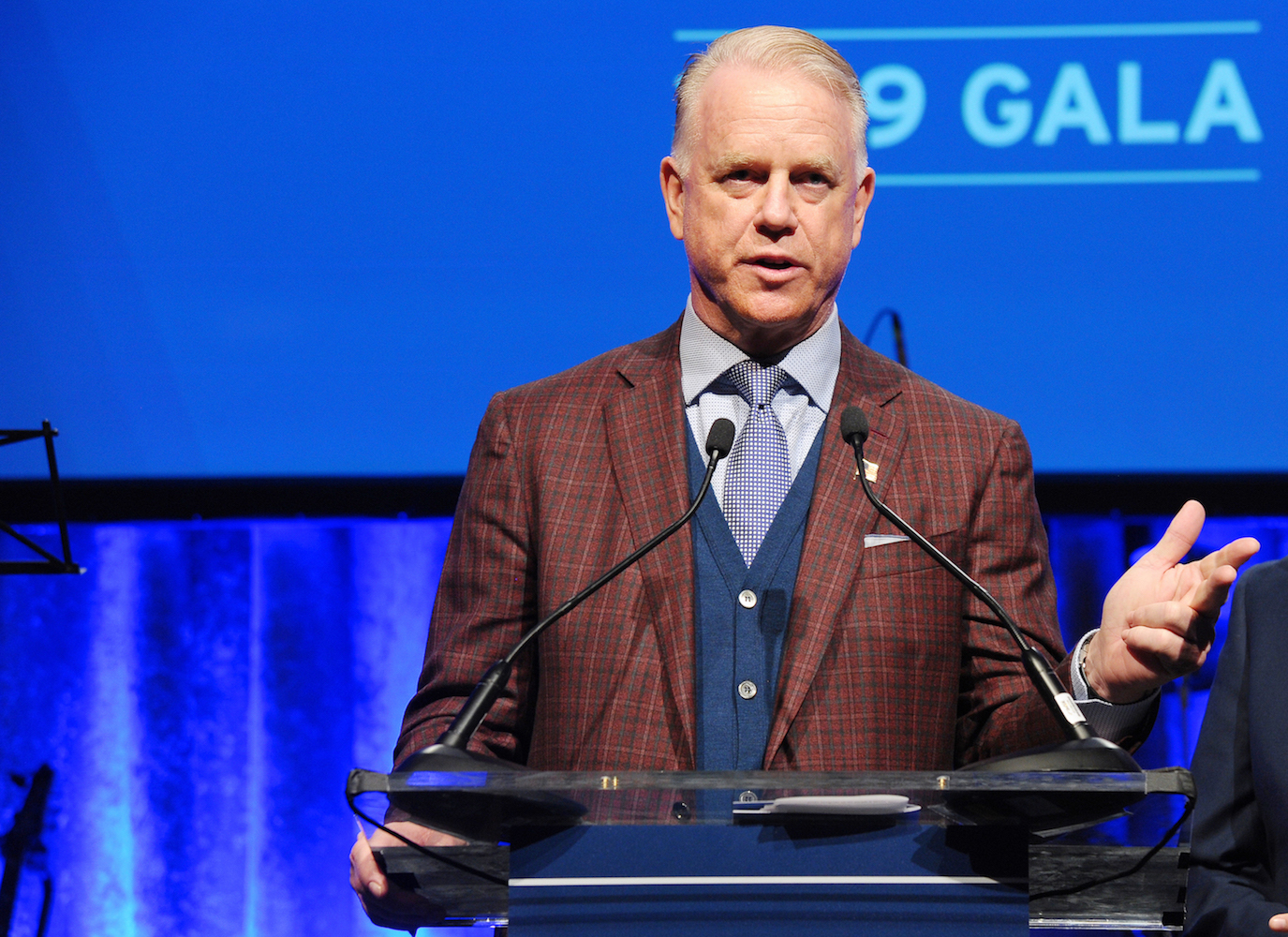 Boomer Esiason's Famous Nickname Has Nothing to Do With His Football Ability
Whether you remember him as a quarterback or know him from TV and radio, everyone is familiar with Boomer Esiason. How did he get his nickname?
Whether you know him as a quarterback, studio analyst, or radio host, Norman Esiason is a familiar face for all NFL fans. If that name doesn't ring a bell, however, that's because the former signal-caller is more commonly known as Boomer. That nickname has nothing to do with his on-field performances, though.
In fact, Esiason picked up his iconic nickname before ever hitting the gridiron. His mother actually called him Boomer before he ever left the womb.
Boomer Esiason's football career
These days, Boomer Esiason is a familiar face in sports media. Before ever picking up the microphone, however, he made a name for himself on the football field.
After playing his college ball at the University of Maryland, Esiason entered into the 1984 NFL draft. He slipped into the second round, where the Cincinnati Bengals snagged him with the 38th-overall pick.
With his blend of size, mobility, and arm strength, Boomer replaced Ken Anderson and took charge of the Bengals offense for nine seasons. He then moved to New York, joining the Jets for three years; he then suited up with the Cardinals before suiting up for one final season in Cincinnati. On the whole, he piled up 37,920 passing yards and 247 touchdowns and earning 1988 MVP honors during 14 professional seasons on the gridiron.
After he hung up his shoulder pads, though, Boomer didn't leave football behind. He briefly served as a color commentator on Monday Night Football; he then became a radio analyst, calling games for Westwood One until 2018. Today, Esiason is a studio analyst for CBS's NFL coverage and the host of the Boomer and Gio radio show.
How did Boomer Esiason get his nickname?
Given his athletic abilities, it's easy to assume that a young Norman Esiason picked up his nickname after a big hit on the football field. In reality, though, he earned the title before he was even born.
"His real name is Norman, but his father, Norman Sr., gives this account of his son's nickname," Thomas George explained in a 1988 New York Times story. "Our first two children were girls. My wife's third pregnancy was different. The baby was kicking all the time. I said: 'This can't be a girl. It's got to be a boomer because he's kicking too much."
From there, the rest is history. From Maryland to the NFL and, eventually, television and radio, he was simply "Boomer."
Norman or not, Esiason has made plenty of Benjamins
These days, it's unlikely that you'll find too many people calling Boomer Esiason by his given name. The former quarterback, however, has received plenty of checks made out to Norman over the years.
According to a 1998 New York Times article, Esiason made approximately $24 million in salary and endorsements during his time in the NFL; after retiring, his Monday Night Football deal was worth a reported $9 million. While it's not clear how much he earns from his current TV and radio gigs, it's safe to assume that he's not pinching pennies at the end of each month.
According to CelebrityNetWorth, Boomer Esiason has built up an estimated $15 million fortune; he's certainly come a long way since earning his famous nickname.
Stats courtesy of Pro-Football-Reference