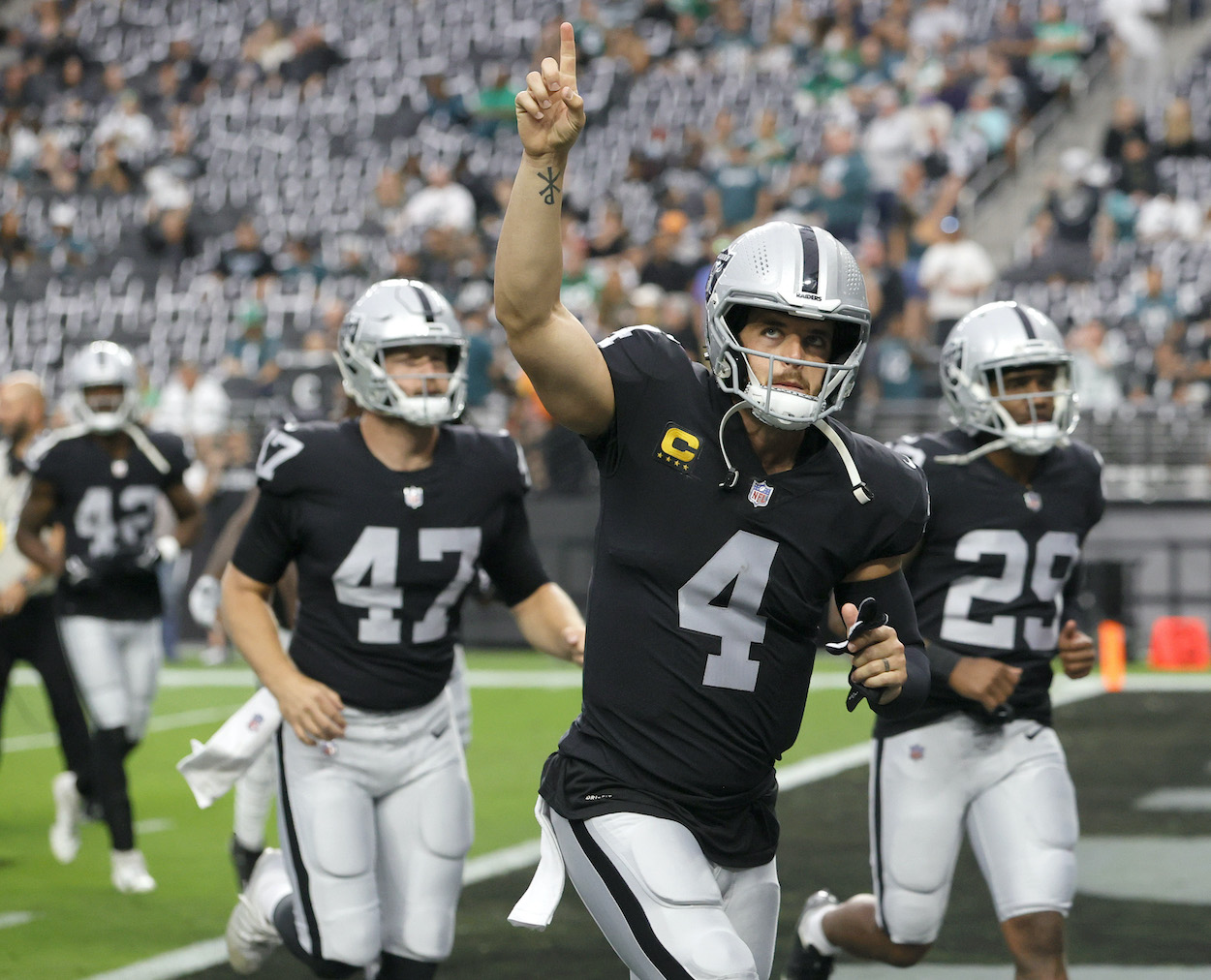 Derek Carr Delivered a Blunt Message to His Raiders Teammates After Jon Gruden's Resignation: 'Nobody Cares What We Think, How We Feel Except for if We Win This Game'
Derek Carr had a simple and direct messages for his Raiders teammates after the Jon Gruden scandal and the team responded by winning two games and getting their season back on track.
Jon Gruden's shocking resignation as Las Vegas Raiders head coach put the team in an extraordinary situation. From a football perspective, the team was reeling from back-to-back losses. It was desperately trying to hold on to its playoff hopes. That's when Raiders quarterback Derek Carr stepped up and delivered a no-nonsense assessment of the situation to his teammates.
Derek Carr walked through the immediate aftermath of the Jon Gruden scandal on Sunday
On Oct. 11, right before a Monday Night Football game between the Indianapolis Colts and Baltimore Ravens, news of a bombshell New York Times article came out. The report detailed a trove of emails sent by then-Las Vegas Raiders head coach Jon Gruden over a period of years. In these emails, Gruden used a variety of racist, misogynistic, and homophobic language.
Before the game ended (with a 31-25 Baltimore win in OT), Gruden resigned from his position with the Raiders.
On the FOX NFL Sunday pregame show this week, less than two weeks after Gruden stepped down, Carr sat down with current analyst and former Raider teammate Charles Woodson. It was the QB's first nationally televised sit-down interview on the subject.
Carr shared the tick-tock from the night, from learning about the emails from his wife to walking over to the Raiders facility and consoling Gruden.
As he has maintained throughout this scandal, Carr once again noted that he loves Gruden. He also hopes that people can eventually forgive him:
I feel bad for everybody that was involved. I didn't say those things, so it wasn't me, but I still feel the pain because I love that man so much. At some point, hopefully, people forgive him. … I don't know what capacity [he should be welcomed back] but just so he can live life, you know. I've seen the pain in his eyes and in his heart that it caused. And so hopefully, one day, people can at least accept him that, 'Hey, you're not perfect and neither am I, but hey, we love you.'

Derek Carr on Jon Gruden
After the interview aired, FOX host Curt Menefee pushed back against Carr's characterization of the Gruden situation.
"That's an interesting interview to hear Derek Carr," Menefee said to his co-hosts. "He says, 'Nobody expects you to be perfect. Nobody's perfect.' I don't think anybody expects people to be perfect, but they do expect you to be decent."
Carr stepped up to lead his team following Gruden's resignation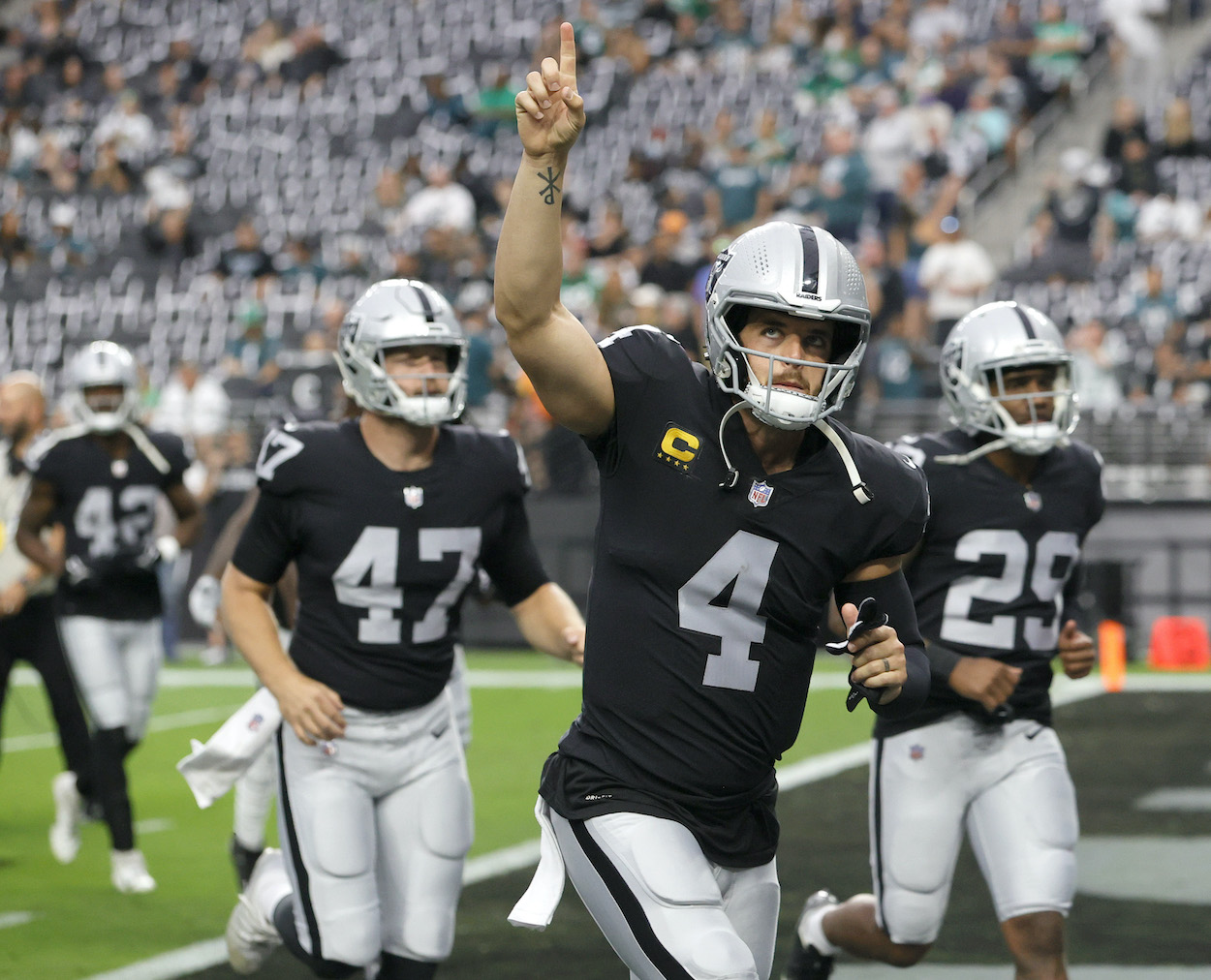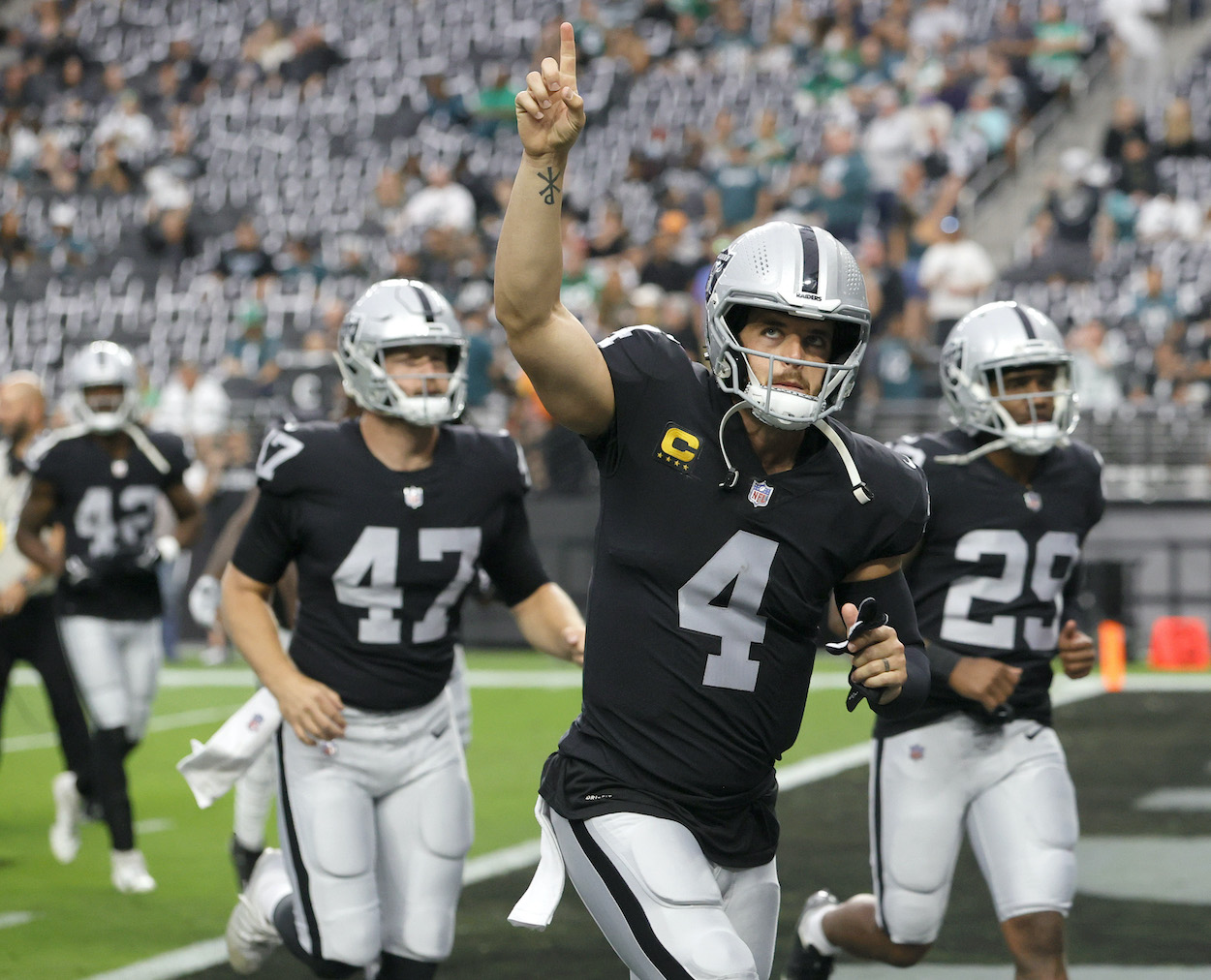 After Gruden stepped down, the Raiders and their new (first-time) head coach Rich Bisaccia had four days to prepare for an AFC West showdown with the Denver Broncos.
Like on most NFL teams, the Raiders quarterback is one of the most famous, highest-paid, and longest-tenured players on the roster. Derek Carr is also a team captain. As such, he was one of the players responsible for rallying the squad after the Gruden scandal went down.
After Carr and Woodson discussed the QB's feelings about Gruden, the Hall of Fame cornerback asked the quarterback what he said to his teammates after Gruden resigned. Carr shared with Woodson his simple, frank message:
The message was, you're right to feel however you want to feel, but we still have a job to do, and nobody cares what we think, how we feel except for if we win this game on Sunday.

Derek Carr's message to his Raiders teammates
This was likely one of many speeches the team heard leading up to the Broncos game. Team captains — Maxx Crosby, Richie Incognito, Alec Ingold, Josh Jacobs, Yannick Ngakoue, and Darren Waller — as well as Bisaccia and the coaching staff, all surely had their say. 
Carr's message seems to have resonated with the Raiders, though. The team went out last Sunday (and again this Sunday) and took care of business. 
The Raiders are 2-0 with Rich Bisaccia as head coach
The Las Vegas Raiders came out after the Gruden scandal and announced they weren't folding the season. The first announcement came at Denver, against a team tied with the Raiders' 3-2 record at the time.
The Raiders made light work of the Broncos, beating them 34-24. Derek Carr was 18-of-27 for 341 yards with two touchdowns and no interceptions. The defense played equally well, sacking Teddy Bridgewater five times, intercepting him three times, and recovering a fumble.
Game 2 of the Rich Bisaccia Era also went well.
The Raiders fell behind 7-0 to the Philadelphia Eagles this Sunday. Then, they ripped off 30 unanswered points on their way to a 33-22 victory.
Once again, Carr was sensational. He barely missed a pass, going 31-of-34 for 323 yards with two touchdowns and an interception. The D held Eagles QB Jalen Hurts to just 236 yards. Crosby, Ngakoue, and the crew sacked him twice and recovered two fumbles on the afternoon.
The Raiders are now in sole possession of first place in the AFC West, a half-game up on the Los Angeles Chargers.
The team heads to a bye in Week 8 and has a nice matchup against the New York Giants in Week 9. After that, it will face a gauntlet of tough games. The next three are against the Kansas City Chiefs, Cincinnati Bengals, and Dallas Cowboys.
If Carr and company can get through that stretch with a winning record, fans around the NFL will have to sit up and care very much about how the Raiders are feeling.
All stats courtesy of Pro Football Reference