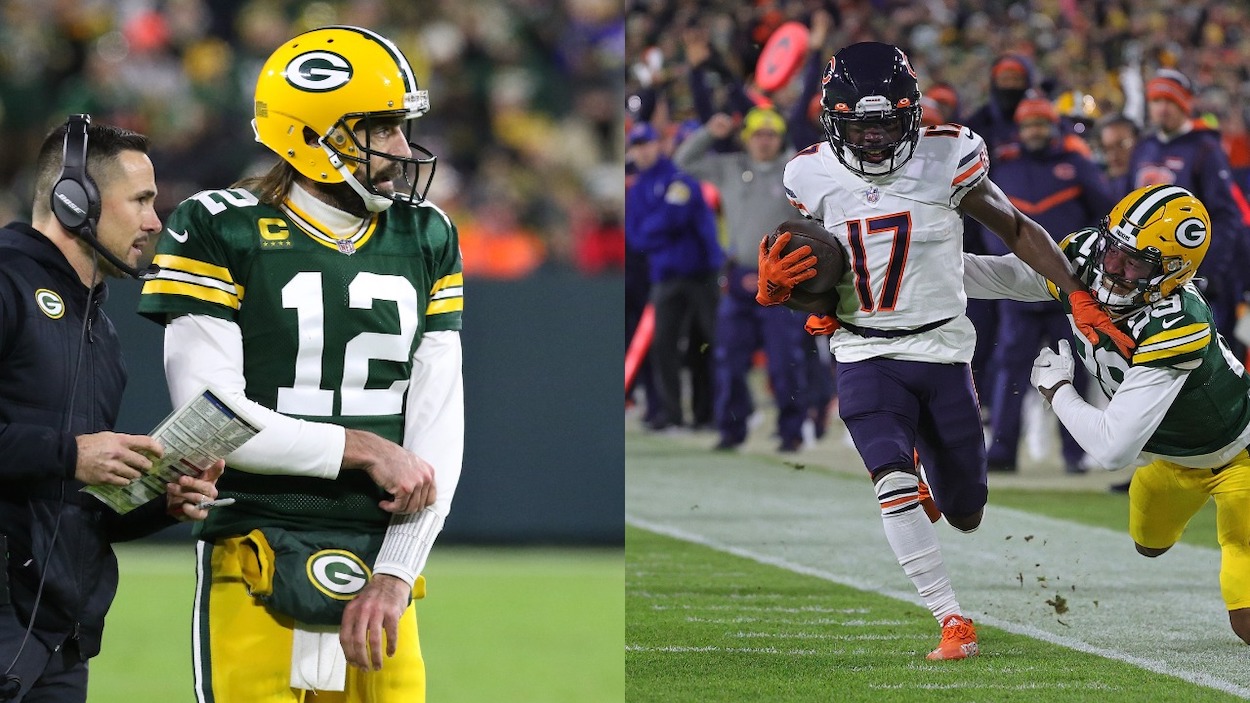 Aaron Rodgers is Awestruck by the Chicago Bears' Jakeem Grant After Explosive Sunday Night Performance: 'He's Probably a Guy That I'd Pay Money to Watch'
Packers QB Aaron Rodgers said that Bears all-purpose weapon Jakeem Grant is an NGL player that he would pay money to watch return kicks after the returner's Week 14 performance.
Green Bay Packers quarterback Aaron Rodgers treats the Chicago Bears with very little respect on the field, beating them seemingly every chance he gets. There is at least one player on his rival franchise, though, that he does have a healthy admiration for, especially after the teams' Week 14 matchup: Bears all-around special teams and offensive weapon, Jakeem Grant.
Chicago Bears all-purpose threat Jakeem Grant played great against the Green Bay Packers
Just a month after Aaron Rodgers revealed his ownership status of the Chicago Bears franchise during a 24-14 Green Bay Packers win, the two longtime NFC North rivals faced off again.
This time, the Bears played what is likely the best half of their season. They jumped out to a quick 10-0 lead and were ahead at the break 27-21.
Unfortunately for Chicago, Rodgers and Green Bay responded like they usually do against their noisy neighbors to the south. The Packers outscored the Bears 24-3 in the second half and cruised to a relatively easy 45-30 win.
Despite the team's ninth loss of the season, there were a few silver linings for the Bears Sunday night. One of them was wide receiver/kick returner Jakeem Grant.
In the first half, Grant scored two massive touchdowns, helping his team build its early lead.
The first was on a 46-yard touchdown "pass" from rookie QB Justin Fields. While it went down as a TD pass, it was more of a forward flip on a reverse to Grant that he took around the left end to the house.
The next TD was a historic one. Grant fielded a Packers punt on his own 3-yard line. After starting right, he reversed field and turned on his impressive jets. The explosive returner once again beat the entire Packers team up the left sideline, into the end zone.
The 97-yard return goes down as the longest in Bears history. This is an even more impressive feat when you consider the franchise's prodigious history at that position.  
Players such as Gale Sayers, Glyn Milburn, Cordarrelle Patterson, and the greatest returner in NFL history, Devin Hester, all returned kicks for the Windy City club.
Aaron Rodgers says he'd pay money to watch the Bears kick returner play
One of the people watching Sunday night who is as big a fan of Jakeem Grant as anyone is Aaron Rodgers.
During his weekly appearance on the Pat McAfee Show, co-host A.J. Hawk asked his former teammate about the do-it-all threat. "They showed you after the game talking to Jakeem Grant," Hawk noted. "What did you say to him, and did you have any idea he would have such a huge impact on that game?"
Rodgers responded by heaping praise on the former Texas Tech Red Raider:
If we're not playing and the Bears game is on, if it's a punt, I'm definitely watching the play because this guy is so exciting. Ever since I saw him … catch a ball in the end zone on a punt, and I said, 'This guy is unbelievable.' I need to watch — Oh my gosh, the confidence is incredible. But a punt return with him in the game is must-see TV. It really is.

Aaron Rodgers on Jakeem Grant
He then answered Hawk's question and gave Grant the ultimate compliment a pro athlete can give another pro athlete:
I just told him how much I enjoy watching him play. There's guys you pull for across the league, even against your rivals, because they're exciting to watch. And you pay money to watch this guy play ball, and he's probably a guy that I'd pay money to watch return punts, for sure.

Aaron Rodgers on what he said to Jakeem Grant after the Chicago Bears vs. Green Bay Packers game
When any athlete says they would plunk down their own money to buy a ticket like an average fan to watch another player play, that is the highest praise they can give.
Rodgers is obviously a massive Grant fan, and, who knows, maybe the two will be able to play together in 2022.
The versatile Grant will be a very desirable free agent in the offseason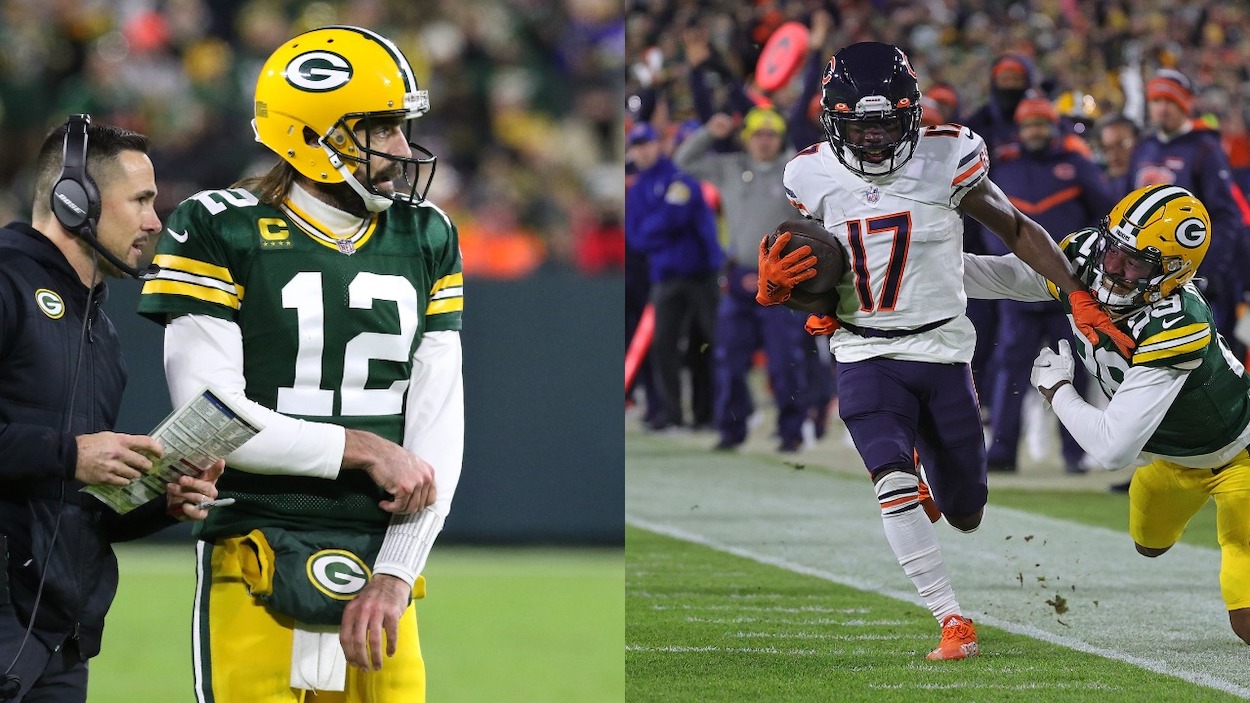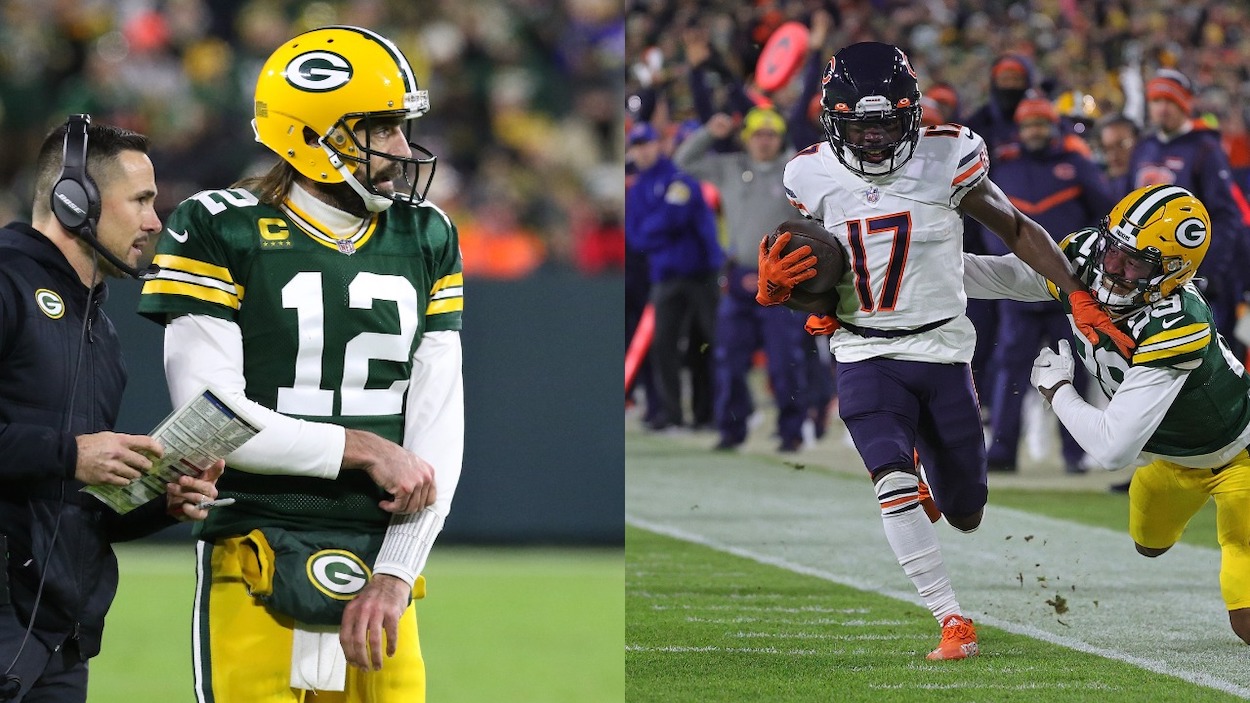 What team Aaron Rodgers suits up for in 2022 will be the No. 1 story of the coming offseason. Jakeem Grant's impending free agency will be (rightly) far less discussed but could be incredibly important nonetheless.
The league has phased out kick returns in the name of player safety. NFL coaches are phasing out punt returns with the new emphasis on going for it on 4th down. This has lessened the importance of the average kick returner.
However, dynamic return men who can put six points on the board in a matter of seconds are still worth their weight in gold.
Add to this the value of explosive, versatile players who can line up anywhere on the field and create big plays on offense — see Cordarrelle Patterson on the Atlanta Falcons this season — and you have an incredibly prized modern player.
Grant, who is an unrestricted free agent after this year, could be this type of player. A contender signing him for 2022 would be a major coup that could put a team over the top.
If the Green Bay Packers hope to keep Rodgers for next season and beyond, signing his favorite kick returner could be a move that would help convince the reigning NFL MVP to stay.
Like Sportscasting on Facebook. Follow us on Twitter @sportscasting19