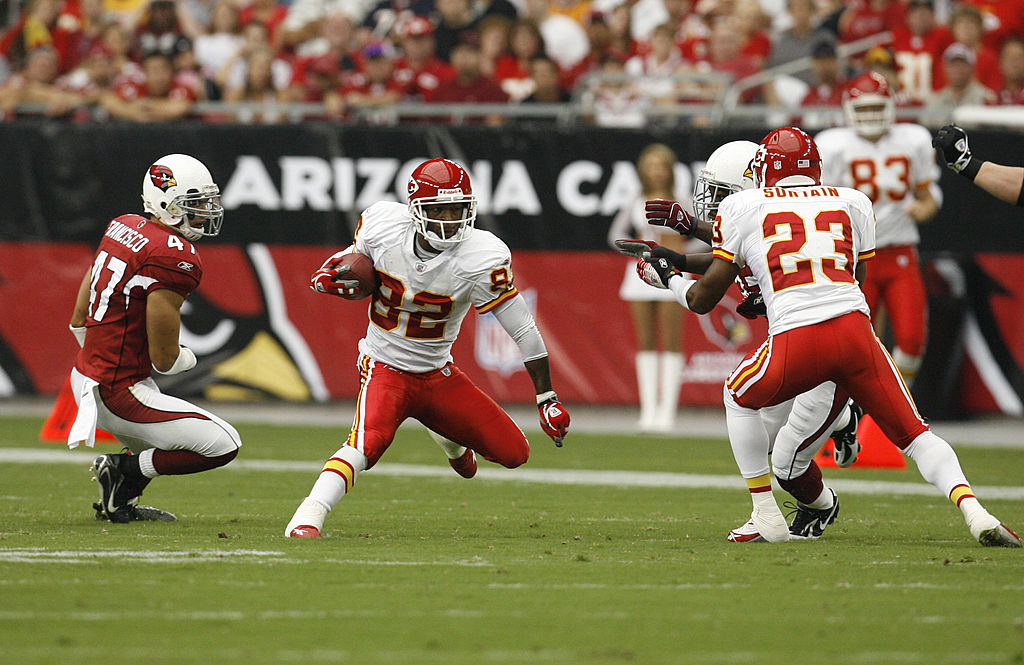 The Most Electrifying Kick Returners in NFL History
With the new kick return rules in the NFL return men are a dying breed. Let's look back at some of the most exciting players to ever return a kick.
When it comes to games on the NFL gridiron, the two things we think are the most exciting are football overtimes and the kickoff/punt returns. There is always an extra buzz in the air when a player breaks a few tackles has an opportunity to go the distance.
These plays can change the momentum of a game and today we will go over some of the best kick/punt returners in NFL history.
Devin Hester: 2006-16 (11,028 return yards, 19 touchdowns)
You can't start this list without the player who has more return touchdowns than anyone in NFL history. Coming out of the University of Miami Hester was a speedster who could make game-breaking plays. As NFL teams started to kick to Hester, he would make them pay with jaw-dropping moves that made him more valuable in the return game than as a receiver.
He became so dominant returning that teams simply stopped kicking to him because it was easier to kick it out of bounds. 
Brian Mitchell: 1990-03 (19,013 yards, 13 touchdowns)
The next person on our list is the league's all-time career leader in return yards. Over a 13-year career with three teams, Mitchell consistently put his teams in excellent field position.
He averaged nearly 1,500 return yards per season and was named to one All-Pro team.
Josh Cribbs: 2005-14 (13,488 yards, 11 touchdowns)
When Cribbs went undrafted in the 2005 NFL Draft, fans of the Kent State quarterback were worried he wouldn't have a shot at making the league. When the Browns signed him as an undrafted free agent, he quickly made the most of his opportunity.
Cribbs was electrifying returning the ball, and during his time at Kent State you could see the agility that could make him a valuable weapon running the football. Cribbs was also named to three Pro-Bowl teams.
Allen Rossum: 1998-09 (15,003 yards, 8 touchdowns)
No. 2 on the list for career return yards, Rossum played for six teams and made an impact in the return game with each one. He was a third-round pick of the Philadelphia Eagles in the 1998 NFL Draft and had over 1,000 return yards in nine of his 12 seasons in the league.
Deion Sanders: 1989-05 (5,722 yards, 9 touchdowns)
Deion "Primetime" Sanders was another no-brainer for this list. Coming out of Florida State he was an easy projection as a shutdown corner. He also holds the NFL combine record for the fastest 40-yard dash time. Sanders had a Hall-of-Fame career and was named to six All-Pro teams.
Dante Hall: 2000-08 (12,397 yards, 12 touchdowns)
Dante Hall was an X-factor for the Kansas City Chiefs offense when they were full of weapons. Hall played from 2000 to 2008 and outside of Michael Vick was the most exciting thing to watch on football during his prime.
We won't say that any of the returners on our list had the same power to glue people to their chairs as well as Vick did but seeing them return the ball was very exciting. Hall finished his career with a 12 return touchdowns and was named to two Pro-Bowls.
Who were you most excited to see return kicks?
Looking at our list we have to go with Devin Hester. It wasn't a hard choice picking Hester even though there are other players on this list you can make an argument for. Whenever he touched the ball you were looking at a potential touchdown waiting to happen, and he made the Bears extremely exciting to watch.
Check out our NFL section for more news from around the gridiron.