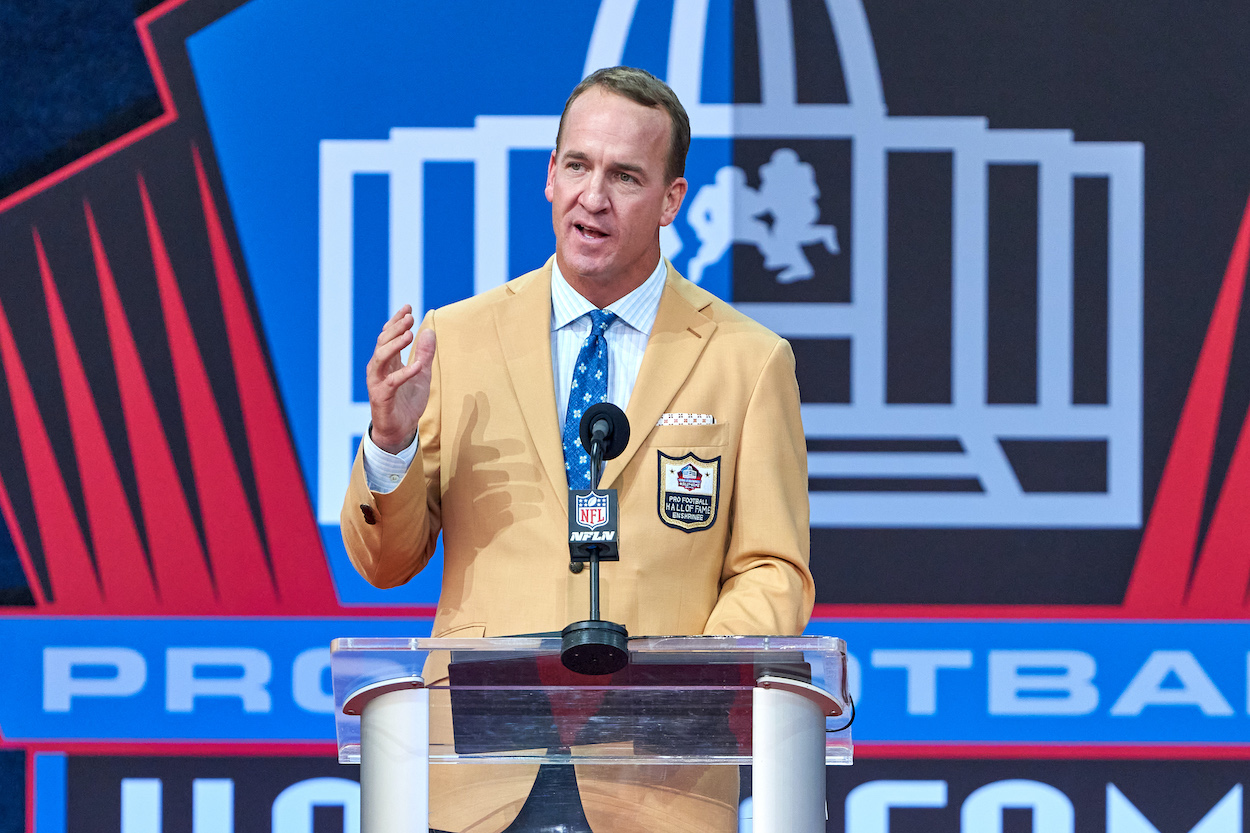 Peyton Manning Gives Coy Answer on Becoming NFL Commissioner: 'That Was Not on My Radar'
Peyton Manning's Hall of Fame speech made many wonder if he would ever become NFL commissioner. Manning downplayed it but didn't say no. While it may not happen soon, he did leave the door open in a recent interview.
When all-time great quarterback Peyton Manning walked away from playing in the NFL, he had plenty of opportunities. Almost any team would gladly have him as part of their coaching staff or front office, and any network would put him in the booth, no questions asked. If you've seen him in commercials or on Saturday Night Live, you know he could make an entire post-playing career out of just being a pitchman. What he is doing currently is hosting a first-of-its-kind Monday Night Football broadcast with his brother during the 2021 season.
When Manning gave his Hall of Fame induction speech in August, many fans listening thought of one more thing the QB could do to help the NFL: become the commissioner. In an interview with Bob Costas, Manning addressed these rumblings and, while he played them down, he never said the word, "no."
Peyton Manning's Hall of Fame speech gave many the impression he'd make a great NFL commissioner
During his Hall of Fame induction speech, Manning unsurprisingly brought down the house. He was funny, he was touching, and he was passionate. Manning felt like someone who is and will be the face of the game for years to come.
He talked about not only celebrating the past but helping ensure the game's future as well. Toward the end of his speech, he gave a rousing summation, challenging every Hall of Fame player, especially his 2020/21 classmates, to for their part for football:
I'm not done with this game, and I never will be. I'm committed to ensuring its future, and I hope you will join me in that commitment. As members of this honored class, we have a responsibility to make out game stronger, from the corner playground to the most celebrated stadiums. … When we leave this stage tonight, it is not about us. It is about cultivating the game that's given so much to us.

Peyton Manning during his Hall of Fame speech
It was an incredible speech and one the showed just how deeply passionate Manning is about football and the NFL's place in it. Most who've heard the speech could easily see how Manning could be the next commissioner of the NFL.
Manning didn't explicitly say that he's not interested in being the commissioner of the NFL someday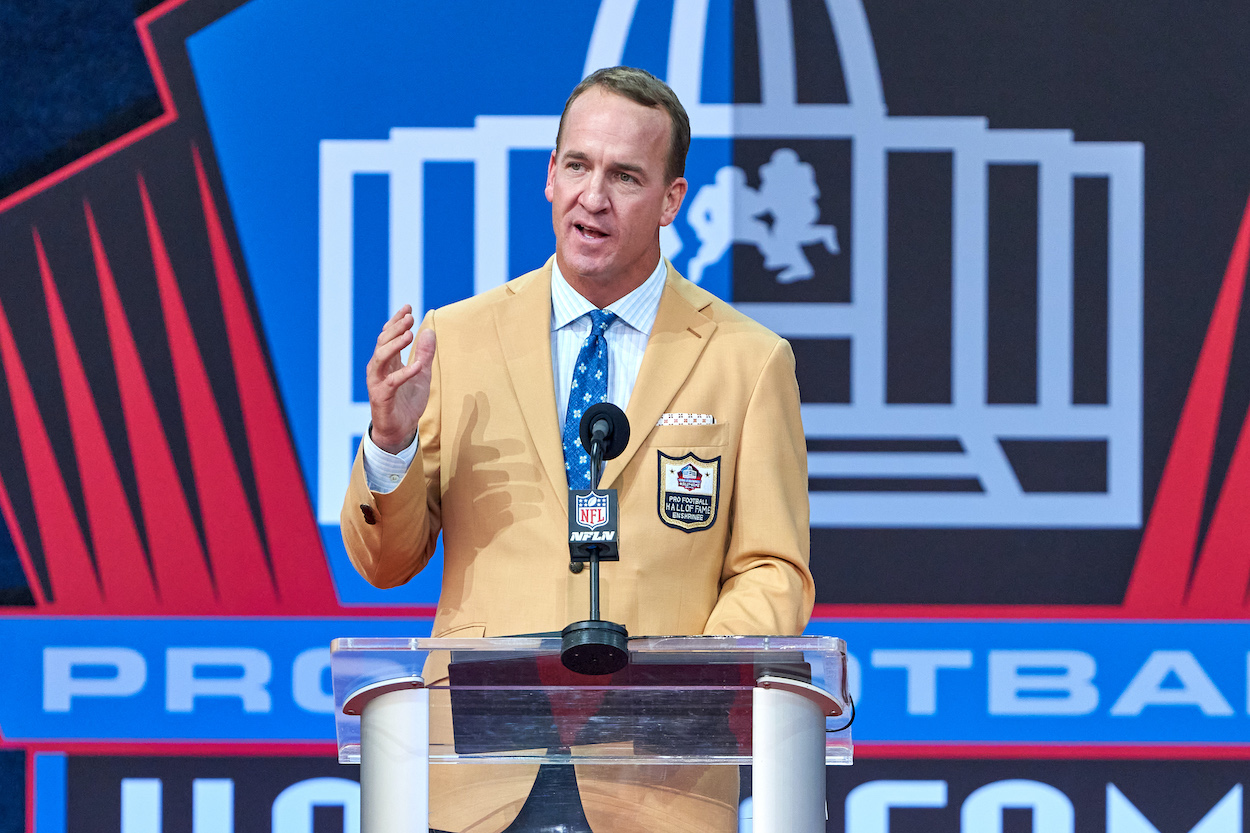 Manning joined broadcaster Bob Costas on his HBO show, Back on the Record with Bob Costas. To open the interview, the host quizzed the quarterback about his post-retirement football future, asking, "what role do you see yourself in?"
Peyton started his answer by acknowledging the commissioner buzz and giving an answer that ruled it out without ever actually saying "no."  
A couple people said they thought I was campaigning for the commissioner's position. That was never on my radar when I put that speech together. I think if the NFL was lucky, Roger Goodell would do another 20 years, to tell you the truth. But, I've taken very seriously my role to be an ambassador for the game since I've stopped playing.

Peyton Manning on the NFL commissioner rumors
Costas pushed Manning to give a definitive answer on the commissioner rumors. The two-time Super Bowl champ responded. "I don't know where that came from, and it never crossed my mind in anything that I was saying, but no, that was not on my radar by any means."
Maybe it's just the way that Manning speaks, but saying, in the past tense, "that was never on my radar" and "that was not on my radar" isn't the same as saying he's not interested in the present tense.
Roger Goodell has had an up and down tenure as commissioner
Roger Goodell, the son of a U.S. Senator, joined the NFL as an administrative intern in 1982, per the Football Foundation. After spending the following season in the front office of the New York Jets, Goodell returned to the league office and never left. He worked his way up the ranks and, in 2006, became the eighth commissioner in NFL history, replacing Paul Tagliabue. 
On some levels, his commissionership has been a rousing success. The New York native shepherded the game to a point where it is the most massive — both in terms of popularity and money — sport in America. 
Before the pandemic changed things financially, the league's total revenue was $16 billion in 2019, per Reuters. Even with no fans hurting individual teams' coffers, the league's revenue stayed relatively steady in 2020, coming in around $9.5 billion under Goodell. 
Despite the teams and league's success, the road hasn't always been smooth for Goodell, especially when it comes to players. His suspend first, ask questions later tendencies have led to him becoming known as "the Law and Order Commissioner."
He's also been slow to make things right financially for retired NFL players and address current brain-injury concerns. The "Deflategate" scandal involving Tom Brady and the New England Patriots was a complete mess that dragged on way too long. It took a significant toll on the league and Goodell's reputation. 
As long as Goodell keeps the money train flowing for the owners, he might have another 20 years in the position, as Manning says.
If not, don't be surprised if the commissioner job does someday appear on Peyton Manning's radar. 
Like Sportscasting on Facebook. Follow us on Twitter @sportscasting19