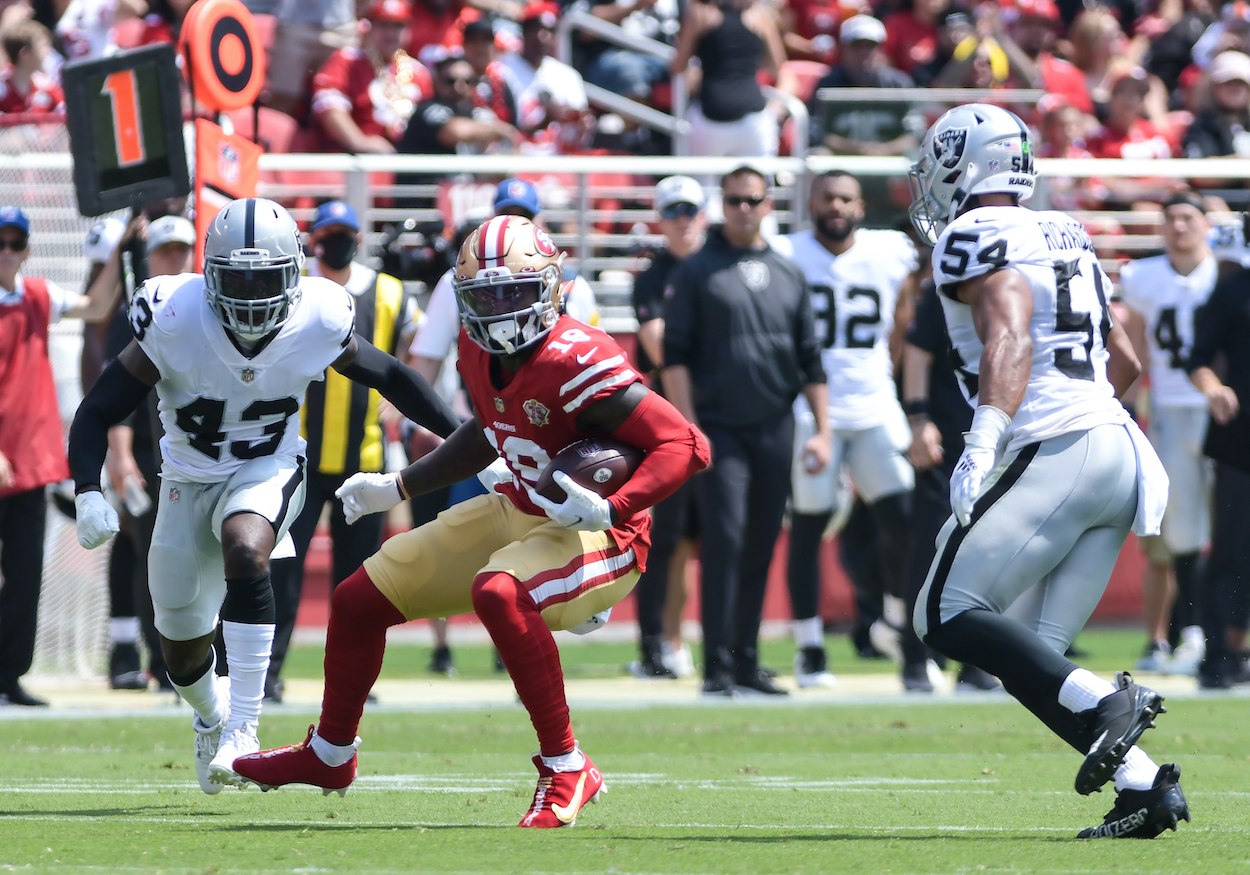 Deebo Samuel's Latest Social Media Moves Have Raiders Fans Thinking Super Bowl
All-Pro WR Deebo Samuel just scrubbed the San Francisco 49ers from his social media and some Raiders fans think this is good for their team.
All-Pro wide receiver Deebo Samuel is the latest unhappy NFL player to take his gripes with his team to social media. The No. 36 pick of the 2019 draft seems to either want a new contract from the San Francisco 49ers or to want out of the Bay Area entirely. If the latter is true, Samuel's Instagram follows have Las Vegas Raiders fans getting excited.
Deebo Samuel is sending a message to the San Francisco 49ers on social media
Gone are the days when a player's agent would leak a rumor to a local beat reporter to let a team know he was unhappy. Nowadays, there is a tried and true move to get an organization's attention and put them on notice that a player wants something. That is to unfollow the franchise on social media.
The move was born in the NBA and has made its way to the NFL in recent times. Players like Russell Wilson and Kyler Murray are now sending subtle (and not so subtle) messages to their teams that they want something.
San Francisco 49ers WR Deebo Samuel is the latest NFL'er to jump on this trend.
Samuel wiped nearly all of the 49ers' presence from his Instagram account, @19problemz, save for one picture of him in uniform for his 2021 All-Pro announcement. He also unfollowed the team's official account.
While the former South Carolina Gamecock hasn't made any formal demands, it seems like he's angling for a new contract. Samuel is entering the final year of his rookie deal. He's slated to make $4.9 million in 2022. As a second-round pick, the team doesn't have the opportunity to offer him a fifth-year option.
With (lesser?) wideouts all over the NFL getting the bag in the 2022 offseason, Deebo wants his money.
What makes this maneuver even more interesting is that Samuel seems to have a team in mind if a trade is what he wants. And 49ers fans won't like who it is.
Samuel may be indicating he wants to go to the Las Vegas Raiders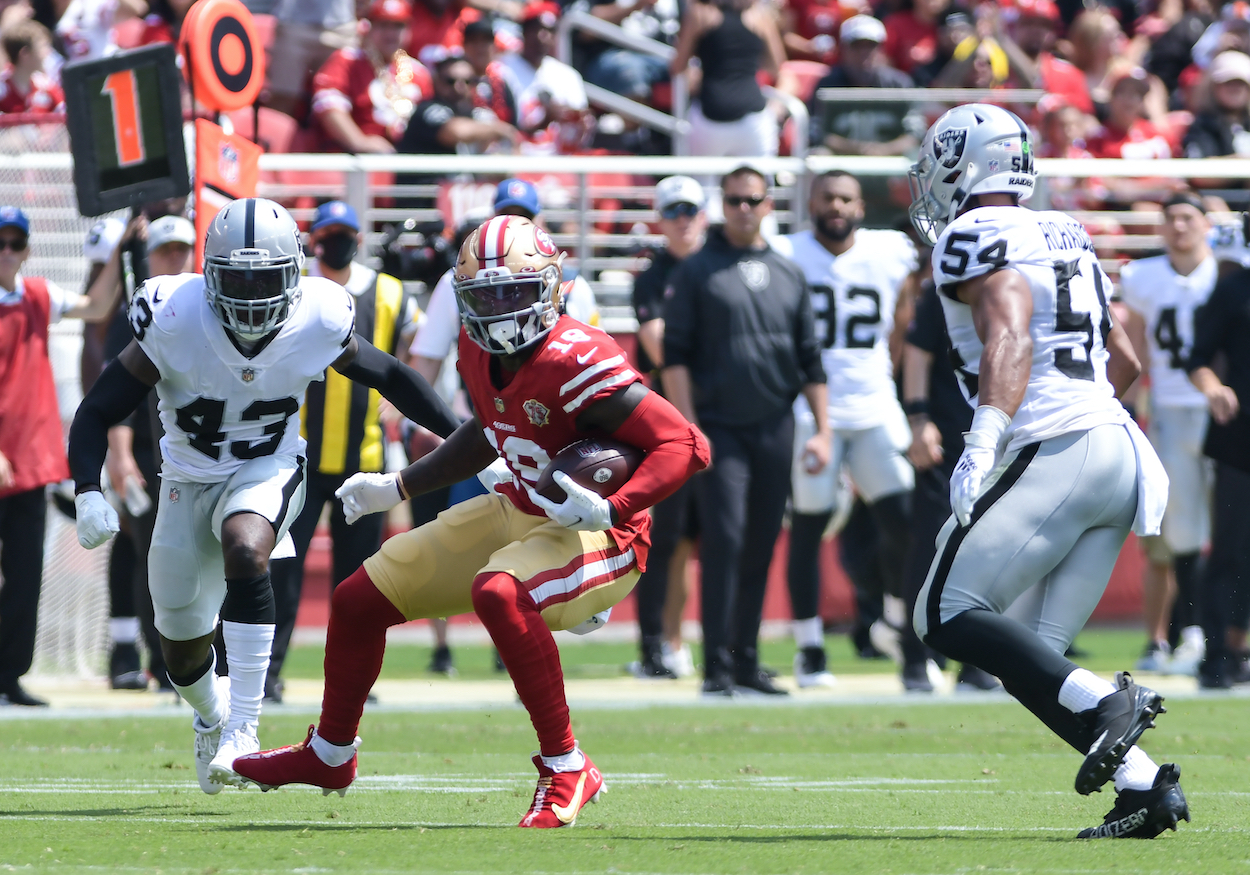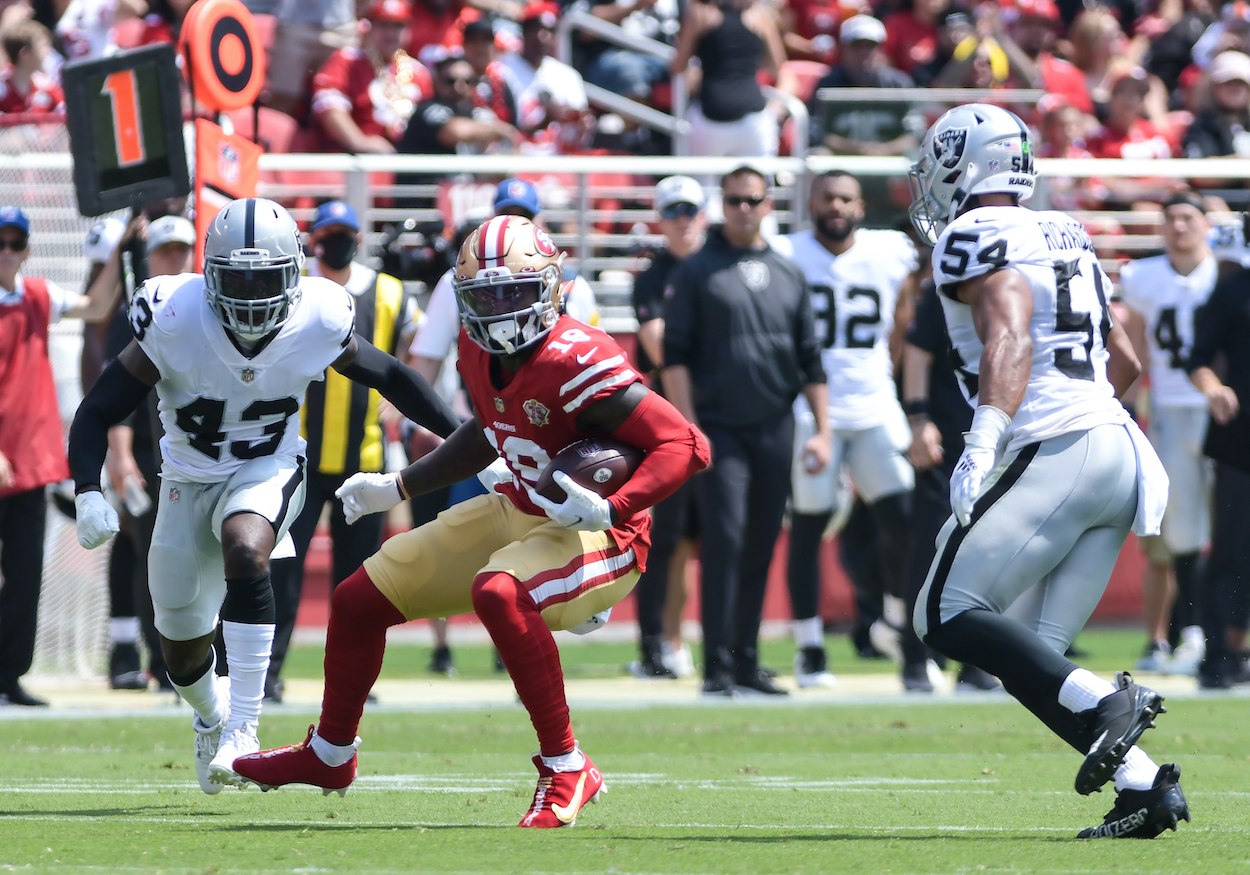 Unfollowing the San Francisco 49ers and wiping his social media account of the team's presence is one step toward Deebo Samuel getting what he wants. If what he wants is to get traded, he may have also signaled what team he wants to go to.
One intrepid Las Vegas Raiders fan, @CondorSZN on Twitter, noticed that Samuel follows an inordinate amount of Raiders on Instagram.
Out of the 429 accounts Samuel follows, there are several Raiders players. This includes his South Carolina teammate Bryan Edwards, Josh Jacobs, Maxx Crosby, Johnathan Abram, Darren Waller, and two of the newest Raiders, Davante Adams and Chandler Jones.
There are several other teams that have multiple active players who Samuel follows. For example, he follows Dallas Cowboys Micah Parsons, Trevon Diggs, and Tony Pollard. However, there doesn't seem to be any with the same concentration as the Raiders have.
Chances are, Samuel will work things out and stay in San Francisco. For Raiders fans, though, in the midst of the best offseasons in franchise history, they can't help but dream of what could be.
What the Las Vegas Raiders offense could look like in 2022
Following the shocking Davante Adams trade, Las Vegas Raiders quarterback Derek Carr now has an embarrassment of riches on offense. The current depth chart looks like this:
WR: Davante Adams, Hunter Renfrow, Bryan Edwards
RB: Josh Jacobs, Kenyan Drake, Brandon Bolden
TE: Darren Waller, Foster Moreau, Jacob Hollister
Adding Deebo Samuel to that mix would be incredible. Samuel caught 77 balls for 1,405 yards and scored six touchdowns. He also led the league in yards per catch at 18.2. What sets Samuel apart, though, is his versatility. The first-team All-Pro also carried the ball 59 times for 365 yards and scored eight more times on the ground.
Adding a hybrid weapon like Samuel to the incredible stable of traditional receivers, backs, and tight ends the Raiders already have could make them a top-three offense in the NFL.   
The squad isn't too shabby on defense heading into 2022, either. The team added Chandler Jones to rush the passer opposite Maxx Crosby. Adding Jones' 10.5 sacks from 2021 to Crosby's 8.0 should give opposing passers nightmares.
The only problem for the Raiders this season is that the AFC West will be the toughest division in football. Carr and company will have to go up against Patrick Mahomes and the Kansas City Chiefs, Justin Herbert and the Los Angeles Rams, and Russell Wilson and the Denver Broncos.
If the team manages to run this gauntlet, they likely run into squads like Matt Ryan's Indianapolis Colts, Deshaun Watson's Cleveland Browns, Joe Burrow's Cincinnati Bengals, and Josh Allen's Buffalo Bills.
The AFC is ridiculously loaded this year. And if the Raiders want to get out of it, a player like Deebo Samuel would go a long way.
All stats courtesy of Pro Football Reference