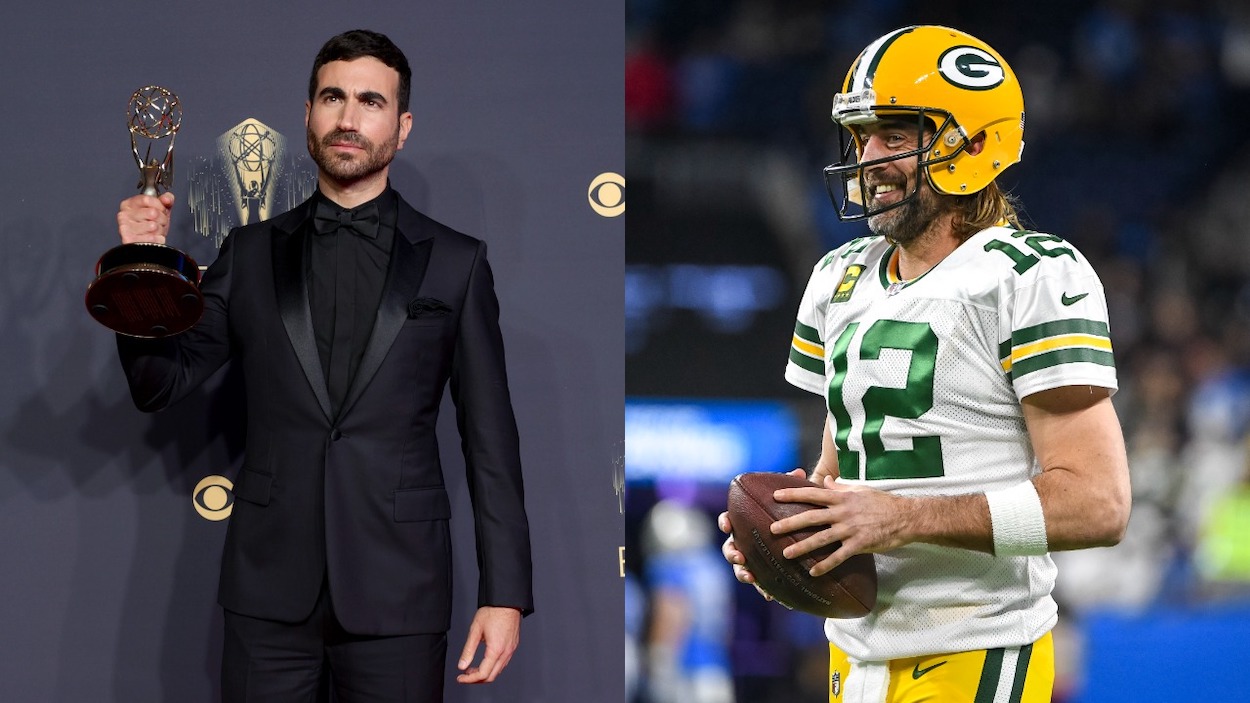 Aaron Rodgers is (Unsurprisingly) a Big Fan of Roy Kent Fan from 'Ted Lasso'
Green Bay Packers QB Aaron Rodgers recently shared that he relates to the profane, aging soccer star Roy Kent from Apple TV+'s 'Ted Lasso.'
We've all learned a lot about Aaron Rodgers in the last year. Whether it was his shocking announcement he was engaged to a Hollywood star, his true feelings about the Green Bay Packers front office and general manager Brian Gutekunst, or his stance on vaccinations, Rodgers didn't skimp on the revelations in 2021. Recently, he shared another heretofore unknown fact about himself. Although, this one is much less surprising than some of the others. Rodgers shared that he loves the ornery, foul-mouthed Roy Kent character from the Apple TV+ smash hit, Ted Lasso.
Who is Roy Kent from 'Ted Lasso'?
Ted Lasso is a somewhat surprising hit show on Apple TV+. The concept of an American football coach (Jason Sudekis as Ted Lasso) going to England to coach a different kind of football started as a commercial for NBC Sports' Premier League coverage.
The show, created by Sudekis and Scrubs creator Bill Lawrence, cleaned up at the 2021 Emmy Awards, per CheatSheet.com. The show won the award for Outstanding Comedy Series. Also, Sudekis, Brett Goldstein, and Hannah Waddingham won for Outstanding Lead Actor, Outstanding Supporting Actor in a Comedy Series, and Outstanding Supporting Actress in a Comedy Series, respectively.
Goldstein's portrayal of the aging midfielder Roy Kent is a fan-favorite on the show.
Roy Kent is based on former Manchester United star Roy Keane. Keane was a hard man midfielder who captained United during a particularly productive period in club history, from 1997-2005. He was also notoriously prickly and angry, both on the field and off.
The fictional Kent — who the fans serenade with a cheer of, "He's here, he's there, he's every-f******-where, Roy Kent, Roy Kent" — is a former Chelsea player, finishing up his career with Lasso's AFC Richmond.
Goldstein's Kent is beloved by Ted Lasso fans because of his hilariously profane yet philosophical attitude and heart of gold, as demonstrated by his relationship with his young niece, Phoebe.
One of these Ted Lasso fans who loves Roy Kent is Green Bay Packers QB Aaron Rodgers.
Aaron Rodgers seems to relate to Roy Kent
So, to recap, Roy Kent is an aging superstar who starts the season unhappy with his club, goes on profane rants, ends up dating a celebrity, and has a tendency to wax poetic about the game of football and life.
Sound like anyone you know?
With the similarities between Rodgers and Kent, it shouldn't be shocking that the QB recently told his buddy Pat McAfee on the Pat McAfee Show that he appreciates and even tries to emulate Kent (in some ways) while on TV.
The conversation came on the "Aaron Rodgers Tuesday" following the Green Bay Packers signal caller's appearance on the Monday night Manning Cast with Eli and Peyton Manning. He said the guest spot and the show itself were fun for him. He also discussed how he shares some on-air qualities with the cantankerous fictional footballer:
Being — thanks to you, Pat, and the encouragement —being a big fan of Ted Lasso, one of my favorite characters on the show is Roy Kent. And Roy Kent is unabashedly himself. When he goes on the program and talks football with those guys, that to me is how I would — who I would kind of relate to as an analyst. You know, that sharp-witted honesty. Maybe not as far as he goes. Because he uses some real colorful language in some of the critiques he had. But I do enjoy people who can be themselves. Not the cookie-cutter, cliché-ridden stuff we've seen from time to time on TV.

Aaron Rodgers on Roy Kent from 'Ted Lasso'
The thought of Rodgers firing off profanity-laced rants about NFL players and teams on ESPN's Sunday NFL Countdown or FOX NFL Sunday like Roy Kent did on Sky Sports is a delicious possibility.
Before Rodgers moves to the TV studio, though, he's still got the 2021 NFL Playoffs to take care of.
Who can beat the Green Bay Packers this season?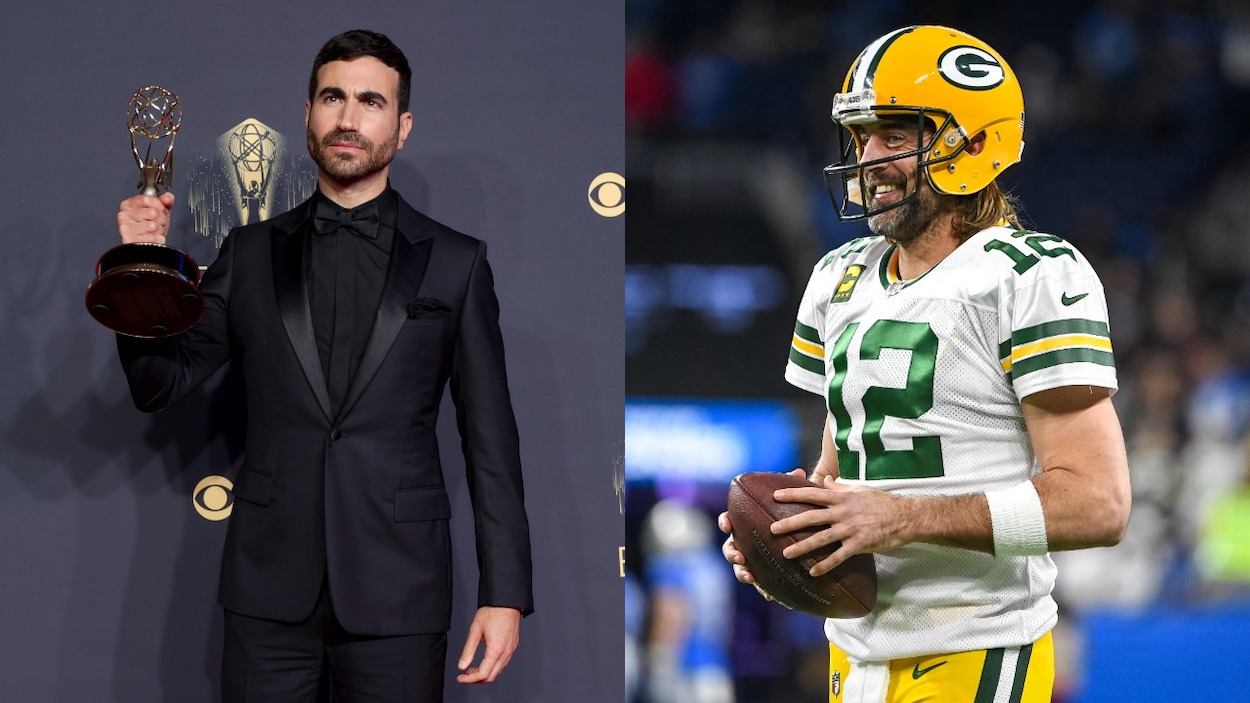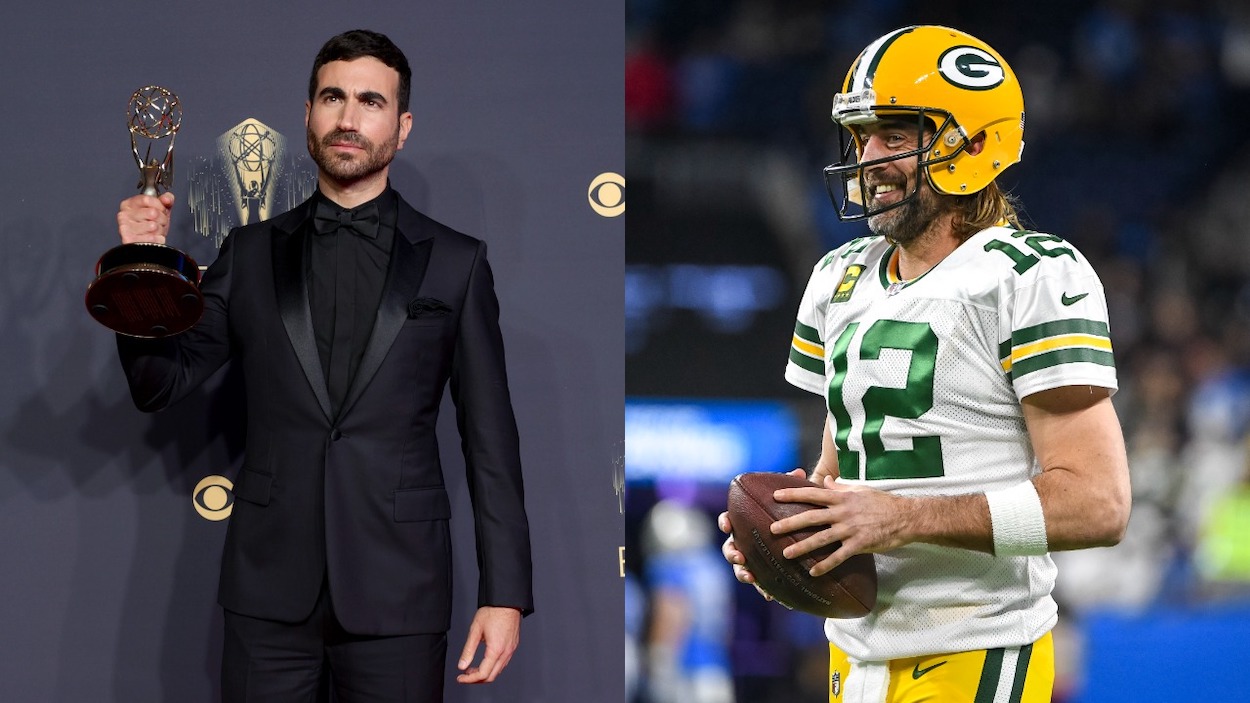 Next on Aaron Rodgers' hit list in 2022 is trying to win another Super Bowl.
The possible MVP QB will sit out Super Wild Card Weekend this week. The Packers earned a first-round bye (along with home-field advantage throughout the playoffs).
Starting in the Divisional Round, Rodgers and his squad will have to run a tough NFC gauntlet. Then, they'll face whoever comes out of the top-heavy AFC in the Super Bowl if they hope to raise Rogers' second Lombardi Trophy.
In the NFC, both the Arizona Cardinals and Los Angeles Rams have flawed signal-callers who shouldn't be able to take advantage of Green Bay's D or outduel Rodgers. The Tampa Bay Buccaneers beat Rodgers and company in the NFC Championship Game last season, but the injuries the team has suffered this season put them a peg below the Packers.
That leaves whichever team comes out of the Dallas Cowboys vs. San Francisco 49ers game. If either of these teams plays their best and the Packers don't have their finest day, they can beat Green Bay.
As for the AFC, the Kansas City Chiefs, Tennessee Titans, and Buffalo Bills all have the talent to beat the Packers. But a Super Bowl between Green Bay and any of these three teams would be pretty close to pick 'em.
This year is set up better than most for Rodgers to get another Super Bowl before he (hopefully) heads to the booth someday and crushes people like Roy Kent.
Like Sportscasting on Facebook. Follow us on Twitter @sportscasting19