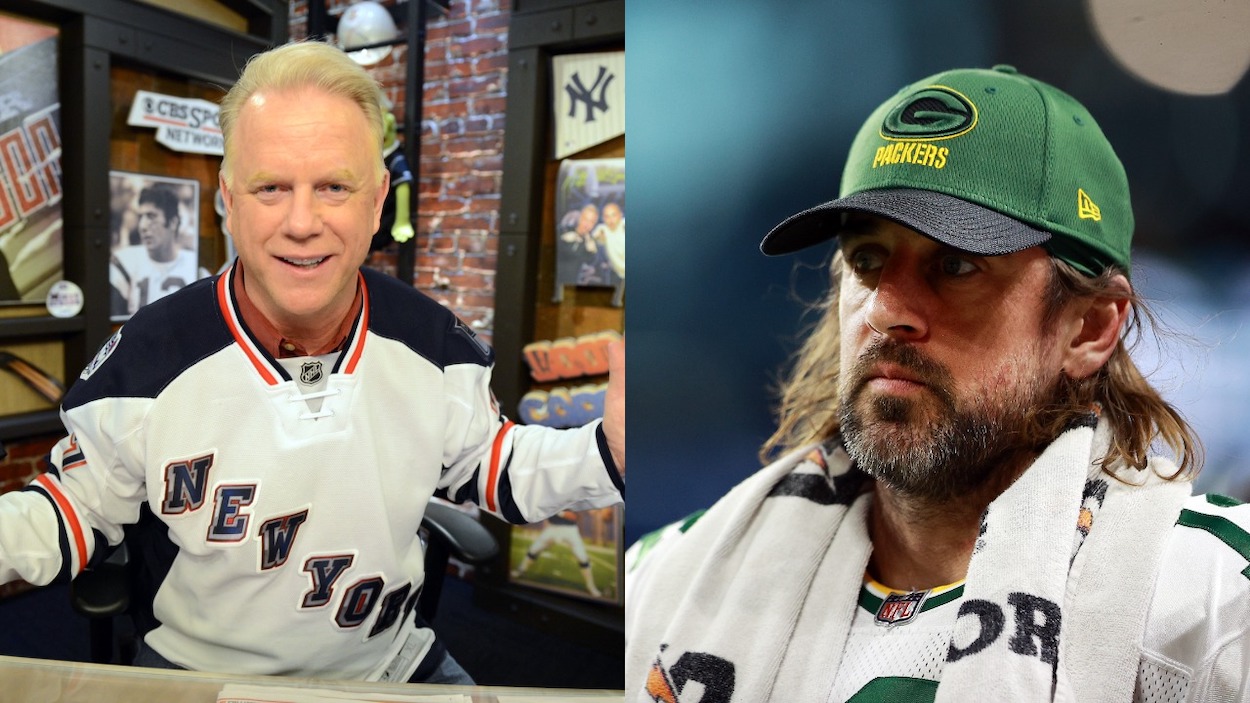 Aaron Rodgers Fires Back at Boomer Esiason With Expletive-Filled Rant After Debunked Report That the Green Bay Packers QB Wants to 'Take the NFL Hostage'
Green Bay Packers quarterback Aaron Rodgers went after Boomer Esiason hard after the retired QB played a part in starting a rumor about Rodgers boycotting the Super Bowl.
If NFL fans have learned one thing in the last 365 days, it's this: Don't make Green Bay Packers quarterback Aaron Rodgers angry. You wouldn't like him when he's angry.
Another former NFL MVP quarterback, Boomer Esiason, learned that the hard way this week after controversy arose over something on Esiason's local New York radio show that had Rodgers spitting mad.
A clip from Boomer Esiason's radio started a rumor about Aaron Rodgers
The Aaron Rodgers vs. Boomer Esiason feud technically started with a text someone sent Esiason. On his WFAN morning show, Boomer and Gio, the former New York Jets and Cincinnati Bengals QB handed his phone to co-host Gregg Giannotti to read the message aloud:
Boom, the Rodgers saga continues to get crazier and crazier. I've been told by multiple people in Aaron's direct circle that if the Packers make the Super Bowl, he will use the week leading up to the Super Bowl to prove a major point. He will threaten the NFL by saying he won't play in the Big Game, or next season, if they don't eliminate some of the COVID-related rules. One big one that upsets him the most is the testing of non-symptomatic players. He's told Jordan Love to be ready. Like you said, he's got to make it first, but Super Bowl week will be set on fire and send [NFL Commissioner Roger] Goodell in a frenzy, navigating the situation.

Annoymous text message sent to Boomer Esiason about Aaron Rodgers
A clip of the exchange went viral after Funhouse (@BackAftaThis), a Mike Francesa-centric sports media account, tweeted it out.
In the video, after reading the message, Giannotti asked Esiason if the person who sent the tip was "someone we should be trusting?" Esiason responded, "I would."
When the Twitter masses watched the clip, the rumor of Rodgers' "plan" to boycott the Super Bowl spread like wildfire. The story became so pervasive that the Green Bay signal-caller's good buddy, Pat McAfee, brought it up on his show to allow Rodgers to respond.
And respond he did.
Aaron Rodgers responded furiously on the 'Pat McAfee Show'
With a dramatic, minute-plus-long preamble at the beginning of this week's "Aaron Rodgers Tuesday" on the Pat McAfee Show, the host asked the QB about his plan to "hold the NFL hostage" — as reported by a "trusted source" on Boomer and Gio — and why people would believe that.
Rodgers answered with an epic rant about the report and its alleged source:
I've given a lot less f**** the last couple years. But one thing I do give a major f*** about is narratives about me. Especially ones that are so ridiculously off base. … And I know he used 'direct circle' instead of 'inner circle,' and maybe there's a delineation between the two. No one in my 'inner circle' is talking to the media. No one that I trust and care about and have conversations with is talking to any media member.

Aaron Rodgers on "sources" close to him
Rodgers got more irritated as he continued to talk and summed by letting McAfee and his co-host, A.J. Hawk, know how he felt about someone even broaching the subject that he would turn the Super Bowl into a protest:
I like to have a good sense of humor and joke around and stuff. That topic that was brought up is so ridiculously stupid. It's even past the point you'd even joke about that. Like, do I have an issue with some of the [NFL COVID-19] protocols? Of course. But I would never even joke about this. It's the dumbest f****** thing. It's so dumb I wouldn't even joke about it. That's how dumb it is. … It's the dumbest s*** I've ever heard.

Aaron Rodgers on boycotting the Super Bowl
The rant continued for another minute or two before Rodgers ran out of steam, and McAfee steered the interview back to football.
The report obviously fired the QB up. But what Rodgers didn't seem to know (or didn't care about at that point) was that the host who initially read the text on air had already gone on another WFAN show to disavow it.
 The host who started the rumor ultimately debunked it
Four hours after Boomer Esiason and Gregg Gianotti sign off at 10 a.m. EST. Esiason's former co-host, Craig Carton, and his new partner, Evan Roberts, take over the WFAN airwaves.
On Friday, January 7, 2022, just hours after Funhouse posted the Boomer and Gio clip, Gianotti called into Carton & Roberts to set the record straight.
"This is the thing that has been left out of this story that I think everybody's missing," the morning host said. "It's that the Funhouse account edited that to make it sound like we were taking it seriously."
He went on to say that the social media clip fast-forwarded past the part where Gio asked Boomer if he knew anyone from Chicago (where the text came from). Esiason said he only knows one person from that area who could have sent the text, and that person is trustworthy, but at no point did he say he thought it was from said trusted source.
Giannotti also told Carton and Roberts that "90% or more of the conversation was, 'This is ridiculous. Who is sending you this?'" He then said that Esiason received another text from someone claiming to be Aaron Rodgers' former teammate Matt Flynn.
Esiason's co-host even shared that he thought the source of the texts might be the members of the Pat McAfee Show, Barstool Sports' Pardon My Take guys, or even Carton himself.
Giannotti told his WFAN cohorts that while he wasn't really that mad about the whole fiasco, he just wanted to come on so that there was something "on the record" about him and Esiason knowing the Rodgers rumor wasn't true.  
Although it is now on the record, it doesn't seem like Rodgers got the updated memo.
Like Sportscasting on Facebook. Follow us on Twitter @sportscasting19