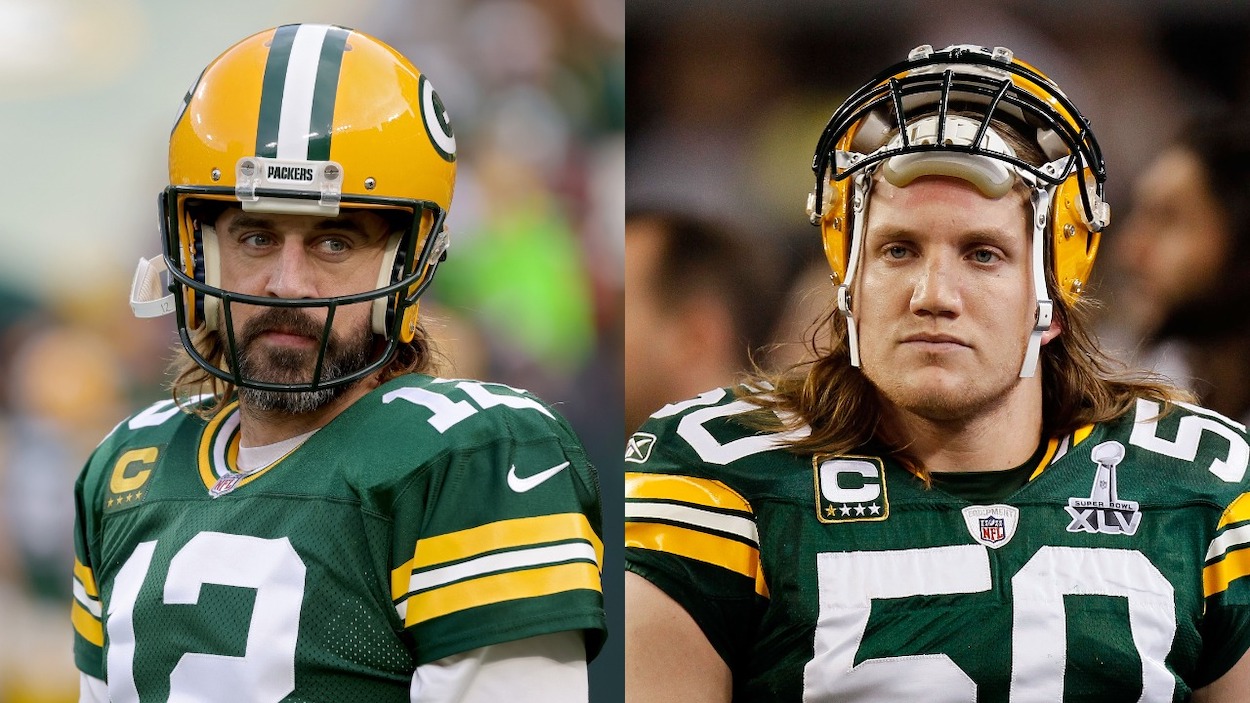 Aaron Rodgers' Former Green Bay Packers Teammate A.J. Hawk Makes a Case for the QB to Stay
Aaron Rodgers' former Green Bay Packers teammate A.J. Hawk laid out a compelling case for the QB to stay with his team, but was it convincing to the signal-caller?
The vast majority of Green Bay Packers fans are desperate for quarterback Aaron Rodgers to stay in Wisconsin for the 2022 season and beyond. Fans of NFC North teams are eagerly hoping he takes his talents elsewhere next season. A third group of fans (Las Vegas Raiders, Denver Broncos, Pittsburgh Steelers) want him to find a new home. As long as it's in their favorite city.
One Packers fan, ex-NFL player A.J. Hawk — who has more pull than most because he played at Lambeau Field with Rodgers for nine seasons — recently pitched the QB on staying in Green Bay. The plea was compelling thanks to some mind-blowing statistics about Rodgers' connection with his favorite wide receiver.
Aaron Rodgers and A.J. Hawk won a Super Bowl together with the Green Bay Packers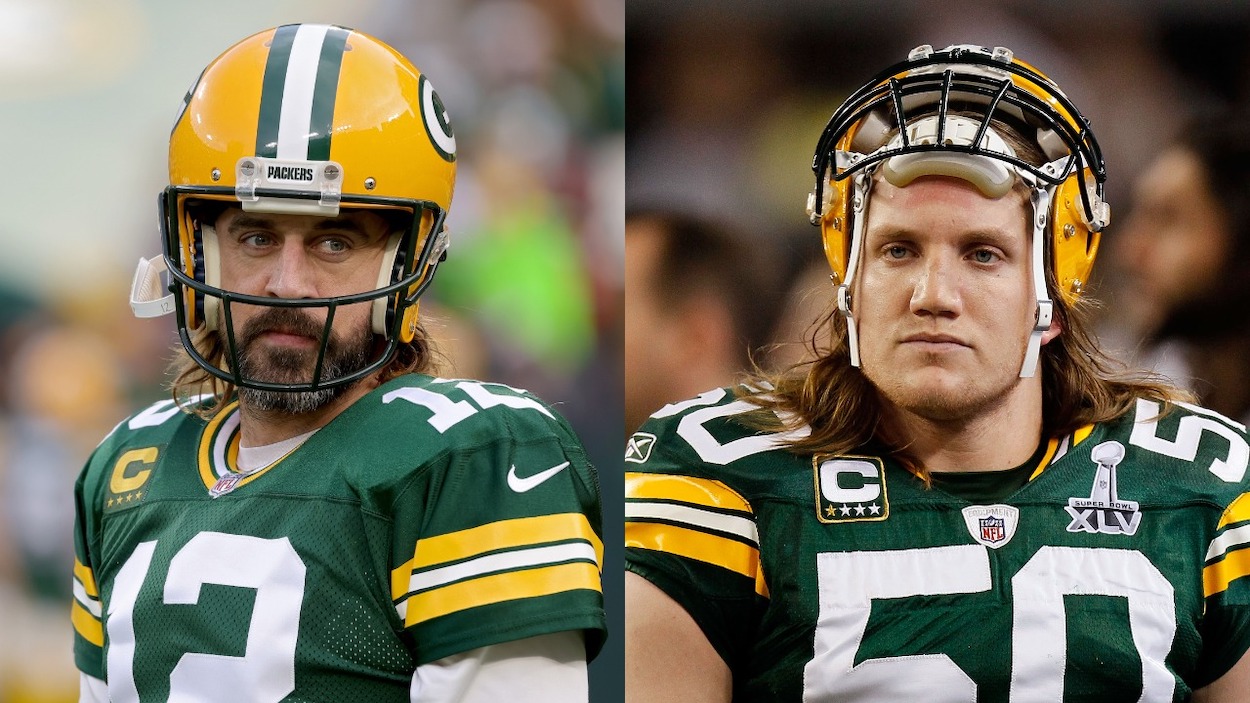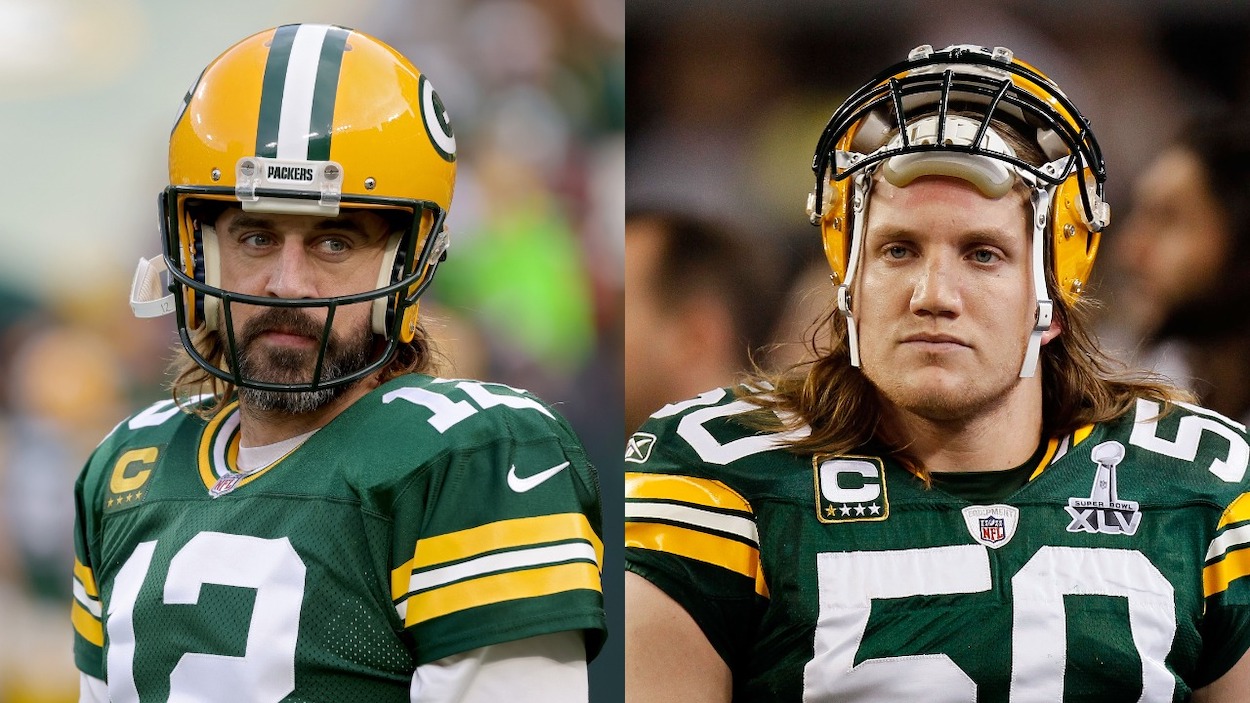 Aaron Rodgers and A.J. Hawk are a study in opposites.
Rodgers is a self-proclaimed "Cali Boy" from the West Coast. He had no full rides out of high school, which landed him at Butte Community College. A good season there got him a scholarship to Cal-Berkley, and two good (though not great enough to make him a top-10 Heisman Trophy finalist) years made him a top prospect in the 2005 NFL Draft.
Despite his talent — and while NFL teams considered him with a top-five pick – he fell to the Green Bay Packers at No. 24.
Hawk, by comparison, was a high school All-American, Midwestern guy from Centerville, Ohio. He signed with his home state powerhouse Ohio State Buckeyes and played in 51 games over his four years in Columbus. The linebacker won a National Championship as a freshman. He was voted a Consensus All-American as both a junior and senior and won the 2005 Big Ten Defensive Player of the Year and Vince Lombardi Awards. Also, he finished sixth in the 2005 Heisman race.
Hawk's legendary college career led to the Packers selecting him No. 5 overall in 2006.  
Rodgers and Hawk's paths diverged further in the NFL.
Hawk became a solid and reliable starting linebacker in the league who played for 11 years. However, he didn't make a Pro Bowl and never quite lived up to the promise that led the Packers to use a top-five draft pick on him.
Conversely, Rodgers developed into one of the best QBs in NFL history with 10 Pro Bowls, three All-Pro nods, and three NFL MVP Awards to his name. He's played in the NFL for 17 seasons and counting and is still performing at an MVP level.
Despite the differences, Rodgers and Hawk had a lot of success together, winning a Super Bowl in 2010. They are also still good friends to this day, appearing weekly together — as a guest (Rodgers) and co-host (Hawk) — on the Pat McAfee Show.
Hawk made a case for the QB to stay in Green Bay based on his connection with All-Pro WR Davante Adams
After Aaron Rodgers' offseason of discontent, one of the popular theories is that 2021 would be his and his No. 1 receiver Davante Adams' Last Dance season in Green Bay.
Since then, the Packers front office has indicated that no matter what Rodgers decides this offseason, he won't be taking his favorite target with him if he leaves the Badger State. As A.J. Hawk explained to the QB on this week's Pat McAfee Show:
We know what you think of [Davante Adams] and how unstoppable you guys are, which is very fun to watch. But there is reports saying that if they don't come up with a long-term [contract] solution for him, he'll be tagged next year. So, likely, Davante's gonna be on the Packers next year.

A.J. Hawk on Aaron Rodgers and Davante Adams' connection
After Hawk pointed out that leaving Green Bay also means leaving his connection with Adams behind, McAfee jumped in and shared some amazing stats about the duo's connection.
Since 2020, Rodgers' stat line while throwing to Adams looks like this:
223 completions
2,812 yards
29 touchdowns
133 passer rating
Even more impressive than that is Adams' completely dominant 2021 season so far. Heading into Week 18, he's ahead of all Green Bay pass-catchers in three major statistical categories, and the second-place player in each isn't even close:
151 targets (most by 88)
108 receptions (most by 58)
1,411 receiving yards (most by 984)
Think about that. Adams is basically a near-Pro Bowl season's worth of stats ahead of the second-place Packer in targets, yards, and catches in 2021.
This special connection between thrower and catcher could be reason enough alone for Rodgers to stay in Green Bay beyond this season.
Another 'Pat McAfee Show' Packers fan made a different pitch for Rodgers to stay with the team
A.J. Hawk is not the only Green Bay Packers fan on the Pat McAfee Show. Producer Ty Schmit is also a diehard Cheesehead.
Schmit took a different tack to, he hopes, achieve the same outcome Hawk is looking for: keeping Aaron Rodgers in Green Bay. Coming off Rodgers' guest appearance on the Manning Cast during what seemed like Ben Roethlisberger's last home game as a Pittsburgh Steeler, the talk show producer tried tugging on the QB's heartstrings:
I don't know how much you watched the postgame stuff last night with Big Ben. And, obviously, like you said, you're kind of focused on what's going on right now. But you've also talked about how much respect you have for guys like Kobe [Bryant] and Tim Duncan, who played their entire career with one team. … Does your mind ever kind of wander to, 'It would be cool if, whenever my time is done, it's in Green Bay. And I get that reception and close the book on my career?'

Ty Schmit on Aaron Rodgers' desire to play for just one organization in his career
"Of course, you think about those things when you're me," Rodgers replied. "That's a part of the perspective and nostalgic appreciation for being in the same spot for 17 years."
The former Cal Bear talked more about Roethlisberger but never provided any more direct answers to Schmit's question about how strong his desire is to stay with one team his entire career.
The overall takeaways from Hawk and Schmit's nudges for Rodgers to stay in Green Bay are simple. There are many practical, common-sense reasons for Rodgers to stay a Packer. That said, few NFL QBs have ever marched to the beat of their own drum as much as Rodgers does.
Because of this, right now, no one — probably not even Rodgers himself — knows what the future Hall of Fame QB will do this offseason, despite all the reasons he should stay.
All stats courtesy of Pro Football Reference and Sports Reference