If Aaron Rodgers and Davante Adams Think They are Michael Jordan and Scottie Pippen, They are Sorely Mistaken
Aaron Rodgers is 37 years old going on 10. He's apparently dragging Davante Adams with him. The two Green Bay Packers players got elementary-school cute by posting the same photo on their Instagram stories. It's kind of like when you're in third grade and call up your buddy and ask him to wear the same striped shirt so you can look cool together at recess.
Rodgers and Adams both posted the same photo of Michael Jordan and Scottie Pippen on Friday. Without either Rodgers or Adams talking about their situation, it leaves one to assume it means this is their 'Last Dance' together. If it is, great, but they really shouldn't be comparing themselves to the Chicago Bulls' duo.
Aaron Rodgers wants attention and the Packers aren't giving it to him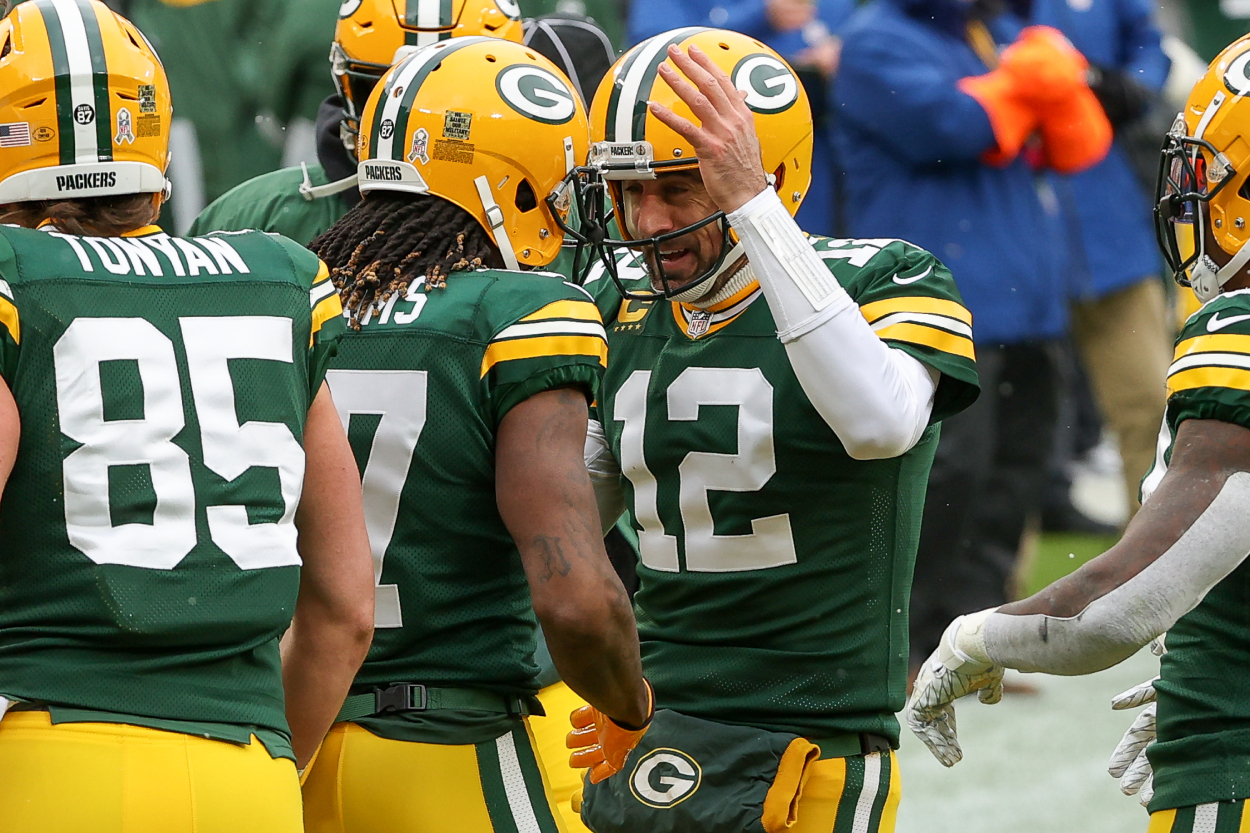 As training camp approaches, Rodgers isn't saying much publicly, but he elects to go the cryptic route on social media. He wants attention and the Packers aren't giving it to him. The team reportedly offered him a two-year extension, per Adam Schefter, on top of the three years already remaining on his deal. The offer would have made him the highest-paid quarterback. He turned it down.
Rodgers clearly wants out. The Packers refuse to trade him. If Rodgers doesn't report to camp and elects not to show up for the season, he doesn't get paid. For Rodgers, money isn't the issue, but he has an ego as big as anyone in the league. Sitting out the year after winning the MVP and reaching the NFC title game the last two seasons would surely drive Rodgers crazy,
The Packers owe Rodgers nothing. He's been the face of the franchise for the last 13 or so years, but he's also been paid handsomely. He's brought Green Bay one Super Bowl. The Packers won't be the same without him, but he won't be the same sitting home watching football from the couch.
Aaron Rodgers and Davante Adams are not Michael Jordan and Scottie Pippen
OK, so Rodgers and Adams got together and apparently thought it would be cool or clever if they sent a cryptic message on social media. They both posted the same photo of Jordan and Pippen on their Instagram stories on Friday. Sure, we'll play along with the childish game. Does it mean they might come back for one last dance with the team? Does it mean they've had their last dance?
In any case, it's two professionals acting like children. It's also embarrassing if they believe they are in any way similar to Jordan and Pippen. Nothing could be further from the truth.
Jordan and Pippen are winners. They were part of a dynasty, winning multiple championships. Rodgers has one. Adams has nothing. If anything Rodgers has more of a choke label attached to him in big games, going 1-4 in NFC Championship Games, including the last two.
What's more embarrassing, Rodgers acting like a child or encouraging Adams to do the same?
Rodgers has a right to be upset with the Packers
The Packers completely botched the 2020 NFL Draft. Is that what's driving Rodgers' anger? We don't know because he's only speaking cryptically. It appears the turmoil began when the team traded up in the first round to select Utah State quarterback Jordan Love. The Packers were one win from reaching the Super Bowl and drafted a player not likely to see the field in three years.
Packers GM Brian Gutekunst later stated he should have made Rodgers aware of the move and wished there had been better communication. Was Rodgers upset that they selected his eventual replacement, or was he mad the team didn't fill an immediate need that could vault them over the top? Likely, it was the former. Rodgers' ego was bruised.
The draft was a bust for the immediate future of a win-now team. They selected A.J. Dillon in Round 2. Like Love, Dillion is a talented player. Also like Love, Dillion isn't likely to see much of the field with Aaron Jones as their primary runner. The Packers screwed up by drafting for the 2024 season with an immediate Super Bowl within reach. Rodgers was mad. There has to be more to Rodgers' disdain for the front office, right?
One thing Rodgers has shown through this drama is he knows how to hold a grudge. The quarterback job has always been his, but he seems insecure if the Love pick is the trigger in all this. A Packers apology and a two-year extension weren't enough to make him happy.
Rodgers is embarrassing himself. This Instagram posting is cool for those around the third or fourth grade. At least if you're going to post a photo together, make it of a couple of Atlanta Braves players from the 1990s. You know, a team that's done well in the regular season but always found a way to come up short when it counted.