The Latest Report on What Aaron Rodgers Wants From the Packers Proves Tom Brady is Heavily Influencing His Future Plans
When Tom Brady took his talents to the the Tampa Bay Buccaneers, he didn't just shake up the entire landscape of the NFC.
He also gave Aaron Rodgers some inspiration.
While Brady finally left the New England Patriots for his own reasons, his peer has his own set of issues with his current team. And based on the latest report on what Rodgers wants from the Green Bay Packers, it's clear the GOAT is heavily influencing his future plans.
Aaron Rodgers looks like a lock to leave Green Bay in the near future
The Packers may have signed Rodgers to a four-year, $134 million contract extension in 2019, but the reigning NFL MVP looks bound to finish his career elsewhere. Despite the fact he's not set to hit free agency until 2024, the future Hall of Famer has suddenly gone from Green Bay's unquestioned starter to a complete question mark. After all, Rodgers raised serious doubts about his future with the team over the last few months through his words and his actions.
From striking a less-than-optimistic tone after Green Bay's latest NFC Championship loss to skipping organized team activities and mandatory minicamp, the 37-year-old has done just about everything possible to make it seem like he'll never play for the Packers again.
With second-year quarterback Jordan Love waiting in the wings, it seems like only a matter of time before Green Bay transitions from Rodgers to the 2020 first-round pick. However, general manager Brian Gutekunst has made it clear that the Packers do not intend to trade their longtime leader.
Ultimately, though, a change of scenery might be best for all parties involved. Rodgers would get his freedom, and Green Bay would get to move forward with Love.
The latest report on the Packers QB proves Tom Brady is heavily influencing Rodgers' future plans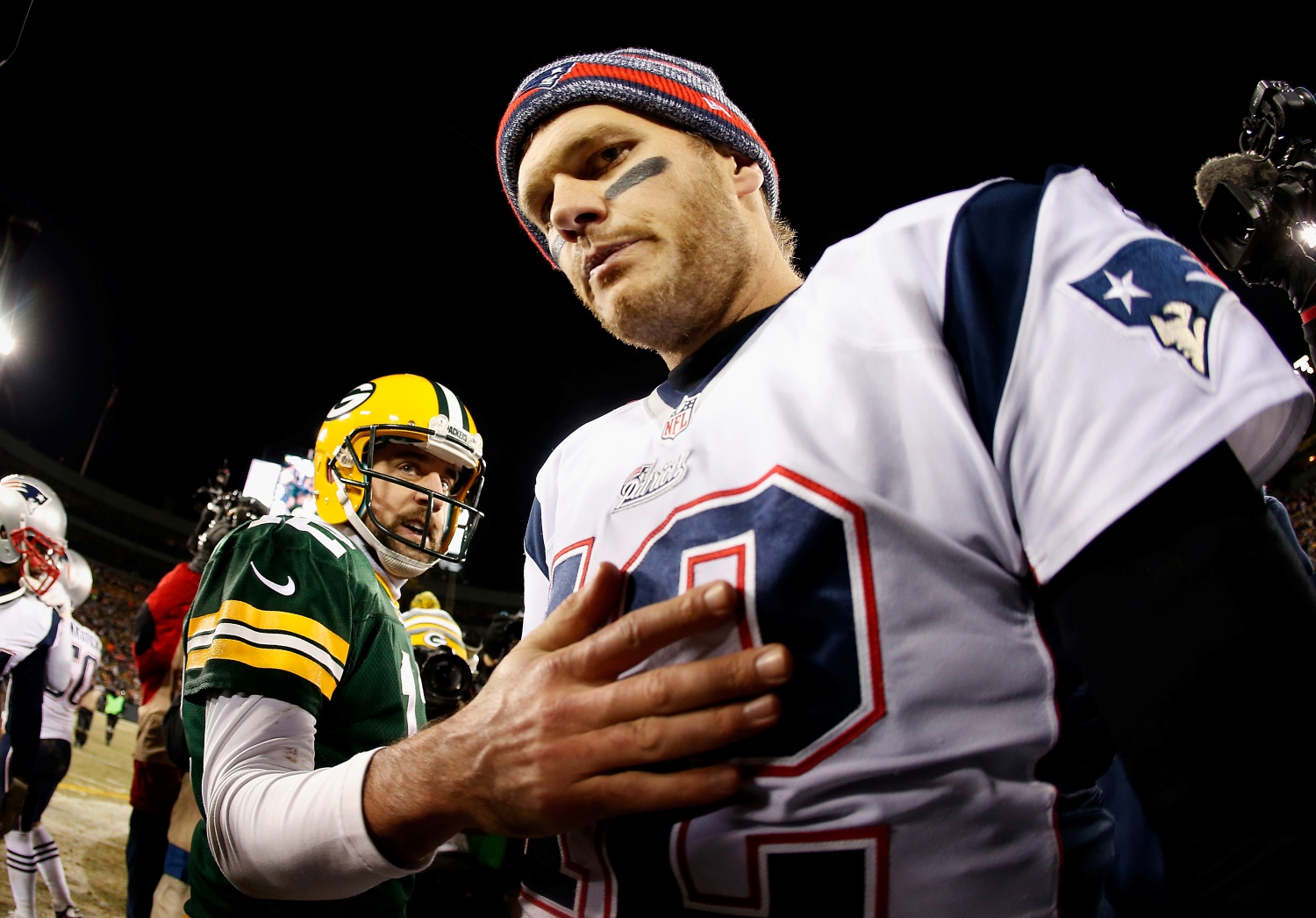 Considering he's made $240 million during his NFL career, it's no surprise that money isn't the source of Rodgers' motivation to get out of Green Bay. After all, he reportedly turned down a contract offer from the Packers that would have made him the highest-paid player in the league.
So, what exactly does the three-time MVP want from his current team?
Based on a recent report, Rodgers clearly took notice of the consequences of the career-altering choice one of his contemporaries made. In fact, it seems as though the disgruntled Packers star is letting Brady influence his future plans.
"He wants to get some sort of deal done," an NFC personnel executive told Matt Lombardo of FanSided. "But, he wants years off his deal, so he can pull a Tom Brady and be the next guy to try to go elsewhere to win a championship."
Essentially, Rodgers wants the opportunity to choose his own path just like Brady did after spending two decades in New England. Given the GOAT's instant success with the Buccaneers, it makes sense for Rodgers to take a similar route to secure his freedom. If he gets the Packers to agree to a restructured deal that allows him to become a free agent after the 2021 season, the California native can go chase a ring with a team that's a quarterback away from competing for a championship.
Which NFL teams should the reigning MVP have on his radar?
Brady made it look easy by immediately leading the Buccaneers to a Super Bowl title. Then again, he joined a star-studded roster that featured proven playmakers on both sides of the ball. Plus, he got Tampa to trade for Rob Gronkowski and sign Antonio Brown, who combined for three touchdown catches in Super Bowl 55.
Unfortunately for Rodgers, he may struggle to find as strong of a landing spot as Brady did.
Assuming he wants to get paid like an elite quarterback, the veteran may be too pricey for some teams to fit under their salary cap. In addition, Rodgers' age could cause some teams to hesitate about sending multiple first-round picks for a player who turns 38 in December.
Still, you have to imagine at least a few franchises would explore trading for one of the best quarterbacks of all time.
The Denver Broncos remain the most likely team to make a move for Rodgers. Vic Fangio's squad boasts an impressive collection of offensive skill players, but the lack of certainty at the quarterback position could prevent the Broncos from living up to their potential. Trading for Rodgers would give the talented AFC West team a much better chance of taking down Patrick Mahomes and Co.
Don't discount the Las Vegas Raiders, either. While they don't have a particularly impressive roster, perhaps the allure of becoming the face of a Las Vegas-based NFL franchise would inspire Rodgers to join forces with Jon Gruden.
Could the Pittsburgh Steelers also get involved at some point? Ben Roethlisberger's best days are behind him, so why not pursue a surefire upgrade over a quarterback who's lost seven of his last 10 postseason starts?
Plus, after starring for one of the NFL's most historic franchises for over a decade, wouldn't it be ironic if Aaron Rodgers finishes his career with the team Tom Brady routinely picked apart during his time with the Patriots?
All contract data courtesy of Spotrac.