Aaron Rodgers' Future Mother-in-Law Sends Simple 2-Word Message That Seemingly Confirms His Issues With the Packers
Mom always knows best, right?
Although Lori Woodley might hold the title of "future mother-in-law," she certainly seems to have a clear understanding of what's going on with her daughter's disgruntled fiance. In fact, Shailene Woodley's mom seemingly confirmed what most people believe are the issues that have caused Aaron Rodgers to take a stand against the Green Bay Packers.
And if her two-word message accurately reflects how the star quarterback feels, the idea of Rodgers playing for the Packers again looks less likely than ever before.
The reigning NFL MVP seems to have no interest in playing for Green Bay again
Have Packers fans already seen the last of Rodgers? Based on how the last few months have gone, that nightmare is looking more like a reality.
After all, the reigning MVP has done everything possible to make Green Bay fans wonder about whether he will wear a Packers uniform again. From striking a pessimistic tone after his team's latest playoff defeat to skipping OTAs and minicamp to turning down a record-setting contract extension, Rodgers has taken calculated steps that have raised concerns about his future with the franchise. With training camp about to get underway, it's certainly not a promising sign for the Packers' Super Bowl hopes that their most important player doesn't seem interested in returning to work anytime soon.
Then again, given some of the questionable decisions made by members of the front office over the years, it's not a total surprise that Rodgers finally reached some sort of a breaking point this offseason.
Meanwhile, general manager Brian Gutekunst hasn't let Rodgers' continued absence change his stance about trading one of the biggest stars in franchise history. However, as much as he may want to hold on to the future Hall of Famer, Gutekunst may have no choice but to open up a bidding war for Rodgers. After all, if the star quarterback refuses to suit up for the Packers again, why not try to get draft picks and a proven player or two who can help 2020 first-round pick Jordan Love succeed?
Lori Woodley sends simple 2-word message that seems to confirm her future son-in-law's issues with the Packers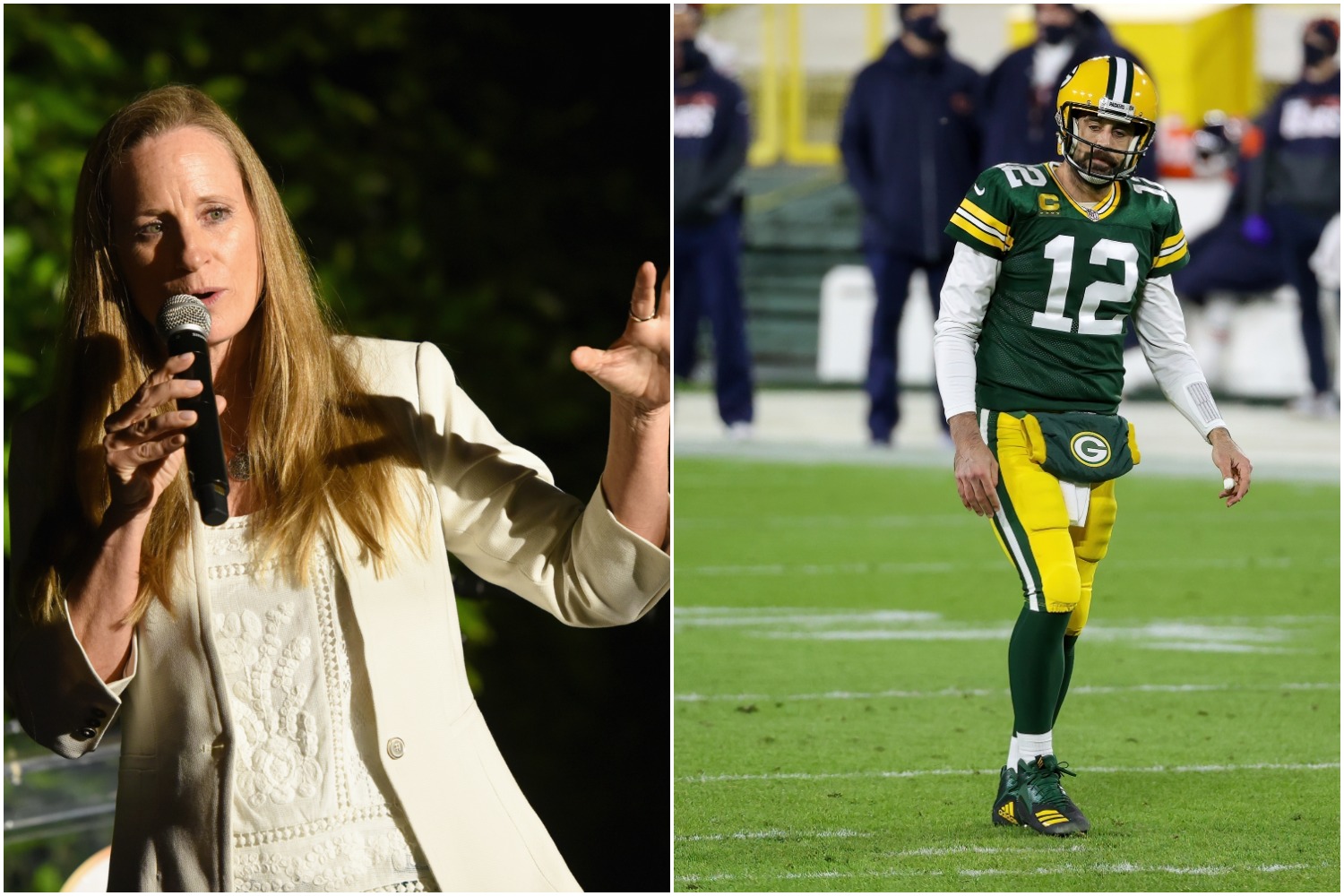 It's obviously impossible to know exactly what Rodgers is thinking. After all, he's careful about what he says in front of the cameras. But based on his actions — including not showing up to offseason workouts — it's safe to say he isn't happy with his current situation.
For the last few months, speculation has swirled about the nature of Rodgers' problems with the Packers. By sending a simple message on Twitter, his future mother-in-law seemingly confirmed his issues with the team.
On Wednesday, Woodley shared a video of ESPN's Stephen A. Smith talking about the Rodgers situation.
"It's not about football. It's not just about the money. This is about the way the Green Bay Packers have treated their star player. They have disregarded him. They have dismissed him. They have minimized him. They have disrespected him. And he said bump y'all, enough is enough," Smith said.
Woodley's retweet (which has since been deleted) included a simple two-word comment that read, "Spoken truth."
Considering she'll be attending a wedding between Rodgers and her daughter one day, it seems reasonable to assume that Woodley has some insight into his mindset. After all, the NFL star has spent quite a bit of time with his fiancee over the last few months since he decided not to go back to work. Ultimately, his future mother-in-law's message furthers the narrative that Rodgers' issues stem from how he's been treated rather than money or the construction of the team.
Unfortunately for the Packers, if Woodley's words accurately sum up Rodgers' feelings, that doesn't bode well for their chances of winning a Super Bowl title anytime soon.
Then again, that all depends on what path their upset star wants to take.
What's the best path for Aaron Rodgers to take?
Should Rodgers sit out the season? Should he demand a trade? Or should he come back to play for the Packers?
At this point, the best path for Rodgers to take doesn't involve suiting up for another NFL team in 2021. Instead, he should work out a resolution with the Packers that ensures he will secure his freedom one way or the other next spring. Green Bay has a championship-caliber roster, so Rodgers' best chance of winning a second Super Bowl ring involves returning to the Packers for the 2021 season.
However, he should get Gutekunst to agree to trade or release him next offseason. That would allow Rodgers to continue his career elsewhere and give the Packers the opportunity to transition to Love.
Seems like a win-win for everyone, right?
But if the situation is truly past the point of no return, the Packers will undoubtedly lose more games than they did during the 2020 season. Because without Aaron Rodgers in the lineup, they will have a tough time making it to .500, let alone the playoffs.
All statistics courtesy of Pro Football Reference. All contract data courtesy of Spotrac.