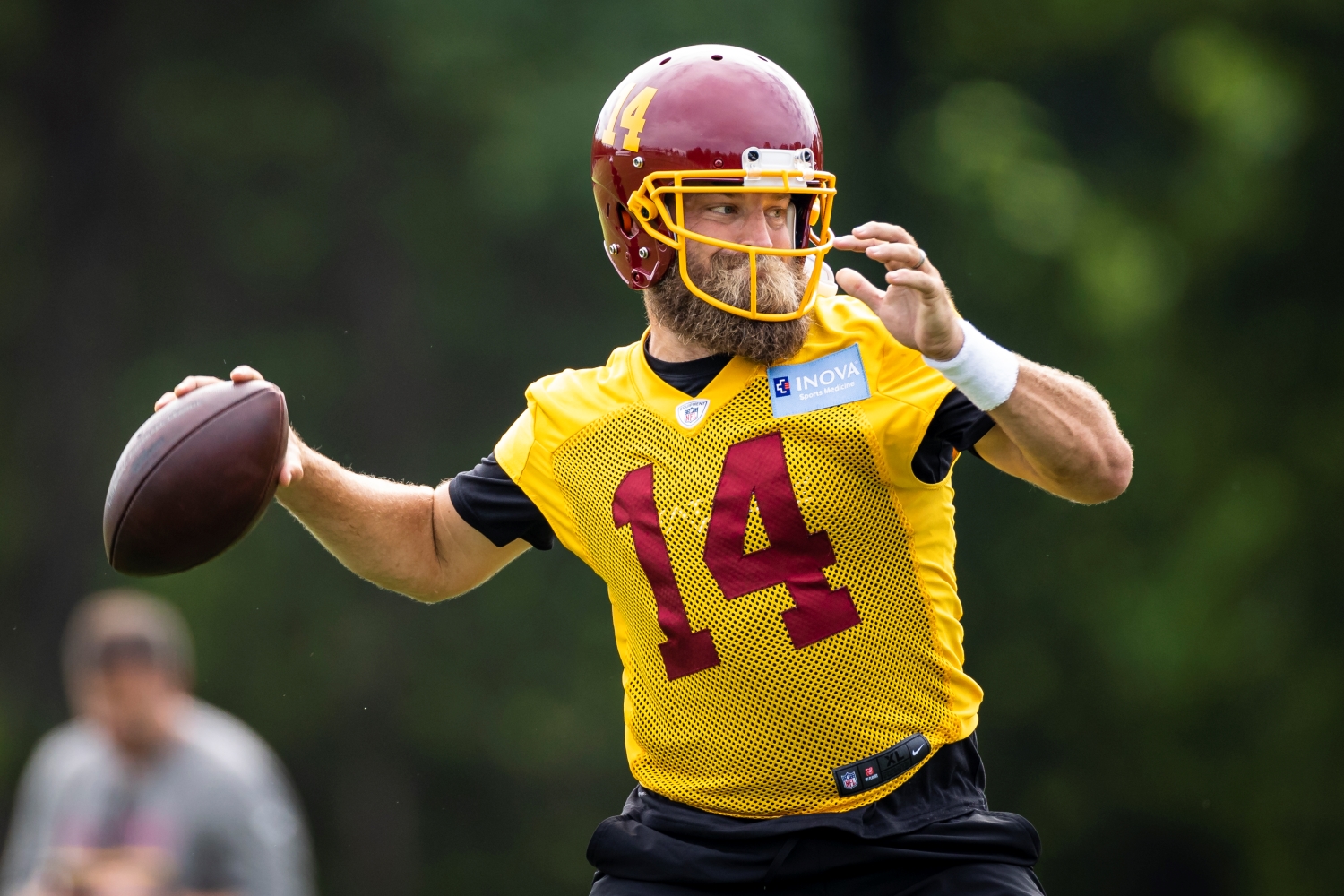 Before Admitting His Jets Experience Caused Him to Hate Football, Ryan Fitzpatrick Makes Bold Claim That Doesn't Bode Well for Jerry Jones' Dallas Cowboys
Ryan Fitzpatrick may be playing for his ninth NFL franchise, but the Washington Football Team's projected starting quarterback made a bold claim about his current situation that doesn't bode well for Jerry Jones and the division-rival Dallas Cowboys.
You won't find many NFL players with a resume like Ryan Fitzpatrick's. A journeyman in every sense of the word, the veteran quarterback will suit up for his ninth team as he enters his 17th year in the league.
Fitzpatrick has enjoyed spurts of success in his previous stops, but he certainly didn't have much to smile about during his time with the New York Jets. Luckily for Washington Football Team fans, the 38-year-old signal-caller has played some of his best football since leaving the lowly AFC East franchise.
Unfortunately for Dallas Cowboys fans, Fitzpatrick's bold claim doesn't bode well for the team's chances of winning the division. In fact, even though Jerry Jones can look forward to watching a healthy version of Dak Prescott again, the outspoken owner should be worried about Washington winning the NFC East for the second straight season.
Ryan Fitzpatrick looks to continue his surprising success since leaving the lowly Jets
Fitzpatrick entered the NFL in 2005 as a seventh-round pick by the then-St. Louis Rams. Although he's posted a 59-86-1 record as a starting quarterback, the Harvard product has managed to stick around the league for almost two decades by putting his ego on the backburner and doing whatever's asked of him. However, just a few years ago, Fitzpatrick didn't feel excited about playing football anymore.
Coming off a solid 2014 season with the Houston Texans, he got traded to the Jets. Fitzpatrick led the team to a 10-6 record and finished the year with a career-high 31 touchdown passes.
Then everything changed.
Fitzpatrick's second season with the Jets ended with a disappointing 3-8 record as a starter and an ugly 12:17 touchdown-to-interception ratio. He dealt with getting benched multiple times, which certainly left a bad taste in his mouth.
Luckily for the well-traveled signal-caller, his career got back on track once he left the Jets.
Fitzpatrick showed flashes of brilliance in two seasons with the Tampa Bay Buccaneers. After putting up solid numbers in his first year with the Miami Dolphins, he completed a career-high 68.5% of his passes and outplayed promising rookie Tua Tagovailoa during the 2020 season. Now tasked with leading the Washington Football Team, he has a chance to help turn the franchise back into a winning organization.
As he transitions to another team, though, Fitzpatrick can't forget about what it felt like after his Jets career came to an end.
"The other major point in my career when there was a transition was after my year in 2016 with the Jets, which was miserable and the first time in my life I hated football and just didn't want to play anymore," Fitzpatrick said on the ESPN Daily podcast. "Since then, it's almost like I've been playing on borrowed time."
Fitzpatrick's bold claim doesn't bode well for Jerry Jones' Dallas Cowboys
Before Fitzpatrick admitted that he hated football after he wrapped up his two-year stint with the Jets, he made a bold claim during his podcast appearance that should make Jerry Jones and Cowboys fans nervous about the upcoming season.
"This is the best situation I've ever been in or the best situation that I've ever gone into as the guy," Fitzpatrick said. "I signed to be the starter in Houston, I signed to be the starter in Miami, so this is now the third team that I've signed to come in and be the starter for."
As for how his body and mind feel at the moment? Don't let the fact that Fitzpatrick turns 39 in November fool you into thinking he's near the end.
"I just feel like the way that I'm playing the last four years, kind of the progression of my career, it doesn't really make a whole lot of sense that 17 years in, physically, I feel great, mentally, emotionally, I'm in the right spot," he explained. "I just think I am set up for success this year and really looking forward to it."
Fitzpatrick clearly feels confident about his chances of performing well in Washington. Considering how he looked with the Dolphins last season, he certainly looks like an upgrade over the uninspiring duo of Alex Smith and Dwayne Haskins Jr. For a Cowboys team that has playoff aspirations, the fact their division rival has a competent starting quarterback doesn't bode well for their chances of making the postseason. In fact, when you take a look at Washington's roster, it's clear the reigning division winners should outperform Dallas again.
The Washington Football Team should make the playoffs if their new quarterback lives up to expectations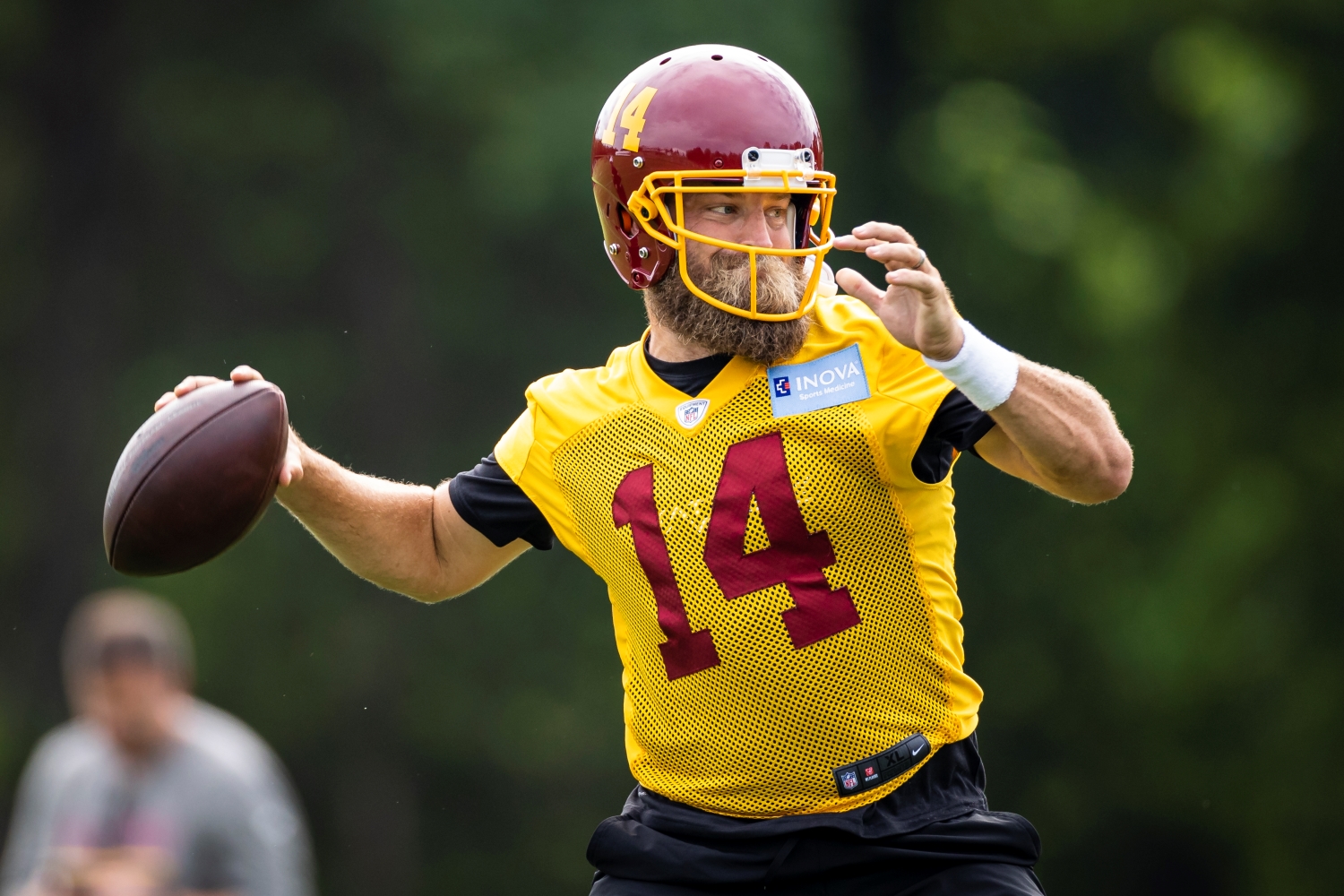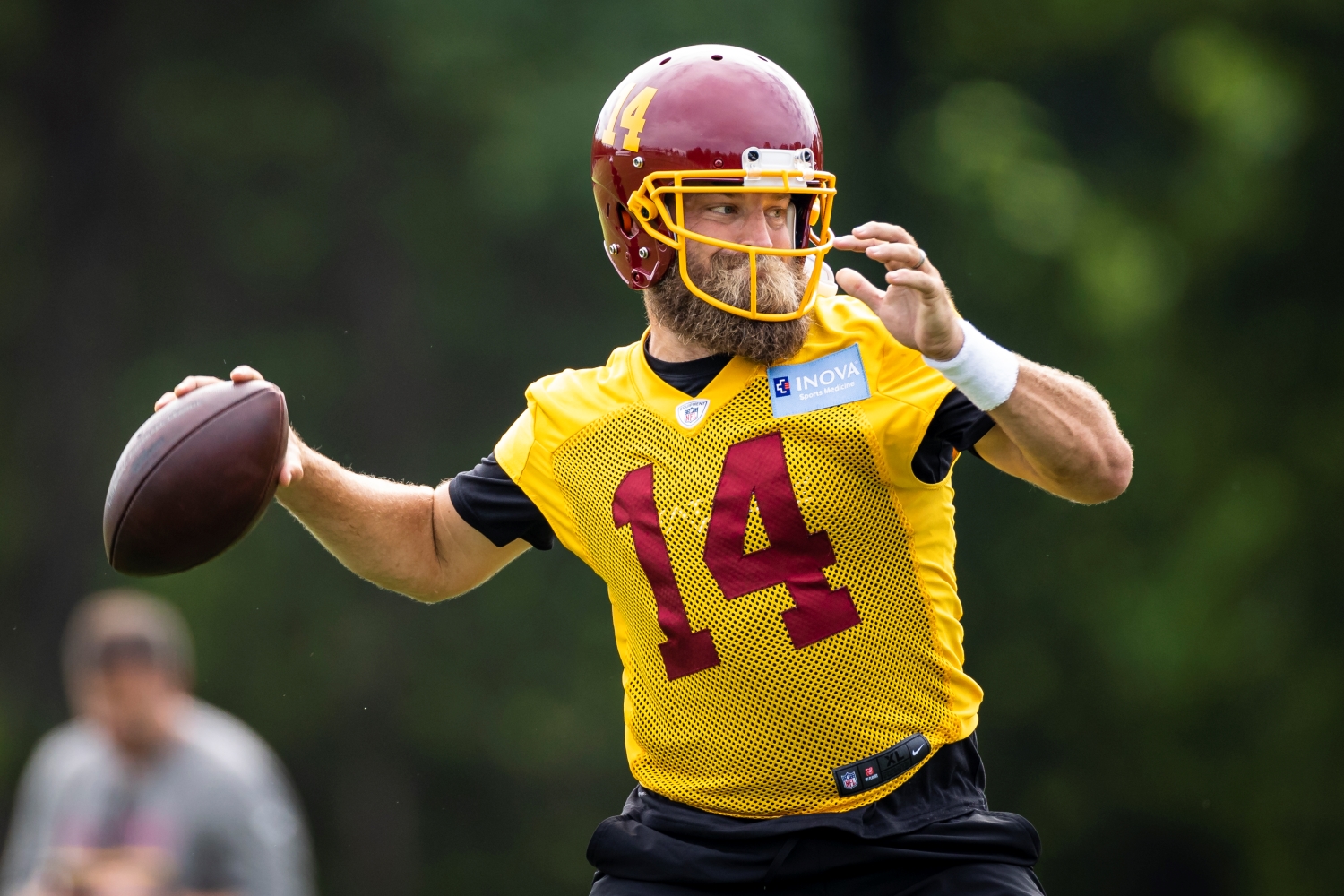 From Dak Prescott to Ezekiel Elliott to Amari Cooper to DeMarcus Lawrence, the Cowboys have a number of big-name stars. However, that doesn't mean Mike McCarthy will make the playoffs at the end of his second season in Dallas.
After all, Washington looks poised to take a step forward in 2021.
Despite having a 7-9 record, Washington won the division last season due largely to having the league's fourth-ranked scoring defense. That unit should be even better with the addition of rookie first-round linebacker Jamin Davis. Plus, it's hard not to get excited about the second season of the Montez Sweat-Chase Young defensive end duo. Oh, don't forget about the interior tandem of Jonathan Allen and Da'Ron Payne, who both became first-round picks after starring at Alabama.
Meanwhile, Washington's secondary includes another Day 1 selection (cornerback William Jackson III), a former Pro Bowler (safety Landon Collins) and the underrated Kendall Fuller. If the front seven applies consistent pressure like it should, those defensive backs should have plenty of playmaking opportunities.
The offensive side of the ball doesn't offer quite the same ceiling. Still, the addition of free-agent Curtis Samuel makes Washington's receiving corps much more dangerous. Terry McLaurin should enjoy a bounce-back campaign with Fitzpatrick in the fold, and 2019 sixth-rounder Kelvin Harmon has the potential to contribute as a rock-solid possession option. Plus, quarterback-turned-tight end Logan Thomas and exciting second-year running back Antonio Gibson give offensive coordinator Scott Turner two more skill players who deserve touches.
Ultimately, if the offensive line gives Fitzpatrick decent protection, Washington's offense has a chance to put up some big point totals. That spells trouble for a Cowboys defense that finished 28th in points allowed in 2020. Sure, it received a talent upgrade via the draft, but expecting first-round linebacker Micah Parsons and second-round corner Kelvin Joseph to come in and turn the defense into a top-10 unit seems like a risky bet. Dallas doesn't have many proven players on that side of the ball, which makes it difficult to put Jerry Jones' team ahead of the reigning NFC East champions in the preseason power rankings.
And if Ryan Fitzpatrick brings Fitzmagic to Washington, perhaps making the postseason will become a new tradition.
All statistics courtesy of Pro Football Reference.