Deshaun Watson Secretly Reveals His Preferred Trade Destination
It's not a guarantee that Deshaun Watson will even step on the field for an NFL team this season. The quarterback's relationship with the Houston Texans seems to be completely fractured, and his various legal troubles have muddied the waters. But if Watson is able to suit up for a team in 2021, he apparently knows exactly which colors he wants to be rocking this fall.
While speaking recently with former Texans teammate Kareem Jackson, Watson divulged his preferred trade destination for this offseason. His choice? The Denver Broncos.
Deshaun Watson's uncertain future in the NFL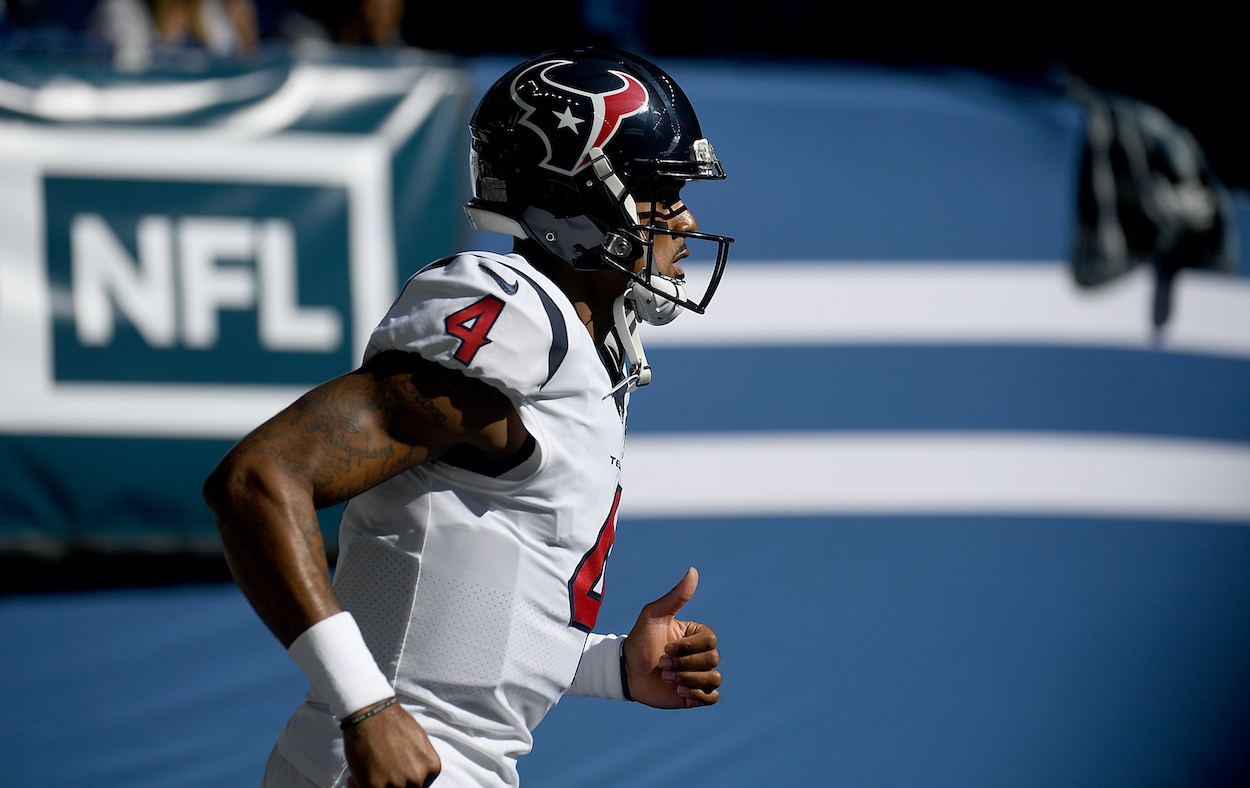 Watson is in the midst of a nightmare offseason.
Almost immediately after a 2020 season in which the Texans went 4-12 and showed no signs of promise looking toward the future, Watson formally requested a trade from the team. The stellar QB figured convincing the Texans to trade their franchise player would be the hardest part about his summer, but he was quickly proven wrong.
On March 16, a massage therapist going by Jane Doe filed a civil lawsuit through Texas-based attorney Tony Buzbee alleging sexual assault against Watson. The suit alleged the Texans QB went "too far" during a routine massage appointment. Watson immediately and emphatically denied the allegations, but there was more where that came from.
Over the next few months, 22 more women came forward and filed similar suits through Buzbee. One plaintiff has since withdrawn her lawsuit, so the total now stands at 22.
Rusty Hardin, Watson's attorney, later accused all 22 women of lying about the sexual assault in their lawsuits.
"Mr. Watson has been adamant that he did not engage in any improper conduct and we strongly believe him," he wrote in a statement, per ESPN. "Therefore, the answer to the question of whether we are saying that all 22 plaintiffs are lying about the allegations of sexual misconduct by Mr. Watson is a resounding yes."
Watson hasn't been charged in connection with the allegations, and the NFL has yet to discipline the three-time Pro Bowler. All we know at this point is that Watson's future in the NFL is murky, to say the least.
Watson's preferred trade destination is the Denver Broncos
Watson has to figure out his messy legal situation before turning his focus back to the football field. But even with 22 sexual assault allegations swirling around him, he is still determined to get out of Houston.
So, where does he want to be playing this season instead? According to former Texan Kareem Jackson, that answer is definitively the Broncos.
Jackson spoke with retired NFL cornerback Aqib Talib on the most recent episode of the Catchin' Fades podcast and revealed Watson's preferred trade destination.
"I've got a great relationship with Deshaun," Jackson said. "I've been talking with him the past couple of weeks, man. All he's been telling me is, 'Look, Jack. Just tell them, that's where I want to be.' He's like, 'That's where I want to be.' He's like, 'I want to be in Denver.'"
Jackson re-signed with the Broncos this offseason after spending the last two seasons in Denver, and Watson might be joining him in the Mile High City soon.
What would a Broncos-Texans trade look like?
As you might expect, it's not cheap to trade for a top-tier quarterback in the prime of his career. The Broncos face that challenging reality if they want to make Watson's offseason dream come true.
Earlier this year, the Los Angeles Rams gave up two first-round picks, a third-round pick, and Jared Goff just to poach Matthew Stafford from the Detroit Lions. Now, Stafford is 33 years old and has only made one Pro Bowl during his NFL career. Watson, on the other hand, is a top-five QB in the league and is only 25 years of age.
If the Broncos are serious about trading for the young superstar, they're going to have to give up a record-setting haul to do it. Three first-round picks? Maybe four? Denver doesn't exactly have a championship-caliber roster as currently constructed, so risking its future on one player might not be of interest to new general manager George Paton.
On the other hand, though, Watson would immediately make his next team a contender from the moment he steps on the field. The Broncos now know they're the preferred destination for Watson, so why not at least make a call?