Justin Jefferson is Doing Things For the Minnesota Vikings That Even Randy Moss and Cris Carter Never Did
The Minnesota Vikings might still be searching for their first-ever Super Bowl title, but their history is loaded with big-play wide receivers. Going back as far as John Gilliam in the early 1970s, the franchise has not lacked for big names on the perimeter.
Sammy White. Ahmad Rashad. And, of course, perhaps the two greatest pass-catchers in team history: Randy Moss and Cris Carter.
Adam Thielen has been the main man in Minny for the past few seasons. But none of them have done what Justin Jefferson, the newest Vikings receiving superstar, has accomplished over the past month.
Jefferson continues to re-write the Vikings and NFL record books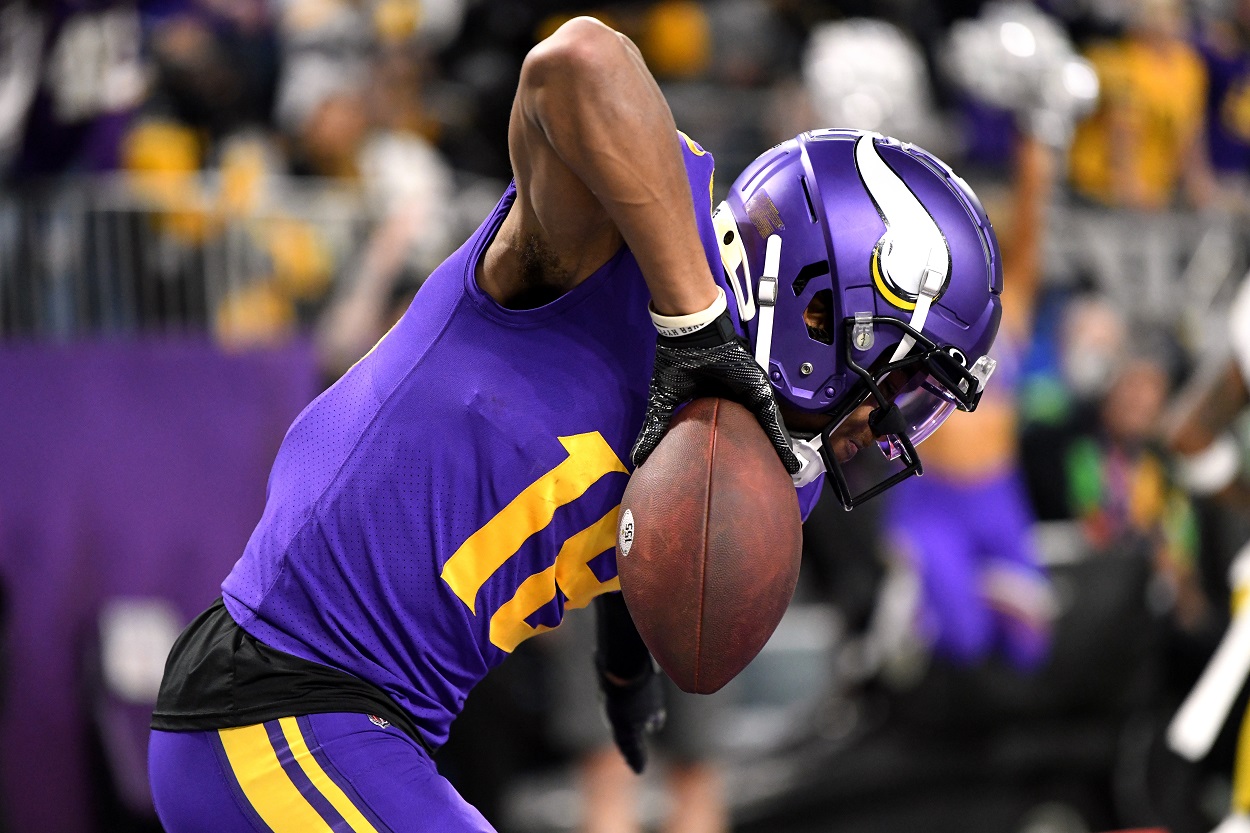 The second-year receiver from LSU, who burst onto the national scene catching touchdowns from Joe Burrow and winning a national championship in 2020, just accomplished something that none of his predecessors in Minneapolis had ever done.
In the four games spanning Weeks 10-13, Jefferson racked up 577 receiving yards, the most by any Vikings receiver ever in a four-game stretch. The previous record was held by Sidney Rice, who had a four-game run with 553 yards in 2009 as the Vikings advanced to the NFC Championship Game. Carter had the mark before that with a 537-yard run over four games in the 1999 season.
On Thursday night, Jefferson added another milestone to his already expansive list of achievements, joining Moss and former New York Giants receiver (and current Los Angeles Ram) Odell Beckham Jr. as the only wide receivers in NFL history to accrue 1,250 receiving yards in each of his first two seasons.
During record-setting four-game stretch, Jefferson kept outdoing himself
Jefferson's record four-game run began during Week 10 in a 27-20 victory over the Los Angeles Chargers. Targeted 11 times by quarterback Kirk Cousins, Jefferson had nine catches for 143 yards. That was his season high for yards in a game, but it didn't last long.
The following week, in a critical 34-31 victory over the Green Bay Packers, Jefferson turned in the finest performance of his career to that point, setting a personal single-game high with 169 yards receiving on nine catches. For the third time in his career, Jefferson scored a pair of touchdowns in a game.
But even that single-game record was short-lived. After a rather pedestrian 4-83 line against the San Francisco 49ers in Week 12, Jefferson created a new standard for himself, re-establishing career highs in receptions and yards with an 11-182-1 line against the Detroit Lions.
But Jefferson's ultimate goal is helping the Vikings reach the playoffs
Moss' explosive rookie campaign helped vault the Vikings into the NFC Championship Game in the 1998 season. It remains to be seen if Jefferson can have the same impact on the Vikings, especially with Thielen missing games with an ankle injury.
But after sounding the alarm following the disastrous last-second loss to the previously winless Lions last Sunday, despite his epic individual performance, Jefferson backed up his talk by hauling in the Vikings' first touchdown in a 36-28 victory over the Pittsburgh Steelers on Thursday night. Jefferson led the team in receptions with seven and added 79 more yards to his season total.
"I try to make the most plays I can whenever the ball is thrown my way," Jefferson told the St. Paul Pioneer Press. "And I just like being that momentum-changer for the offense."
Last season, Jefferson wrote Moss out of the Vikings' record book, setting rookie marks with 88 catches and 1,400 yards. He now has 85 receptions for 1,288 yards through 12 games this season, leaving him just 68 shy of Beckham's record of 2,755 receiving yards over his first two seasons.
"He's not a big guy necessarily, but he plays big with long arms and has a big catch radius," Cousins told the Pioneer Press. "He runs so well, he cuts so well, he's great after the catch running away from people. He's natural at finding the football."
Stats courtesy of Pro Football Reference