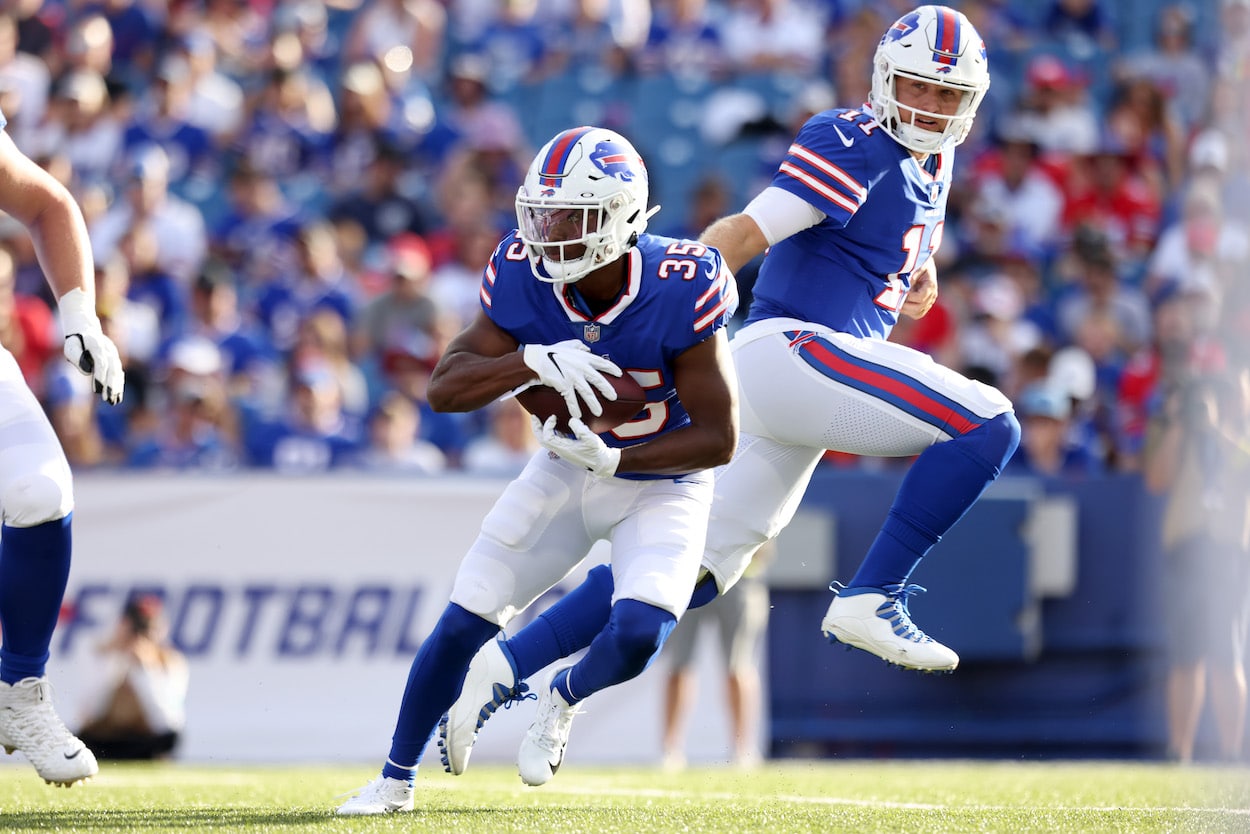 A Buffalo Bills Rookie Running Back Is Making a Case for Playing Time, and It's not James Cook
An unknown Buffalo Bills rookie is impressing this preseason. Is Raheem Blackshear for real? Or just a preseason wonder?
Heading into the 2022 NFL preseason, it wouldn't be a shock if someone told you a Buffalo Bills rookie running back was turning heads. The Bills picked Georgia RB James Cook in the second round of the 2022 NFL Draft, and he stands to see a good amount of action in Josh Allen's offense this season. However, there is another impressive rookie running back in Bills camp. It's undrafted rookie Raheem Blackshear.
An undrafted Buffalo Bills rookie RB is showing promise
As the Buffalo Bills head into the home stretch of the 2022 preseason and get ready for the third and final game against the Carolina Panthers, a rookie running back is generating a lot of buzz.
Yes, former Georgia Bulldog James Cook is having an excellent first training camp and should split time relatively evenly with Devin Singletary and Zach Moss. Singeltary will be the starter, Moss the short-yardage specialist, and Cook the third down back.
None of this is a surprise.
What is a bit shocking is how good the undrafted rookie out of Virginia Tech, Raheem Blackshear, looks so far this preseason.
The young runner has been the star of the Bills' first two preseason games. In the opener vs. the Indianapolis Colts, Blackshear had six carries for 11 yards and two touchdowns. He also added four catches for 60 yards.
Against the Denver Broncos, Blackshear only got better. He posted five rushes for 58 yards (including an impressive 25-yard scamper) and had two catches for 21 yards.
As good as Blackshear has been in both practice and games, he's not yet pushing Singletary, Moss, or Cook for a spot in the Bills' starting backfield. However, Blackshear's emergence does put veterans Duke Johnson and Taiwan Jones squarely on the roster bubble.
Who is Raheem Blackshear?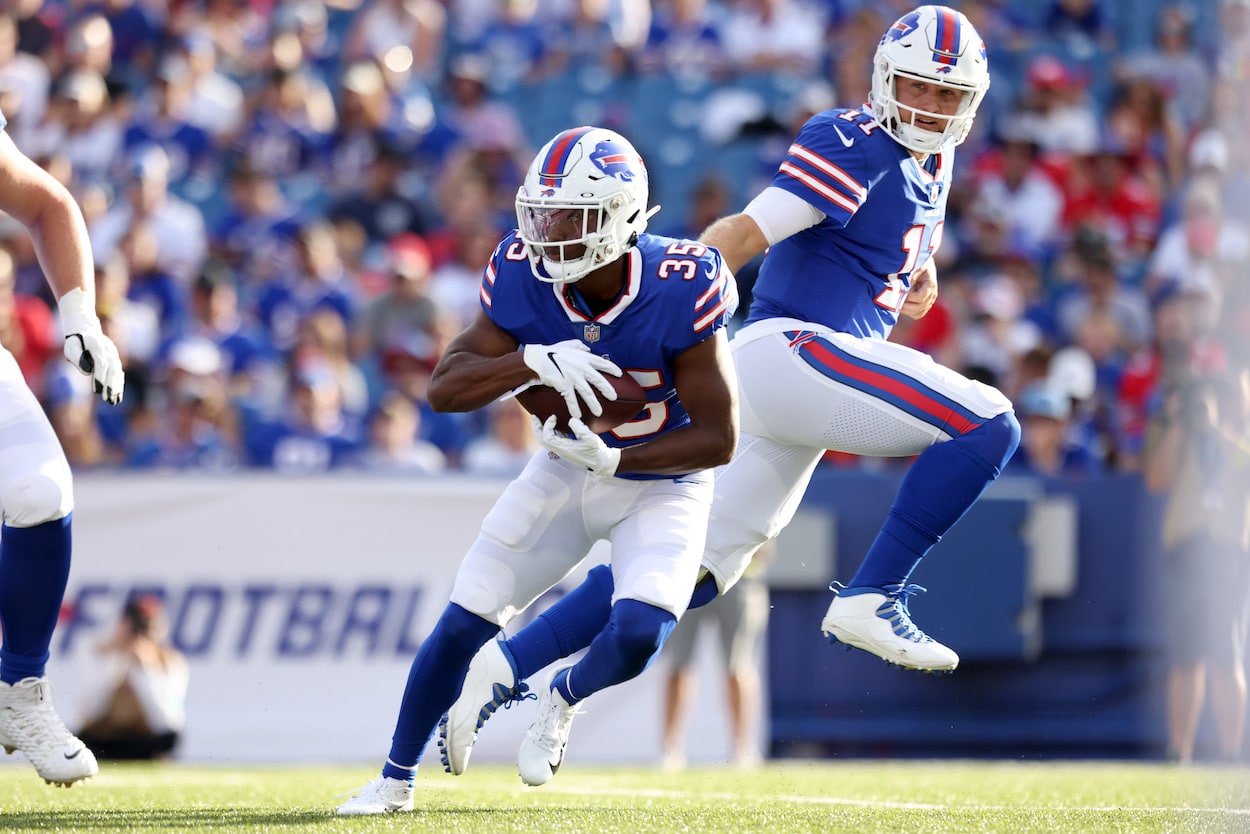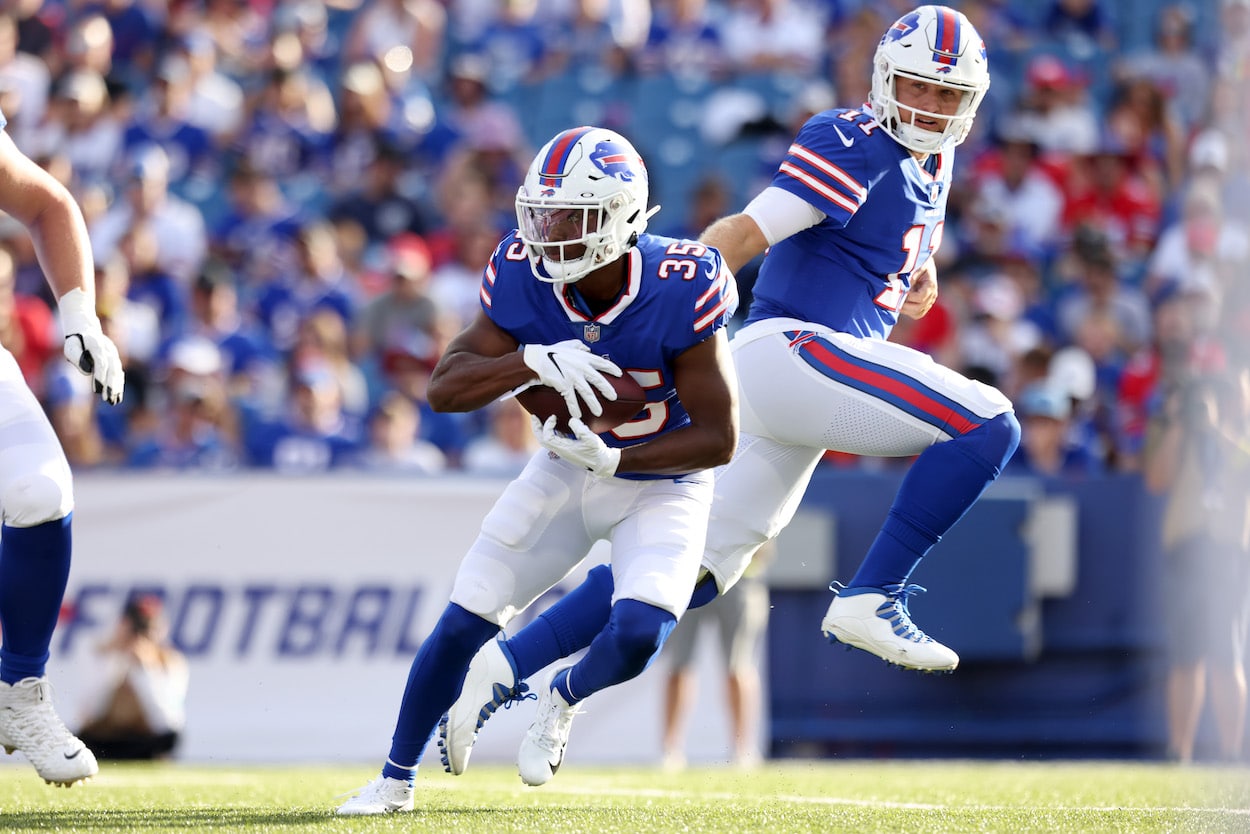 NFL teams took 22 running backs during the 2022 NFL Draft. Virginia Tech's Raheem Blackshear wasn't one of them.
The 5-foot-9, 190-pound back came into the draft older than most prospects. He is now 24 years old after spending three years at Rutgers before transferring to Virginia Tech and playing three seasons for the Hokies.
All told, Blackshear rushed 1,912 yards in his college career on 410 carries. He also caught 123 balls for 1,213 yards and scored 21 total touchdowns. The back's best individual season was 2021 at Virginia Tech, where he put up 1,006 total yards and scored seven TDs.
While no team picked Blackshear during the draft, the Buffalo Bills swooped in and gave the prospect a three-year, $2.5 million contract with $15,000 guaranteed.
NFL preseason history is littered with players who showed out and then were never heard from again. Raheem Blackshear could be that type of player. But if he keeps running like he has in these last two games, he could also be a name to know for the future.
All stats courtesy of Sports Reference