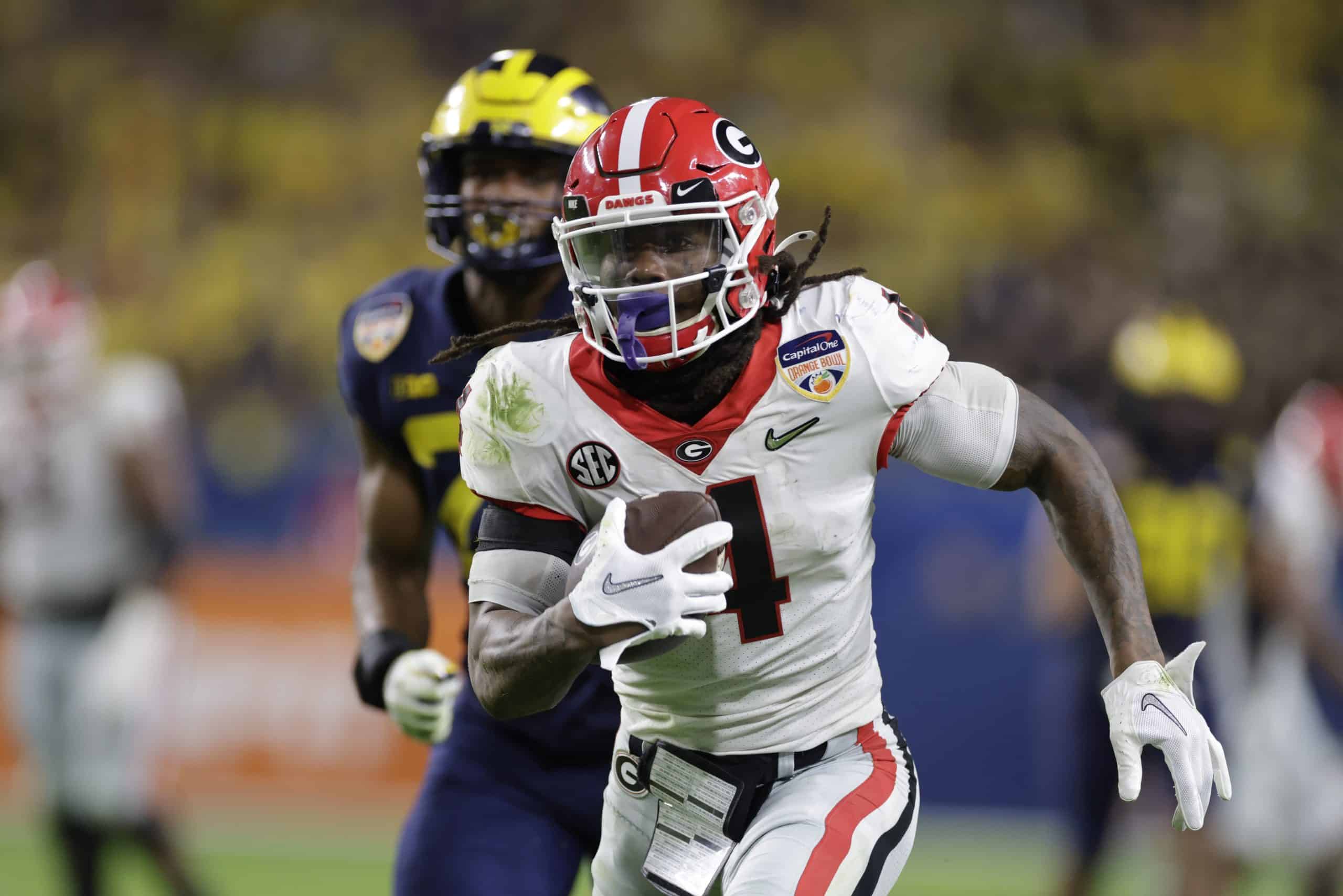 Rich Eisen Doesn't 'Know If This Is Fair' That the Buffalo Bills Got Georgia RB James Cook in the 2022 NFL Draft
The Buffalo Bills has a 'sneaky good' 2022 NFL Draft and one of the big reasons for that is Georgia RB James Cook among other solid picks.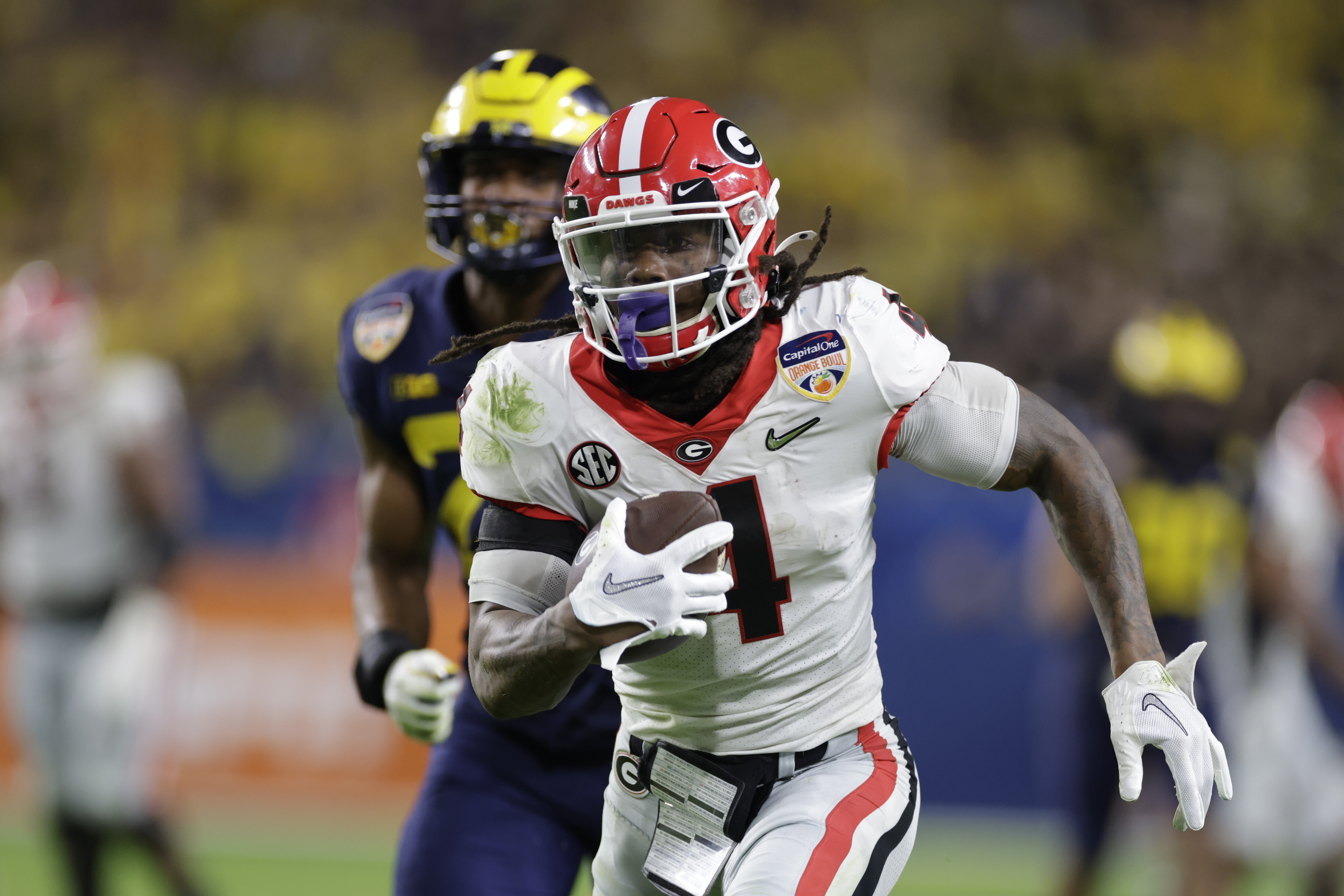 The NFL draft is set up to help the worst teams in the league get better. However, coaches and executives still have to make the right picks, so it doesn't always work out that way. Sometimes, the talent-rich teams get richer, and that's exactly what happened when the Buffalo Bills drafted Georgia running back James Cook, according to NFL Network host Rich Eisen.
Georgia RB James Cook is a unique NFL prospect
NFL teams generally judge running back prospects on their running ability. However, pass-catching and overall versatility are becoming more critical every year in the modern NFL. Georgia running back James Cook is a perfect example of how the value of a versatile back is growing.
Cook, the 5-foot-11, 199-pound RB, put up 728 rushing yards on 113 carries and scored seven touchdowns on the ground for the national champion 2021 Georgia Bulldogs. That was second on the team to Zamir "Zeus" White. Cook also added 27 catches for 284 yards and four receiving TDs, good for fourth, fifth, and fourth-best on the team, respectively.
In years past, NFL teams would have written Cook off as a third-down scatback and pushed him off to Day 3 of the NFL draft.
However, these days, with his catching proficiency and ability to line up as a wide receiver, smart teams see Cook not as a part-time player but as a weapon that can be deployed in multiple ways to confuse defenses.
That is why Cook went in the second round (No. 62 overall) in the draft this year.
James Cook is No. 1 on Rich Eisen's 'Top 5 Sneaky Good NFL Draft Picks'
After hosting the 2022 draft on NFL Network, Rich Eisen handed out some of his own awards in the days following the league's annual selection meeting. One award list he put together was his "Top 5 Sneaky Good NFL Draft Picks."
The player that topped this list of standouts not selected at the top of the NFL draft was a second-round pick out of Georgia whose older brother is already a superstar RB for the Minnesota Vikings. Eisen said of Georgia RB James Cook:
The number one top sneaky good draft choice of the 2022 NFL Draft, according to me — when he was drafted by this team, I thought, 'Oh my god.' James Cook in the Buffalo Bills offense is — I don't know if that's fair. I don't know if this is fair. As soon as he got drafted by the Bills, I'm like, Oh my — how many times was I talking about the Bills needing a back — I don't know if he's got the bell cow like his brother [Dalvin] — but he can run, man. And he can be a passing matchup nightmare.

Rich Eisen on James Cook
Eisen then explained exactly why Cook and the Buffalo Bills are such a great match:
So, you're looking at Stefon Diggs, you're looking at Gabriel Davis, you're looking at Dawson Knox, and you're wondering if the quarterback's going to come downhill and hit you himself. And James Cool is coming out of the backfield? That kid from Georgia who was unguardable by my Michigan Wolverines? That kid is now a Buffalo Bill? That's what the Bills are adding as a wrinkle? And they got him in the second round.

Rich Eisen on the Buffalo Bills
As good a pick as Cook was for the Bills, he wasn't the franchise's only solid pick in this year's draft.
The Buffalo Bills had a sneaky good 2022 draft
James Cook wasn't the only sneaky good pick for the Buffalo Bills in the 2022 NFL Draft. In fact, you can argue that "sneaky good" sums up the franchise's entire draft weekend.
The Bills started Round 1 by filling a significant need and picking Florida cornerback Kaiir Elam. The team traded up two spots to do so, but as the last CB with a first-round grade on their board, it was worth the extra draft capital.
After picking Cook, followed by Baylor linebacker Terrel Bernard, the Bills got another steal at pick No. 148 in the fifth round. That's where Buffalo took Boise State wide receiver Khalil Shakir. The former Bronco wideout is 6-feet tall, 196-pounds, and has a competitive streak that will make him a success at the next level despite not being the biggest or most athletic.
Finally, the Bills made their last sneak good pick with the first selection in Round 6. That's when they took the "Punt God" Matt Araiza. The San Diego State punte came to fame for his 80-yard boots.
Araiza may not be a 45-yard, coffin corner kicker that some NFL teams want. However, for an aggressive team like Buffalo — that goes for it more often than not around the 50 and only punts when they're backed way up — the "Punt God" is perfect.
Now, the Bills head into the 2022 NFL season as possibly the most loaded team on paper. As any Buffalo fan from the early '90s knows, though, they don't give out Super Bowl trophies to the better team on paper.
Stats courtesy of Sports Reference. Like Sportscasting on Facebook and subscribe to our YouTube channel.