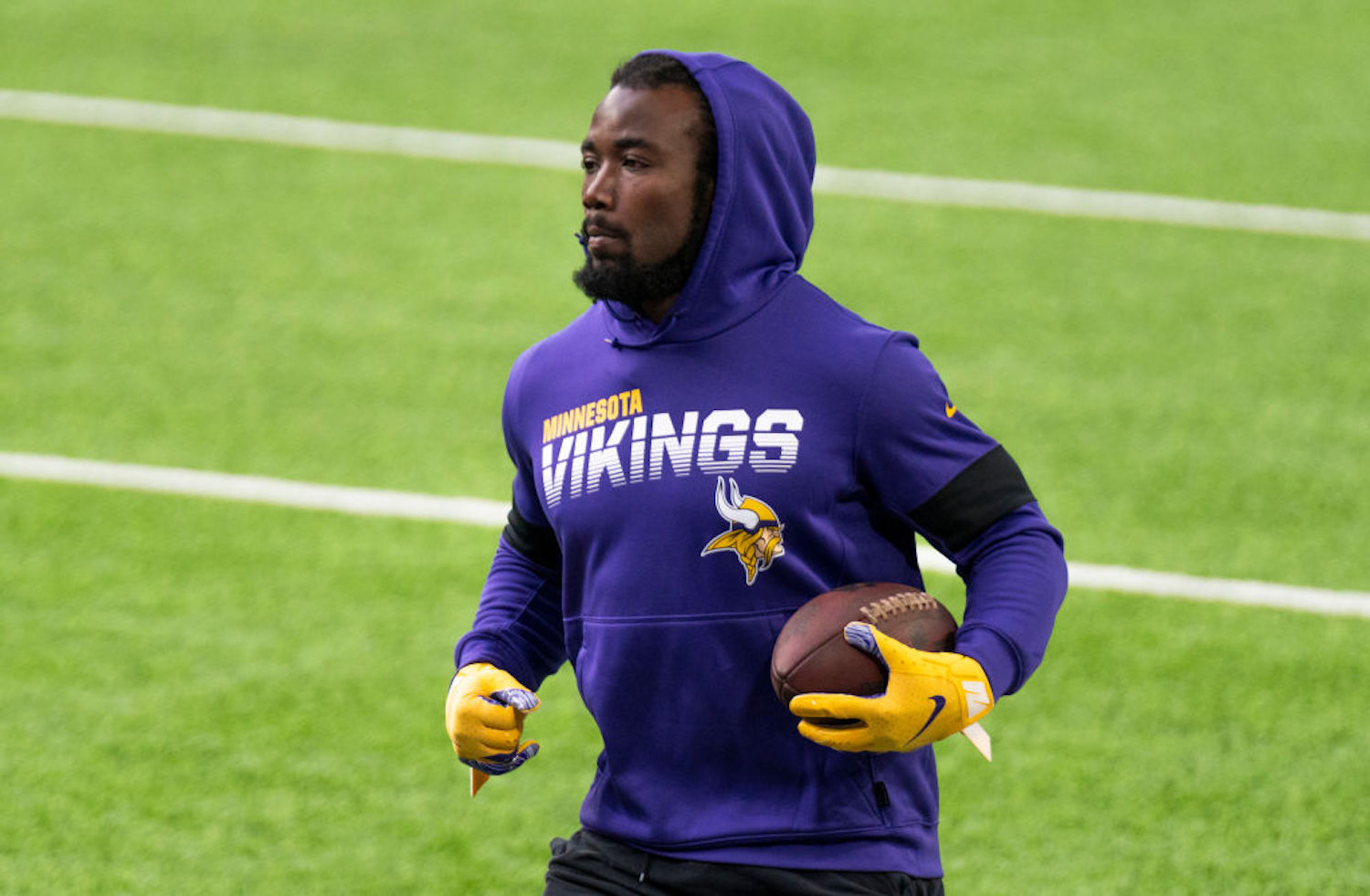 Dalvin Cook Just Suffered a Heartbreaking Loss With the Tragic Death of His Father
Dalvin Cook is having a Pro Bowl season in 2020, but he will miss the season finale after his father tragically passed away Wednesday.
Dalvin Cook is having an All-Pro caliber season for the Minnesota Vikings. The explosive running back has rushed for 1,557 yards and an NFL-high 16 touchdowns in 2020, but he'll be absent for the Vikings' season finale against the Detroit Lions.
Cook flew home to Miami Tuesday to be with his family after his father, James, tragically passed away at the age of 46. He won't be cleared in time to suit up for the Vikings this Sunday.
Dalvin Cook is having a career year for the Vikings
Before the 2020 season, Dalvin Cook was considered an above-average running back with the potential to become a star. Cook took that leap this year, and now he's staked his claim to be considered the best all-around RB in the NFL.
The Vikings' versatile star has racked up 1,557 rushing yards and a league-high 16 rushing touchdowns this season. He's also chipped in 44 catches for 361 yards and a score. Cook's 1,918 yards from scrimmage lead the NFL this year.
For a Vikings team that hasn't been the least bit impressive this season, Cook has almost single-handedly led Minnesota to a few of its six wins. Cook went off for 226 total yards and four touchdowns against the Green Bay Packers in November to lead the Vikings to an improbable upset at Lambeau Field. The next week, he bested his previous performance with 252 total yards and two scores to lead Minnesota past the Detroit Lions.
The Vikings sit at 6-8 with one game remaining on their schedule, but things could be much worse if Cook wasn't in the fold. The RB is on his way to his first career All-Pro season.
Cook will miss Sunday's game after the tragic death of his father
Dalvin Cook was ready to finish off his career season in style in the Vikings' season finale against the Lions this Sunday, but a heartbreaking development will keep him off the field in Week 17.
Cook's father, James, unexpectedly passed away this week at the age of 46. Cook flew home to Miami on Tuesday to be with his family, and he will be unavailable for Sunday's game.
Vikings teammates send prayers to Dalvin Cook and his family
After the devastating news hit the Vikings locker room, Cook's teammates sent their thoughts and prayers to the running back.
"Tragic news," Kirk Cousins said Wednesday morning. "Our thoughts and prayers are with him and his family, and just want him to take all the time he needs to process through that. Very sorry to hear that."
"Want to give all my prayers to Dalvin and his family," Justin Jefferson said. "It's a tough situation to be in, to lose your loved ones. We're all behind him and we're all praying for him."
All stats courtesy of Pro Football Reference