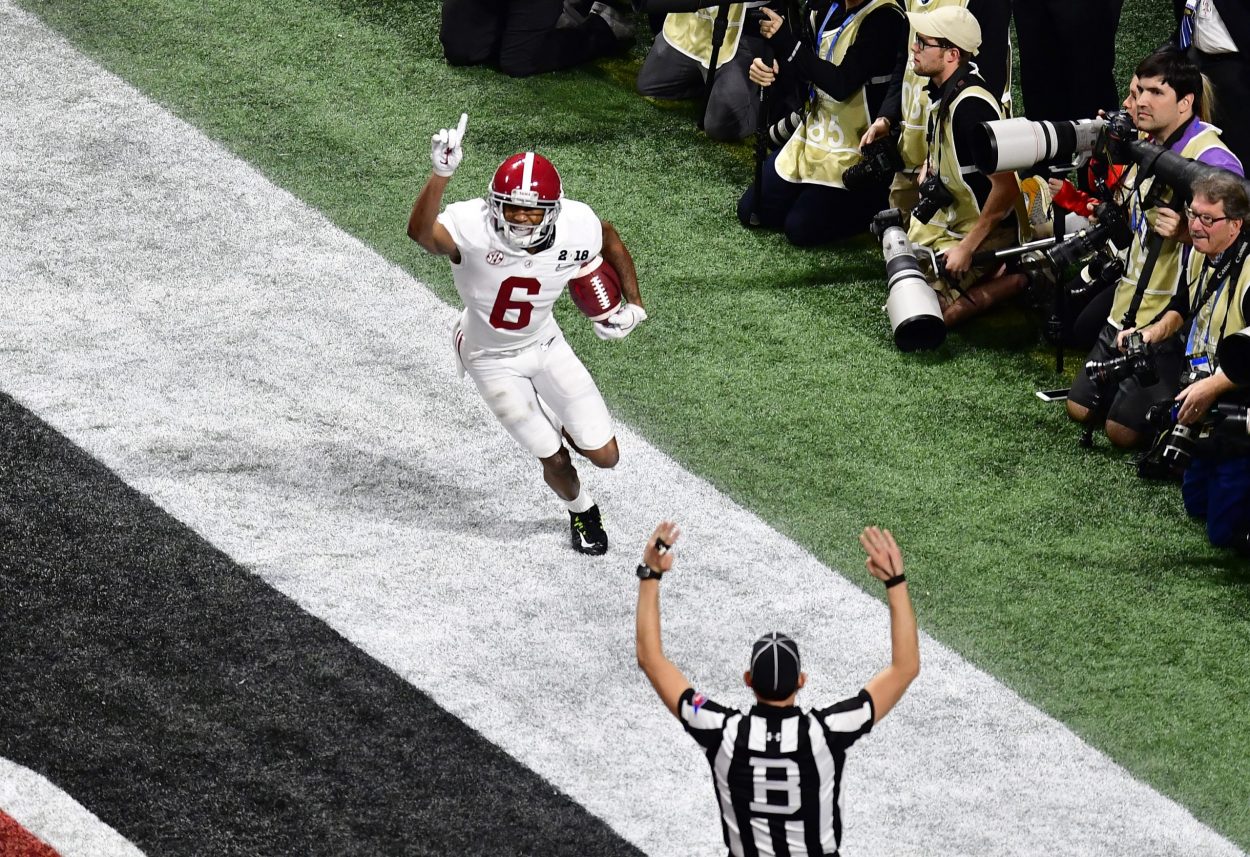 Alabama-Georgia 2018: Remembering '2nd-and-26' on a Night of Big Plays and Stars
Tua Tagovailoa and DeVonta Smith combined to deliver the 2018 National Championship for Alabama over Georgia.
As the Alabama Crimson Tide and Georgia Bulldogs prepare to meet Monday night in the 2022 College Football Playoff National Championship Game in Indianapolis, memories are still fresh of what took place four years ago in Atlanta.
Whatever these two storied Southeastern Conference stalwarts come up with on Monday night, they will be hard-pressed to match the drama and excitement, and for Georgia fans, heartbreak, of the 2018 title game, with its iconic "2nd-and-26" finish that gave the Crimson Tide a 26-23 overtime victory.
That title game was more than just a dramatic final play. It was a showcase for a new era of NFL stars, as the two teams combined to produce 22 first-round picks over the next four NFL Drafts, and the names read like an All-Pro roster, and will continue to dominate the Pro Bowl for years to come.
But on Jan. 8, 2018, the focus was not on the future, but the present, as Alabama coach Nick Saban looked to tie Crimson Tide legend Bear Bryant for most national championships won with six.
After Georgia dominated the first half, Saban made a decision that would ripple for years to come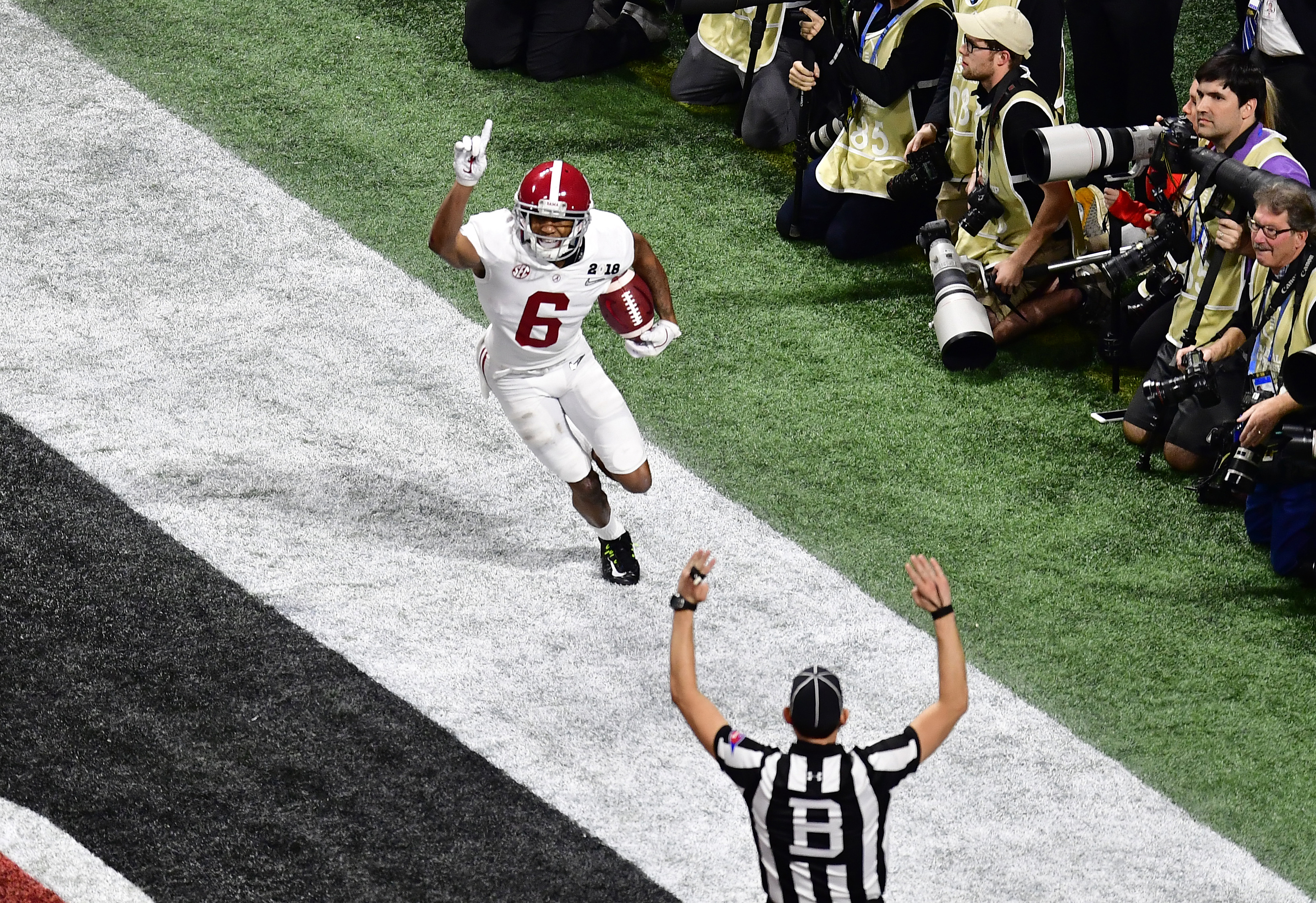 Alabama reached the national championship game with a relatively easy 24-6 victory over Clemson, while Georgia needed double overtime to sneak past Baker Mayfield and Oklahoma, 54-48. But in the first half of the title game, it was Georgia that appeared the fresher team, converting a pair of second-quarter field goals by Rodrigo Blankenship and a touchdown run by Mecole Hardman in the final seconds of the half for a 13-0 Bulldogs lead.
Jalen Hurts was the starting quarterback for Alabama, but after failing to score in the first 30 minutes, Saban made a bold decision at halftime, replacing hurts with a true freshman from Hawaii named Tua Tagovailoa. And the decision paid immediate dividends, as Tagovailoa hit Henry Ruggs III for a score in the third quarter to make it 13-7. Then after Hardman scored on an 80-yard touchdown pass from Jake Fromm to make it 20-7, Tagovailoa led the Crimson Tide to three straight scores to force overtime.
The tying play came with 3:29 left when Tagovailoa connected with Calvin Ridley for a seven-yard score. The freshman finished with 166 yards on 14 of 24 passing with three touchdowns and one interception.
"I just thought we had to throw the ball, and I felt he could do it better, and he did," Saban said of Tagovailoa after the game. "He did a good job, made some plays in the passing game. Just a great win. I'm so happy for Alabama fans. Great for our players. Unbelievable."
The move eventually led to Hurts transferring to Oklahoma after the 2018 season, opening the door for both quarterbacks to become top NFL prospects.
On 2nd-and-26 in overtime, a pair of Alabama true freshman combined for a truly fantastic walk-off
Alabama almost won the game in regulation, but with three seconds left, Andy Pappanastos missed a 36-yard field goal wide left, sending the game to overtime.
Blankenship did connect from 51 yards on Georgia's first possession of overtime for a 23-20 lead, then sacked Tagovailoa on Alabama's first play in overtime, forcing a 2nd-and-26 from the 44-yard line.
And then it happened.
Tagovailoa dropped back, looked right to freeze the Georgia safeties, then launched a perfect rainbow pass down the left sideline to another true freshman, wide receiver DeVonta Smith, who hauled it in for the winning score.
"After the sack, we just got up and took it to the next play," Tagovailoa said. "I looked back out, and he was wide open. Smitty was wide open." 
And just like that, Alabama had another national championship and Saban joined the Bear with six national championships. Saban would take the record all to himself with a championship in 2021, this time with Smith a senior Heisman Trophy winner.
"I could not believe it," he said. "There's lots of highs and lows. Last year we lost on the last play of the game and this year we won on the last play of the game. These kids really responded the right way. We said last year, `Don't waste the feeling.' They sure didn't, the way they played tonight."
The NFL is still feeling the effects of this game, as a constellation of stars went next level
As dramatic as this one game was, the impact it would have on the NFL was seismic. Over the course of the next four NFL Drafts, 22 players from the two rosters would be drafted in the first round.
The list of draft picks now reads like an Pro Bowl roster: From Alabama, three quarterbacks: Hurts, Tagovailoa, and a freshman waiting his turn named Mac Jones. At running back, Josh Jacobs and two men named Harris who made a huge impact on the 2021 NFL season, Najee with the Pittsburgh Steelers and Damien with the New England Patriots, another player going from one best friend in Saban to the other in Bill Belichick.
But it was at wide receiver that Alabama had an embarrassment of riches: Ridley, Smith, Ruggs, Jerry Jeudy, and Cam Sims. And don't forget the defense: Treyvon Diggs, Daron Payne, and Minkah Fitzpatrick.
On the Georgia side, Hardman at wide receiver, and a couple of running backs: Nick Chubb and Sony Michel.