Nick Saban Reveals the Critical Turning Point That Forced Mac Jones to Transform From a Frustrated 'Tennis Player' Into the Leader Alabama Needed: 'I Told the Film Guy to Film This'
While Bill Belichick has dominated the NFL world unlike anyone else, Nick Saban has established a reputation as arguably the best coach in college football history. Obviously, the former deals with a much different set of circumstances and challenges than the latter. However, both men have found ways to overcome obstacles, win championships, and maximize the talents of physically gifted players.
Of course, Mac Jones had an opportunity to learn from one of the best in the business before he joined the New England Patriots. Luckily for Belichick, his close friend and fellow coaching savant helped transform a quarterback with a tennis player's mentality into a true leader.
And as long as Jones continues to heed the advice he received from Saban, don't be surprised if the Lombardi Trophy makes its way back to Foxborough sooner than later.
Mac Jones has quickly earned the respect of Patriots coaches and teammates despite his rookie status
Cam Newton quickly won over his teammates and coaches as soon as he came to New England. Unfortunately for the former league MVP, he failed to deliver on the field.
On the other hand, Mac Jones has managed to not only earn the respect of Patriots coaches and players, but also reward their faith and support with strong play from the most important position in sports. Since he beat out Newton for the starting job, the 23-year-old signal-caller has grown more comfortable in the offense and shown impressive poise, command, and maturity for someone who led Alabama to a national title back in January.
A fiery competitor who clearly strives for perfection (sounds a bit like Tom Brady, right?), Jones certainly doesn't lack passion or commitment to excellence. And by fighting through adversity and consistently making smart decisions, he's helped New England climb out of a 2-4 hole and rip off five consecutive wins.
Of course, not everything has gone right for the promising rookie. Protection issues, a few communication mix-ups, and some ill-fated passes have caused Jones to get visibly upset. But while Bill Belichick and his staff must learn how to help him deal with frustration, Nick Saban can hold his head high knowing he did everything in his power to kickstart that process.
Nick Saban helped his former quarterback undergo a critical transformation with the help of a camera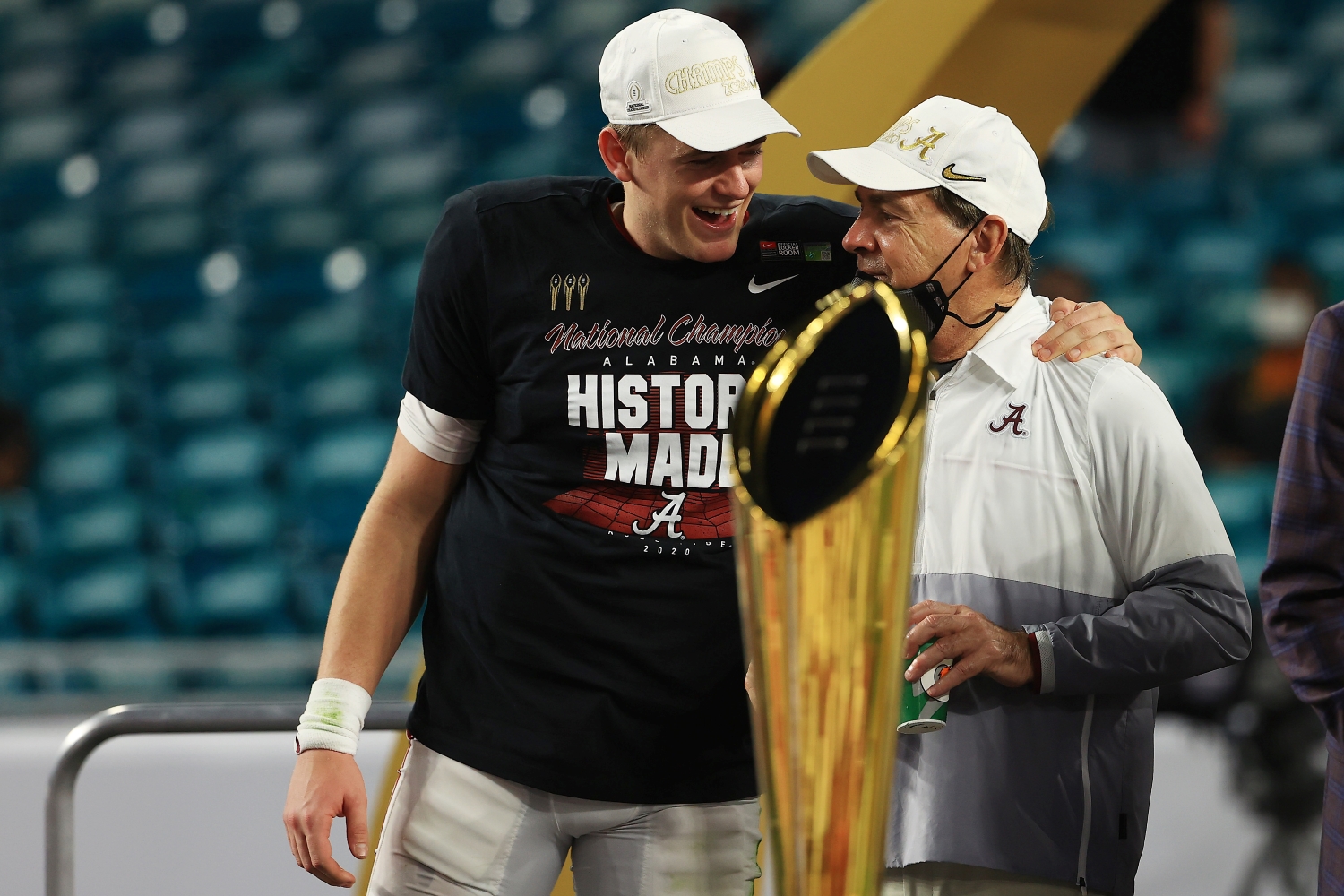 Before Jones became one of the biggest names in college football, he had to develop some skills that had nothing to do with throwing a football or avoiding an oncoming blitzer. In fact, his biggest weakness had nothing to do with his physical abilities.
Instead, Jones desperately needed to work on the mental part of the game.
"That was probably Mac's biggest hurdle as a player," Saban said this week. "Was being able to control his emotions. Especially playing the quarterback position. To not get so upset when he threw a bad ball or made a bad read or whatever."
Ironically, Jones' experience playing another sport came back to bite him.
"He did kind of have a tennis player's mentality," Saban explained. "Do you understand how you're affecting everyone else? This is not an individual sport. You're the leader of the team, and you're kicking and fussing and everyone else see's that."
Jones' life and football career took a turn for the better thanks to some tough love from his college coach. Saban shared a story about watching the uber-competitive quarterback's body language during practice. Ultimately, that led to an intervention of sorts that transformed the "tennis player" into a leader.
"I could tell if it was complete or incomplete based on his body language," Saban explained. "I told the film guy to film this. I think that may have been the turning point for him."
Considering he led the Crimson Tide to a national title, finished second in the Heisman vote, and put together one of the most impressive seasons in SEC history, Jones clearly turned a corner and embraced the responsibilities of being the leader Alabama needed. And while he still has room to grow, the Jacksonville native seems destined to turn his new team into champions, too.
After leading Alabama to a national title, Jones has a prime opportunity to help Bill Belichick secure another Super Bowl ring
Think the rest of the NFL regrets letting Jones fall right into Belichick's lap?
At this point, several franchises should be kicking themselves for passing over a quarterback who boasts elite accuracy, a high football IQ, and the toughness needed to succeed at the pro level. After all, the Carolina Panthers recently resorted to bringing back a 32-year-old version of Newton — something that wouldn't have been necessary if they had simply taken Jones with the No. 9 overall pick in the draft.
Luckily for the Patriots, though, four other quarterbacks went off the board, leaving Jones up for grabs when they came on the clock. Based on the early returns, it's easy to see why Belichick invested a first-round pick on the 6-foot-3, 217-pound signal-caller. Jones may not have elite measurables, but he possesses the accuracy, mental processing speed, and the intangibles needed to succeed in Josh McDaniels' system.
Moving forward, the future looks bright in Foxborough. Belichick secured a worthy heir to Tom Brady, he fortified the roster with outstanding free-agent signings like Matt Judon and Hunter Henry, and he added young, high-upside pieces in the draft like Christian Barmore and Rhamondre Stevenson. Plus, he brought back familiar faces like Trent Brown, Kyle Van Noy, and Jamie Collins — all of whom have made a positive impact.
In the midst of a five-game winning streak that's included lopsided victories over the New York Jets, Cleveland Browns, and Atlanta Falcons, Belichick's squad appears poised to go on a deep playoff run. And if Mac Jones continues to improve down the stretch heading into the postseason, perhaps the Patriots will represent the AFC in Super Bowl 56 after all.
Like Sportscasting on Facebook. Follow us on Twitter @sportscasting19.