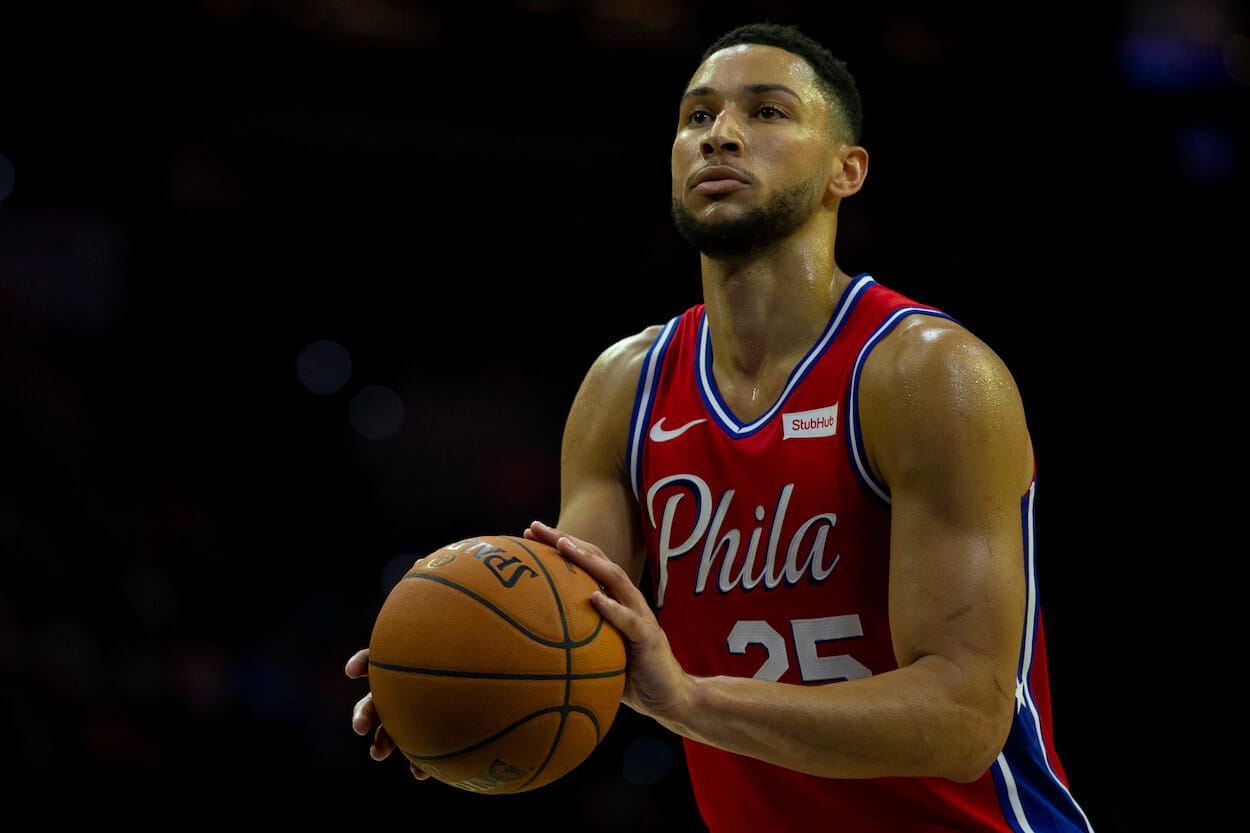 Ben Simmons' Lack of Shooting Confidence Can Be Traced Back to a $20,000 Bet With Bradley Beal
Ben Simmons should never put money on a free throw ever again.
It's no secret that Ben Simmons is an atrocious free-throw shooter. The three-time All-Star has made just 59.1% of his free-throw attempts in the NBA, and his season average of 43.9% (no, that's not a typo) with the Brooklyn Nets is the worst of his career.
The first team to exploit Simmons' biggest flaw was the Washington Wizards a few years ago. During the point guard's rookie year in 2017, Washington sent him to the line 29 times in what became known as the Hack-a-Ben strategy. But that's not all. Wizards guard Bradley Beal felt so confident that Simmons couldn't make two free throws that he put $20,000 on the line, and Simmons promptly bricked the first shot.
Bradley Beal bet Ben Simmons $20,000 he couldn't make two free throws, and he was right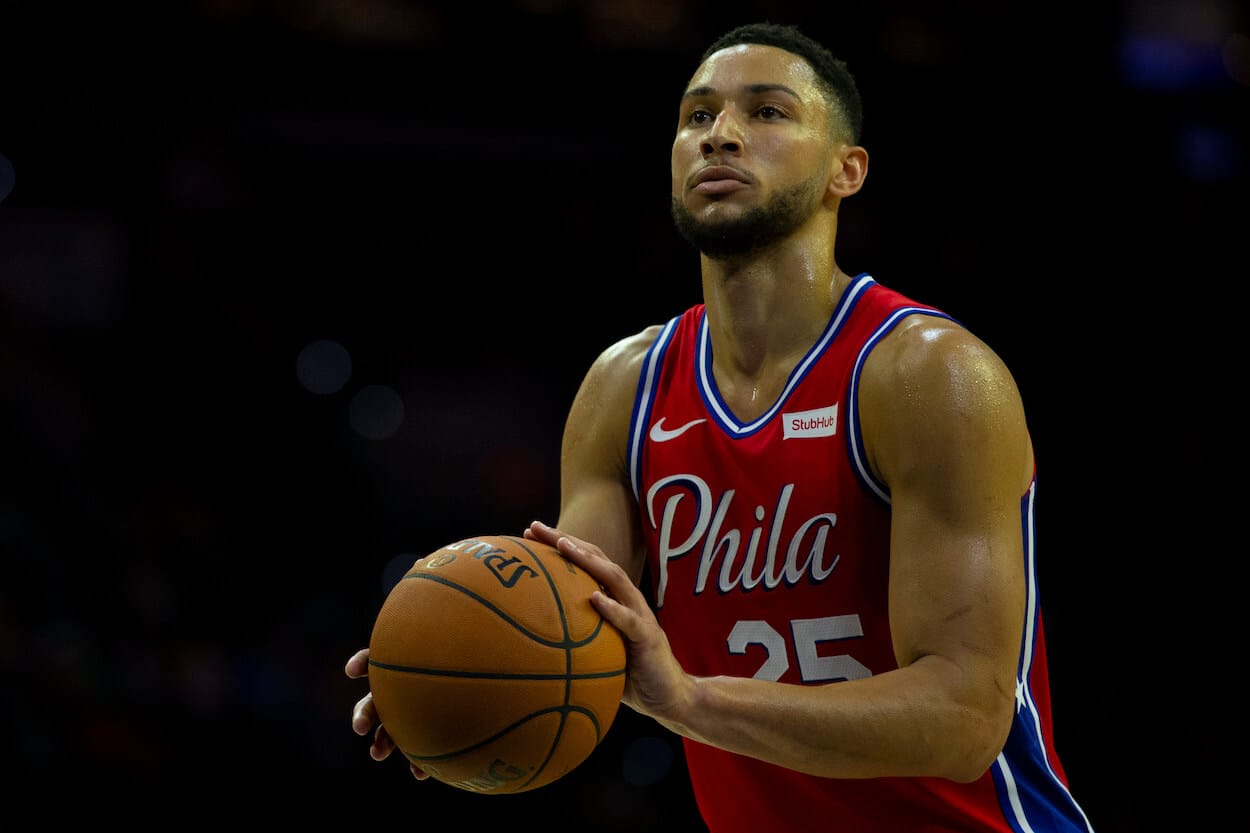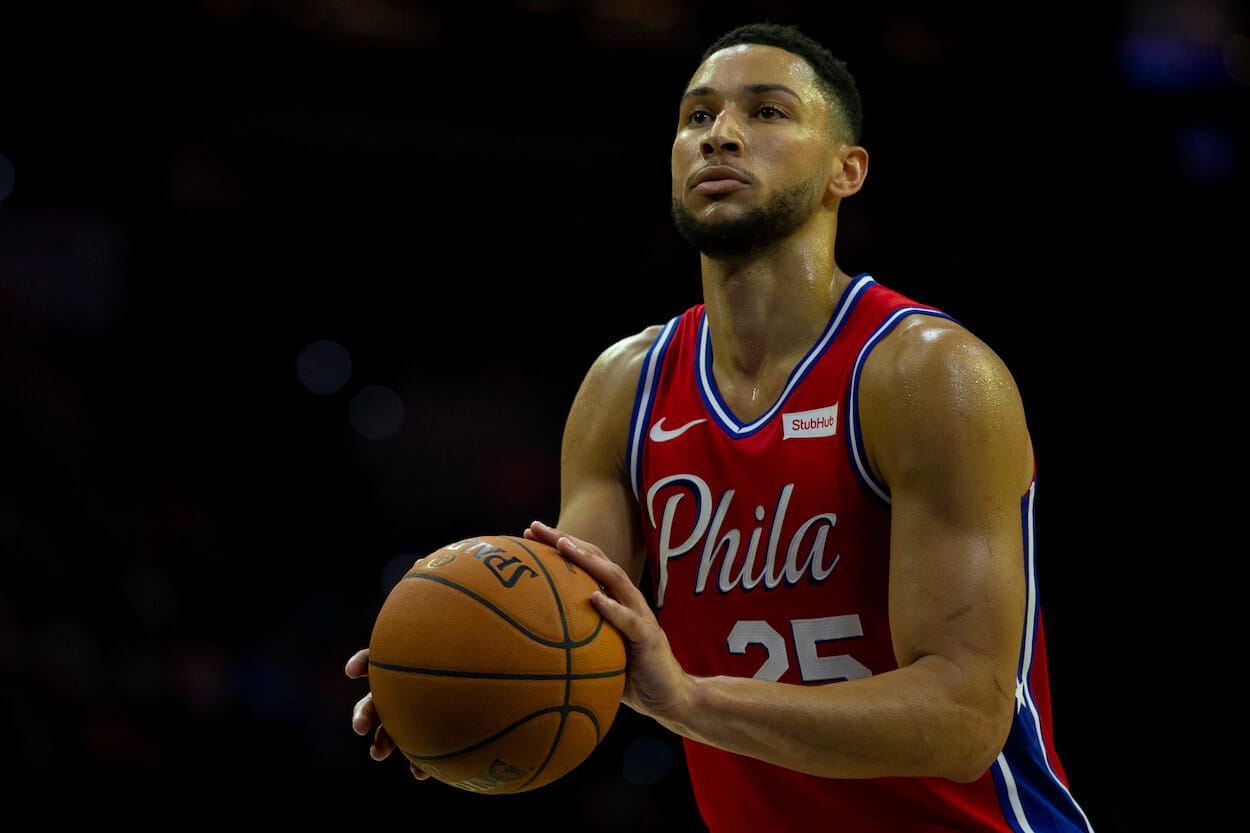 The biggest knock on Ben Simmons throughout his career has been his inability (or outright unwillingness) to shoot the basketball. The LSU product has attempted only 36 total threes in the NBA, and he's never shot better than 63% at the foul line in a season.
During the Philadelphia 76ers' infamous 2021 playoff run, Simmons shot an almost unfathomable 34.2% from the free-throw line. That, plus his inexplicable decision to pass up an open dunk in the Game 7 loss to the Atlanta Hawks, ultimately led to his departure.
But how does a world-class athlete completely lose the confidence and ability to shoot? Well, it might stem from an incident against the Wizards a few years ago.
In 2017, Simmons' rookie year in the NBA, Washington employed the Hack-a-Ben strategy by intentionally fouling him the entire fourth quarter. An anonymous Eastern Conference coach told the illuminating story to Heavy this week.
"The first guy that started the Hack-a-Ben process was Scott Brooks with Washington," he said. "They're playing Philly a few years ago and Philly's up by around 20. Brooks starts putting Simmons on the line in the fourth quarter, and the game is getting closer as Ben is stepping to the line and bricking more and more foul shots. So finally Bradley Beal had to foul him. Usually you don't have your best player fouling, but at that point he did."
What happened next might explain Simmons' complete lack of confidence in his shooting stroke.
"When that happened, Ben and Beal had this sort of animated conversation," the anonymous coach explained. "Ben said, 'I'm tired of you motherf*****s fouling me on purpose, man. I'm going to step up here and knock these two down. Five thousand dollars says I will.' To which Beal replied, 'You wanna make it 20?' And then he went up and bricked one. I don't think he said another word."
Woof.
It's one thing to know an opposing team wants you to shoot as many free throws as possible, but it's another to know a respected NBA player feels so confident you can't knock them down that he's willing to put $20,000 on the line. No word on whether or not Simmons paid up.
Six years later, Simmons is shooting the worst percentage from the free-throw line of his career. The Nets, who traded away both Kyrie Irving and Kevin Durant at the deadline to kickstart a rebuild, can barely play Simmons because of how low his confidence has fallen.
"There were certain indicators of this struggle early on. How did you miss it? And that is why he won't shoot the ball," the coach told Heavy. "He lives in fear of having to shoot free throws or shooting airballs from the floor."