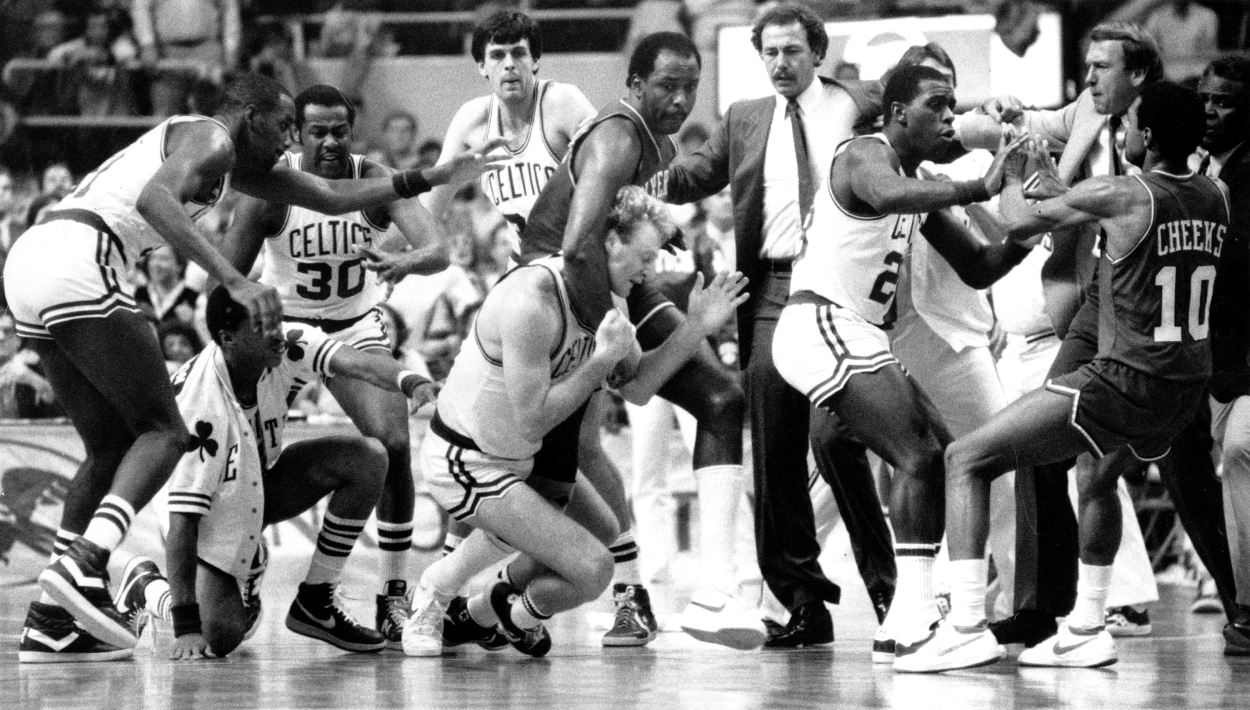 Boston Celtics vs. Philadelphia 76ers: A Look Back at the Heated 1980s Rivalry
The Boston Celtics and Philadelphia 76ers have had some heated battles through the years.
When you think of the Boston Celtics rivals, the Los Angeles Lakers immediately come to mind. While the Lakers have been a rival for several decades, they weren't even Boston's biggest challenger during the peak Celtics/Lakers moments of the 1980s.
That distinction belongs to the Philadelphia 76ers. Celtics vs. Sixers was always a physical battle, an intense matchup between two division rivals. In the early 1980s, those teams fought their way through the playoffs. Heck, one year they even fought their way through the preseason.
The Boston Celtics and Philadelphia 76ers went at it during a preseason game in 1983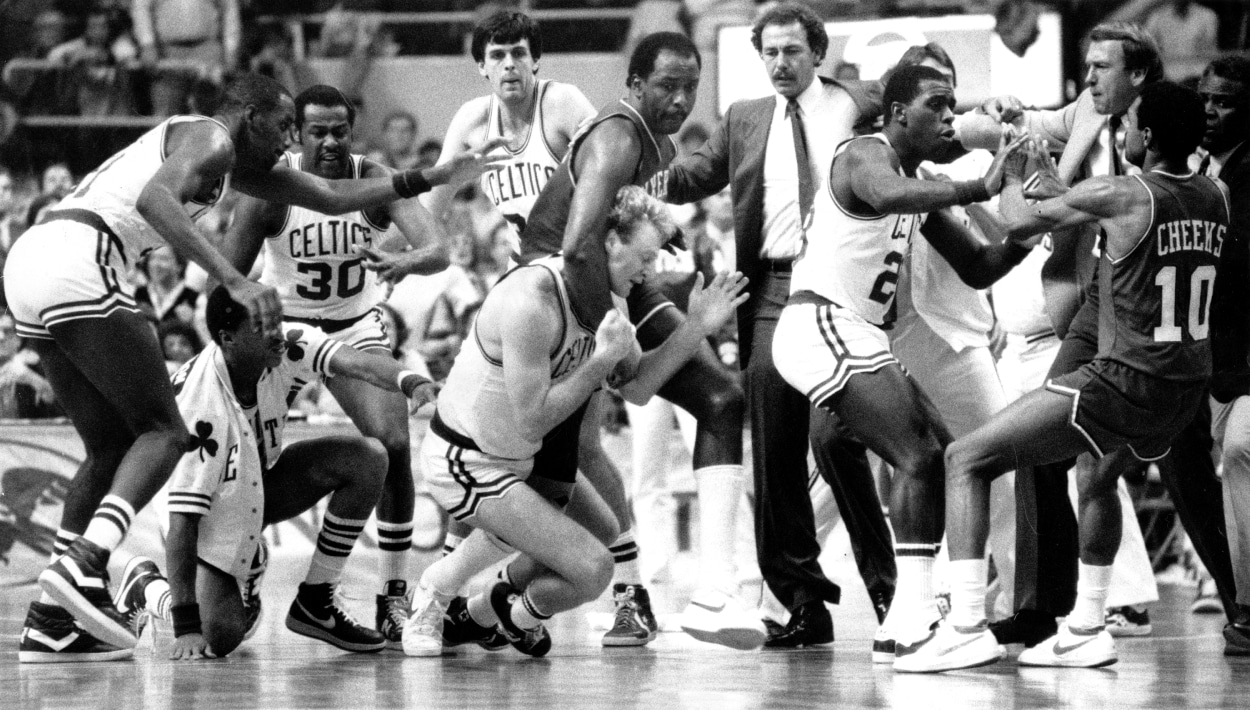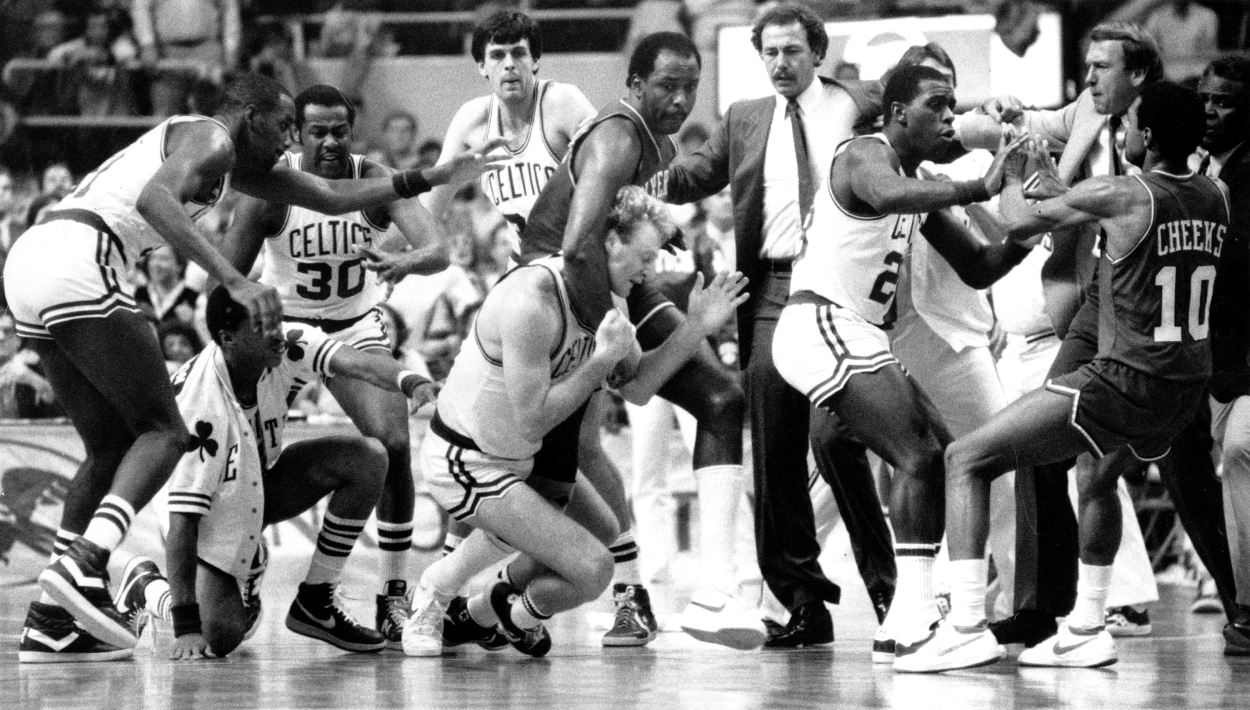 The regular season hadn't started yet, but the Celtics and Sixers were in postseason form. It was October 1983 when the teams met for a preseason game at the Boston Garden. It only took four minutes of game time before punches were thrown and players were ejected.
Boston's Larry Bird and Philly's Marc Iavaroni were ejected for fighting. Celtucs guard Gerald Henderson was also tossed for throwing a punch at Sixers guard Sedale Threatt. The most bizarre part of the melee was when Celtics GM Red Auerbach stormed the court to antagonize Sixers center Moses Malone.
"Hit me, you big SOB," Auerbach said to Malone, according to United Press International. "Go ahead. I'm not big. Hit me you SOB."
After the game, Auerbach tried to explain why he was involved.
"First, they knock (Cedric) Maxwell down, and then that other guy (Iavaroni) is doing a job on Bird and all that kind of stuff is going on," he said. "I couldn't help it. I just got mad."
Maxwell said he wasn't surprised at how things went down, given the history between the teams.
"I thought it might be the first game in NBA history to be called because of violence," said Maxwell. "With our two teams, it's possible for anything to happen once we step onto the floor. I wouldn't be surprised if something happens in warmups one day."
A fight between Larry Bird and Julius Erving spiced up the Celtics vs. 76ers rivalry
In the 1981 Eastern Conference Finals, the Celtics stormed back from a 3-1 series deficit to win a grueling playoff series and reach the NBA Finals. Maxwell and teammate Nate "Tiny Archibald" spoke about how tough it was playing Philadelphia back then.
"I laugh when I think about the greatest series that I've ever played in," he said on the Cedric Maxwell Podcast. "It wasn't a championship series, but it had to be that Philadelphia/Boston 1981. Those were wars, man. They were wars."
Archibald agreed it was an intense series.
"It was always a war against us and Philadelphia," he said. "Think about it now, the team that won would be in the championship game against either LA or Houston. I always tell people the war was Philadelphia."
In November 1984, two of the games biggest stars — Bird and Julius Erving — found themselves in the middle of another melee. Bird had 42 points, while Dr. J had six. With 1:38 left in the third quarter, the two got tangled up, and Bird was slapped with an offensive foul. They went at it during the next possession. Referee Dick Bavetta recalled the incident 30 years later.
"It turned out to be the game where Bird and Erving decided to start choking each other," he said, according to NESN. Bird and Erving were fined $7,500 each.
While the Lakers might still be a rival of the Celtics, they're not quite the heated rival the Sixers are.
Like Sportscasting on Facebook. Follow us on Twitter @sportscasting19 and subscribe to our YouTube channel.