Larry Bird Surprisingly Said the Biggest Rival of His Boston Celtics Wasn't the Los Angeles Lakers
The Boston Celtics faced the Los Angeles Lakers three times in the NBA Finals during Larry Bird's Hall of Fame career. He and Magic Johnson gave the NBA a jolt when they came out of college after their epic NCAA title matchup in 1979. They continued their personal rivalry for 13 years at the professional level and rejuvenated the Celtics/Lakers rivalry.
Prior to having his jersey retired on Larry Bird Night in February 1993, Bird reminisced about his time in the NBA. He made one surprising statement, saying the Celtics' biggest rivals weren't those hated Lakers.
Larry Bird and Magic Johnson revived the Celtics/Lakers rivalry with their own personal one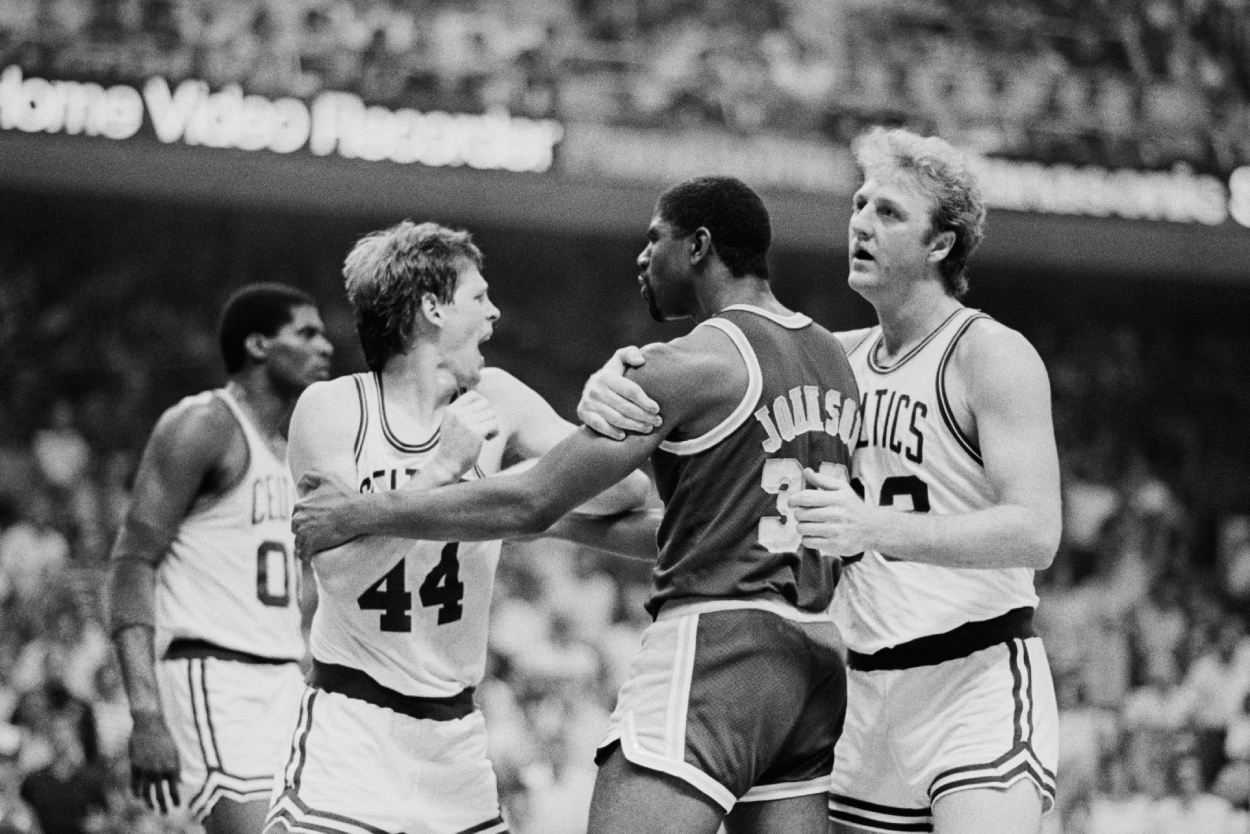 Bird vs. Magic ranks right up there with the greatest personal rivalries in all of sports. That individual rivalry led to the Celtics and Lakers turning in some of the greatest showdowns in NBA history. In the 1980s, either the Celtics or Lakers made an appearance in the NBA Finals each year. They faced each other three times.
The two kept tabs on each other despite playing on opposite sides of the country.
"When the new schedule would come out each year," Johnson told Sports Illustrated in 1992, "I'd grab it and circle the Boston games. To me, it was The Two and the other 80. During the season, I'd check out Larry's line first thing. If he had a triple-double, I knew what I'd want that night. But what would get me would be his big ones — say, when he had 20 rebounds. I'd say, 'I'd better get me 20 assists tonight.'"
Bird always checked out how Johnson did each game.
"The first thing I would do every morning during the season," Bird said, "was look at the box scores to see what Magic did. I didn't care about anything else."
Larry Bird said he didn't believe the Lakers were Boston's biggest rivals
The Celtics and Lakers had some epic NBA Finals battles. In 1984, the Celtics stole the series despite being completely outplayed. Gerald Henderson's steal in Game 2 helped Boston salvage a split in the first two games. After getting blown out in Game 3, the Celtics used a Kevin McHale clotheslining of Kurt Rambis to swing momentum in Game 4.
The Celtics outlasted the Lakers in seven games. Bird later considered his team "lucky" to have come away with the championship.
The Lakers used their collapse in '84 as motivation in 1985 when they got redemption. They also defeated the Celtics in 1987.
Despite meeting in the Finals three times in four years, Bird said in 1993 that he didn't believe LA was Boston's biggest rival during his playing days.
"LA was great, especially in a seven-game series, but to me, nothing was better than those Philly games when I first started out," Bird said, according to United Press International.
Bird may have been right on point with his rivalry comment
Those Celtics vs. Lakers battles were fierce. They were also high-profile, but they weren't held often enough. They met just twice per year during the regular season.
Although the Celtics and 76ers didn't play on the big stage like the NBA Finals, they were as heated. Sometimes things got too heated, even in the preseason.
That happened in 1983 when things got real ugly.
Punches were thrown four minutes into the game. Bird and Henderson were ejected, as was Philadelphia's Marc Iavaroni. Red Auerbach even stormed the court to challenge Moses Malone.
Then there was Bird's famous fight with Julius Erving on Nov. 9, 1984, when punches were thrown and the two stars went at it. Referee Dick Bavetta recalled that game, remembering it like it happened yesterday.
"It turned out to be the game where Bird and Erving decided to start choking each other," he said, according to NESN.
The teams met in the Eastern Conference Finals four times with Bird as a member of the Celtics. They have faced each other 22 times in the postseason.
While many fans consider the Lakers Boston's biggest rival, Bird thought otherwise, and he's right on the money.
RELATED: Larry Bird Saw Magic Johnson Guarding Him During Crunch Time of the 1984 NBA Finals and Knew It Was Over