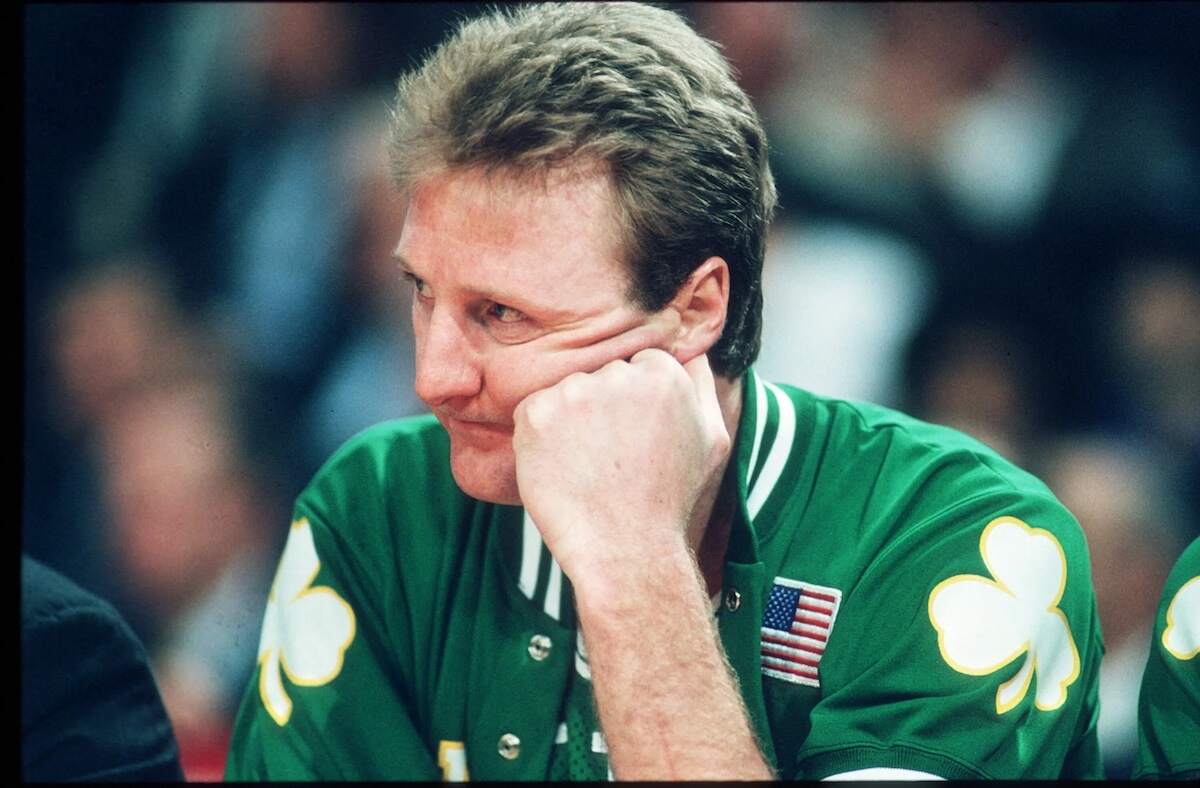 Is Larry Bird a Top-5 NBA Player of All Time?
Does Larry Bird crack the top five of NBA players of all time? The Boston Celtics forward's former teammates weigh in.
Who's the best NBA player of all time? This question will live on forever. It will also generate many different answers, with Michael Jordan and LeBron James often heading the list of candidates. But what about Larry Bird? While most won't put the Boston Celtics legend at the top of the list, does he crack the top 10 players of all time? Is he top five?
Red Auerbach had the highest praise for Larry Bird
Bird played 13 years in the NBA, and it was a bad back that forced him into retirement in 1992. During his illustrious career, Bird won three straight MVP awards and guided the Celtics to three NBA championships. In 1988, when the Celtics unveiled a statue of their future Hall of Famer, Celtics president Red Auerbach gave Bird the biggest compliment.
"I've done a lot of soul-searching," Auerbach said, according to United Press International. "I've decided, quite frankly, that he's the greatest player ever to put on a uniform."
Auerbach may have been biased, but he also may have been right.
His comment was made before Jordan ever guided the Chicago Bulls to a title. James, the current Los Angeles Lakers star, hadn't been born yet.
During his retirement announcement in 1992, Auerbach added more praise to the man who made his NBA debut in 1979.
"Nobody has ever been more self-motivated," he said, per UPI. "Nobody in my 42 years played hurt the way this guy did. He did it for his love of the game and his love of the people."
Larry Bird's impact on the NBA went beyond his efforts on the court
Bird certainly has the on-court basketball credentials to make a case to be mentioned among the best players of all time. He also made his mark on the sport even without picking up a basketball.
"There is no way to quantify the impact that Larry Bird has had on the game of basketball," NBA Commissioner David Stern said back in 1992, per UPI. "With his intensity, dedication, competitiveness, and will to win, he has been the ultimate team player in the quintessential team sport.
"Quite simply, Larry Bird has helped to define the way a generation of basketball fans has come to view and appreciate the NBA. In the future, great players will be judged against the standards he has set, but there will never be another Larry Bird."
In his 13 years, Bird was a 12-time NBA All-Star and 10-time All-NBA selection. He finished his career averaging 24.3 points and 10 rebounds per game. He was inducted into the Naismith Memorial Basketball Hall of Fame in 1998.
Bird is a top-5 NBA player of all time
The debate will always be there, but Bird makes the cut on my list of the top five NBA players of all time. I'm also not the only one who has Bird in the top five NBA players ever to suit up. Without getting into specifics, Bird's former teammate, Greg Kite, recently told Sportscasting he would have Bird in his top five.
"I'd put him in my top five," Kite said Friday. "It's a crowded five, but I'd put him there. He was definitely one or two when he was playing. It's a fun conversation to have."
Personally, I have him at No. 4.
Bird was the best passing forward in the history of the game. He was also one of the smartest players to put on a uniform. He dominated in a physical era of basketball when everything was earned. Bird truly was that player who made everyone around him better.
Here's how I see the top five NBA players of all time:
5. Wilt Chamberlain
4. Larry Bird
3. LeBron James
2. Kareem Abdul-Jabbar
1. Michael Jordan
As Kite pointed out, it's a fun conversation to have. Comparing players from different eras is quite a challenge. At least in this case, Bird is a top-five player.