How Did Larry Bird Feel Like He Stacked up Against Magic Johnson?
The Larry Bird and Magic Johnson rivalry was as good as any individual duel in sports. It helped jump-start those heated Boston Celtics and Los Angeles Lakers matchups in the 1980s and bring the NBA to another level. It's tough to mention Bird without Magic and Magic without Bird. The two are forever linked. How did the former Celtics star feel he stacked up against his Lakers' nemesis?
Larry Bird and Magic Johnson had the utmost respect for each other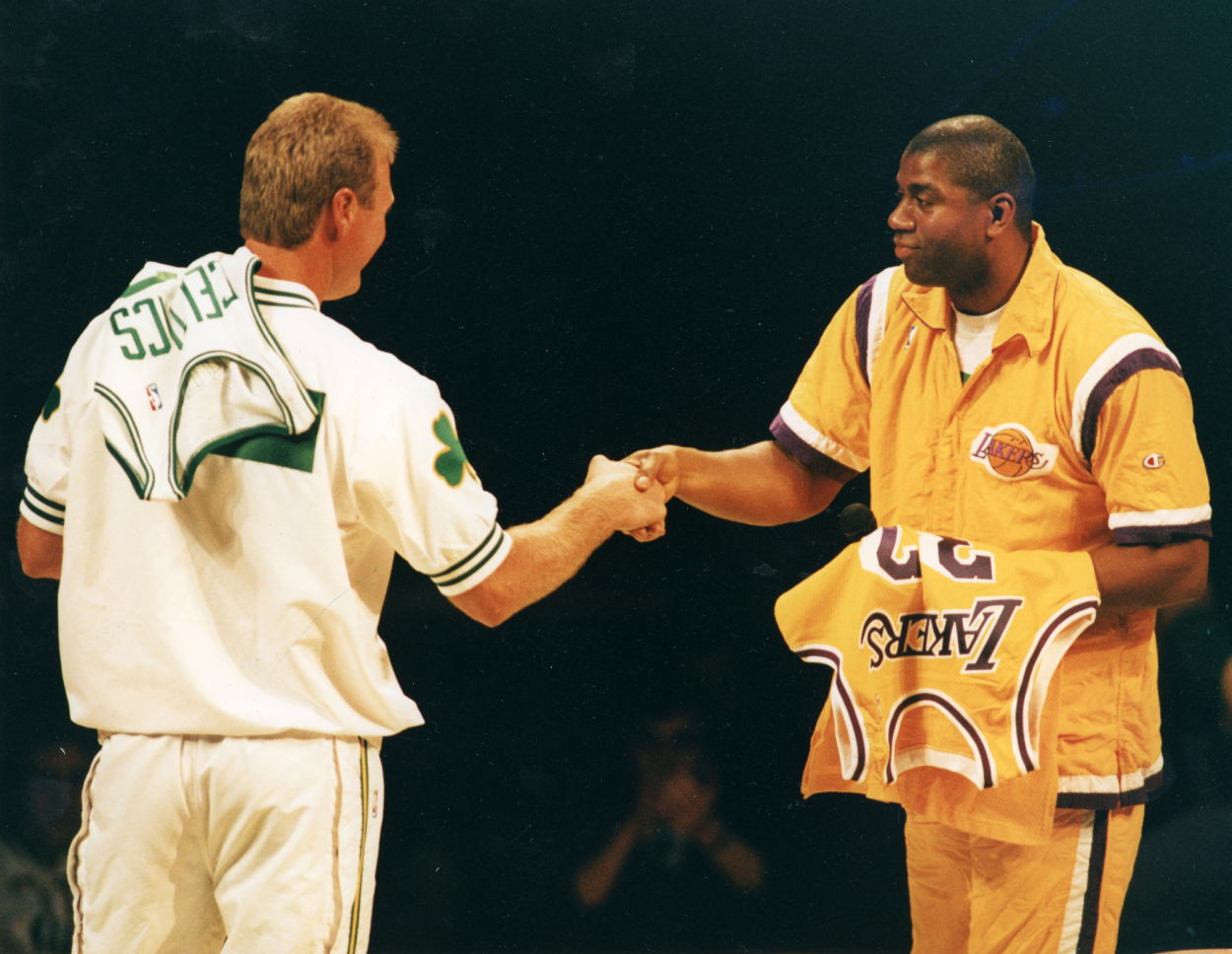 It all began when Bird and Magic met for the NCAA title in 1979. Bird's Indiana State team battled Johnson's Michigan State Spartans, creating the beginning of a long-lasting rivalry and friendship. The rivalry lasted the next 13 seasons while the friendship continues.
For Magic, there were two games on the NBA schedule he looked forward to more than any others. Those were the games against the Celtics. "When the new schedule would come out each year," Magic told Sports Illustrated in 1992, "I'd grab it and circle the Boston games. To me, it was The Two and the other 80."
Bird was the same way. He focused on what Johnson was doing on the West Coast. "The first thing I would do every morning during the season," Bird said, "was look at the box scores to see what Magic did. I didn't care about anything else." 
How did Larry Bird feel like he stacked up against Magic Johnson?
The numbers between Bird and Johnson are remarkably similar. Both played 13 seasons in the NBA. The two were named the league's MVP three times each. Both were named NBA All-Stars in 12 seasons. Bird ended his career with three NBA titles, while Johnson captured five.
Statistically, they were close as well. Bird put up 24.3 points, 10.0 rebounds, and 6.3 assists per game. Johnson averaged 19.5 points, 7.2 rebounds, and 11.2 assists. They were both the leaders of their respective teams. Both took competitiveness to another level.
Bird and Magic brought out the best in each other. As good as they both were, Bird told Sports Illustrated that he put himself behind the Lakers' point guard.
 "I have always looked up to him because he knows how to win," Bird said. "I've always put him a step ahead of me. But we think the same way about basketball."
The Bird vs. Johnson rivalry was more of a friendly battle
Sure, those games between the Celtics and the Lakers got headed sometimes. There was the infamous incident when Celtics forward Kevin McHale clotheslined Kurt Rambis in the 1984 NBA Finals. Rambis was "pissed" about the hard foul, according to ESPN's Celtics/Lakers: Best of Enemies documentary. Bird said he didn't think McHale hit Rambis that hard.
While benches emptied and tempers flared throughout the Celtics/Lakers rivalry, it wasn't that way between Bird and Magic. They were more about trying to outdo each other than fight one another.
"He got me real good one time," Magic said to Sports Illustrated. "I was back on a fast break, and somebody kicked the ball out to him, so I had to run to get Larry on the wing. Larry says, 'What are you running out here for? You know it's too late.' And he buries it in my face.
"With individuals like us, and with two cities going crazy — not just two cities, but the world — there will never be another rivalry like it again."
Today, there's nothing like that Bird vs. Magic rivalry in the NBA or any sport for that matter. The two not only brought each other up a notch, but they also turned the NBA up another level.