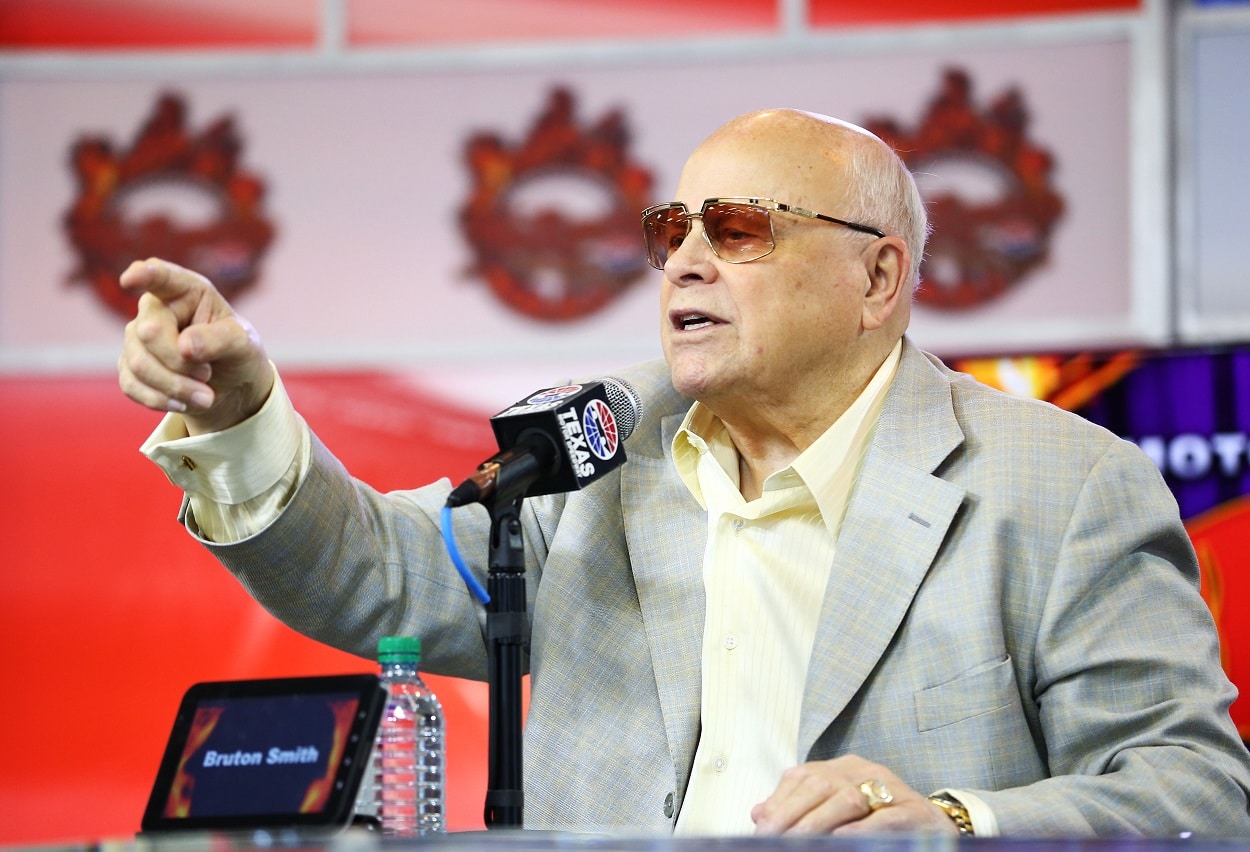 Bruton Smith: The Motorsports World Reacts to the Death of a NASCAR Icon
NASCAR Hall of Famer Bruton Smith died Wednesday at the age of 95.
Bruton Smith Boulevard leads fans directly from I-85 to Charlotte Motor Speedway, the track Smith built in 1959 that helped guarantee the Charlotte area would become a mecca for NASCAR teams and fans.
When Concord, North Carolina, city leaders named the roadway for Smith, it was a more-than-symbolic honor for Smith, who helped bring legions of fans to the sport.
On Wednesday, Smith died at the age of 95, marking the end of a NASCAR Hall of Fame career during which he became one of motorsports' most successful and influential race promoters and track owners.
Speedway Motorsports, Inc. announced Smith's death, saying it occurred due to natural causes. Smith founded Speedway Motorsports, which is now run by Smith's son, and Speedway Motorsports, Inc. CEO, Marcus Smith. In addition to Marcus Smith, Bruton Smith is survived by sons Scott and David, daughter Anna Lisa, and their mother, Bonnie Smith, along with seven grandchildren.
Bruton Smith, who was born and raised in the nearby rural community of Oakboro, North Carolina, was inducted into the NASCAR Hall of Fame in 2016.
Bruton Smith helped make NASCAR a nationwide sport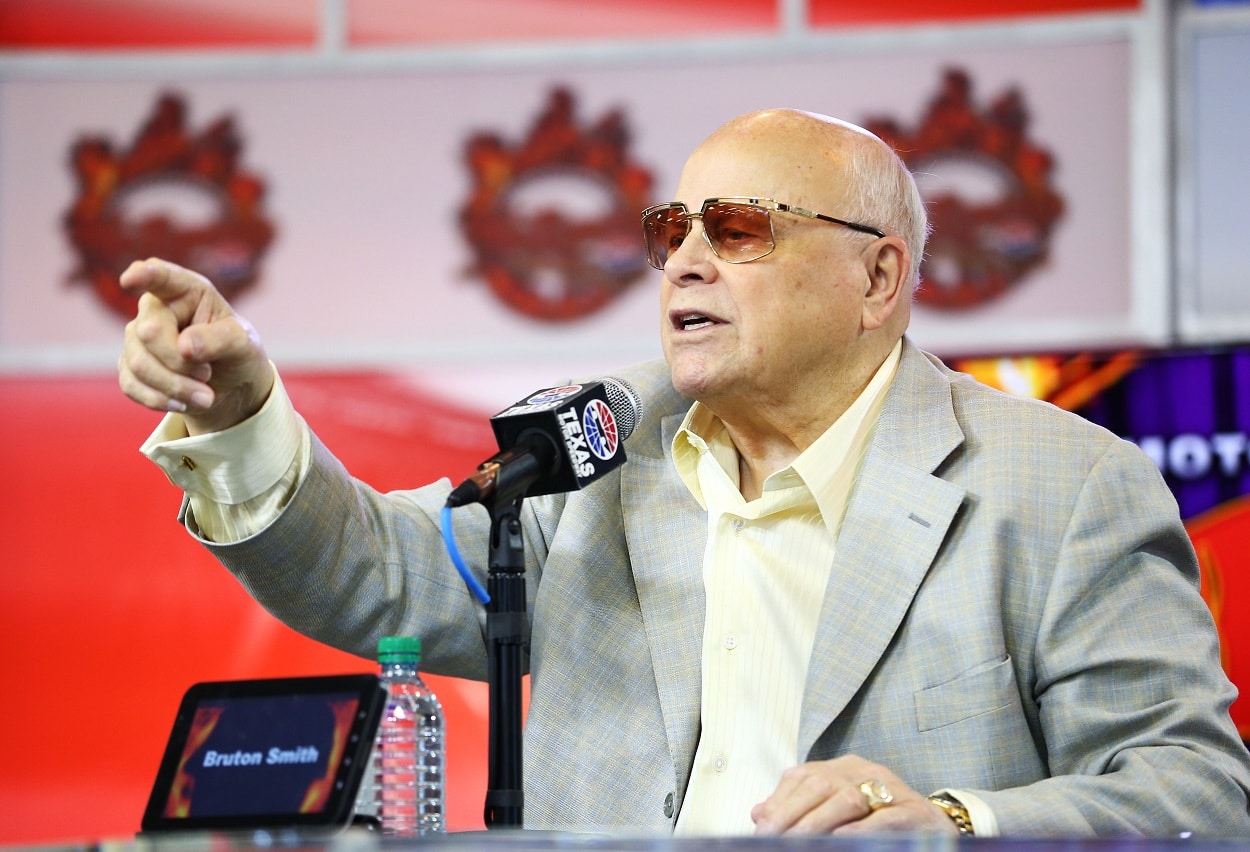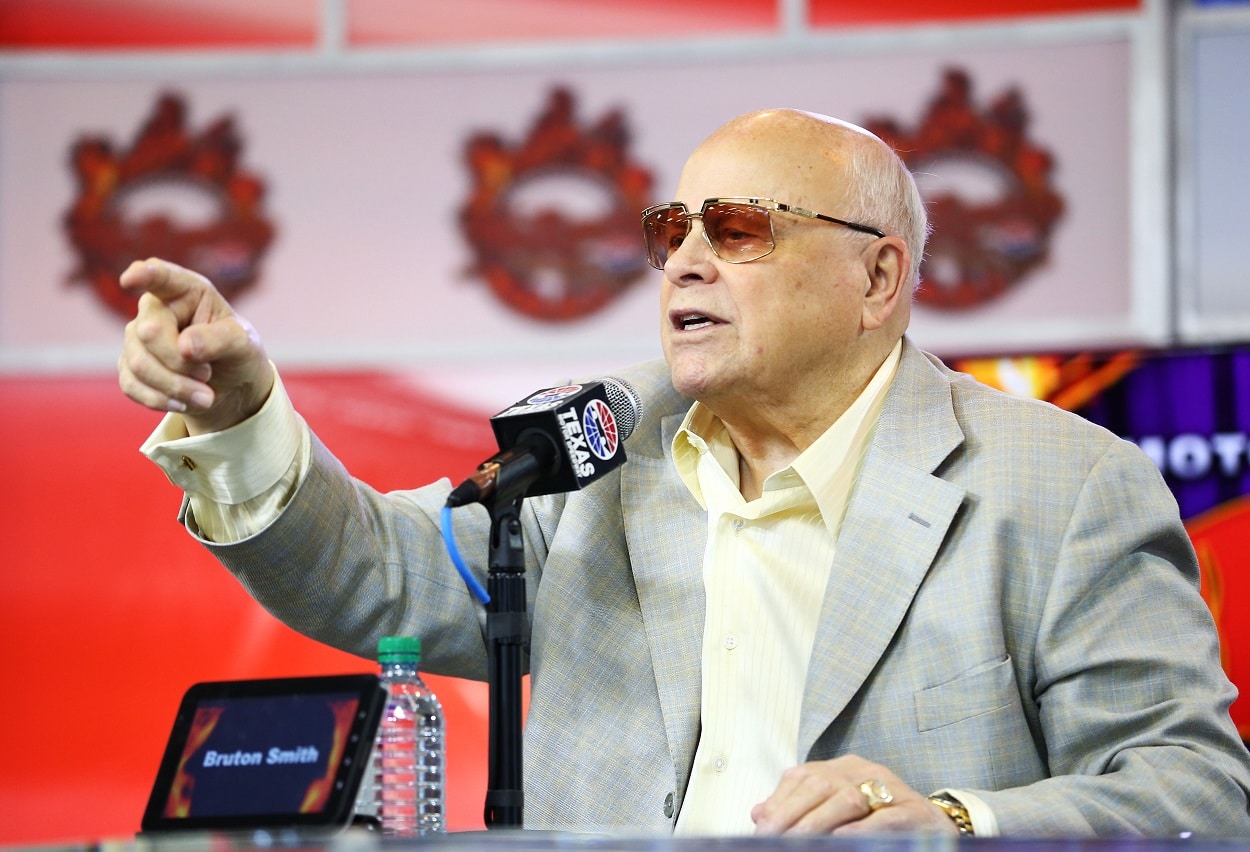 With the opening of the Charlotte Motor Speedway in 1960 came one of NASCAR's Crown Jewels and the longest race in the Cup Series, now known as the Coca-Cola 600.
But that was just the beginning for Smith, who built the 1.5-mile Charlotte track with partner Curtis Turner.
Speedway Motorsports would eventually become a powerful player beyond the Charlotte and Southeast areas. Smith purchased Atlanta Motor Speedway in 1990, built Texas Motor Speedway outside of Dallas, and bought Las Vegas Motor Speedway, taking NASCAR onto the national stage and far beyond the small tracks in places like Rockingham and Wilkesboro, North Carolina.
Both Rockingham (North Carolina Motor Speedway) and North Wilkesboro were shuttered, and their Cup Series dates were moved to other Speedway Motorsports tracks. Rockingham's lone remaining Cup Series date went to Texas.
Currently, Speedway Motorsports owns an array of properties, including 10 tracks with Cup Series dates, including Dover, Bristol, Atlanta, Texas, and Las Vegas. SMI also owns the Performance Racing Network, which features radio broadcasts of NASCAR races and other motorsports-related content.
At Charlotte, Smith's vision included condominiums overlooking the speedway, luxury suites, and other amenities unheard of in NASCAR to that point.
This weekend, NASCAR is set to race at the Nashville Superspeedway, which was purchased by Speedway Motorsports last year.
The motorsports world reacts to Bruton Smith's death
People from all across NASCAR weighed in on Smith's lifetime of contributions to the sport in the wake of his death.
"Race fans are, and always will be, the lifeblood of NASCAR. Few knew this better than Bruton Smith," NASCAR Chairman Jim France said in a statement released by NASCAR. "Bruton built his race tracks employing a simple philosophy; give race fans memories they will cherish for a lifetime. In doing so, Bruton helped grow NASCAR's popularity as the preeminent spectator sport. His vision and legacy inspired many, and his fan-first mentality remains today through his son, Marcus. On behalf of the France family and all of NASCAR, I offer my deepest condolences to the family and friends of Bruton Smith, a giant of our sport."
Four-time NASCAR Cup Series champion Jeff Gordon credited Smith for helping to grow NASCAR beyond its roots as a predominantly Southern sport.
"Saddened by the passing of Bruton Smith, founder of Speedway Motorsports and Speedway Children's Charities, whose ownership of several tracks transformed NASCAR into a national phenomenon," Gordon tweeted.
Smith's reach, however, extended beyond NASCAR. Legendary NHRA funny car champion John Force had this to say about Smith's death: 
"I'm really sad to hear about the passing of Bruton Smith. He was a personal friend," Force wrote on Twitter. "Everyone knows what he's done for motorsports, NHRA & NASCAR. He was like a 2nd father to me, I met him when he opened Bristol. I sure loved him. I'm going to miss him. His legacy will live on."
Three-time Cup Series champion Tony Stewart, who began his racing career in Indiana open-wheel cars with dreams of competing in the Indianapolis 500, called Smith "a pioneer."
"Bruton Smith was a pioneer who helped make motorsports mainstream and allowed guys like me to make a living doing what we love," Stewart tweeted. "He helped grow not just NASCAR, but all kinds of racing. He had his hands in all of it, and even though he's gone, his fingerprints remain."
Like Sportscasting on Facebook. Follow us on Twitter @sportscasting19 and subscribe to our YouTube channel.