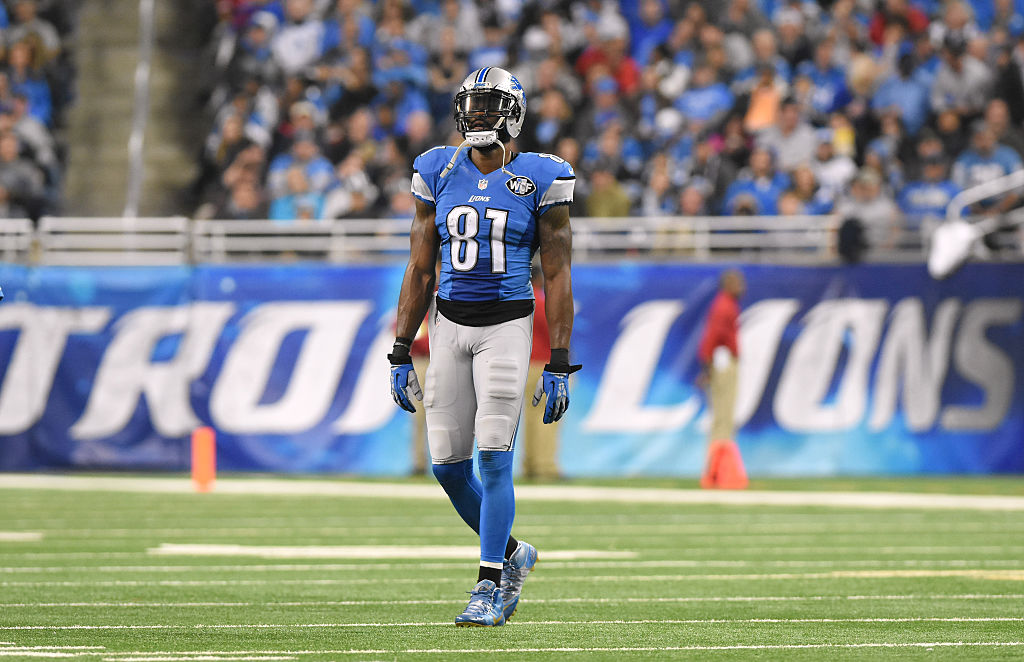 Calvin Johnson Smoked Marijuana After Every NFL Game He Played
Calvin Johnson was a dominant NFL wide receiver for almost a decade, and he was doing it while smoking marijuana after every game.
Former All-Pro wide receiver Calvin Johnson was one of the most unguardable offensive weapons in the NFL for almost a decade. He recorded over 11,000 receiving yards and 83 touchdowns in his nine-year career, and he did so while smoking marijuana after every single game.
Calvin Johnson is one of the most dominant WRs of all time
Johnson only played nine seasons in the NFL, but he's still considered one of the all-time great wide receivers. Despite retiring in his prime, Johnson still recorded the 31st-most receiving yards in NFL history. He also ranks 22nd in touchdown catches.
In 2012, Johnson put together one of the greatest statistical seasons the NFL had ever seen. He caught 122 passes for 1,964 yards and five touchdowns. His 1,964 receiving yards still stands as the most in a single season in NFL history.
Johnson recorded at least 1,000 yards receiving in all but two of his nine seasons as a pro. He only racked up 756 yards in 10 starts as a rookie, and he missed the 1,000-yard mark by just 16 yards in 2009.
The Lions' great was voted to a First-Team All-Pro three times, and he made six Pro Bowls. Johnson retired in 2015 at the age of 30. He had more left in the tank, but concussions, a plethora of other injuries, and a losing culture in Detroit forced him into early retirement.
Johnson suffered at least 9 concussions in the NFL
One of the main reasons Johnson retired at 30 was due to his history with concussions. He suffered at least nine in his professional career. Johnson spoke with Sports Illustrated's Michael Rosenberg last year about his career, and he said he could tell when they occurred.
"Bam, hit the ground real hard. I'm seeing stars; I can't see straight," Johnson told Rosenberg. "But I know in a couple minutes I'm gonna be fine. Because I've done that plenty of times before."
This is the sad reality of the NFL. Concussion protocol and other safety measures aside, players will get right back on the field if they feel they can play. Most coaches won't argue with them, despite what team doctors might say.
Playing through concussions was something you were simply expected to do at the time. Johnson just emulated what he was witnessing around him, and he would deal with the pain after the game.
Calvin Johnson smoked marijuana after every Lions game
Johnson was constantly dealing with a concussion or another nagging injury, so he found a way to suppress the pain after stepping off the field. He hated the idea of masking pain with opioids, so he used a different method.
Johnson said he smoked pot after every NFL game he played. The NFL is a brutal week-to-week grind, and every player finds a different way to deal with that grind. Johnson's was marijuana.
"When I got to the league, [there] was opioid abuse," Johnson told Rosenberg. "You really could go in the training room and get what you wanted. I can get Vicodin, I can get Oxy[contin]. It was too available. I used Percocet and stuff like that. And I did not like the way that made me feel. I had my preferred choice of medicine. Cannabis."
Johnson is far from the first NFL player to admit to smoking marijuana regularly, and he won't be the last. If you're putting your body and life on the line once a week, you should be able to kick back with a joint every once in a while.