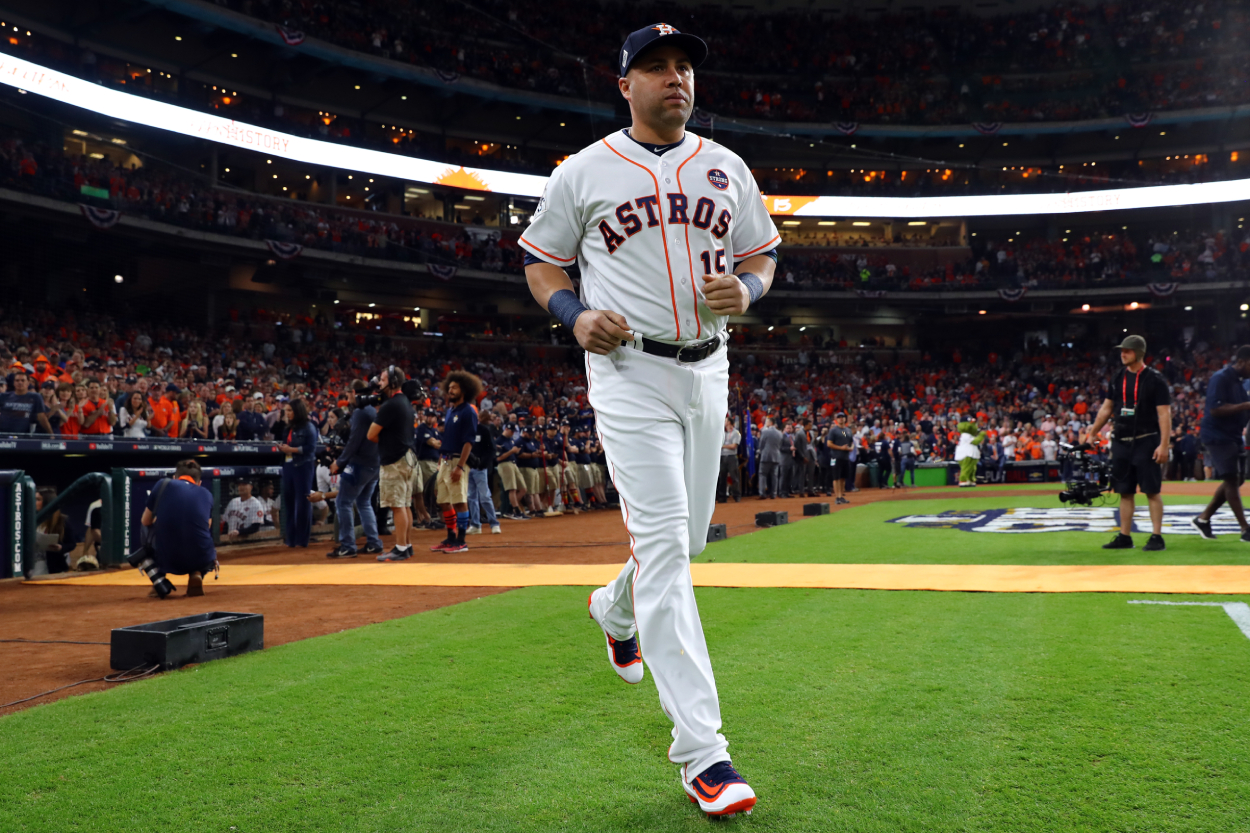 Carlos Beltran Admits 2017 Astros World Series Has a 'Stain' but Doesn't Understand His Punishment
Carlos Beltran still stung by the 2017 Houston Astros cheating scandal.
There's been a lot of chatter lately about that 2017 World Series. You know, the one where the Houston Astros cheated their way to a championship. New York Yankees GM Brian Cashman recently made headlines when he brought up the Astros' foul play when talking about his team's World Series drought.
Former Astros player Carlos Beltran, a member of that '17 team, also spoke about it. Beltran, recently hired by the YES Network, sat down with colleague Michael Kay in an interview set to air Monday, and confirmed that Houston's championship is "stained." He also admitted he has a tough time understanding why he's the only player from that team who received punishment.
Carlos Beltran and the 2017 Houston Astros have been back in the spotlight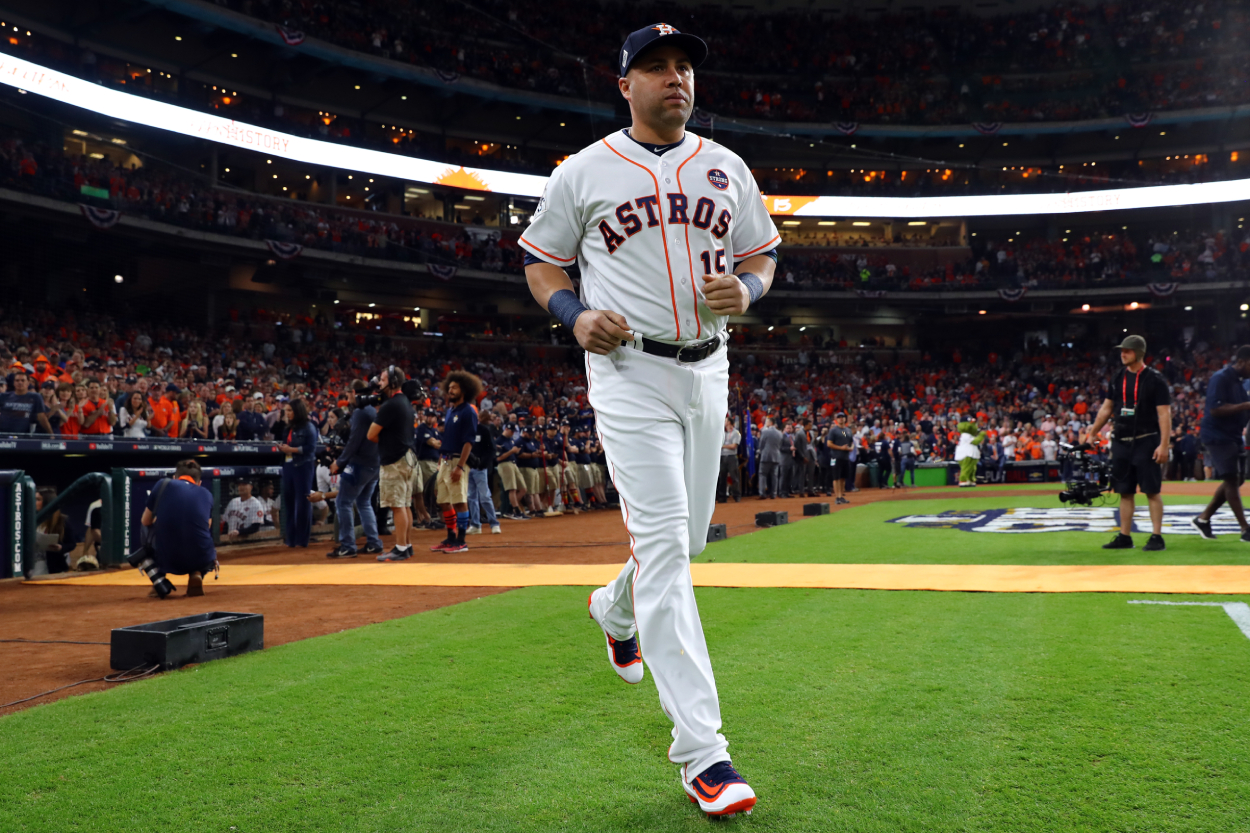 Cashman put the spotlight back on the 2017 Astros cheating scandal in a story published by The Athletic last week. The Yankees GM took some heat recently when he spoke about his team's lack of recent World Series appearances. Cashman said he was "offended" when he hears talk about the Yankees not making the Series since 2009.
"The only thing that stopped (us) was something that was so illegal and horrific," Cashman said. "So I get offended when I start hearing we haven't been to the World Series since '09. Because I'm like, 'Well, I think we actually did it the right way.' Pulled it down, brought it back up. Drafted well, traded well, developed well, signed well. The only thing that derailed us was a cheating circumstance that threw us off."
Yes, the Yankees haven't reached a Series in better than a decade, but they fell to those cheating Astros in seven games in the ALCS. It's a series that still bothers Cashman.
"It does bother me when people say we haven't been to the World Series since '09," Cashman said. "We did it all right, by building it to a certain level that could have gotten us to a World Series — if not for something else. But hey! We're back at it. Every year, we're still back at it. We've been qualifying for the postseason, and we're going to take this team as far as we can get it, and hopefully, we can push through."
Carlos Beltran admits his team's World Series has a 'stain'
Beltran was an outfielder on that '17 Astros team. It was the final year of a 20-year Major League Baseball career and his first year with the Astros. He played 129 games and hit 14 home runs while driving in 51 runs.
Kay flat-out asked Beltran if that World Series had a stain.
"Is there a stain on the Astros' 2017 World Series championship?" Kay asked Beltran on an episode of YES Network's CenterStage, according to a transcript released ahead of the interview's airing and shared by WEEI.
"Yeah, there is," Beltran said, "because, you know, what we did, and we all have taken responsibility, and at some point, we all have shown remorse about what we did."
Beltran said the team didn't pass along a message from MLB Commissioner Rob Manfred, warning teams not to use cameras and other forms of technology illegally.
"Well, if they got the letter, they knew, but they never shared it with us," Beltran said. "Nobody said anything to us, you know, nobody said anything. I wish somebody would've said something. A lot of people always ask me why you didn't stop it. And my answer is, I didn't stop it the same way no one stopped it. This is working for us. Why you gonna stop something that is working for you? So if the organization would've said something to us, we would've stopped it for sure."
Beltran doesn't understand his punishment
The New York Mets hired Beltran to manage their team for the 2020 season, but before he managed one game, he was out. He and the team "mutually agreed" to part ways as he was caught up in the scandal. No player on the Astros was punished. Manager A.J. Hinch and GM Jeff Luhnow received one-year suspensions. Boston Red Sox manager Alex Cora, who was Houston's bench coach at the time was also let go.
Hinch returned to manage the Detroit Tigers, and Cora is back managing the Sox. Beltran is upset over losing his managerial job with the Mets. He said he struggles to understand why he was singled out.
"That's the part that I don't understand," he said. "Everyone gets immunity except Carlos Beltran? I don't get it."
Former Mets manager Terry Collins said Beltran should be back managing. He believed the Mets should'vere-hired him this year, but instead went with veteran Buck Showalter.
"There's no question," Collins said on the Zach Gelb Show in October. "First of all, I'm going to go back to the statement the commissioner made. He said, 'Hey look, we are not going to penalize the players.' Oh, really? The only player that got penalized was Carlos Beltran. I've talked to Carlos several times since and he deserves his opportunity."