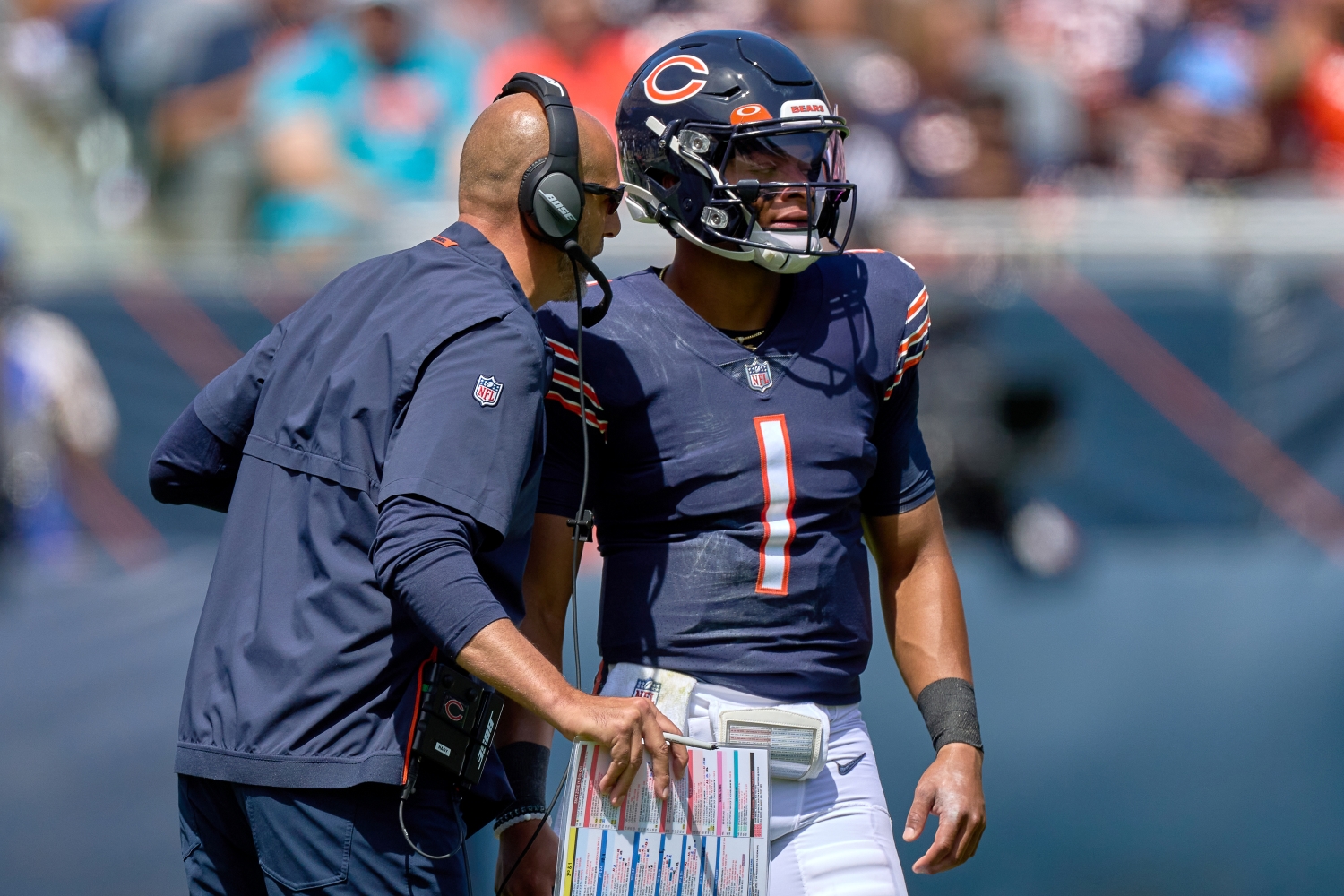 What the Chicago Bears' Plan of Attack Must Be for the 2022 NFL Offseason
Justin Fields desperately needs the Bears to have a big offseason. Here's how Chicago should attack free agency and the 2022 NFL Draft.
Chicago Bears fans deserve better.
So does Justin Fields.
And that's exactly why one of the NFL's most historic franchises needs a complete overhaul. After all, oft-criticized general manager Ryan Pace — make that former oft-criticized general manager Ryan Pace — has had ample time to put together a Super Bowl-caliber team. And overmatched head coach Matt Nagy — make that former overmatched head coach Matt Nagy — has had enough talent to at least advance past the Wild Card round of the playoffs. Yes, both were fired on Black Monday, which isn't much of a shock.
Thankfully for Bears fans, that duo decided to go all-in to secure Fields in the 2021 NFL Draft. And while the former Ohio State star hasn't put up fantastic numbers as a rookie, he's shown flashes of brilliance playing for a coach who hasn't proven capable of building a high-scoring offense on his own.
With the most important position in sports seemingly filled, Chicago has the most critical piece of a championship puzzle under contract at a reasonable rate. And with the NFC North potentially up for grabs depending on how the Aaron Rodgers situation unfolds, here's how the Bears need to attack the 2022 NFL offseason to get back to contending for division titles.
Biggest offseason questions
Ryan Pace and Matt Nagy finally found themselves on the chopping block. You could argue the Bears should have fired both men after the 2020 season. Ultimately, though, they got a chance to remain in their respective positions for one more year, but won't be around the Windy City for the '22 campaign.
But with the Bears missing the playoffs for the second time in Nagy's four-year tenure, it's clear the franchise needs a fresh start. Fields needs a creative head coach who can unlock his prolific physical gifts. And he needs a GM who can put together a playoff-caliber roster via the draft and free agency.
Ownership has realized the Pace-Nagy tandem couldn't make that happen. The Bears' ideal 2022 NFL offseason should begin with identifying and interviewing qualified candidates who can take over prior to the draft. That way, the team can have a unified vision moving forward.
Another key offseason question: Will Khalil Mack still call Chicago home in 2022?
Limited to seven games because of a foot injury, the big-name pass rusher turns 31 in February. Mack hasn't posted double-digit sacks since 2018 (his first season with the Bears), and he carries a 2022 cap hit of $31.5 million. Assuming a new regime takes over, will the aging defensive end represent an asset or a liability?
The Bears can move on from Mack if they're willing to absorb a $24 million dead cap hit.
Needless to say, the six-time Pro Bowler faces an uncertain future.
Top free-agency decisions
Key free agents: Allen Robinson (WR), Akiem Hicks (DT), Andy Dalton (QB), Jimmy Graham (TE), Bilal Nichols (DT), Jason Peters (LT)
The Bears have quite a collection of veterans set to hit free agency. The biggest name, however, seems destined to find a new home during the 2022 NFL offseason. Allen Robinson has spent essentially his entire pro career playing for bad teams, and he may only have one more chance to cash in. Barring a complete 180, Chicago will let the 28-year-old wideout take his talents elsewhere.
Fellow veterans Andy Dalton, Jimmy Graham, and Jason Peters also have expiring contracts. And like Robinson, all three look bound to take some free-agent visits this spring. Dalton does offer value as an experienced backup, but the Bears shouldn't extend themselves to keep him around. Graham and Peters haven't been high-level players in years, and the latter could retire given his age and injury history.
Defensively, the Bears have two key starters set to hit free agency in Akiem Hicks and Bilal Nichols. The 32-year-old Hicks has been a mainstay up front since he left New England for Chicago in 2016. At this point, though, the veteran defensive tackle would be better suited to latch on with a championship contender. Nichols has developed into a solid player after arriving as a fifth-round pick in 2018. He could warrant an extension, but it will be interesting to see if the front office is willing to meet his asking price.
2022 NFL Draft needs and potential targets
Top draft picks: Second round (own), third round (own)
Draft needs: OT, WR, DT, CB
The Fields trade cost the Bears their 2022 first-round pick. So, unfortunately for the talented signal-caller, he won't have a first-rounder joining him this spring. Chicago has its own second-round selection, along with a third-rounder, to address key holes at offensive tackle, wide receiver, defensive line, and cornerback.
Obviously, protecting Fields must be priority No. 1 for whoever's in charge moving forward. Securing another quality prospect to pair with 2021 second-rounder Teven Jenkins would certainly make sense. Potential Day 2 fits include Minnesota's Daniel Faalele (who tips the scales at 6-foot-9, 380 pounds), Northern Iowa's Trevor Penning, and Ohio State's Thayer Munford.
In addition, the Bears have to get their franchise QB some weapons. With Robinson likely on his way out, they might even need to devote multiple selections on the position. Second- and third-round targets could include Georgia's George Pickens (14 TD receptions in his first two collegiate seasons), Clemson's Justyn Ross, and Alabama's John Metchie III.
On defense, Chicago needs to beef up the front seven and find a starting-caliber corner via the draft. Georgia's Travon Walker would be a solid fit in the second round, as would Texas A&M defensive lineman DeMarvin Leal. Cornerback options could include Alabama's Jalyn Armour-Davis and Virginia Tech's Jermaine Waller.
1 player on each side of the ball who must step up in 2022
Again, we know Justin Fields has to be better in 2022 for the Bears to have any chance of making the postseason. And if Teven Jenkins doesn't step up, his quarterback will likely put up disappointing numbers. A physically gifted prospect who seemed like a steal at pick No. 39, the 2021 second-rounder underwent back surgery and has shown some struggles following his return.
Expected to lock down the left tackle spot for years to come, the Oklahoma State product has to become a dependable pass protector and prepare his body to withstand the toll of playing in the trenches in the NFL. If Jenkins fails to make a substantial second-year jump, Fields will suffer the consequences.
On the other side of the ball, Jaylon Johnson has to take a step forward in his development during the 2022 NFL offseason. The 2020 second-round pick has allowed 10 touchdowns in his first 26 games as a pro. He hasn't been a total dud (quarterbacks have completed less than 60% of their attempts against him), but he has to become a more consistent player, especially given the team's lack of talent at corner.
Johnson's draft pedigree means he has pressure on his shoulders to perform at a high level. And you can bet at least a few more new faces will join the cornerback room over the coming months.
All statistics courtesy of Pro Football Reference.