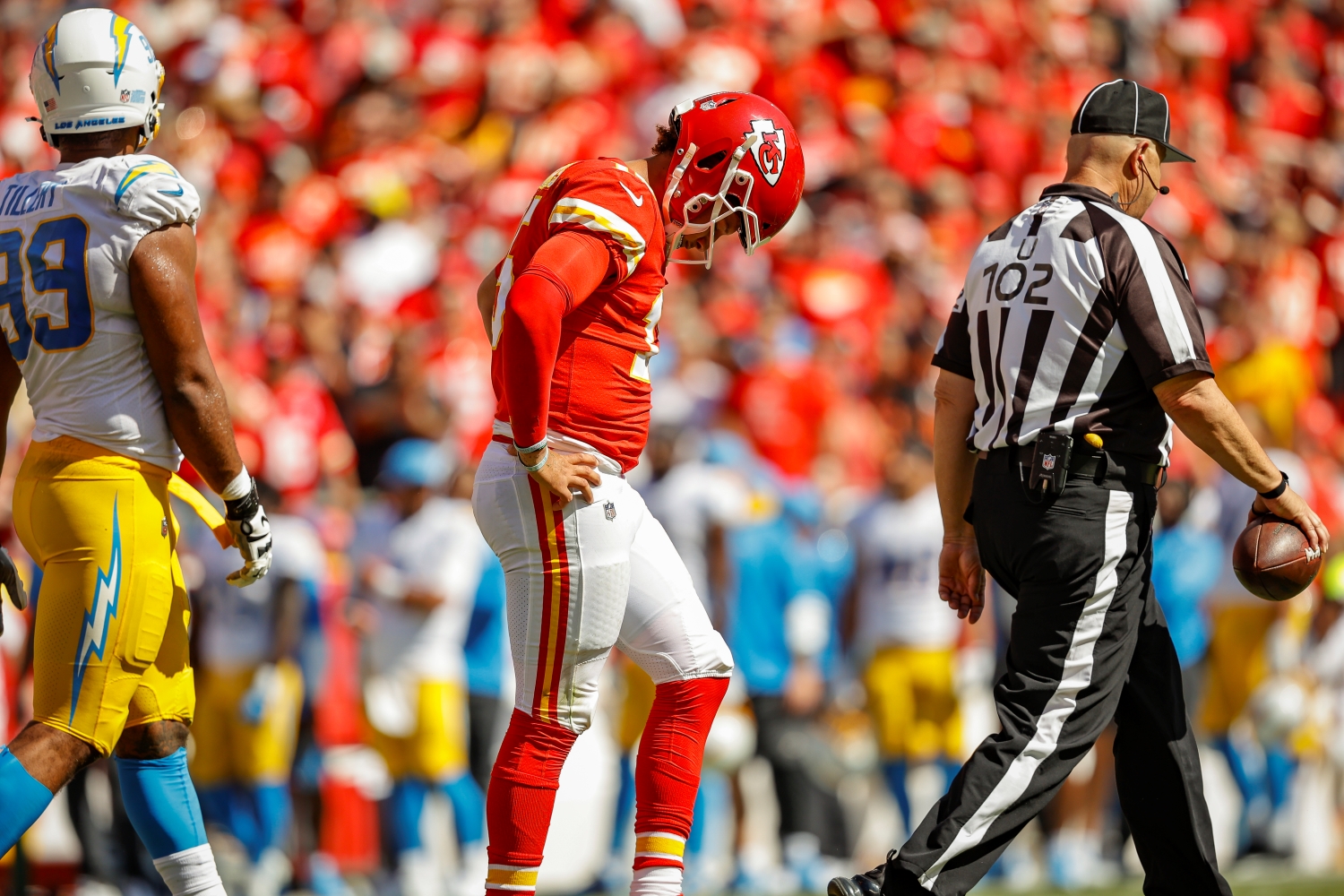 The Chiefs Have a Major Crisis On Their Hands That Even a Perfect Version of Patrick Mahomes Can't Overcome
Even if Patrick Mahomes cuts down on his turnovers and plays like an MVP candidate the rest of the way, the Chiefs have a crisis on their hands that not even he can overcome.
No NFL quarterback is perfect, but Patrick Mahomes comes about as close as possible to playing the position at a flawless level. However, the superstar signal-caller hasn't quite lived up to expectations this season, and even if he rediscovers his 2018 MVP form, the Kansas City Chiefs look ill-equipped to make a third straight trip to the Super Bowl.
After all, the reigning AFC champions have a major crisis on their hands that has nothing to do with their unquestioned leader's uncharacteristic struggles.
The scary part?
Not even a perfect version of Mahomes can solve the biggest problem plaguing Andy Reid's team.
Turnovers have surprisingly become a problem for Patrick Mahomes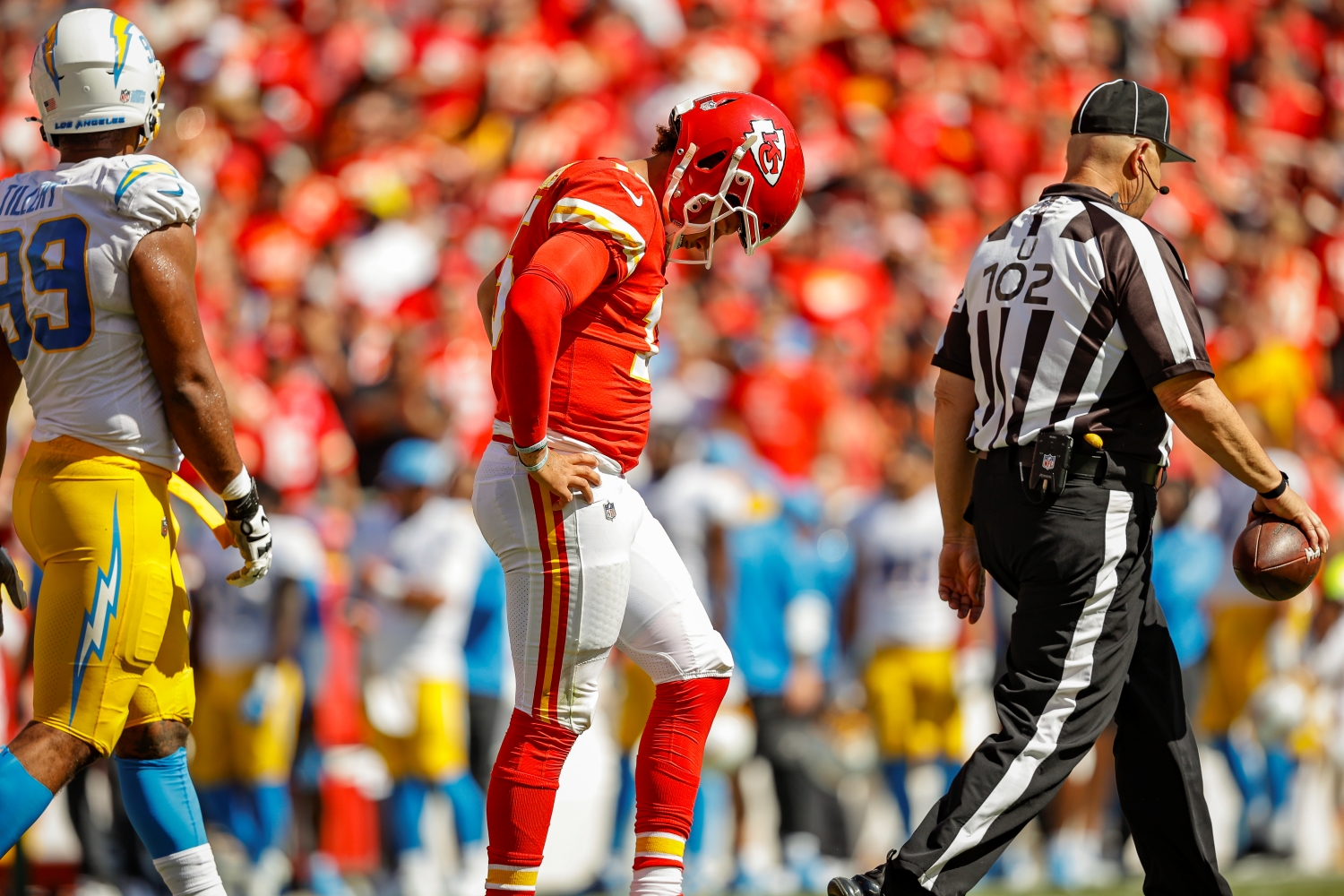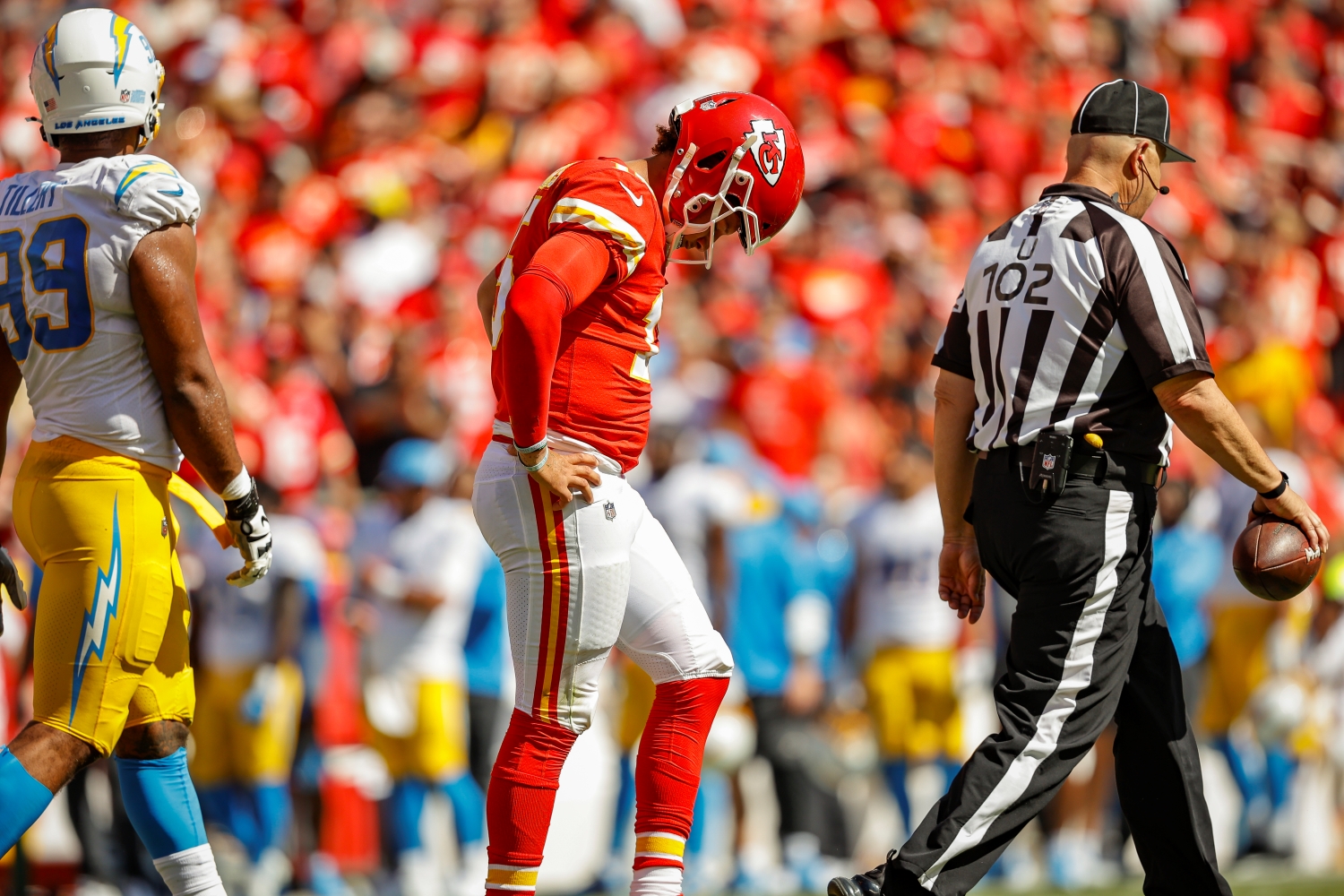 Even a generational talent like Patrick Mahomes makes mistakes. However, nobody could have predicted he would match his 2020 interception total by mid-October.
With six picks in five games, the 26-year-old has surprisingly turned the ball over at a significantly higher rate than ever before. While Mahomes deserves credit for totaling 16 touchdown passes, he also deserves criticism for giving away possessions.
Since starting the season with a turnover-free, three-touchdown outing against the Cleveland Browns, the 26-year-old has thrown at least one interception in every game. He tossed two in a 30-24 Week 3 loss to the Los Angeles Chargers before turning in another multi-pick performance against the Buffalo Bills Sunday night that also included a lost fumble.
"It starts with me," Mahomes said, per ESPN. "It's something I've not usually done in my career, but I have to reevaluate where I'm at, what decisions I'm making. I've been a crazier player as far as scrambling and making throws. But in my career I've never been someone who throws a lot of interceptions. I have to look at it now, reevaluate what I'm doing, and I have to cut it out."
Obviously, the Chiefs would love for their quarterback to cut down on the turnovers. And you can bet Mahomes will work hard to make smarter decisions and take better care of the football.
But even if he becomes a dominant force the rest of the way, his team seems destined to fall short anyways.
The Chiefs have a major crisis on their hands that even a perfect version of Mahomes can't overcome
Although the Chiefs rank fifth in scoring at an impressive clip of 30.8 points per game, they have a disappointing 2-3 record. In fact, they've quickly gone from owning the AFC West to sitting in last place in the division.
While Mahomes and the offense certainly have room to improve, it's clear Kansas City is in full crisis mode on the other side of the ball. After all, Steve Spagnuolo's defense simply can't stop anybody.
Most recently, Josh Allen completely carved up a unit that could not contain the Bills on the ground or through the air. The top MVP candidate totaled 315 passing yards, 59 rushing yards, and four touchdowns in Buffalo's 38-20 victory at Arrowhead Stadium, and he made it look easy.
Of course, Allen became just the latest quarterback to experience tremendous success against the Chiefs. Lamar Jackson racked up 239 passing yards, 107 rushing yards, and three touchdowns in a dramatic one-point win over Mahomes and Co. The following week, Justin Herbert threw four touchdowns in a marquee matchup featuring two of the best young quarterbacks in the league.
Even the up-and-down Jalen Hurts managed to have a big day against Kansas City. The second-year pro completed 66.7% of his passes for 387 yards and two touchdowns in a game that saw the Philadelphia Eagles push their former head coach's squad to the limit.
Perhaps the most concerning part of the entire situation is that the Chiefs have shown little ability to stop the run or the pass. They rank 29th in both passing yards allowed per game (296.4) and rushing yards allowed per game (141.0), which speaks volumes about how easy it's been for opposing offenses to move the ball up and down the field.
Then again, when the Chiefs' highest-paid defensive player only has two sacks and four quarterback hits (maybe moving Chris Jones to defensive end wasn't a good idea) and two of their other three players who've recorded a sack play in the secondary, it shouldn't be a surprise they rank last in points allowed.
Don't bet on Kansas City representing the AFC in Super Bowl 56
Unfortunately for the Chiefs, even the best version of Mahomes can't make up for a bad defense. Sure, scoring a ton of points helps, but it won't matter if your defense gives up even more. And with the way Spagnuolo's group has looked so far, it's hard to get excited about what lies ahead for a team that's attempting to represent the AFC in the Super Bowl for the third straight season.
Why should anyone fear a front seven that has the incredibly underwhelming Anthony Hitchens and rookie Nick Bolton at linebacker? The former ranks 72nd out of 84 players at the position in Pro Football Focus' grading system.
The latter ranks 55th.
What's scary about facing Frank Clark anymore? Once viewed as a top-flight pass rusher, the 28-year-old hasn't recorded a sack or quarterback hit in two games, and he ranks dead-last out of the 105 defensive ends graded by PFF.
How exactly will the Chiefs' secondary get better given their underwhelming personnel? Starting cornerback L'Jarius Sneed has allowed an 80% completion rate on 15 targets, so there are questions about his ability to handle receivers on a consistent basis. Rashad Fenton has given up receptions on all seven of his targets, and Mike Hughes has surrendered three touchdowns on 24 throws in his direction.
Plus, Tyrann Mathieu has taken a slight step back after putting together arguably the best season of his NFL career. The veteran safety has allowed a completion rate of 81.8% — a substantially higher mark than the 61.6% average he recorded from 2018-20.
At this point, Kansas City looks poorly equipped to stop elite AFC quarterbacks like Allen, Jackson, and Herbert, and even playoff hopefuls like Joe Burrow and Derek Carr could inflict serious damage against the NFL's worst defense. Barring a complete turnaround on that side of the ball over the coming weeks, the Chiefs have no shot at winning a Super Bowl title.
And if Patrick Mahomes doesn't start stringing wins together, he may end up watching the postseason from home.
All statistics courtesy of Pro Football Reference.