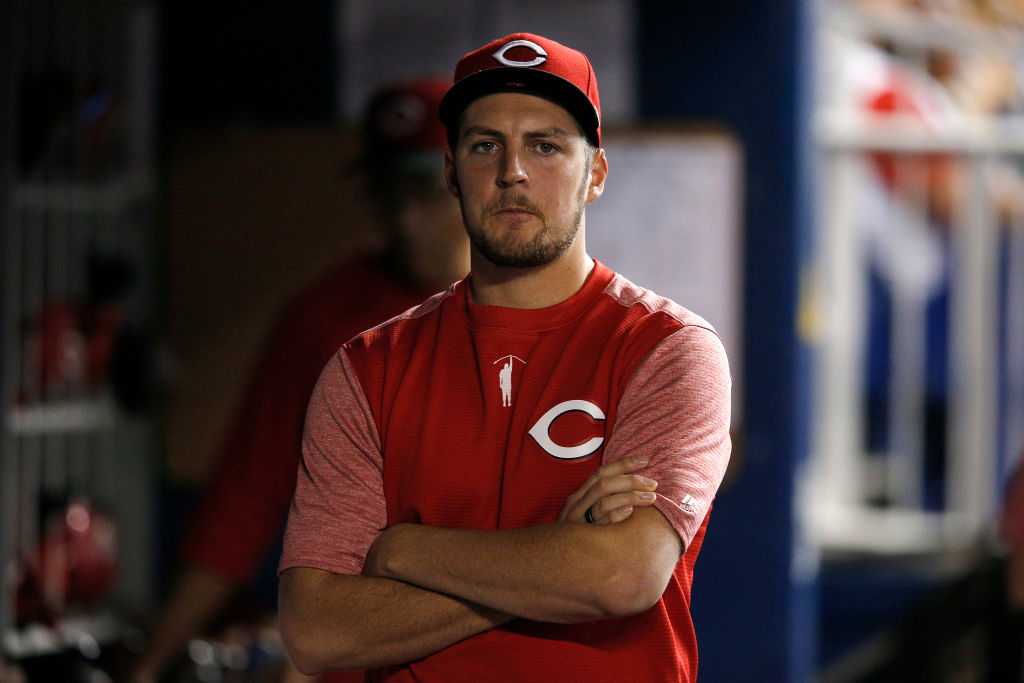 Cincinnati Reds Fiery Pitcher Trevor Bauer Continues to Troll the Houston Astros
Fiery Cincinnati Reds pitcher Trevor Bauer continues to troll te Houston Astros about their cheating scandal.
Cincinnati Reds pitcher Trevor Bauer has always been one to speak his mind.
Bauer, who blasted the Houston Astros pitchers back in 2018 for using a foreign substance on baseballs, was back at it again Monday, March 2, when he continued to troll the Astros, whose sign-stealing scandal has been the talk of Major League Baseball's offseason.
The Houston Astros cheating scandal
Back in January, Houston Astros owner Jim Crane fired manager A.J. Hinch and general manager Jeff Luhnow after Major League Baseball disciplined the team for using cameras to steal opposing team's signs during the 2017 and 2018 seasons.
The team was also forced to forfeit their first two drafts picks in each of the next two years and was also fined $5 million. Hinch and Luhnow were originally suspended for the 2020 season, but Crane came down hard on them, immediately firing them both.
In MLB Commissioner Rob Manfred's nine-page report, it was found that the Astros used live game feed from a center field camera to help relay messages to batters to alert them what type of pitch was about to be thrown. The Astros went on to win the World Series in 2017.
The cheating was initially brought up when former Houston Astros pitcher Mike Fiers told Ken Rosenthal and Evan Drellich of The Athletic about the violations. The scandal has rocked Major League Baseball and also has sparked an outcry from fans and some players as no Astros players were punished even though Manfred's report refers to the scheme as 'player-driven.'
Trevor Bauer's initial reaction
The always-outspoken Bauer wasn't shy about hiding his feelings back in mid-February when he offered an expletive-filled response to a question regarding the Astros cheating.
"They are hypocrites, they are cheaters, they've stolen from a lot of other people and the game itself was completely unfair," Bauer said. "You guys think you are better than everyone and you don't have to abide by the rules? F— you. You know? That's how I feel about their whole operation."
Bauer has always been an intense and fiery player. The right-hander was traded to the Reds by the Cleveland Indians after he threw the ball over the center-field fence as manager Terry Francona coming out to the mound after Bauer had just given up the lead to the Kansas City Royals.

Bauer still trolling the Astros
In a spring training game Monday, March 2, against the Los Angeles Dodgers, Bauer clearly still had Houston's cheating scandal on his mind.
During the fourth inning, Bauer was facing Matt Beaty, and the Reds pitcher made sure there weren't any signs being stolen as he let Beaty know what pitch he was about to throw during the at-bat by motioning with his glove before each pitch was thrown. Bauer's teammate Derek Dietrich was doing an in-game interview and gave the rundown why Bauer was giving away his pitches.
"If you've followed baseball this offseason, there's a little thing going on with sign-stealing," Dietrich told Fox Sports Ohio's Jim Day. "So, Trevor's not too fond of it, so he figured he's gonna try something new this season. And he's gonna start telling the batters what's coming."
Things will definitely be interesting this season, especially when the Astros are involved.