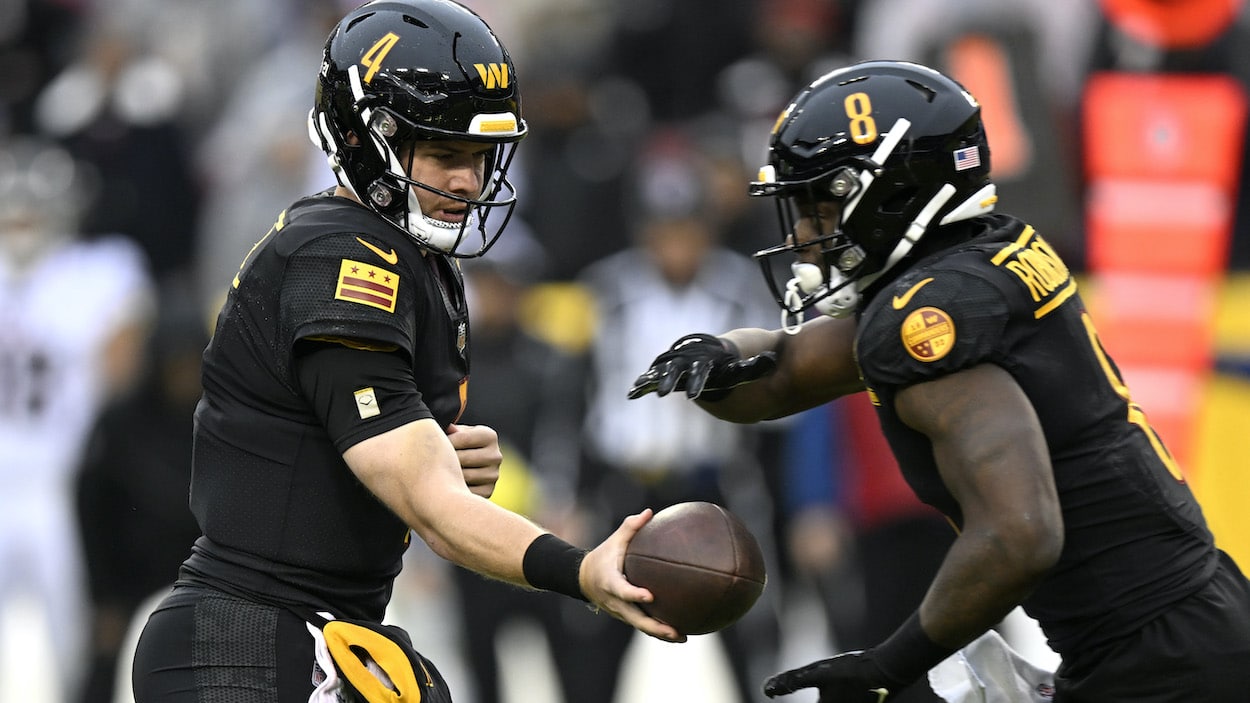 Commanders RB Brian Robinson Jr. Dominates in Week 12, Sets Internet on Fire With Giant Hat
Washington Commanders RB Brian Robinson rushed for over 100 yards in Week 12 and then won the internet by wearing a big hat in the locker room after the game.
Washington Commanders rookie running back Brian Robinson had a heck of a day in Week 12, both on and off the field. After putting up a great game that helped keep his team's playoff hopes alive, the fashionable former Alabama back absolutely lit the internet on fire with a giant hat. And what's even more amazing is that this offensive Rookie of the Year candidate was shot just three months ago.  
Commanders RB Brian Robinson Jr. is winning on and off the field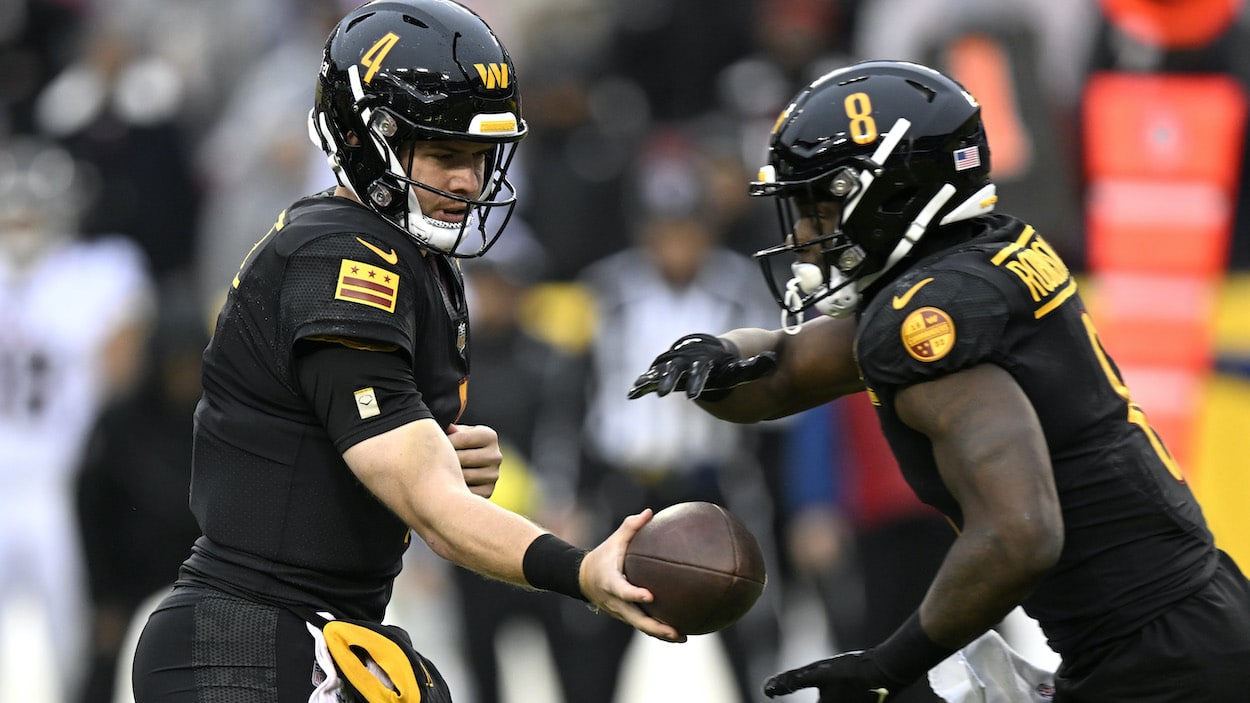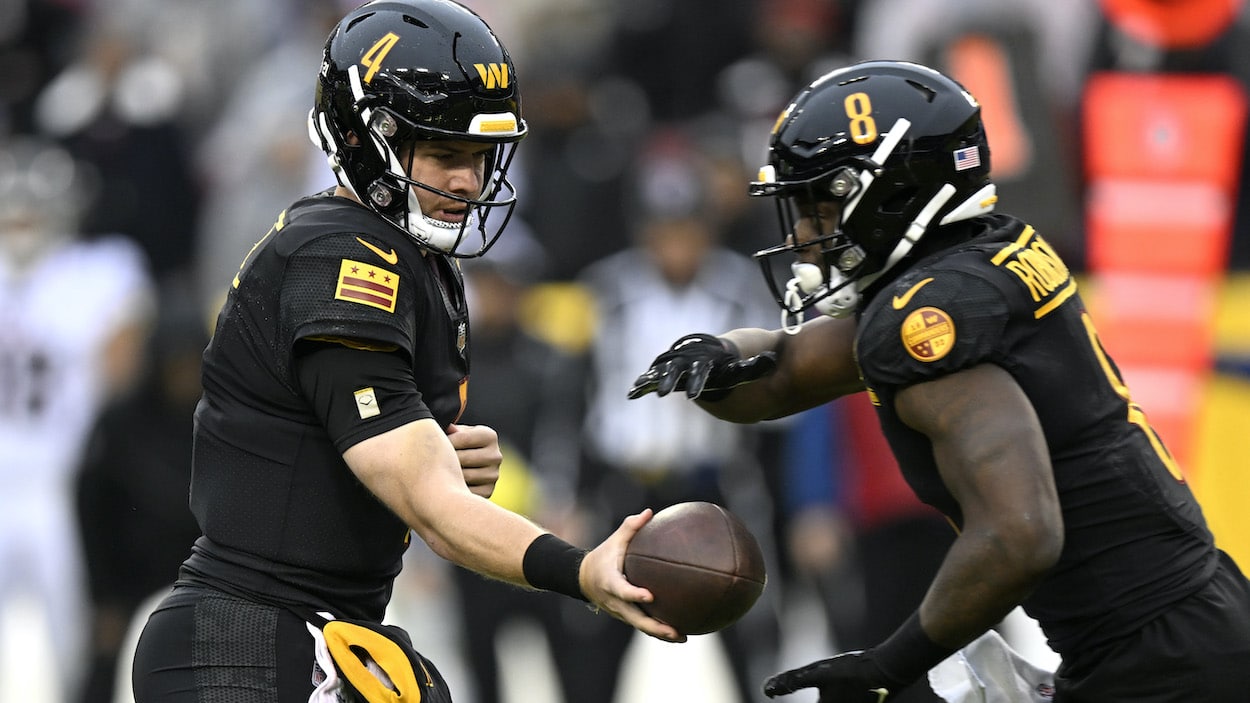 On Friday, April 28, 2022, Alabama running back Brian Robinson Jr.'s dreams came true, and the Washington Commanders took him in the third round of the 2022 NFL Draft. Four months to the day later, Robinson was in a hospital bed after he was shot twice in the leg during an attempted car-jacking.
The Alabama native's life just kept getting wilder from there.
Six weeks after being shot, Robinson made his NFL debut. He rushed for 22 yards on nine carries in a Commanders' Week 5 loss to the Tennessee Titans. Since then, both Robinson and the Commanders have improved dramatically.
Heading into Week 12, Robinson has taken over the No. 1 RB role from Antonio Gibson and had 108 carries for 362 yards and two touchdowns. And with quarterback Taylor Heinicke at the helm, the Commanders went from 1-4 after Robinson's debut to 7-5 after a 19-13 victory over the Falcons on Thanksgiving weekend.
In the Week 12 tilt, Robinson led the team with 18 carries for 105 yards and scored the first receiving touchdown of his career as the Commanders controlled the ground game and got the W over an NFC opponent.
With the Seattle Seahawks' overtime loss to the Las Vegas Raiders, the win put the Commanders in the seventh and final NFC playoff spot.
Robinson's good times didn't stop there, though. After the game, reporters snapped pictures of the running back in a giant baseball cap. Washington Post beat writer Sam Fortier asked the RN about the unique fashion choice and then tweeted, "Brian Robinson said his friend has a 'big hat' company. 'If you want a big hat, let me know.'"
The picture and Robinson's matter-of-fact response to the situation has since taken the internet by storm, and seemingly every NFL pundit has thoughts on the sartorial choice of a big hat.
For many players, this might be an odd incident. For Brian Robinson Jr., internet stardom is just the logical next step in a wild career that's less than a year old.